You need more sleep than you're getting. These products will (hopefully) help.

Update 6/27/18: Mega update.
---
Darkness
You should be sleeping in total darkness. Ban the televisions, phones, laptops, and tablets from the bedroom. If you're going to use a device in bed, an e-reader is a much better bet, but remember that all light suppresses melatonin to some degree. For the light-emitting electronics in your room like surge protectors that aren't so easily kicked out of bed, try light dimming stickers or good old-fashioned black tape, and stop looking at that clock.
Once you've stopped producing your own sleep-destroying light, it's time to deal with the light coming in from elsewhere, like the New York City skyline... or the moon. Lifehacker's Melanie Pinola recommended the official curtain of the National Sleep Foundation for this purpose, which is a great option. Of course, your preference in color, texture, and the size and shape of your windows will dictate your choices here as well.

The thing about curtains is that light still goes around them. Get yourself Umbra's Twilight curtain rod and get those drapes flush with your wall.
G/O Media may get a commission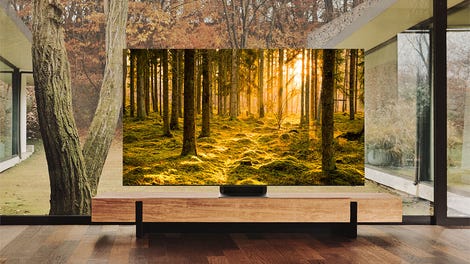 Up to 40% off
Samsung Smart TVs
A sleep mask is the path of least resistance when it comes to keeping the light out of your eyes. Most sleep masks look like refugees from a BDSM starter kit, but the Sleep Master is quite possibly the best $25 you'll ever spend. It blocks all light and some sound, actually fits on your face comfortably, and stays cool.
Take things to the next level and paint your bedroom for sleep success. I went with Behr's "Planetarium".
---
Silence
Hopefully you're in a situation where the noise around you is easier to deal with than the light, because you can't do much about your neighbors or the flight paths you live under. For the noise you can't control, Hearos' Xtreme Ear Plugs are the best I've used. Their expand-to-fit nature makes for a perfect seal, and they block out a massive amount of sound.
Silence can be deafening, and many people sleep better with some white noise going. The most effective solution out there is Nighingale's Surround Sound System, but it's extremely overpriced for its feature set.

Sound+Sleep has much more affordable and versatile machines, to say nothing of all the apps out there.
---
Cool and Clean Air
Some studies have shown that optimal sleeping temperature for most adults is between 60 and 68 degrees Fahrenheit. - Lifehacker
Even with your air conditioner going and minimal sheets, many people (like me) are prone to overheating during the night, and no, we don't want to sleep totally uncovered. While I have some issues with the product, BedJet is a temperature-regulating game changer.
If that's too rich for your blood, there's always a good old-fashioned fan to fall back on.
Speaking of fans, how about one that cleans the air in the room you're spending 8+ hours a night breathing deeply in?
You should also aim to keep the humidity in your room between 40-50%.
---
Comfort and Support
We'll be putting together deep dives around mattresses, pillows, bedding, and lots more in the future. For the purposes of this guide, this is going to be a lightning round.
Best Mattess: Casper Wave | Best Budget Mattress: Casper Essential
Best Pillows: Leesa | Best Filled Pillows: Casper
Best Overall Sheets/Best Linen Sheets: Primary
Best Cotton Sheets (because of extra features): Casper
Best Flannel Sheets: Boll and Branch Organic Flannel
Best Comforter: Feathered Friends | More Affordable: Buffy
Best Budget Sheets: Target Threshold
Best Mattress Cover: Casper
---
Waking Up
How you wake up can make all the difference in how refreshed you feel, regardless of the total number of hours you spent sleeping. Gizmodo's Jordan Kushins recommended The Philips Wake-Up Light years ago, and it went on to become one of the most popular Kinja Deals products of all time. Waking up to a traditional alarm is the worst of all first world problems. Don't settle for it.
Don't settle for mediocre morning coffee or a bad shower either.
---