Casper was newly formed when I first went to their New York City showroom, which consisted of an open kitchen and living room being used as an office and mattress storage room, and a sparse bedroom with one Casper in it, back in early 2014. I bought one immediately, and then another for my guestroom, and the only times I haven't slept on a Casper or Leesa in the past four years are when I'm traveling, or testing a mattress from the competitive set.
Casper has attracted more than 100 competitors since it woke up the mattress industry, ranging from smart to organic to hybrid. Casper saving us from the incredibly anti-consumer in-store mattress shopping experience takes the headlines, but just like you recovered from your trips to Sleepy's, you'll forget your Internet mattress came in the mail once you get the box out of your apartment.
Casper's real contribution was fixing memory foam, and unfortunately for them, there's not much of a moat to build around that lead. The result is an ecosystem that's totally impenetrable to the end user, and an advertising arms race, to say nothing of what's going on behind the scenes. What's more annoying, the "raw egg test" ad campaign, or the endless mattress recommendations from zero credibility sites in the "You May Also Like" section?
To Casper's credit, they're diversifying, as is evidenced by the rest of our coverage at the bottom of this post, and they're still innovating. Their high-end Wave mattress is the best I've slept on, and prices increase on April 24.
On a fundamental level, the function of a mattress is to align your spine while you sleep, and on the front I haven't slept on anything better than the Wave. You can uncomfortably achieve that end with an ultra firm mattress, but the Wave manages to line you up and then just disappear. Rather than being pressed upward or sinking in, you kind of just float on it.
In my hierarchy of mattress needs, coolness comes right after support. I've been testing the Wave with Casper's Mattress Protector and Adjustable Base, and the whole system is sleeping very, very cool. Casper claims their open-cell foam is heat-wicking, and it's clear in the graphic above that the percentage of classic memory foam, which sleeps hot, has been further reduced in the Wave. Anecdotally, the Wave also seemed to initially off-gas substantially less than others I've unboxed.
G/O Media may get a commission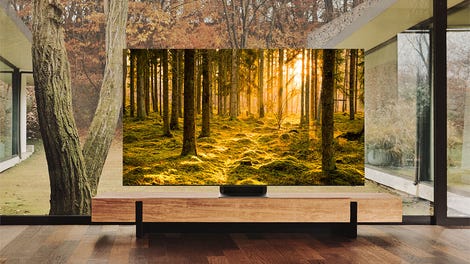 Up to 40% off
Samsung Smart TVs
The Wave currently rings up at $1,850 for a queen, which is $855 more than the standard Casper queen, and $1,250 more than their more affordable Essential. If you were to go all in with a king Wave, split king Adjustable Frame, and king Mattress Protector, you'd be looking at over $4,000 before sheets and pillows, and actually, that feels about right. Spend your money where you spend your time.
Press your hand into the Wave and you'll be surprised at how soft it is, sit on it briefly and you'll probably think it's way too firm, but as you lay on it the Wave just fades away, creating an equilibrium. It's the sensory deprivation tank of mattresses, and in many ways feels more like the evolution of high-end hotel mattresses than the next step in Internet foam.
In addition to free shipping, a 10-year limited warranty, and Casper's 100-night trial period, the Wave includes free in-home setup. It's also Certi-Pur and OEKO-TEX certified.
---