While most men's underwear brands hang their... hat on their defining hook, Saxx, winner of your vote for best premium men's underwear, prefers to cover all... bases, running the full gamut of styles, fabrics, and designs.
Saxx's claim to fame is their "BallPark Pouch", a kind of divider that keeps your junk in place, a feature also found in brands like MyPakage and Nth- a brand from Saxx alums. The pouch "works", but it's in no way the deciding factor for me in choosing underwear.
100% cotton is dead to us, so sorting by fabric is one of the easiest ways to approach Saxx's overwhelming selection. For our purposes, we're interested in premium fabrics like merino and modal, and/or performance underwear for athletic activities.
---
G/O Media may get a commission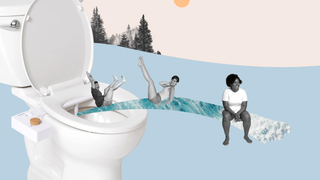 17% off
Tushy 3.0 Warm Water Spa Bidet Attachment
Saxx's "Black Sheep" merino boxers have a $45 MSRP, though you can find them cheaper from Amazon and the like. They combine all the benefits of merino with the excellent seams, waist bands, and pouches of Saxx, though speaking of waistbands, we could do without the branding.
For comparison, our other favorite pair of merino boxers, Unbound, can be had for $35/piece for a 3-pack. Unbound's offering has less shape retention throughout the day, and of course no pouch, but is far more sleek, and unbranded.
---
Everything we said about Saxx's merino holds true with their "Platinum" modal line- just with less temperature regulation and more softness, and a $35 price tag. They're also the only pair of boxers I buy in a small instead of a medium.
You can't talk about modal without talking about MeUndies, who took second place in our underwear vote and is the Casper of premium men's underwear. MeUndies offers modal in boxer briefs, trunks, boxers, briefs, and even lounge pant form factors, with a huge range of designs, so needless to say they have Saxx beat on the variety front. That being said, Saxx wins hands down when it comes to shape retention, not riding up, not pilling, and waistbands that don't flip.
Other top modal contenders include Tommy John and Mack Weldon (coverage incoming for both). Tommy John's $32 "Second Skin" modal offering is the thinnest and softest we've worn, without being flimsy. They also make lounge pants, the best undershirts we've ever worn, and our beloved Moroccan tees.

If we could only own one brand of underwear, it would be Mack Weldon, with their perfect blend of modal, long staple cotton, and spandex that offers the benefits of each and unparalleled structure, plus great colors and minimal branding.
---
In addition to premium fabric underwear, Saxx offers an entire line of athletic apparel, the highlight being their 2N1 Run Shorts. All shorts should have built-in liners, and we'll be doing a full roundup of the competitors' analogs soon. The reason Saxx is interesting here is because they're an underwear company making shorts, not the other way around, and the results are the most comfortable option available, pouch included.
While Saxx wins on comfort, good-looking shorts exist for the first time in human history, with brands like Myles and Olivers adding a desperately needed taper to their thighs.
---
Good merino tights are hard to find, and expensive, and Saxx's come with all the benefits of their underwear, pouch in tow. Voormi's take is smoother, softer, thinner, and all around more technical, but also slightly more expensive.

---