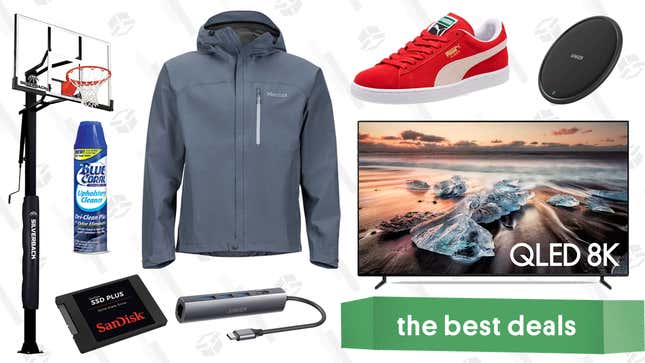 A deal on Mpow headphones, Marmot rainwear from Backcountry, and on-sale basketballs and hoops lead off Thursday's best deals from around the web.

Bookmark Kinja Deals and follow us on Twitter to never miss a deal. Be sure to bookmark our Prime Day deals hub to be ready for the big day.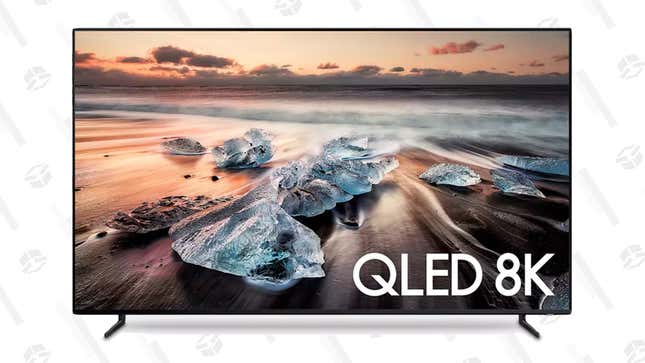 Unless you're obscenely wealthy, you should probably go peruse some other deals, but you don't see legit $3,000 discounts every day, so I feel like we had to post about this 82" 8K (yes, 8K!) 2019 Samsung QLED TV.

8K content isn't really a thing that exists in any meaningful way yet, but the upscaling engine here can make HD and 4K content look better than it might on a 4K TV. The Q900 also has all the Samsung bells and whistles that you'd expect, including the awesome ambient mode, which lets your TV blend into the wall when not in use. This model sells for $10,000 pretty much everywhere around the web, but Massdrop has it marked down to $6,999 today, if you're so inclined.
---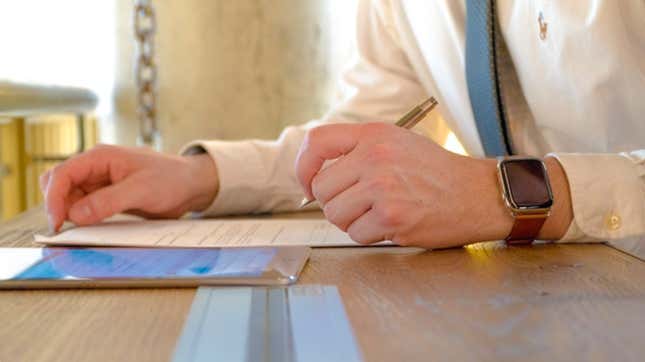 Filippo Morato's Suave wallet has proven to be a hit with our readers, and now, he's back with some high quality leather Apple Watch bands, at affordable prices.

Starting at just $27 on Kickstarter, the straps are made from full grain, vegetable tanned Italian leather, and include high-end touches like leather band retainers and burnished edges along the entire length of the strap. They sent me one to try out, and even after wearing it nonstop for several days, it's still got that new leather smell. It's incredible soft on the wrist (no tugged hairs to speak of), and of course, it looks great. It's high-end leather, so how could it not?
The campaign has about a week to go, and was fully funded within the first hour.
---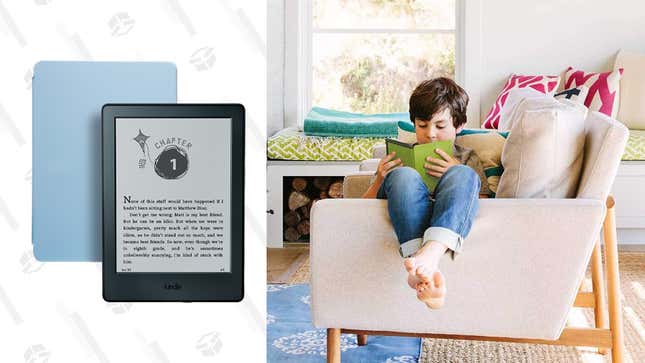 For your lil bookworm, Amazon's offering an awesome Kindle bundle, packed with with an ad-free e-reader, a cover and a two-year warranty, for just $60. This particular model lacks a screen light, so you'll need to turn on a lamp to keep reading.

Choose from 8 different covers to match your baby futurist's style.
Better still, Prime members get unlimited access to over a thousand titles. If you play your cards right, the $60 could be a small price to pay for your own digital library.
---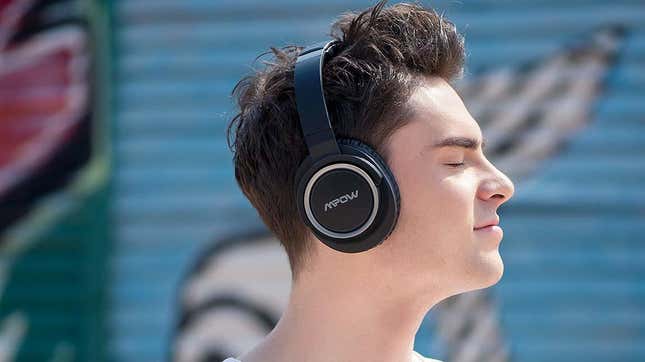 While they surely won't live up to the surreal level of sound quality and noise cancelation that you'd get from a pair of Sony WH1000XM3s or Bose QC35s, these Mpow headphones only cost about 10% as much, and will do a decent enough job of blocking out things like airplane engines, train sounds, or your coworker Chad bragging to everyone about picking Texas Tech to make the Final Four. It's not that impressive, Chad, their defense has been amazing all year and Gonzaga played in a soft conference!

Get them for just $35 today with promo code MPOW146A.
---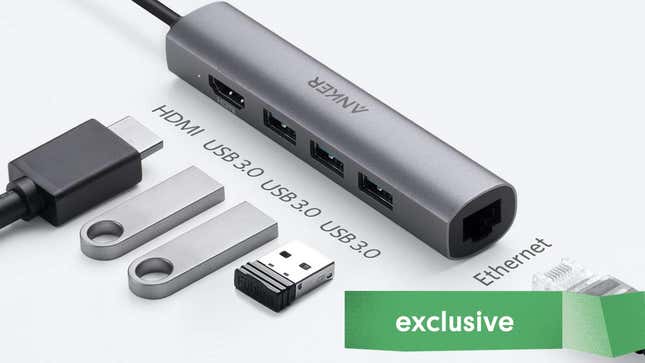 USB-C has been great in a lot of ways, but it's going to be a long time until all of our accessories use the new connector. So if you have a laptop, tablet, or even phone whose only physical connection to the outside world is a USB-C port, you're going to need a dongle.

Luckily, this space-saving option from Anker includes three USB 3.0 ports, an HDMI port, and even an ethernet port, and you can add it to your bag for just $36 today, down from the usual $55. You'll need to clip the 10% coupon on the product page, then enter code KINJACBA at checkout. Just don't plug in any flash drives if you don't know where they've been.
---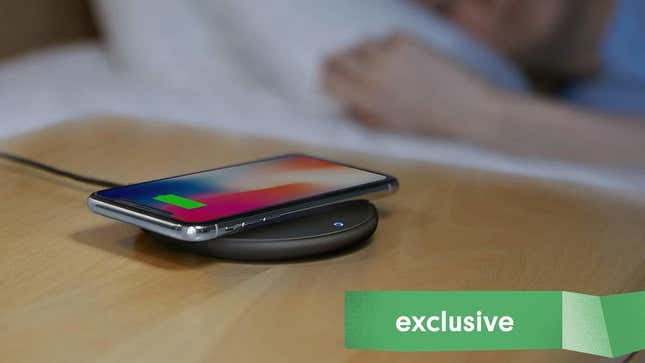 Most Qi wireless chargers can charge select Android devices at 10W speeds, and iPhones at 5W. But a select few are able to max out the iPhone, and eke out 7.5W on Apple's handsets...for a price. But with today's exclusive deal on Anker's PowerWave charging pad, you're barely paying a premium.

Promo code KJWIRELESS will bring the pad down to $12 at checkout, which is half its usual price, $5 less than its current sale price, and the best deal we've ever seen on a 7.5W Qi charger. The only catch is that you'll need to plug it into a Quick Charge 3.0 USB port for it to operate properly, as it customary for 7.5W chargers, and it doesn't include one in the box. You likely have one lying around somewhere, but if not, Anker would be happy to sell you one separately.
---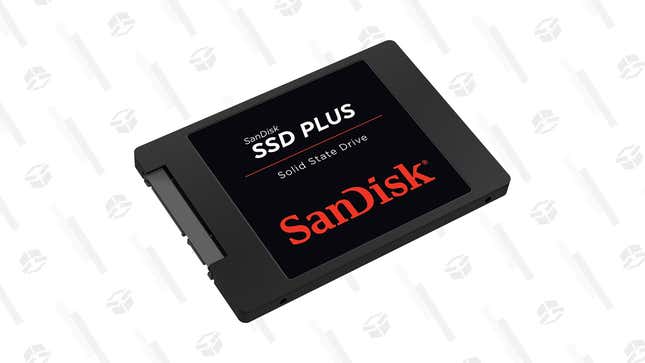 Knock on wood, but Solid State Drive pricing seems like it might finally be recovering from a multi-year, worldwide NAND shortage. And SSDs, like this SanDisk SSD PLUS 480GB, can do more for performance than, say, a new CPU or more RAM. And for $50, there is no reason to hesitate. This particular 2.5-inch model is currently marked down to the lowest price we've seen on Amazon.
Peak Design's Travel Line backpack system is incredibly well thought out, incredibly well made, and...incredibly expensive. Huckberry's here to help with that last part today, at least a little bit. For a limited time, $370 gets you the backpack with the tech kit and the wash kit (a toiletry bag), both of which are designed to nest perfectly inside the backpack, no matter which side you open it from.

Peak Design gear almost never goes on sale, so if this has been on your radar, or you're shopping for that special someone who loves to travel, this $50 discount is about as good as you're likely to see for a long time.
---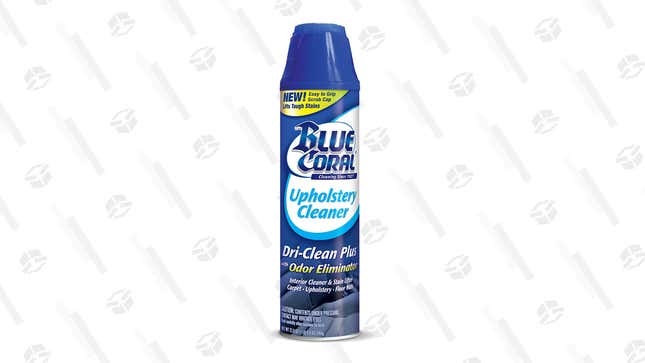 Update: It looks like this price has shot up to $11, but you can still save 50% with a coupon if you opt for Subscribe & Save.
Couch stains are the worst because you can't, like, throw your entire sofa in the washing machine. That's where upholstery cleaner comes in. This Blue Coral cleaner comes highly recommended by our resident cleanliness expert Jolie Kerr for erasing small stains that pop up on your couch, car interiors, other upholstered furniture, whatever, and today, it's down to just $4. Even if your surroundings are somehow stain-free, you should probably just keep it on hand in case disaster strikes.

---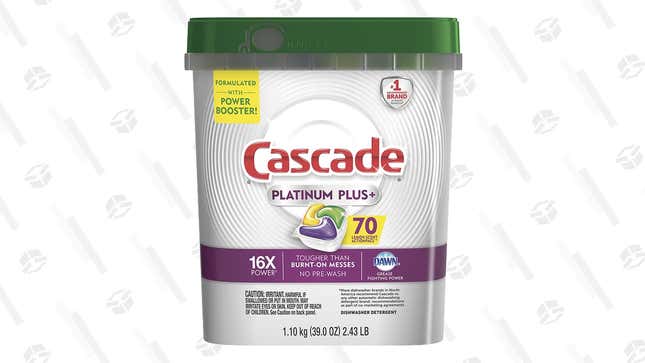 You need dishwasher tabs anyway, so you might as well get them on sale. Clip the $5 coupon and use Subscribe & Save to get 70 Cascade Platinum Plus+ tabs delivered from Amazon for just $14. Just remember to cancel the subscription if you don't want to keep receiving them.
---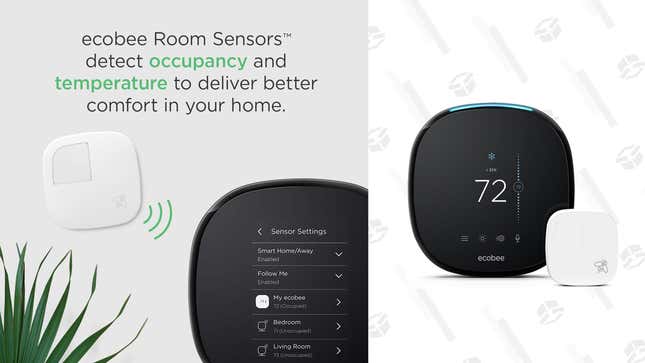 While it doesn't have the brand recognition of Nest's learning Thermostat, the Ecobee4 Smart Thermostat one-ups its most popular competitor by pairing with wireless remote sensors that you can place elsewhere in your house, giving the thermostat a more accurate picture of your home's overall temperature. Plus, it'll work with Siri via HomeKit, and your Amazon Echo too.

This particular model comes with a room sensor and is currently $80 more on Amazon. REDCard members receive an extra 10% off at checkout for the next few days with promo code REDCARD, so it'd basically be $135.
---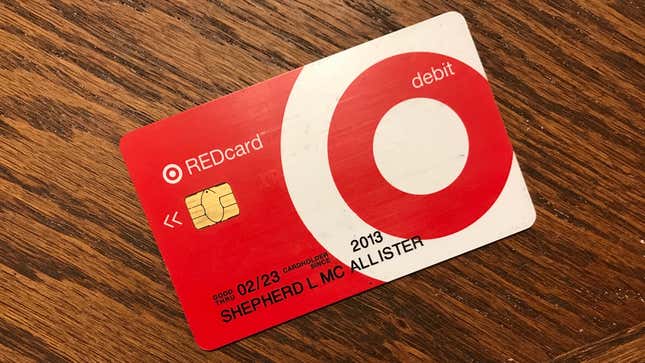 Offering 5% off basically everything, free shipping, and even a debit card option, the Target REDCard has long been one of the best retailer credit cards out there. And from now until April 6, it's even better, as cardholders can take an extra 5% off (in addition to the 5% cash back) online orders with promo code REDCARD.

If you don't already have the card, it's probably too late to take advantage, but you can apply for one if they ever run the deal again.
---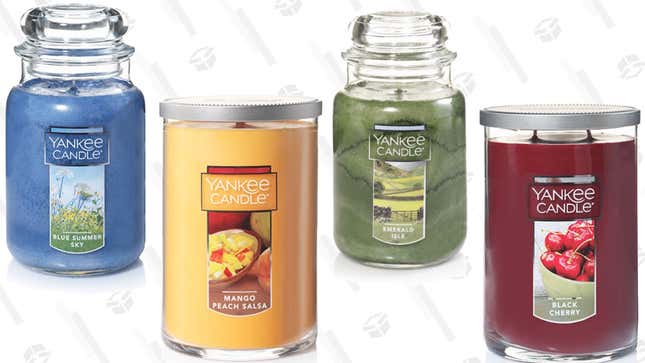 Yankee Candle often runs deals on specific sizes and types of candles, but today, if you buy any two (full priced) jar or tumbler candles, you can pick out two more for free with promo code GET2SP19. Any size jar or tumbler, any scent; as long as they aren't already discounted, they're fair game. You can mix and match different sizes too, but just note that the two cheapest candles are the ones you'll get for free.
---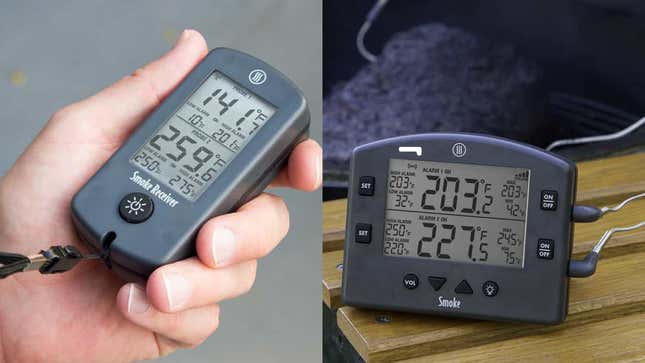 The sun's out, the temperature's rising, and it's time to smoke some meats. If you don't want to take any chances with your dinner, ThermoWorks dual-probe Smoke thermometer is a great accessory to monitor your barbecue's progress, and you've got a rare chance to get it on sale today.

It includes a base unit with a large screen to show you the two probes' temperature, plus a wireless lanyard so you can leave the grill while still keeping an eye on your temperature. And of course, you can set a min/max temperature for each probe, and get an audible alarm if the smoker needs your attention.
The Smoke sells for $99, but ThermoWorks just marked open box models down to $76, for a limited time. That's an extra $23 you can spend on brisket.
---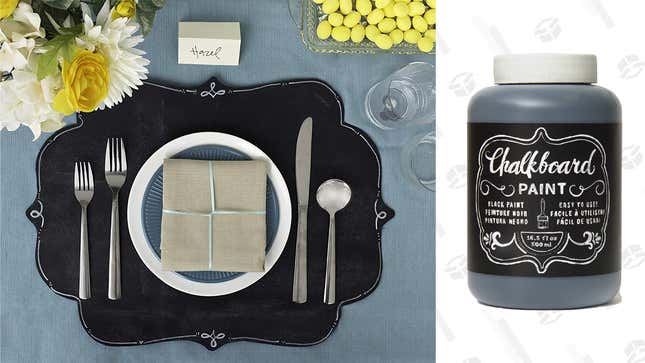 The DIY possibilities are endless with this discounted Chalkboard Paint from Amazon. Fancy up your mason jars, create a mini chalk board, or inspirational quote frames, you're only really limited by your imagination (and the 16.5 ounces of paint) here.
This $7 price is the lowest we've ever seen, so stock up.
---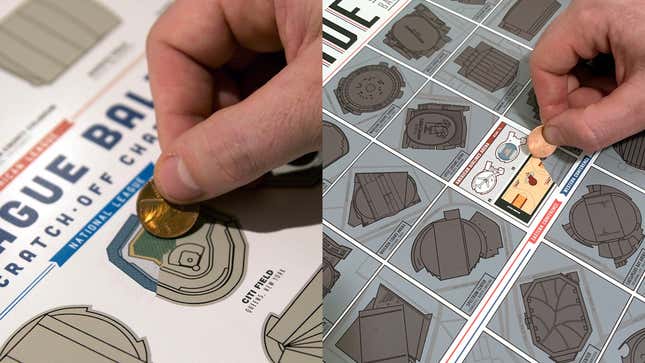 There's always that one person in your life that has nothing on their walls (and that person might be you!). Add some awesome to someone's life, or upgrade your own bare walls with rad prints during this 25% off sitewide at Pop Chart with promo code POPINTOSPRING.

We're big fans of their fun and interactive scratch-off posters, including the new MLB and NBA series, which let you scratch off ballparks and arenas as you visit them. For the less sports-inclined, they also have scratch-offs for essential films, novels, and graphic novels.
But the scratch-offs barely, uh, scratch the surface. The stunningly detailed Football Clubs of Europe print is perfect for any soccer fan. And of course, you can never go wrong with the classics like the Birds of North America, The Very, Very Many Varieties of Beer, and the iconic Cosmic Exploration chart. Seriously, there's so much great geeky stuff here, there's surely something that you'll like. Enter the code POPINTOSPRING at checkout to see your discount, which will also work on hanging supplies like frames and poster rails.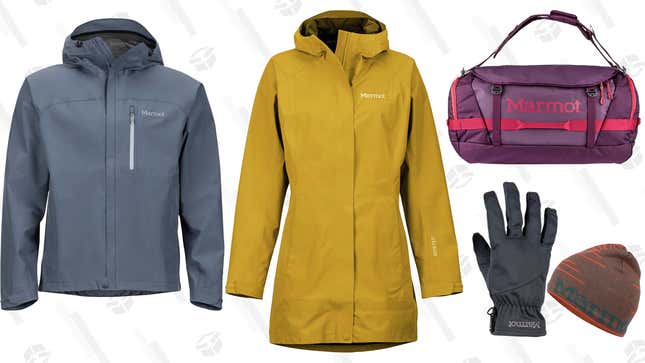 Spring showers and summer storms are fast approaching — I mean, it can't always be warm and sunny. Be prepared the next time clouds roll in with rainwear from Marmot, now on sale at Backcountry. Included among the deals is our favorite Marmot Minimialist Jacket (hood brim included), along with many other jackets, anoraks, and other necessary rain gear. Get what you need to stay dry before this sale washes away.

---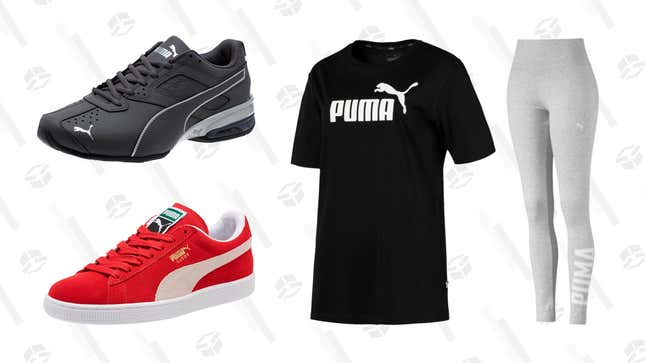 Better weather means catching up on your outdoor fitness goals, and for PUMA, that means catching up with you. The athletic wear brand is taking 40% off select spring styles, plus free shipping on all orders. That means trendy sneakers and apparel for workouts and beyond are going much less than usual, so use promo code GOODS19 and stock up for a new season.

---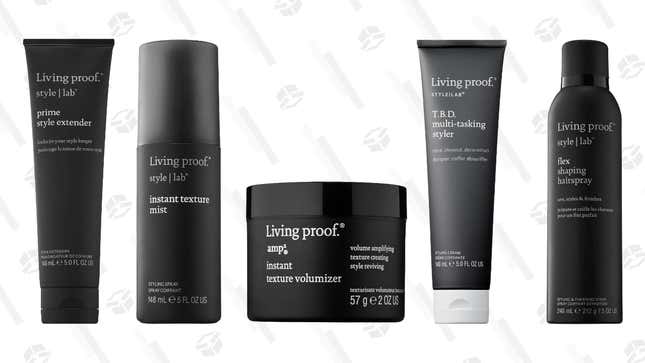 No matter what 'do does it for you, Living Proof has a styler to make it look great. Now, you can save on a whole range of products from the MIT-developed brand at Sephora.

There are nine full-size stylers marked down, plus the mini-versions of a few, too. The T.B.D. Multi-Tasking Styler, an all-purpose cream, is perhaps the most versatile of the bunch, though I do love a good texturizing spray, and this Instant Texture Mist fits the bill. There's also a Molding Clay, Forming Paste, Control Hairspray for those who need a firmer hold. But no matter what high-tech styler you choose, you can't go wrong, because they're all $13 or less. Check them all out here, and be sure to pick out your perfect product match before it sells out.
---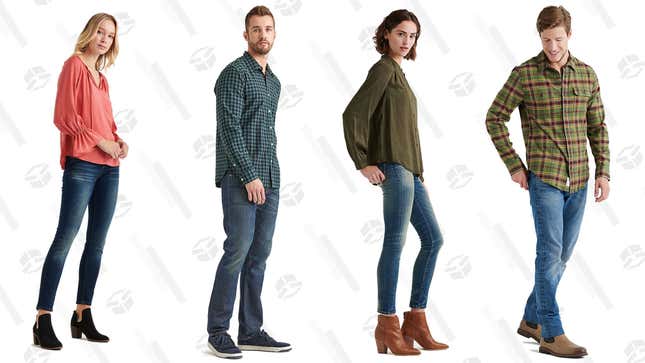 Lucky you: Today, you can get stock up on a slew of bohemian-cool clothes that also happen to be marked down significantly. Lucky Brand is taking 60% off sale styles for men, women, plus, and kids, meaning you can fill your closet with shirts, tees, jackets, pants, and beyond that make you feel like you just found a four-leaf clover. Don't press your luck; stock up on apparel before this sale's lucky streak is over.
---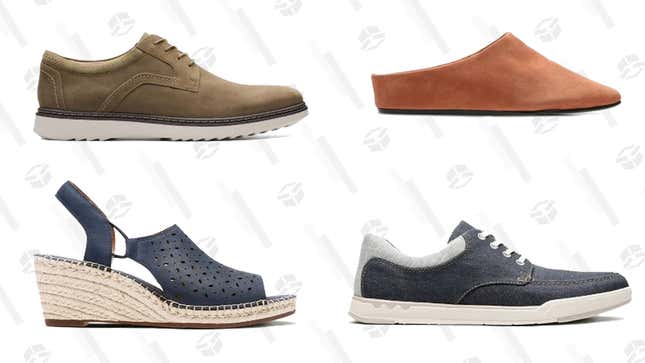 New shoes, new you — I know that's not the saying, but it should be. Especially because Clarks is taking 20% off a selection of warm-weather styles for men, women, and kids that are sure to put a spring in your step this season. Just use promo code APRIL to pick our your marked-down pair before this shoe deal walks out on you.
---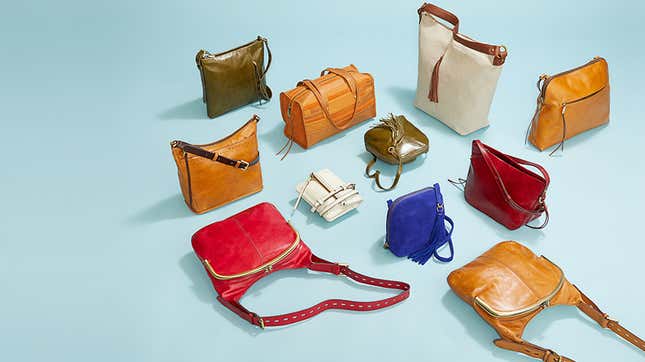 A new season calls for a new handbag. Add one of these Hobo purses, any of which would be perfect for spring, to your collection for less than usual thanks to a sale happening now at Nordstrom Rack. A wide selection of leather totes, shoulder bags, crossbody bags, clutches, wallets, and more are available for about half off, so all your stuff can travel with you in style. Just be sure to choose your new go-to bag before it sells out.
---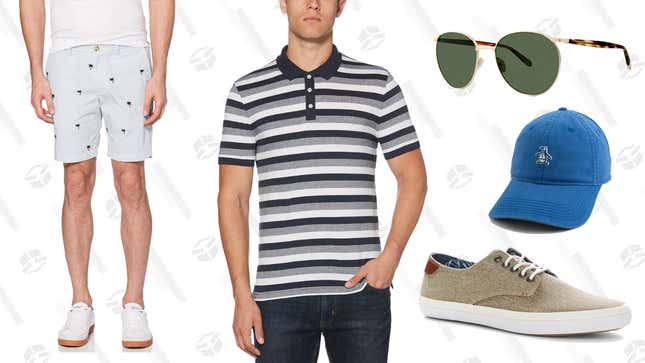 New on-sale spring styles await at Original Penguin. Right now, take an extra 40% off select styles, including cool button-downs, polos, tees, shoes, shorts, pants, and swimwear. No need to use a promo code, just snag your clothes ASAP, since this sale ends tomorrow.
---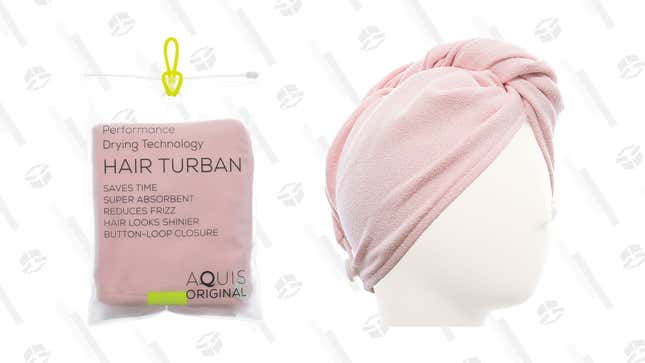 Microfiber hair towels are responsible for completely transforming my hair into a shinier, less frizzy version of itself, and today, my favorite brand of microfiber hair towel is a few bucks off. Aquis's Original Hair Turban in pink is just $17, compared to the usual $21 price tag. Hair turbans have the added bonus of allowing you to wring out your hair hands-free, so you can go about the rest of your post-shower routine more easily. If you're not concerned about messing with your curl pattern, it's deal you'll want to soak up before it dries out.

---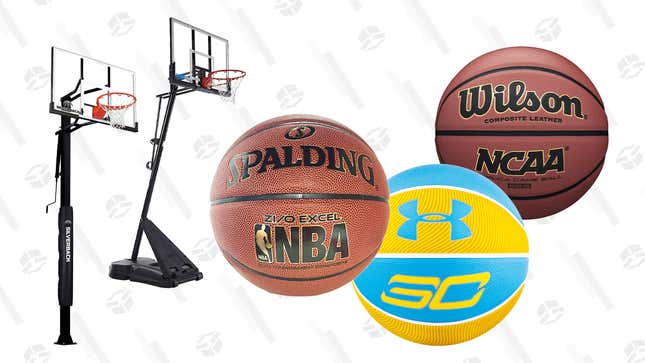 I got hoop dreams, coach, I've got them bad! And thankfully, Amazon's Gold Box is featuring a number of deals on basketballs and hoops, from brands like Under Armour, Wilson and Spalding.
Your shot clock on these deals expires at the end of the day, or until sold out. So, dribble and take a shot, etc.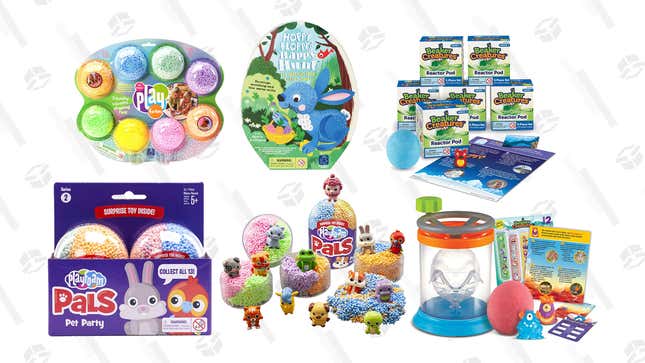 I don't get this. I have no idea what foam, reactor pods or beakers have to do with Easter, but if your kids needs something to do on what's the most important Christian holiday, this Gold Box has you covered.
As far as I can tell, these are just cool toys in pastel colors, so, um, okay. Sure, I guess. If you have kids and want to teach them about the miracle of foam-based toys, these discounts will only last until the end of the day or until sold out.
There's a lot of markdowns here, so make sure to visit the main deal page to see all of your options.
---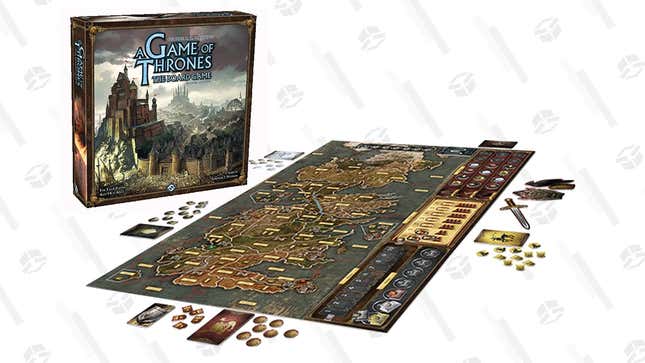 You might not expect much from an original board game based on a hit TV show, but the Game of Thrones board game is actually excellent (though devoid of sex and incest).

So if you've been pacing your house, waiting impatiently for April 14, pick it up for $48 today to pass the time. That's not the best price ever, and in fact, it was all the way down to $32 around Black Friday for one day, but it's about $7 less than we've been seeing over the last several months. You could definitely wait for a more a more favorable deal so you don't have to take out a loan from the Iron Bank, but with the final season set to premiere in a few weeks, this timing is too perfect.
---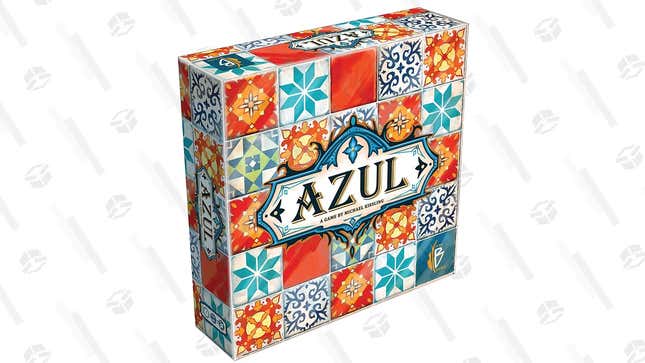 Azul was Board Game Geek's #1 most played board game last summer, and cracked our readers' favorite video game list, and you can add it to your own collection for $23 from Amazon. That's an all-time low price, but you don't really need much of an excuse to buy this one.

Azul was designed by the world famous, award winning game author Michael Riesling. Azul captures the beautiful aesthetics of Moorish art in a contemporary board game. Players compete as artisans decorating the walls of the royal Palace of Dvora. By carefully drafting the correct Quantity and style of tiles, the most clever of artisans plan ahead to maximize the beauty of their work (not to mention their scores!) while ensuring they wasted no supplies in the process.
Seriously, this game is gorgeous, and just as importantly, it feels great to play.
TECH
HOME
LIFESTYLE
MEDIA
GAMING
Deals You May Have Missed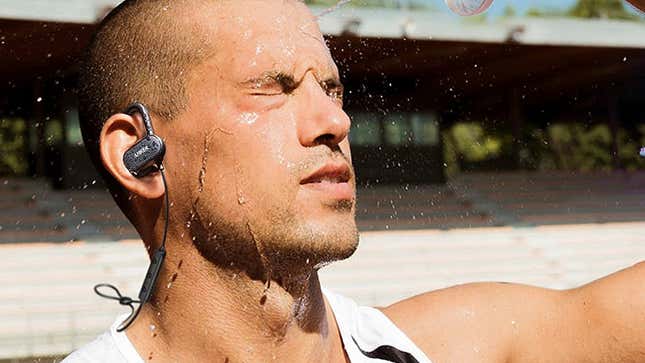 Anker's SoundBuds Curves were a runner up in our recent affordable headphone poll (they were only beat out by Anker's own SoundBuds Slims), and you can grab a pair for just $21 today.
The SoundBuds Curve are the sportiest member of the SoundBuds family, and are designed with active users in mind. Their ear wings ensure they stay put while you exercise, and an internal hydrophobic coating means your sweat won't fry them. Their best spec though? 12.5 hours of battery life, which is basically unheard of in the space.

---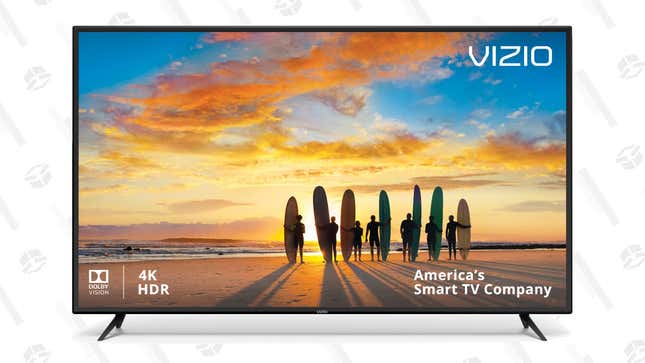 Vizio's budget-friendly E-Series TVs have been replaced in 2019 with the new V-Series, and the 70" model is currently cheaper than the equivalent 2018 E model ever got, even during the holidays (it's currently $30 more expensive).

$798 gets you a 70" 4K TV with local dimming for better black levels, and even support for Dolby Vision HDR (the good kind), which is rare at this price point and size. You also get built-in Chromecast support, Google Assistant and Alexa support, and even Vizio WatchFree, which lets you stream 100 live TV and online channels with no subscription.
---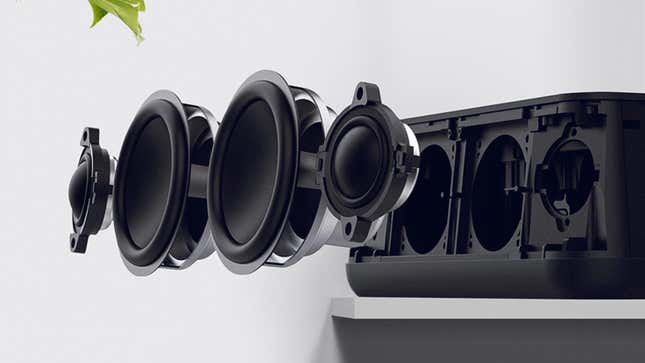 Anker's best known for its small and portable SoundCore Bluetooth speakers, but the larger and louder SoundCore Pro+ is great for backyard barbecues and parties.

The Pro+ puts out 25W of sound through four drivers, both double what you'd find in the original SoundCore. It's also IPX4 water resistant, so it can stand up to rain, and runs for a very respectable 18 hours on a charge. It typically sells for $90, but Anker's marked it down to $72 this week after you clip the $18 coupon.
---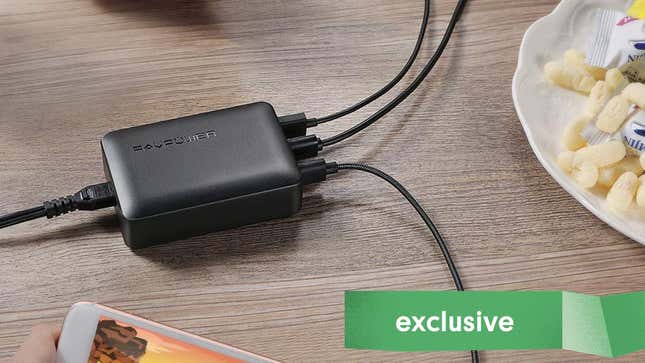 Want to charge all of the things, all at one time? This RAVPower USB charging hub features six ports with 60W of power shared between them, which is plenty even to charge six iPads simultaneously. Best of all, it's only $17 with promo code KINJA13B, so what will you do with that much power?

---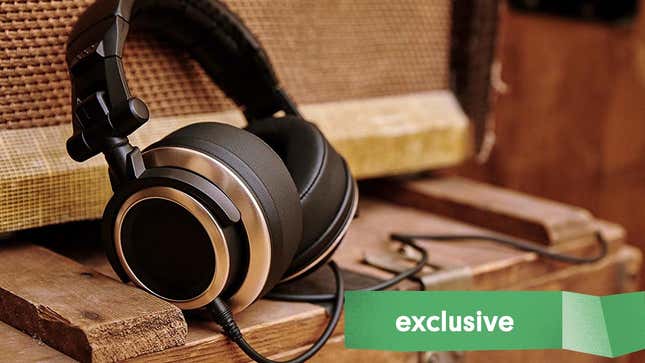 If price has been the barrier to entry keeping you from better audio, Status Audio is offering our readers the best price we've ever seen on their cult-favorite CB-1 over-ear headphones. Use promo code INVENTORY50 to get them for $39 (plus $6 shipping). We ran this deal a few months ago, and hundreds of you took advantage, but now you have a chance if you missed out (or just want a second pair).

Status is a direct-to-consumer headphone company, building great cans in proven form factors without the markup that comes with popular brands. In fact, there's no branding here whatsoever.
The CB-1s are extremely comfortable out of the box, more so (in our opinion) than the ATH-M50X, MDR7506, SR60e, or V-MODA Crossfade Wireless, just to name a few.
The CB-1s have a (relatively) flat frequency response that's great for listening to a variety of music or audio/video editing, with a wide sound stage in a closed back design. I get good isolation/seal with the updated pads. The elephant in the room here is that these are wired headphones, in the year 2019. For some of you, that may be a deal killer, but if not, they kindly include two detachable cables- coiled and straight, to ease the pain. They even smartly attach to the headphones with a twist lock.
We know from six years of Kinja Deals that great over-ear, closed back headphones for under $60 is no joke. Depending on what you've shelled out for in the past, they might even blow away your much more expensive pairs.
---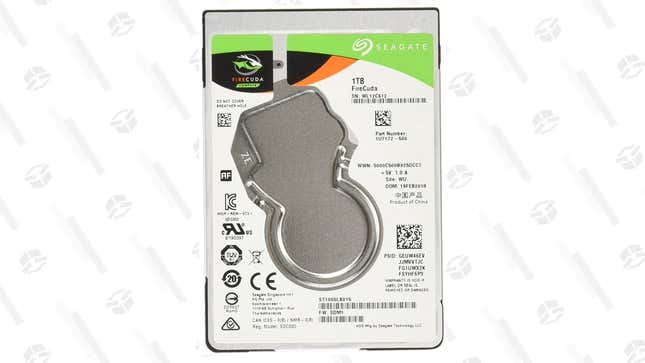 Seagate's FireCuda is our favorite PS4 internal replacement drive, mostly thanks to its built-in 8GB of flash storage that can speed up your loading times, and you can get the 1TB model for just $50 today, the best price ever. It won't be as fast as a real SSD, but for the price, it's a perfect middle ground.

---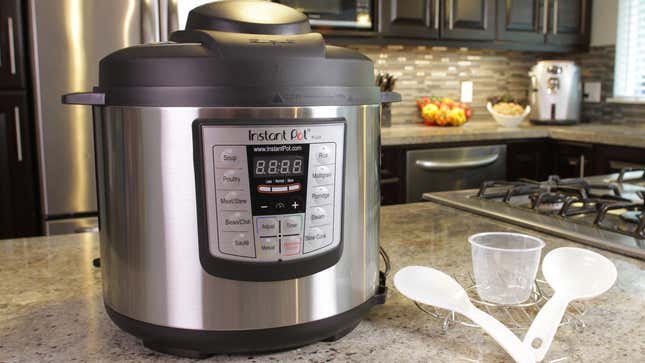 If you don't own a pressure cooker, today's a great day to fix that, as Amazon's knocked the highly-rated Instant Pot IP-DUO60 down to $69, or $31 less than usual, and only $10 shy of the deals we saw around Black Friday. If you wait for Prime Day, you may get a better price, but it's hard to imagine a cheaper Instant Pot deal before then.

Instant Pots do more than just cook foods quickly, though they certainly do that. In fact, it's is also our readers' favorite slow cooker, and an amazing rice cooker too. To put a fine point on it: It's one of the most versatile kitchen gadgets you can own, and worthy of all the hype.
---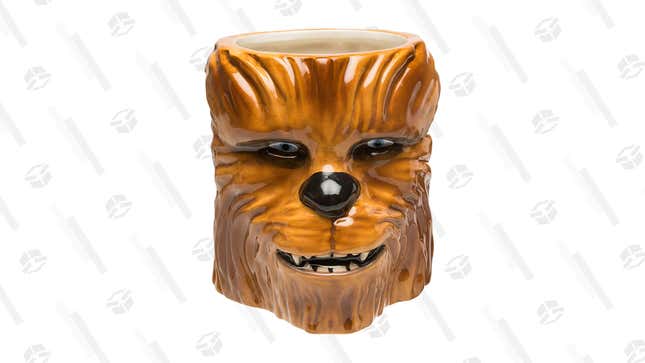 RRWWWGG. RAWRGWAWGGR. WWWRRRRRRGWWWRRRR. WAGRRRRWWGAHHHHWWWRRGGAWWWWWWRR. RWGWGWARAHHHHWWRGGWRWRW.

(It's the cheapest it's ever been.)
---
OxyLED is best known for its battery-powered light strips, but this discounted kit plugs into an AC outlet, and is designed specifically for under-cabinet installation.

The $19 kit (with promo code 5XY8KP83) comes with three foot-long LED light bars, plus three connecting cables. You can either plug the bars into each other to create a longer strip, or use the cables to snake around corners and extend your setup. Once it's all installed, just use the touch-sensitive power button to turn them on and adjust the brightness, and enjoy a well-lit countertop while you prepare dinner.
---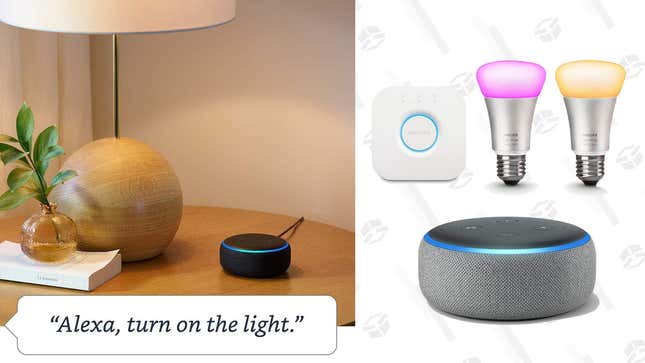 Philips Hue lights and Amazon Echoes go together like whiskey and hunting, and now, you can get a two-bulb color starter kit with an Amazon Echo Dot for $90.

Full-color bulbs usually sell for $50 each, and even on sale rarely dip below $40, so if you need a hub and smart assistant, this is a great deal. Just be warned, once you buy these, you're going to want to buy a lot more of them.
---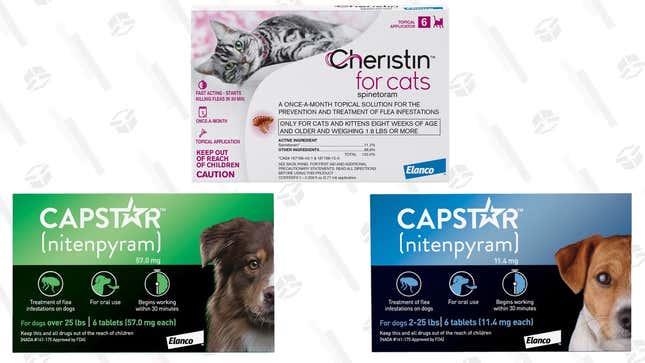 You don't want to take chances with fleas, believe me. If you use Capstar or Cheristin flea medicine for your furry friend, Chewy wants you to stock up today for 20% off. Just add any of these medicines to your cart, and you'll see the discount at checkout. Limit five per customer.
---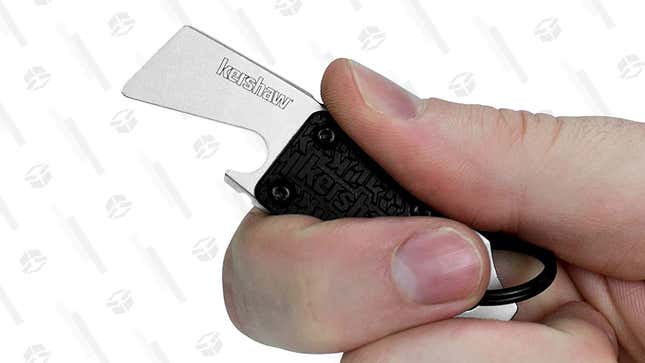 Kershaw's PT-1 is a keychain tool with three separate functions: a pry bar, a flathead screwdriver, and (what you'll use it for 99% of the time) a bottle opener. I'd also add a fourth though: packing tape breaker. It's not a blade, so it won't slice open a package, but it'd be useful for getting them started so you can claw them open with your fingers. Just $5, a steal.

---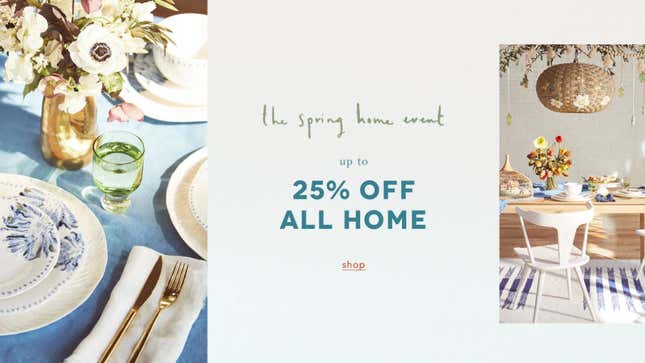 Whenever I walk into an Anthropologie, I realize that my apartment is all wrong because it is not completely filled with all the cool, rustic, yet somehow also glamorous furnishings that the store has to offer. But if there were ever a day to makeover your house — and by extension, your life — it would be today, because Anthropologie is taking 25% off all home items.

You could do something as big as purchasing a new sofa, as medium as upgrading your floor with a new rug, or as subtle as replacing your knobs with new, cool hardware. But whatever you do, don't miss this deal; speaking from experience here, I have an Anthropologie duvet cover, and I love it more than some of my blood relatives.
---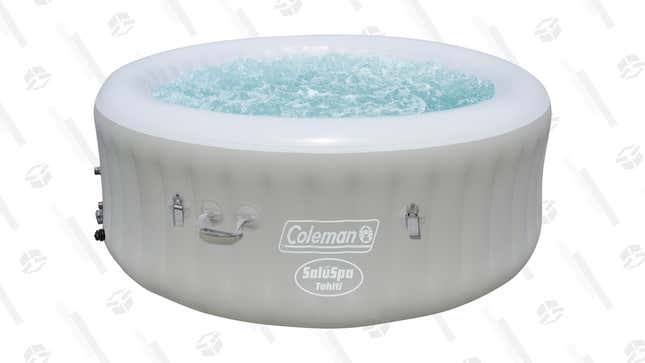 If you have plans to spend time outside during the forthcoming warmer seasons, consider also spending that time submerged in your very own inflatable hot tub. This Coleman Saluspa Tahiti Airjet Hot Tub Spa is on sale for $297, nearly $100 off its usual price. It can comfortably seat four and warms up to a scalding 104 degrees, not to mention it's equipped with 81 air jets and a built-in LED lighting system. Or, you could just fill the hot tub with all the money you'll save by shopping this deal. Your call.
---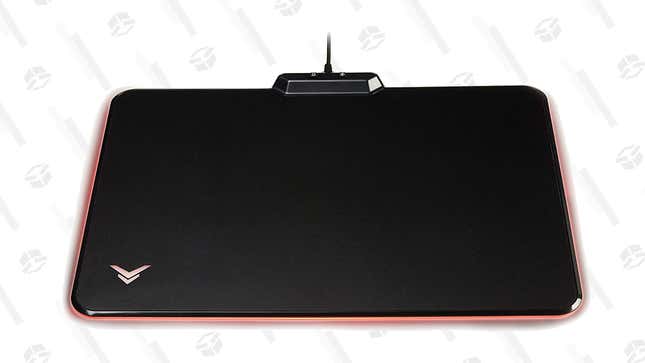 RGB lighting has been shown to improve aim, reflexes and performance in clutch moments*. And if you care anything about your gaming rig, you'd buy this Amazon Basics gaming mousepad. Look, it glows, it helps your mouse glide better, it glows, it doesn't need software, and... did I mention it glows?
It's currently at its lowest price ever.
*nope, nope, nope
---
If you've been holding out for a deal on the cellular-equipped Apple Watch Series 4, Amazon's dialed up a $35 discount on the 44mm Space Gray and Gold options today. These discounts come in the form of a clippable coupon, so just note that you won't see the final $480 price tag at checkout.

These are the best deals we've seen on the cellular options, but if you're okay with the GPS-only models, those are still on sale for $50 off at Walmart as refurbs.
---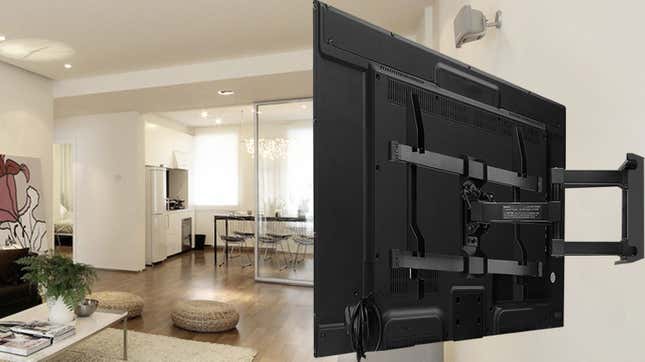 If you've been meaning to finally mount your TV to the wall, it's a cheaper endeavor than you might expect. This mount from Perlesmith is only $35 today after you use promo code CU7PQPWS, and allows you to tilt, swivel, and extend TVs up to 70" and 132 pounds however you'd like. You also get an HDMI cable, a bubble level, and some cable ties, because why not?
---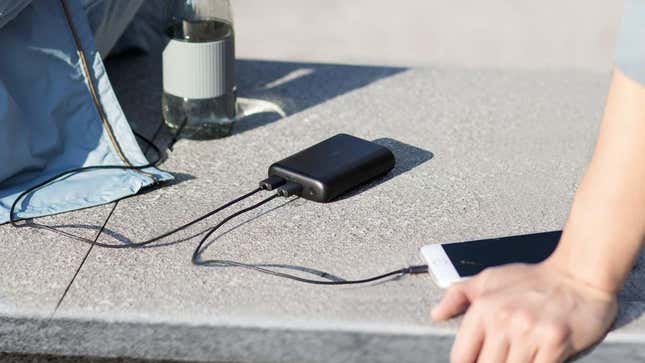 We loved Anker's PowerCore Redux 10,000mAh battery pack for its incredibly small and hand-friendly design, and now, it comes in two larger capacities as well, both of which are on sale this week.

The new 15,000mAh version is down to $34 from its regular $41, and the 20,000mAh is marked down to $42 from $50. Both feature the same basic design of the original Redux, but larger, and with a second USB charging port added. They also include Anker's unique trickle charging mode, which can supply power to low voltage devices like Bluetooth headphones that might not normally draw enough power to keep a USB battery pack "awake."
---
Packing cubes are awesome for helping you pack and fit more stuff into a suitcase, but once you arrive at your hotel and unpack your clothes, they're basically useless as anything except dirty laundry holders. Revelar's new Cubepacks aim to change that.
Cubepacks work like regular packing cubes, but with hidden strap that transform them into useful daypacks that you can carry around with you during your trip. The large cube turns into a full backpack, the medium one becomes a shoulder sling, and the small one works as a fanny pack, meaning you can get use out of the entire set for the duration of your trip.
When you think about it, this solves a real problem. When I travel, I usually bring a carry-on and a messenger bag or backpack. But that personal item is filled to the brim with my electronics, magazines, and other gear that I want to use on the plane. If I just want to use it as a lightweight daypack, I basically have to empty everything out in the hotel room, and repack it when I'm ready to leave. Packing cubes, on the other hand, get unpacked in my hotel room regardless, so the simple addition of straps (as well as useful features like side pockets and magnetic top flaps) make them much more useful, with no additional work on my part.
Cubepacks are already fully funded on Kickstarter, and you can preorder now at a discounted rate, with estimated delivery in September.
---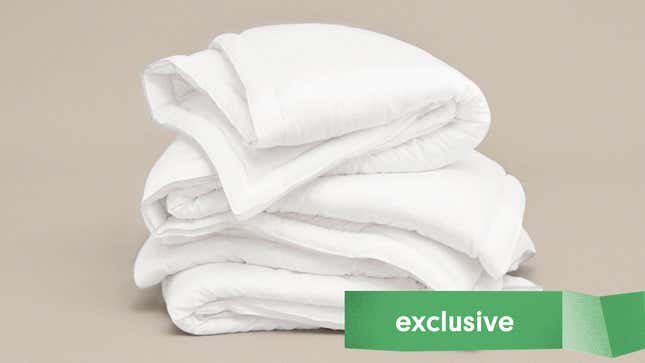 Buffy comforters are a boon for people who run hot, but also like to be tucked under a cozy, fluffy blanket at night. Made from super soft eucalyptus fibers and filled with BPA-free recycled plastic water bottles, the brand's Cloud Comforter is breathable yet soft, plus it's anti-microbial, cruelty-free, water-conservational, and machine-washable. And now, you can try one of your own for $15 less than usual using promo code KINJA15.

Because Buffy knows buying a comforter sight unseen is unsettling to say the least, they offer a 30-night commitment-free trial. That means that you won't actually be charged for your purchase until the 30 days are up. But rest assured, once you are charged, the $15 discount will be applied accordingly.
---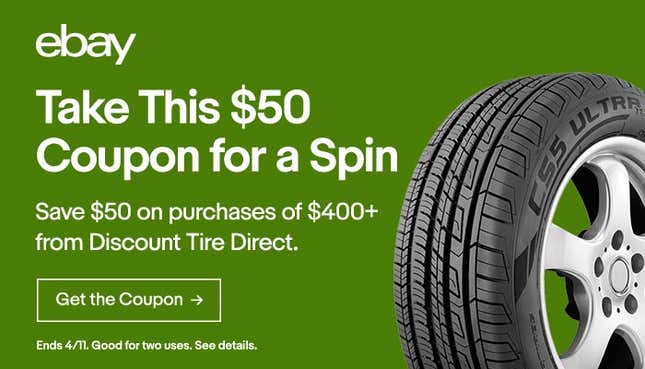 If you've been putting off replacing your tires for far too long, Discount Tire Direct's eBay storefront is offering $50 off when you spend $400 and use promo code PUMPEDUP. That's valid on both wheels and tires, and you can even browse this page to find options with stackable manufacturer rebates.

We've seen deals of up to $100 back on Discount Tire Direct's own site on occasion, but those are always in the form of a Visa gift card via a rebate. This deal, on the other hand, is a straight discount taken at checkout, which should be less of a hassle.
---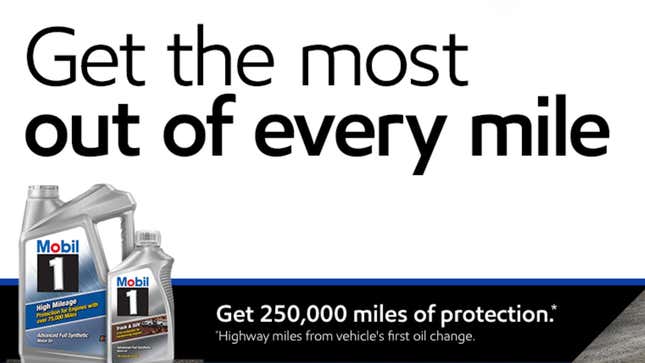 Update: Sorry about that, Amazon and Walmart aren't listed as participating retailers this time around (though they've worked in the past). Home Depot is, however.
If your car takes synthetic oil, and you like to change it yourself, you'd be hard-pressed to find a better deal than this. For a limited time, if you buy five quarts of Mobil 1 and a filter, you can submit your receipt online for a $17 rebate, which should bring your total cost down to the $17-$18 range. Or, skip the filter and get $12 back just on the oil. $10 and $7 rebates are available for Mobil Super Synthetic and Mobil Super oil as well, respectively.

Walmart tends to have good prices on Mobil 1, but you can also find a lot of different weights on Amazon as well. Just don't forget to submit that rebate.
---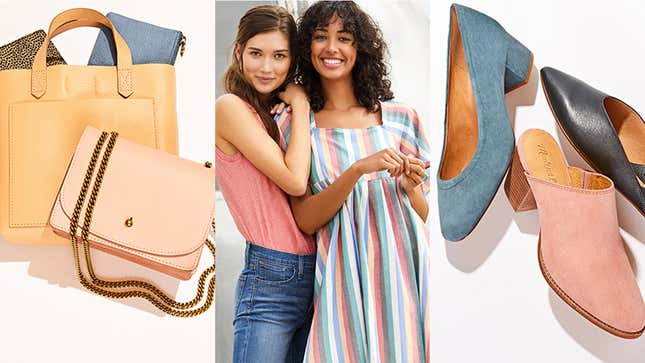 For the first time ever, Nordstrom Rack has debuted flash sales dedicated entirely to casual-cool brand Madewell's clothes, handbags, and shoes. How do I know it's the first time ever? Because I've been patiently checking Nordstrom Rack's site every day, praying this moment would arrive. My wardrobe is so filled with Madewell apparel that I am essentially a walking Madewell advertisement when I get dressed every day (but this is not an ad, I just really, really love Madewell), so trust me when I say that now's your chance to buy scores of quality, stylish stuff that's more than half-off its usual price.

A few of my favorite things on sale? A mockneck sweater I've been wearing all winter long, this lighter transitional spring sweater, this pleated scoop-neck top that I own in two colors (no shame), a crowd-favorite, zip-top tote in a smart cabernet color, plus a lot of great jeans and tees. Please, for the love of God, hurry over to this sale; the best items are already selling out.
---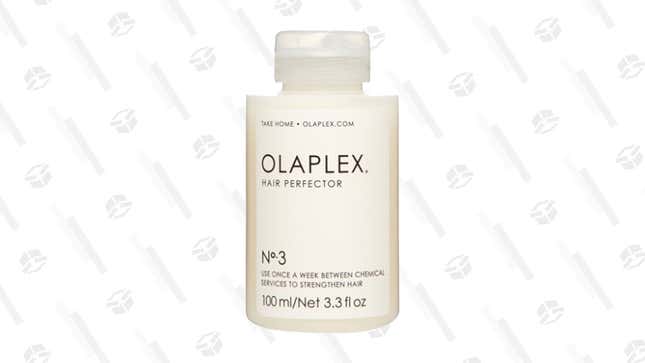 Those with color-treated hair swear by Olaplex's strand-strengthening powers. If you, too, are looking to reduce breakage and restore your hair's healthy appearance stock up on Olaplex No. 3 Hair Perfector, now on sale for $21 at Walmart. It's not a conditioner — it's an at-home, 10-minute hair treatment meant to be used one to three times per week on damaged hair, so stock up on this cult-favorite product while it's on sale.
---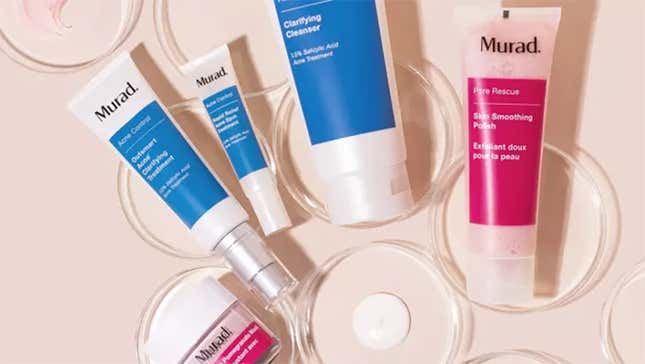 Breakouts happen, so be prepared next time a zit hits. Murad is taking 20% off all acne control and pore rescue products to help clear things up quickly. Use promo code CLEARSKIN to pick up all the essentials, including the cult-favorite Rapid Relief Acne Spot Treatment and plenty of other cleansers, toners, moisturizers, and even body acne fighters. Clearly, this is a sale your skin will thank you for shopping.
---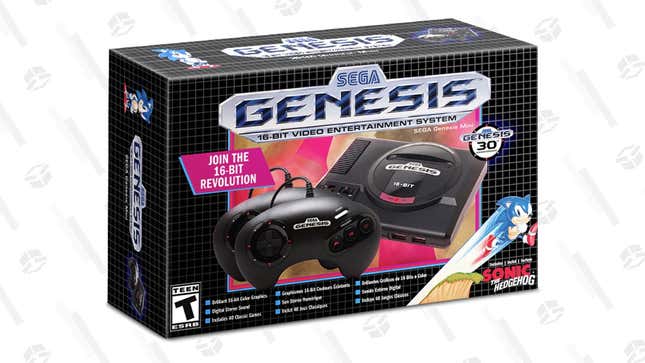 In case you missed the news, the SEGA Genesis Mini arrives on September 19 with the same six button controller (my bad, the U.S. version only gets the three button version), 40 games, and a save state function. We still don't have the full list of games for the U.S. version, but the initial announcements are more than promising:

Altered Beast
Castlevania: Bloodlines
Comix Zone
Dr. Robotnik's Mean Bean Machine
Ecco the Dolphin

Gunstar Heroes
Shining Force
Sonic The Hedgehog
Space Harrier II

ToeJam & Earl
The console just went up for preorder at Walmart for $80, with two bundled controllers. We don't yet know if it will be difficult to find like Nintendo's consoles, or a flop like Sony's PlayStation Classic, but if you want to be sure to get yours when it comes out, I'd order now.
Update: Now available on Amazon too.
---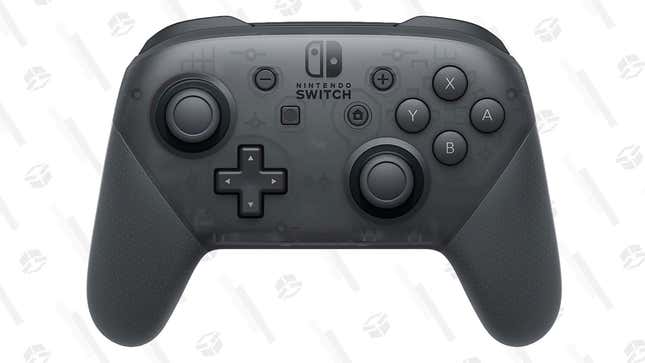 The Switch Pro controller isn't just one of the best ways to control your Nintendo Switch, it might be one of the best gamepads ever made, period. If you have a Switch and still haven't picked one up, $57 is about $12 less than usual.
If you're thinking "but I have a pair of Joy-Con and the grip thing; what do I need this for," know that I felt the same way for a long time. But when I finally caved and bought a Pro controller for a Super Smash get-together a few months ago, there was no turning back. It's so much more comfortable to hold, and the buttons are so much bigger and nicer to press. I'm angry that I waited so long.
---
You know Sphero's rolling BB-8 droid toy? It's based on their original app-controlled robot ball, which is a little less charming, but also way cheaper at just $40, in every color. Just connect your phone, and you can control the ball with an onscreen joystick, your phone's accelerometer, or even, uh, your facial expressions.
---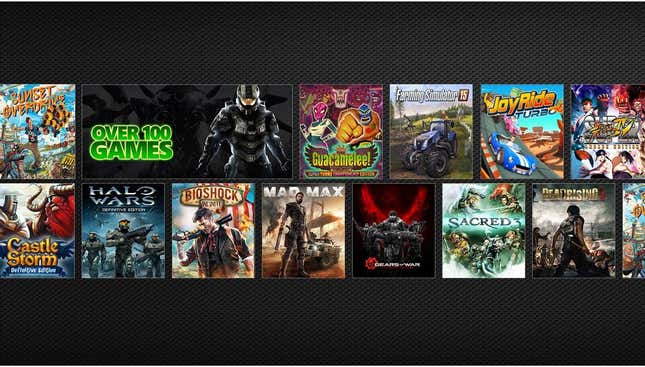 With Xbox Game Pass, Microsoft basically created the Netflix of video games, and it's a great deal at its usual $10 per month. But right now, if you buy three months of the service for $30, you'll get an additional three months for free. That's six months of access to which grants you access to over 100 games like Sea of Thieves, Crackdown 3, Marvel v. Capcom Infinite, and all of the Gear of War games. The best part of this deal? It'll also work if you're an existing member.

Note: Just make sure you still see this promotional offer on the Amazon page before you buy:

---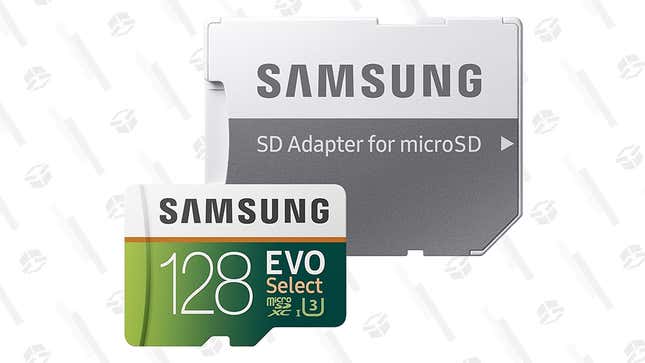 Samsung's 128GB and 256GB microSD cards are our picks for the Nintendo Switch, and with U3 write speeds, they'd be ideal for 4K action cams too. If you could use the extra space, the former is down to $20 today, and the latter is priced at $40, both matching all-time low prices.

---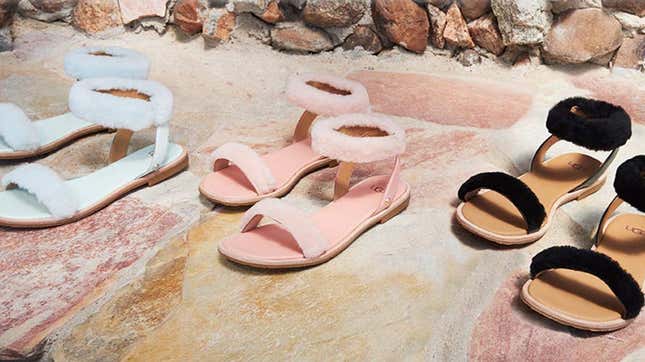 Not that you needed an extra incentive to swath your feet in the sweet cozy Australian softness, but today, when you spend $75 or more on Uggs at Zappos, the site will reward you with a $25 coupon code to use on a future purchase. The promotion is part of a special Zappos Spring Event, but considering we'd buy Uggs even when they're not on sale, this is an Uggs-tremely Ugg-mazing offer. There are tons of sandals — yes, Ugg makes sandal — for men and women that you'll be glad you have as the weather turns warmer. And yes, it's totally acceptable to put the $25 coupon toward more Uggs at Zappos.

---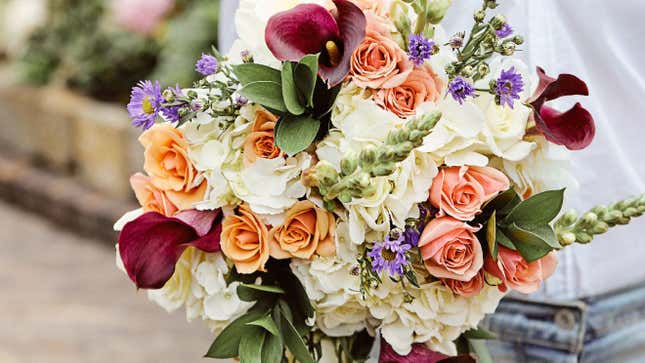 You might not have an immediate need to order flowers, but take a quick glance at your calendar, and you'll find plenty. Birthdays. Graduations. Mother's Day. Surgeries, even!

So rather than scrambling for flowers at the last minute like you always do, order them today at The Bouqs during their Double the Bouqs sale, and schedule them to be delivered whenever you'd like, even months in advance. Just add a Deluxe bouquet to your cart (which has twice as many flowers as a standard one), and enter promo code 2GETHER4EVER at checkout (you must be logged in to use the promo code field) to get the deluxe bouquet for the price of the standard.
---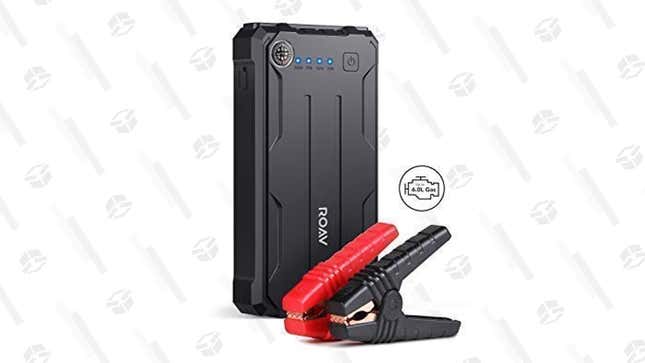 At $60, Anker's new Roav Jump Starter Pro isn't the cheapest car jump starter we've seen, but its 800A of peak output mean it can start pretty much any engine, up to 6L for a gas vehicle, or 3L for diesel. If you don't buy own of these, you'll probably be kicking yourself somewhere down the road (pun intended) when you're stranded in your driveway with somewhere to be.

This being an Anker product, you'll also find two high speed USB charging ports, plus a flashlight that doubles as an SOS strobe. There's also a compass, because why not? Even if you already own a jump starter, these make amazing gifts. Believe me, your giftee will remember you the first time they're able to start their car in the morning to get to work on time.
---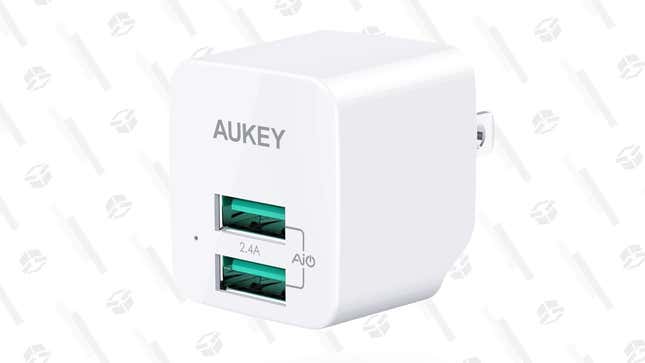 This tiny, $6 USB charger isn't much bigger than the one that ships with every iPhone, except it has two ports, folding prongs, and 2.4A of total power, compared to the 1A Apple gives you. No surprise, it's one of our top sellers of all time. Just use promo code X9VO4ZMI to get the deal.
---
About a year ago, we covered the BauBax 2.0, which combined over 25 features into what we called the multitool of jackets. Now, you can get the same Swiss Army Knife-level of utility from the company's upcoming pants.
The BauBax travel pants are available as both chinos and joggers (fourth pants!) for men, and leggings and joggers for women, but they all share the same basic characteristics. Most notably, they're constructed from absorbent bamboo viscose on the inside, and moisture wicking merino on the outside, which combine to efficiently get sweat away from your skin.
They're also lightweight, water resistant, stretchy, SPF 50, fast-drying, and as you'd expect from BauBax, include a few zippered pockets to protect your valuables while you travel. They're not as packed with bells and whistles as the company's jackets, but they seem like a great addition to anyone's wardrobe. The company's already raised a staggering $750,000 on Kickstarter with over a month to go, and you can get your preorder in starting at $108.
---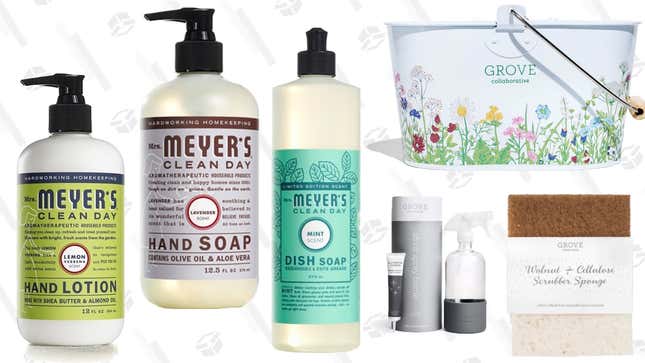 Here's your no-brainer deal of the day. If you visit this page and enter your email, Grove Collaborative will give you $30 worth of Grove and Mrs. Meyer's products for free when you spend $20 on anything else on the site. I was also given a free glass spray bottle and concentrated cleaner, for seemingly no reason at all.

After you enter your email, you'll automatically be taken to a cart with $20+ of items already added, but you can delete those and replace them with anything you'd like. Grove's well stocked with laundry supplies, cleaning gear, pet products, personal care, and even baby items...you know, stuff that you have to buy anyway. So you might as well get a bunch of Mrs. Meyer's stuff for free.
Note: The offer will also give you 60 days of Grove's VIP free shipping membership for free, which will auto-renew at a rate of $20 per year, but you can cancel the auto-renew immediately after ordering.
---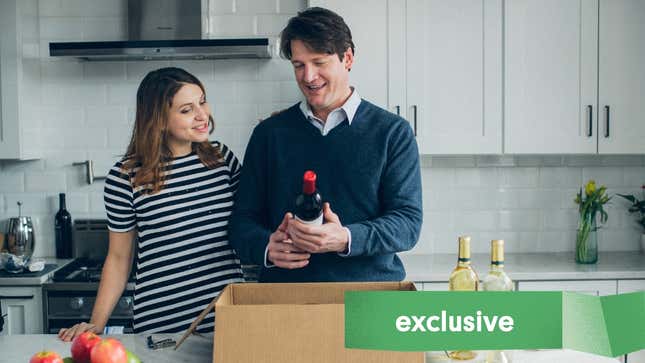 Firstleaf is an online wine club that learns your preferences, offers tons of options, and most importantly, saves you money compared to buying from the store. It's a solid deal any time, but it's even better for our readers right now.

Every new Firstleaf member gets an introductory delivery with six bottles of wine for just $40 with free shipping, and every box thereafter includes six bottles for $80, plus $10 shipping. But if you use this link and promo code Kinja when you sign up, you'll get FREE shipping on every box for your entire first year. That'll save you over $100 if you get a new box every month. At the very least, you should get the trial box for less than $7 per bottle. I mean, why wouldn't you?
---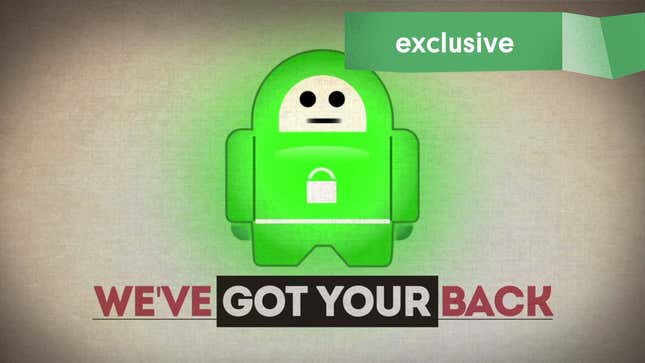 Our readers' favorite VPN recently raised prices for the first time ever, but our readers can still get a great deal on the service by committing for three years.

Three year plans aren't available to the general public at all, but if you click this link, you can get three years for $99, which works out to just $2.75 per month. That's only $9 more than it was cost to the price hike, and while shorter plan lengths are available, none come close to the per-month pricing of this three-year membership. For example, the publicly available two-year plan costs about $84, and a month-to-month plan will set you back $10 per month.
---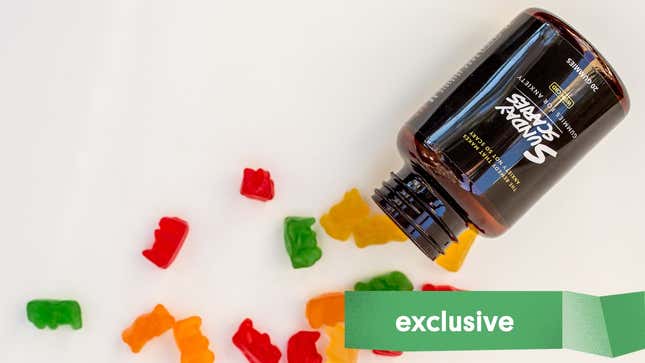 If you're having trouble sleeping, suffering from anxiety, or having trouble sleeping because you're suffering from anxiety, Sunday Scaries CBD gummies could help. Jolie Kerr shared her thoughts on them for The Inventory, and now, our readers can save 15% for the always-stressful holiday season with promo code kinja15.

That applies to the regular gummies, the vegan versions, and the pure CBD tincture, with extra savings available if you buy in bulk, so your wallet can rest as easy as you will.