What do you get for the woman who literally gave you the gift of life? It's a tough one, but we've gathered a few things that you could present your mom with this Mother's Day that might measure up. Go ahead, treat her to something nice! (But like, not as nice as your existence, sorry.)

Looking for our Father's Day gift guide? You'll find it over here.
Perfect for soothing your mom's aches and pains, or for the mom who enjoys a nice, uh, herbal treat sometimes.
This impossibly chic body lotion looks as good on your nightstand as it promises to make you feel. With a gluten-free, vegan formula that combines shea butter and organic "extra-strength" hemp oil, try it for relief from muscle pain and stiffness. -Style Girlfriend
G/O Media may get a commission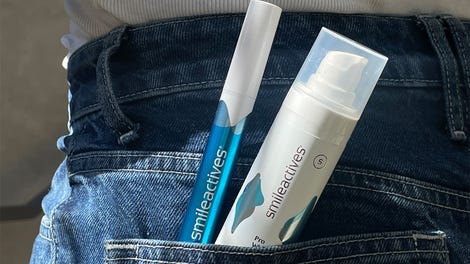 58% off
Whitening Powerhouse Pen & Gel Duo
---
Your mom misses you, so get her something new to care for. Plant babies will arrive at her doorstep like clockwork with Horti's subscription service.

Customers can choose between monthly and bi-monthly deliveries, and Horti curates your plants to help build your confidence and green thumb skills. They'll start you with easy-to-maintain selections and gradually introduce more exotic varieties (with care instructions included, of course). Plus, you can cancel the subscription or skip a delivery anytime in case you reach full plant-care capacity. -Style Girlfriend
---
The Snoo isn't cheap, but it certainly is effective at calming a crying baby. Help the new moms in your life finally get some shut eye by gifting them an actually affordable month-long rental.

After a week of tweaking and adjusting, because no baby is the same, the Snoo finally started working on Ozzy, and he began sleeping five hours straight. After another week, we were up to seven hours. And before he was even three months old he was *gasp* sleeping through the night, something I never thought I'd be able to say about my baby. -Conz Preti
---
Your mom doesn't have to live in Brooklyn to be hip to the latest Brooklyn mom trend. She can clip this strap to her existing purses, magically transforming an old bag into something new again.
Clare V. straps range from $55 to $125, but I found this mid-priced woven option to be particularly striking. The colors are especially vibrant, and it features two leather patches at the ends for maximum reinforcement. It's certain to take any purse or tote up a notch. -Chelsea Stone
---
All Away suitcases are nice, but you mom is sure to be mesmerized by this aluminum version in — gasp! — rose gold, which is probably her favorite color. These carryons don't come cheap, but your mom's happiness is priceless, right?
Away's new, limited edition Alchemy suitcases are just new colors of the Aluminum Edition suitcases they've been selling for nearly a year, but that doesn't make them any less pretty. The rose gold will get all the attention, and deservedly so...In my experience, limited edition Away colorways really are limited—I missed out on my mom's color pick at Christmas, sorry Mom—so I wouldn't recommend flying standby on these suitcases if they catch your eye. -Shep McAllister
---
There is a specific type of mom who loves to sit outside and drink wine. If that mom is your mom, get her a Hydro Flask Wine Tumbler so she can drank without fear of spills.

Apres happy hour got happier with these 10-ounce wine tumblers. The stainless steel construction doesn't taint the flavor or retain it for later while the extra-large size amounts to two full pours. When sealed with the Honeycomb insulated press-in lid, you can rest assured that your wine will be ready once you get off the slopes. -Heather Balogh Rochfort
---
You already introduced her to Spotify, now give your mom the easy-to-use, compact Mighty Vibe, so she can rock out when she works out.

Connect it to your phone via Bluetooth, and you can download your favorite Spotify playlists and podcasts for offline listening. And, since it has Bluetooth built-in, you can use your trusty wireless headphones—though it does have a headphone jack for us luddites out there. -Whitson Gordon
---
Your mom should have an Instant Pot. It cooks meat extremely fast via its pressure cooker function, or super slow via its slow cooker function. Either way, it saves a ton of time, so your mom can do other, more fun stuff while she's getting dinner ready.

In addition to standard pressure cooking, this is also our readers' favorite slow cooker, and one of their favorite rice cookers too. To put a fine point on it: It's one of the most versatile kitchen gadgets you can own. -Shep McAllister
As any mom will tell you, it's all in the accessories. If you do get your mom an Instant Pot (or if she already has one), she should also have a few of these:
While they come with all the basics you need in the box, we've rounded up some additional accessories that can greatly improve your pressure cooking experience. -Shep McAllister
---
The Greats Royale is more than a classic leather sneaker; it is nice as hell. Your mom will love how luxe they look and feel. The white ones are timeless, but maybe your mom would prefer hers in blush pink?
A relatively new DTC brand founded in Brooklyn in 2013, Greats sneakers stand apart because you're getting a luxe product at a mid-range price—the Royale is also made in Italy, and lined in the same leather they use on the outside, making them crazy-comfortable and, if you dare, a "socks optional" sneaker. -Style Girlfriend
---
This affordable serum is a cult favorite, but your mom probably hasn't heard of it. Introduce her to the benefits of vitamins C, E, ferulic acid and hyaluronic acid, the gifts that keep on giving.

We can say with confidence that my skin looks better now than it has at any point in the last year, and I think this serum is a big part of that improvement because it has worked so well with our other products. -Style Girlfriend
---
A nice bathrobe is always a safe bet for a gift — and this one's available for less than $30. Even better.
All that makes the Kemusi bathrobe a strangely intimate and flexible gift that meets your person where they are. Getting someone a book, a smoothie maker, or, god forbid, a cooking class? Forget it. We all deserve to pursue the uncontested happiness of a good bathrobe. And, besides: if you're going to be a slob, be one with a cozy drip. -Lev Novak
And what goes best with a new bathrobe? A new pair of slippers obviously. These memory foam ones are very similar to a style we love for guys, but they're cuter.
The slippers are deeply comfortable, but they're not flimsy in the least. There's a moon-walking effect to them, a zero-gravity peace. This is how Rick Ross must feel every day. -Lev Novak
---
This lightweight neoprene duffle comes in four different sizes and range of colors. Plus, it has internal organization on lock, so your mom won't be left hunting for her keys, or her phone, or her wallet, or her lipstick, or whatever else she keeps in there.

The bag contains a padded laptop sleeve, a matching mesh pouch, a stretch key leash (something I never knew I needed but now don't know how I lived without it), a water bottle pocket, plus extra pockets inside and one on the outside that happens to fit a phone perfectly. The vibe of the Landon is definitely casual, but in a non-disheveled, effortlessly cool kind of way. -Chelsea Stone
---
Family movie night just got a little more authentic with this West Bend Popcorn Popper. Let's be honest, she'll never buy one for herself. If you're feeling especially generous, go ahead and get her the kernels, oil, and butter salt to really round out this feature.

Movie theater popcorn is, objectively, the best popcorn. Fortunately, with the right supplies, you can make popcorn that's almost as good at home. -Eric Ravenscraft
---
Don't you dare allow your sweet mother to place her purse on the floor! That's where the germs and dirt and bugs are, not where her prized possessions should be. This bag hanger can help prevent this travesty.

Basically anywhere there's a flat surface or a bar- or pole-like apparatus, you'll be able to hang your bag. -Elizabeth Zimmerman
---
Whether she's anxious (probably about because she's always worrying about you) or dealing with insomnia, a weighted blanket will help your mom get some much deserved rest.

Studies have shown that the evenly distributed weight on your body feels like a comforting hug, and the light pressure helps you sleep longer and spend less time awake during the night. -Style Girlfriend