$8.62 off almost any $50 Amazon order, the fastest mesh routers, and glow sticks lead off Wednesday's best deals.
Bookmark Kinja Deals and follow us on Twitter to never miss a deal.
Top Tech Deals
I've seen a lot of deals in my day, but I've never seen anything like this. Amazon's currently taking $8.62 off pretty much any $50 purchase (shipped and sold by Amazon.com) with promo code BIGTHANKS, today only. Yes, you read that correctly.

G/O Media may get a commission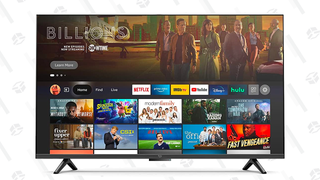 22% off
Amazon Fire TV - 50" Omni Series 4K - Early Access Deal
The only exclusions are digital content, video games, and Amazon gift cards, but otherwise, go nuts. If you don't have any ideas, just go buy a $50 gift card to your favorite restaurant; it's free money. We'll also be posting deals throughout the day to give you some inspiration. Just note that you can only use the code once per account, so spend it wisely.
So what'd you get? Let us know in the comments!
---
You probably got an Echo Dot over the holidays (seriously, I'm not sure I know anyone that didn't), and if that got you hooked, today's a great chance to buy more of them for the other rooms in your home.

Dots haven't been discounted from $50 since the holiday shopping season, but today's $9 off $50 sitewide deal is the next best thing. Just note that you'll need a filler item (like this glue stick) to put yourself over the $50 threshold, because $49.99 frustratingly isn't close enough.
---
If you take your Wi-Fi seriously, and can't abide dead spots, NETGEAR's Orbi mesh routers are some of the best you can buy according to Gizmodo and The Wirecutter, and the two-pack has never been cheaper.

Before you get too excited, this is still an expensive proposition. And if you live in a one-bedroom apartment, mesh networks are definitely overkill. But if you've struggled to get a fast, reliable signal in every corner of your home, $321 is an all-time low by $39. Just clip the $30 coupon on the page, and use code BIGTHANKS at checkout to save an extra $9.
Update: It doesn't seem that the $30 coupon is stackable with the $9 sitewide discount, unfortunately. That $30 discount is still a great deal though.

---
The successor to one of the most popular mice ever made is down to a new low price on Amazon, while supplies last.

The Logitech MX Master Mouse comes with all the accoutrements you'd expect form a high end mouse—namely a rechargeable battery, adjustable DPI, and a dark field laser that works on glass—and a few that you wouldn't, like a side thumb wheel for horizontal navigation and gestures, and the ability to connect over Bluetooth to three devices simultaneously.

$60 is the best price we've ever seen, but today only, Amazon's taking an extra $9 off with promo code BIGTHANKS. but I wouldn't expect it to last, so click on over to Amazon to lock in your order.
---
If you're planning on traveling internationally or fleeing the country any time soon, you won't want to miss this deal on one of our readers' favorite international power adapters.

Promo code UTCAMYZ8 saves $17 on Bestek's popular travel adapter and voltage converter. This complete 3-outlet/4-USB power strip will work with US, EU, UK, and AU outlets, and converts 220V power sources to US-friendly 110V, for any of your electronics that can't handle both.
---
Whether you need to back up your files, or just store more PS4 or Xbox One games, today's sitewide Amazon discount is a great excuse to grab a portable hard drive.

7200 RPM, for faster loading speeds:
---
The advent of inexpensive Bluetooth headphones has been a net positive, but there's no getting around it: They're a pain in the ass to charge.

Luckily, Mpow's new headphone carrying case includes a built-in 800mAh battery and microUSB cable, so you can recharge your earbuds while simultaneously keeping them from getting lost or tangled in your bag. Yeah, you'll still need to recharge the case, but this definitely makes Bluetooth earbuds a simpler option while traveling.
---
One can never have enough flash storage, especially when you can fit 200GB of files on a card the size of your pinkie nail, all for $61 with promo code BIGTHANKS, today only. If you're lucky enough to have a Nintendo Switch preordered, you definitely want this.
---
Modem rental fees are evil incarnate, but they're easily avoided by buying your own outright. Today only, you can get a TP-Link DOCSIS 3.0 modem (capable of 343 Mbps download and 143 Mbps upload), plus the Wirecutter-favorite Archer C7 wireless router for $101, or over $30 less than buying them separately. Just be sure to use code BIGTHANKS at checkout to get the deal.
---
If you're still wrestling with a terrible inkjet printer at home, do yourself a solid and pick up the reliable Brother HL-2380DW monochrome laser printer today for just $91 today with Amazon's sitewide discount code.

While it doesn't print in color, it more than makes up for that with the ability to spit out 32 pages per minute, duplex printing, and inexpensive toner cartridges that can last for years without being replaced. We've posted a lot of Brother deals in the past, and we've heard nothing but good things from readers about them. Plus, this particular model has a sterling 4.4 star review average on Amazon, a built-in scanner, and AirPrint and Google Cloud Print support, so it should serve you well for years.
---
Sony's MDRV6 Studio Monitor Headphones are some of the oldest (25 years old!) still-relevant headphones on the market, and have always been one of the best values in the space. In fact, they were one of our readers' five favorite headphones period in a Kinja Co-Op earlier this month.

If you're in the market, Amazon's marked the MDRV6 down to $69 today with promo code BIGTHANKS, which is about as low as they get these days.
---
Here's a straightforward deal for you: Give Amazon $48, and they'll store all your crap in the cloud for a year. That's 20% less than usual, and a bargain compared to Dropbox or Google Drive. Just use promo code WINTERPRINTS at checkout to get the deal.
---
Holy moly, this surge protector has everything. You get eight AC outlets, five 2.4A USB ports, and even a Quick Charge 3.0 port. I can't imagine a better combination to power your desk.
---
Leaf-style HDTV antennas are awesome if you live near broadcast towers, but they won't get the job done for anyone living relatively far outside the city.

Luckily, Mohu (of Mohu Leaf fame) makes a 60-mile digital antenna that's designed to be mounted in your attic or on your roof, and you can score a refurb for an all-time low $72 today. Just use promo code LOVEFREETV at checkout to get the deal.
---
You know the little charging brick that came with your phone? Throw it out, and spend $5 on this replacement from Aukey (white only with code MPO8UHUK). It's basically the same size as Apple's standard iPhone charger, but it includes two ports, folding prongs, and 2.4A of current (shared between the ports) to charge your devices faster.
Top Home Deals
You don't necessarily need to buy a new mattress to get a better night's sleep: Sometimes, a mattress pad will do, and a great one is on sale in today's Amazon Gold Box.

ExceptionalSheets' plush fitted mattress pad is supposedly the same pad used in Marriott hotels, and its 4.4 star review average from over 1,800 customers would seem to back that up. And unlike most mattress pads, these are stuffed with "hypo-allergenic cluster down fiber," which should sleep much cooler than the traditional memory foam.
Prices range from just $60-$78 today, depending on the size, but just note that this is a Gold Box deal, meaning this price is only available today, or until sold out. Unfortunately, this deal is sold by a third party as well, so it's not eligible for Amazon's sitewide discount.
---
Like the idea of a Belkin WeMo Switch, but not willing to spend $40-$50 to try one out? TP-Link's alternative has a nearly identical feature set for about half the price.

Just like a WeMo switch, TP-Link's Smart Plug will let you turn appliances on and off from your smartphone, and set schedules to toggle them automatically. The only major feature it's lacking is IFTTT support, but it will integrate with an Amazon Echo for voice control. Today only, get two for $46 with code BIGTHANKS.
---
It says in fine print that the sitewide $8.63 discount from Amazon doesn't work on Amazon.com gift cards, but here's a little loophole. Pick up this $25 Starbucks gift card/$25 Amazon gift card bundle, and use BIGTHANKS at checkout and the discount will work. Shout out to GuardianMiria for the heads up.
---
All-Clad skillets are among the most popular pieces of cookware we've ever posted, and today's Amazon sitewide discount creates some of the best deals we've ever seen on the 12" and 10" models.

These skillets feature a durable stainless steel cooking surface, an even and rapid-heating aluminum core, and a beautiful stainless exterior, all sandwiched together to create the ultimate pan. And, like all All-Clad items, it comes with a lifetime warranty, though you probably won't need it so long as you treat it well.
Most buyers will want to opt for the 12" skillet for $89, but if you're only cooking for one or two, you might be able to get away with the 10" modelfor $66. Either way, be sure to use promo code BIGTHANKS at checkout to save $9.
---
The newest version of the top-selling Instant Pot pressure cooker hasn't seen a ton of discounts, but you can save $9 today with promo code BIGTHANKS.

This V3 model is the same Instant Pot you know and love, but with the addition of cake and egg cooking modes, and the ability to pressure cook for up to four hours straight, as opposed to only two in the previous version.
If you're worried that you won't get a ton of use out of this thing, note that in addition to standard pressure cooking, this is also our readers' favorite slow cooker, and one of their favorite rice cookers too. To put a fine point on it: It's one of the most versatile kitchen gadgets you can own.
---
We see deals on Philips Hue starter kits from time to time, but individual bulbs are a different story. Luckily, today's sitewide Amazon discount is a great excuse to grab a new smart light or two. Just note that you'll need a filler item (like this glue stick) to get over the $50 threshold.
---
It's not nearly as pretty as a Nest, but Honeywell's Lyric thermostat includes all of the same features (including IFTTT, Alexa, and HomeKit support) for less than half the price. Today's $116 deal would be an all-time low on its own, but promo code BIGTHANKS shaves off an extra $9.
---
Don't head out to your next rave or spelunking adventure without these glow sticks, on sale today only in Amazon's Gold Box.

Tons of colors, varieties, and quantities are included in this deal, so you can mix and match all of your favorites. Plus, if you spend $50, be sure to use promo code BIGTHANKS at checkout to save an extra $9.
---
A whole bunch of you have bought Anova's excellent sous-vide circulators over the past few years, but today, you can get Instant Pot's new take on the product category for $80 with sitewide discount code BIGTHANKS, an all-time low.

Lifehacker has a great explainer on sous-vide cooking for you to check out, but the basic idea is that you seal the food in plastic bags, and then cook it in precisely heated water over a longish period of time, resulting in meat that is heated all the way through to a very precise temperature. It sounds weird, but trust me when I say that it works like magic.
The Instant Pot circulator doesn't actually require an Instant Pot to function, and won't integrate with one in any special way either; it simply clamps to the side of any pot just like the Anova. It also lacks the Anova's wireless connectivity, which is mostly useless on the Bluetooth model, but is somewhat helpful on the more expensive Wi-Fi version.
That said, if you've been meaning to buy one of these things, $80 is a great price for a gadget that will completely change the way you cook.
---
One of the only downsides of cast iron pans is that they can be a nightmare to clean, but this 4.7 star-rated chainmail scrubber can scrape away caked-on food without hurting your seasoning, or resorting to soap. No wonder it's in our bestsellers club. Today's $13 deal also happens to be within $2 of an all-time low.
---
Pet dental treats won't replace professional veterinary dental work, but using them regularly can at least mean fewer expensive appointments. For a limited time, Jet's taking a whopping 50% off (max savings of $30) on nearly 50 select treats with promo code PETDENTAL50. Plus, if you spend $35 or more (before the 50% discount), and you're a new Jet customer, you can save an extra 15% with promo code TRIPLE15.
---
Dash buttons normally cost $5, but come with a $5 credit the first time you use them, which makes them effectively free. But for a limited time, a handful of buttons only cost $2 up front, meaning you'll be saving $3 on their associated products. That's a deal you can take to the bank.
---
So you want to try a standing desk, but you're not ready to commit to it for eight hours a day...what do you do? You buy this monitor riser for $148 with code 4EMPKRKJ, or over $100 off.

This riser arrives fully assembled, and just sits on top of your existing desk. Put your monitor(s) on the top shelf, your keyboard and mouse on the bottom, and use its integrated spring system to raise the entire setup from a sitting to standing position within seconds. I own a very similar product from Varidesk (which was much more expensive, by the way), and I absolutely love it.
---
Rare is the apartment kitchen that includes enough storage and counter space, but you can add your own with this attractive Whitmor baker's rack is back down to $59 on Amazon with sitewide discount code BIGTHANKS, down from $90.

That includes stainless steel shelves and hanging hooks, a removable butcher block cutting surface, and a 10 year limited warranty. It's not the best price we've seen, but it's a match for the best price Amazon's listed since Black Friday.
---
Anker's home goods brand, Eufy, put its new set of copper string lights back on sale today for $9. Unlike last week's sale, this set doesn't include a remote, but it's also a few bucks cheaper, and is a fine option for indoor or outdoor decorating.
Top Lifestyle Deals
Timberland may be best known for their classic Wheat and Black waterproof boots, but they also make a surprising amount of other offerings that you don't need to work construction to appreciate. And with 25% off winter boots for men and women, plus free shipping, when you use the code WINTERBOOTS25, your boots will be made for walkin' and a lot more.
---
ExOfficio's Give-N-Go boxer briefs were a finalist in our best men's underwear Co-Op, and our readers have gone on to purchase over 20,000 pairs since.

We haven't seen many good deals on these this year, but today's Amazon sitewide discount offers a great savings opportunity. Just add $50 worth of the boxer briefs (shipped and sold by Amazon.com) to your cart, and use code BIGTHANKS at checkout to save $9.
This deal can be combined with any other items eligible for the sale, so if you're $15-$20 short, these would be a perfect filler. Just note that certain colors and sizes default to third party sellers, which aren't eligible for the discount. Black, charcoal, and white seem to have the best prices and availability, with a few sizes available for $15, which is as cheap as we've seen these lately.
---
It shouldn't be a surprise that Banana Republic, Old Navy and GAP are in cahoots when it comes to sales; they are owned by the same company, after all. But with 40% off coming from all three retailers with the code MIDWEEK, maybe you can tack on another resolution to the list: get a whole new wardrobe.
---
Biofreeze has such a strong scent memory for me (that and Tigerbalm) that I would probably have bad flashbacks of high school sports if I ever smelled it again. But if you swear by the stuff, and I don't blame you if you do, Amazon is running a Gold Box on it so you can stock up. But it is a one-day thing, so this deal will run cold at the end of the day.
---
Stock up on any outerwear you could need from Moosejaw during this sale. Take up to 50% off jackets for all different climates and activities from brands like The North Face, Canada Good, Patagonia, Marmot, and more. Plus, they're already separated by size, so you don't need to go hunting (unless, you know, you actually hunt).
Top Media Deals
The Fast & Furious franchise is getting another box set, this time with a bonus disc, lenticular packaging, and space for The Fate of the Furious once it comes out. Preorders were selling for $100 until recently, when Amazon dropped it to $60. And if you order now, and the price drops any further, you'll automatically get the best available price once it ships.
Top Gaming Deals
Razer makes a bunch of your favorite gaming peripherals, and a handful of their popular color-shifting Chroma items are on sale today, with an extra $9 off with promo code BIGTHANKS.

Note: You'll need a $5 filler item to get the BIGTHANKS discount on the Kraken headset.
---
Need an extra controller for your new Xbox One? Newegg's eBay storefront is blowing them out for $39 today in white, matching Black Friday.

The Xbox One S gamepad improves on the original with a textured grip, double the range, and most importantly, Bluetooth, meaning you can connect it to your PC without an adapter.
---
Before you go out and spend hundreds of dollars on a DJI Phantom, you can learn the basics of flying a quadcopter with this $23 toy drone from Aukey. This deal actually comes in two versions: One with a remote, and one with Wi-Fi that turns your smartphone into the remote. Both are the same price with the same HEBVQMG4 promo code.
Trust me, if you can fly this thing, you can fly a GPS-equipped, gyro-stabilized camera rig. And if not, well, it's not like crashing it will be that big a deal.
---
Whether you're a competitive gamer, or just want to be more productive at work, these popular gaming mice are the right tools for the job, and both are on sale today.
---
Catan is one of those games that everyone should have on their shelves, and Amazon's marked it down to $30 today. That's within about a buck of the lowest price Amazon's ever listed, and a great way to spend family time. Unfortunately, they won't trade it to you for two wheats; I asked.
---
They PlayStation 4 Pro doesn't usually come bundled with any games, but for a limited time, you can get a free copy of Call of Duty Infinite Warfare and Dishonored 2 when you purchase yours through Newegg's eBay storefront.

The next PS4 firmware update, in addition to adding external hard drive support, will unlock Boost Mode on the Pro for PS4 games that haven't been specifically optimized for the hardware, which should result in higher frame rates and shorter load times.
---
If you missed out on Black Friday, Steam's hardware lineup is back on sale, with the Steam Link dropping all the way down to $20, and the Steam Controller matching its all-time low price of $35. Those are the same deals we saw around Thanksgiving, and with the controller, you even get a carrying case.
You can also buy both for $46 with promo code BIGTHANKS.
---
The latest Humble Bundle is packed with Sid Meier's Civilization games and DLC packs, if you somehow don't already own all of them.

Before you ask, no, the bundle doesn't include Civilization VI, though if you pay more than the average, you'll get a coupon for 20% off the newest entry in the series, or 25% off the Deluxe Edition in the Humble Store.
Tech
Storage
Power
Audio
Home Theater
Computers & Accessories
PC Parts
Mobile Devices
Photography
Home
Kitchen
Tools & Auto
Lifestyle
Apparel
Camping & Outdoors

Fitness
Media
Movies & TV
Books
Gaming
Peripherals
PC
PlayStation 4
Xbox One
Board Games

Toys