The one part of your skin care routine that you should always include, however barebones that routine is, is moisturizer (and sun screen but come on, we're all adults here. Wear sunscreen, you idiot).

Whether it's K-Beauty, indie brands, or a classic drugstore mainstay, these are the creams (and one serum) you should keep on standby for when your skin feel like it's one false move from looking like the end of Raiders of the Lost Ark.
---
The Classic
G/O Media may get a commission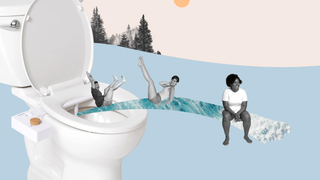 17% off
Tushy 3.0 Warm Water Spa Bidet Attachment
Growing up in the early aughts with temperamental cystic acne, I was a Proactiv enthusiast, but the intense salicylic acid dried out my skin quicker than you could say "Moisturize me." The only thing that helped was Cerave's Moisturizing Lotion. It's the one, to this day, I recommend to people who don't moisturize.
There are way too many of you and yes, I'm judging you.

---
The Super Gel
Hyaluronic acid is the It ingredient in a lot of high-end, expensive moisturizers, but Neutrogena's Hydro Boost Water Gel has it packed into a very blue gel for under $20. Neutrogena made a moisturizer that's both calming and protective by pairing Hyaluronic acid (which moisturizes up to 1,000 times its weight in water) and SPF 15. It also comes in a non-SPF version, if you'd rather separate Church and State when it comes to sun protection. It goes on clear and doesn't leave any weird residue, which is great both under makeup and sans makeup.

---
The Overnight Wonder
If you don't enjoy the feeling of moisturizer on your skin during the day, or prefer to wear only sunscreen, The Algenist SPLASH Absolute Hydration Replenishing Sleeping Pack was my savior during the Polar Vortex and can be yours too if you suffer from tight, dry skin.

---
The Serum
When Innisfree opened a US store around the corner from my office, I knew my wallet was screwed. And after multiple samples of their Moisture Serum with Green Tea when I spent $30 (don't look at me like that), I caved and bought a full-size. Yes, this is technically not a moisturizer, but it's very good.

---
Hello, it is I, Shane, taking over from here...
Best used as a catch-all set, Protect during the day and Rebuild at night with Mavericks, my favorite men's complete skincare system.
---
Swiss apple stem cells? Swiss apple stem cells!
Ursa Major's Force Field Daily Defense Lotion with SPF 18 goes on non-greasy and protects as it moisturizes. This is my favorite face product to travel with.
---
Maker of my favorite face cleanser, Oars + Alps also does a great Face Moisturizer and Eye Cream combo, which kills two of your most important birds with one non-greasy stone.
---
I'm coining the phrase "on and gone" to describe Port Products' Balancing Daily Moisturizer, which absorbs immediately, fights aging, and isn't shiny. Also, it's available on Subscribe and Save.
---
Let's pretend they don't make fluoride-free toothpaste for a minute, because Akamai's Skin Fuel is a simple, powerful, all-purpose oil that works as an everywhere moisturizer, conditioner, aftershave, and beard oil.
---