Your favorite big budget movie doesn't come out of nowhere. Months, or even years of work goes into every frame. Art books let you dive deep into every concept, sketch, and photo that combine to morph into the movies you love.

Marvel Cinematic Universe Art Books
Few franchises crank out as much colorful and unique imagery as the Marvel Cinematic Universe. And at the current clip of three movies a year, there's a lot of art to dig through. The studio puts out an art book for nearly every movie in the series, as well as a few compilation books that encompass multiple films. For example, the Road to Infinity War art book covers everything from Civil War to Thor: Ragnarok (though not Infinity War itself, there's a separate art book for that). If you have a few favorites, then you can get art books for Spider-Man: Homecoming, Doctor Strange, Guardians of the Galaxy Vol. 2 and a lot more.

G/O Media may get a commission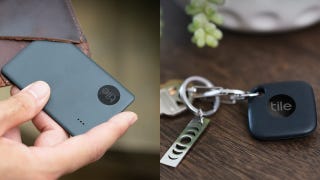 Up to 35% off
Tile Item Trackers
Star Wars Art Books

The visual language of the Star Wars franchise is so ingrained in pop culture that flipping through an art book from the movies can feel like paging through your own family photo album. Star Wars Storyboards is an excellent collection of early storyboard art from the original trilogy, while more recent art books like The Art of Star Wars: The Force Awakens focus on the recent films. For the die-hard fan, though, it's hard to top Star Wars Art: Ralph McQuarrie. Even if you've never heard his name, you've probably seen some of his art. His early concept art was essential in convincing Fox to green light the original Star Wars. The massive (and expensive) compendium of his work for the franchise makes an excellent centerpiece for any fan's collection.

Disney Animated Art Books
Disney may be a corporate monolith of epic proportions, but it also employs some of the most talented artists in the world. Accompanying art books for your kids' (or your own) favorite animated movies like Frozen, Zootopia, or Moana offer deep dives into all the iterations it took to reach the final product.

Harry Potter Art Books
The Wizarding World universe is so richly detailed that it can feel almost real. Especially if you're in Orlando. The recently revised Harry Potter Film Wizardry collection features photos, interviews, and artwork from the entire Harry Potter film series. The Art of Harry Potter is a similarly robust collection, more focused on the concept art and design influences that brought the magical world to life.

Nostalgic Film Art Collections
Art books for individual older films are a little more scarce than modern big-budget franchises. However, you can find collections for some of your favorite nostalgic franchises. Ghostbusters: The Ultimate Visual History chronicles both movies from the 80s, as well as the animated series. The Complete Making of Indiana Jones covers all four (yes, Kingdom of the Crystal Skull is included) of the Indiana Jones movies. A similar collection exists for the Back to the Future trilogy. If your tastes veer more towards the nostalgic than the modern, there are plenty of tomes to add to your shelf.

Art Books For the Thoughtful Film Buff
Even if you're not into the summer blockbuster trends, there's never been a better time for visually stunning films. The Art and Soul of Bladerunner 2049 features detailed artwork from Denis Villeneuve's patient and thoughtful follow up to Ridley Scott's landmark cyberpunk classic. The Making of Dunkirk features art and behind-the-scenes photography from Christopher Nolan's recent dramatization of the evacuation of Dunkirk. And The Art of Kong: Skull Island breaks down how artists created the monsters that fill the world in the vibrant, if overlooked 2017 film.

---