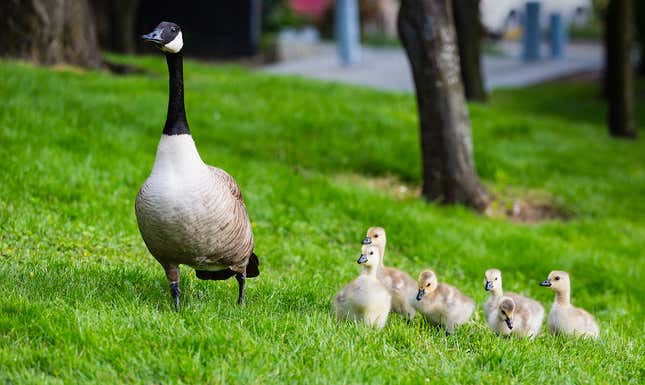 Moms who say they don't want anything for Mother's Day are lying. But buying a present for the woman who gave you life doesn't have to mean emptying out your bank account. We'll be updating this post with the best gift-able deals, so you can get Mom something nice and still save money. Your mother didn't raise you to be wasteful, after all.

Bookmark Kinja Deals and follow us on Twitter and Facebook, or sign up for our newsletter to never miss a deal.
---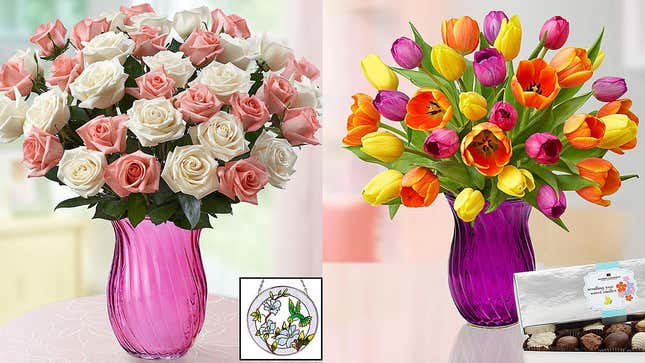 Update: Today only, you can save 25% sitewide at 1800Flowers with promo code FLOWERSAVE25. Depending on the cost of your order, that code may or may not be worth more than the FREESHIP Mother's Day code, and you can only use one, so try both at the final stage of checkout to get the best deal.
If you've ever bought flowers online, you've probably taken a pause and a deep breath when you got to checkout and saw how much they cost to ship. It makes some sense—they're delicate flowers, after all—and you ordered them anyway because you're a good person, but that doesn't mean it doesn't hurt.

That's what makes 1800Flowers' Mother's Day deal so tempting. If you use promo code FREESHIP on any of their Mother's Day bouquets, and set delivery between 5/8-5/11, they'll waive the shipping and service charges. So go ahead, treat your mom, she deserves it.
---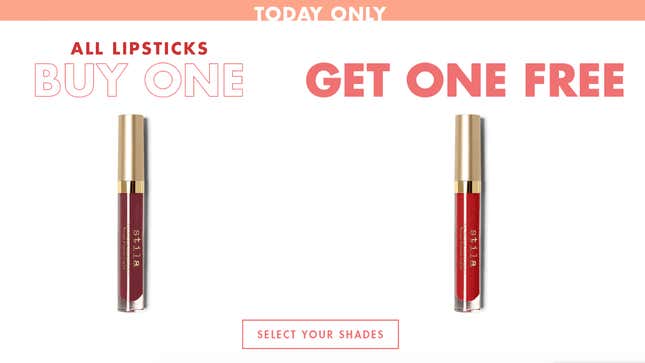 Pucker up for Stila Cosmetics' latest promotion: Today only, if you buy any lipstick on site, you'll get a second one completely free. Choose from any of the beauty brand's luscious formulas, including their Stay All Day Liquid Lipstick and Liner, Color Balm Lipstick, and Convertible Color in a whole range of shades both matte and shiny. It's a deal that's just <chef's kiss> stunning.
---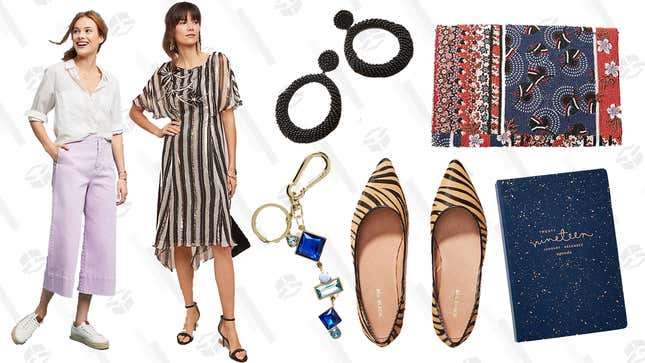 The only thing better than wandering through the boho fantasy land that is Anthropologie IRL, is getting sucked into one of their sales online. Right now, everything in the sale section at Anthro, from unique apparel and accessories to creatively designed homewares, is an additional 25% off. To top it off, there's nothing you need to do to take advantage of this deal; just add to cart, and the discount will be automatically applied. Oh, and by the way, there are currently over 1,600 items under Anthropologie's sale section. Happy browsing!
---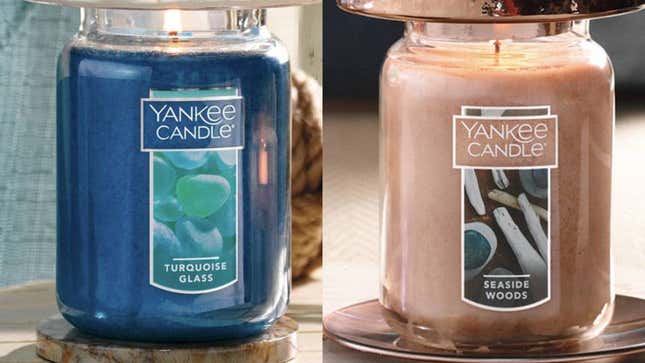 If you're looking for a good last-minute Mother's Day gift, Yankee Candle has you covered. Today is the last day that you can get 40% off one regular-priced item. You can get mom new large classic jar scents like Turquoise Glass or Seaside Woods for $18, instead of the regular $30.

---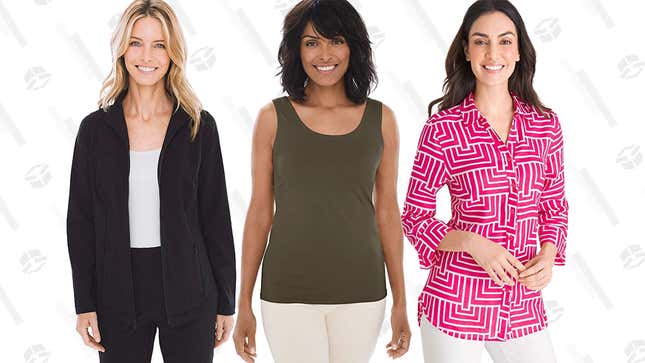 Today only, Amazon is discounting a bunch of women's Chico's apparel. Prices start at $18 and go up to $48. And while I can't say I'm an expert at women's clothing, I think these look fine? The women wearing these pieces look comfortable.
I dunno, man. I've been wearing non-stop black shirts and sweaters for the past 3 months. But, hey, these tops and pants are cheaper today. So, I'm almost certain that's a positive. 
These prices will only stick around for the day or until sold out.
---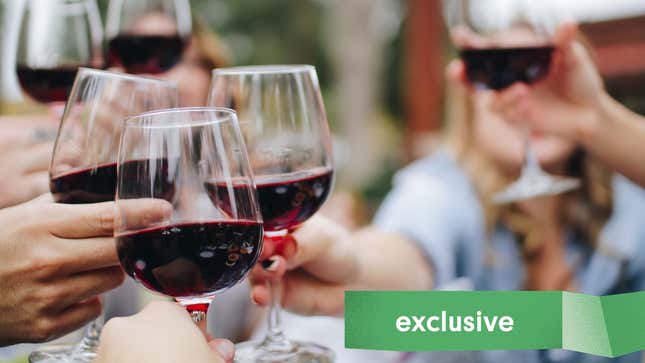 Firstleaf is an online wine club that learns your preferences, offers tons of great wines from around the world, and most importantly, saves you money compared to buying from the store. It's a solid deal any time, but it's even better for our readers right now in preparation for Mother's Day.
Every new Firstleaf member gets an introductory delivery with six bottles of wine for just $40 with free shipping, and every box thereafter includes six bottles for $80, plus $10 shipping. But if you use this link when you sign up, you'll get FREE shipping on every box for your entire first year. That'll save you over $100 if you get a new box every month. At the very least, you should send Mom the trial box for less than $7 per bottle. I mean, why wouldn't you?
---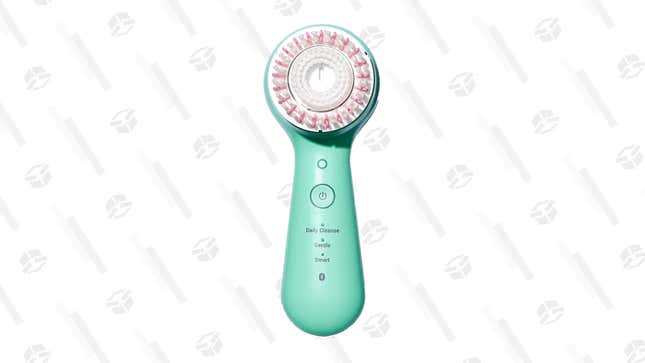 Now that your phone and your home are all smart, it's apparently time to up the intelligence of your facial cleansing brush. The Clarisonic Mia Smart allows users to connect the brush to a smartphone app, which can customize preset routines on the device, in addition to the deep pore cleansing and exfoliating you've come to expect from the brand.
Now, do you need your facial cleansing brush to be bluetooth enabled? Nope. But it is a cool extra feature for those are who are looking to really maximize their cleansing routine. And now, all that cool skincare tech is on sale for $139—the lowest price we've seen—in either mint or pink. The brush also comes with a charging stand, and it's waterproof, so feel free to scrub away while you're in the shower or bathtub. And it's compatible with any Clarisonic brush head, so you can really go all out.
---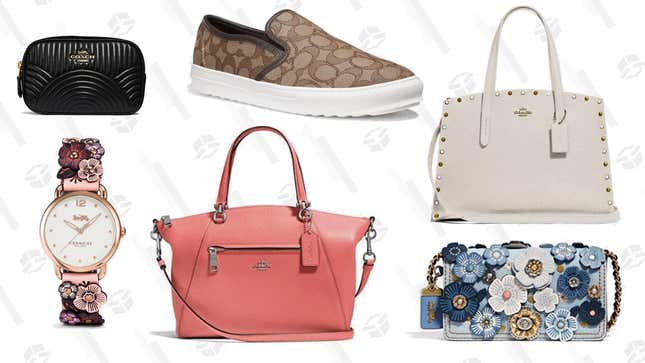 Bag your mom a new bag this Mother's Day—and a really nice one at that. Through May 12, Coach is taking 30% off a selection of their stock for women with promo code MOM19. A load of great carryalls, clutches, satchels, wallets, and more are included in the promotion, but if your mom isn't really a bag lady, you can still snag her some shoes, jewelry, watches, or sunglasses.
---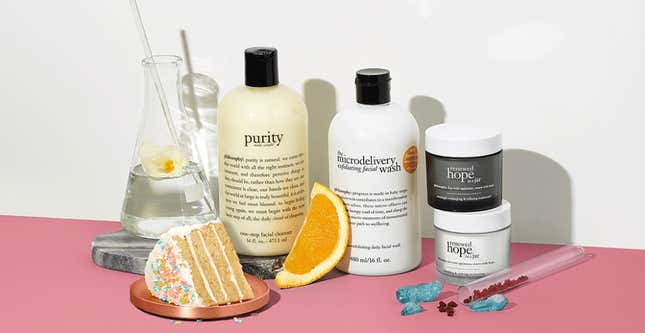 It's my personal philosophy that you should try out Philosophy's line clean, effective, and honestly, amazing smelling products, and there's never been a better time to do that than during the brand's 40% off sale, happening today sitewide. So use promo code 40OFF, and pick up any product that catches your eye, like perhaps the acclaimed Purity Made Simple Pore Extractor Face Mask or the fresh floral Amazing Grace fragrance spray. No matter what skincare philosophy you abide by, you can't go wrong with this deal.
---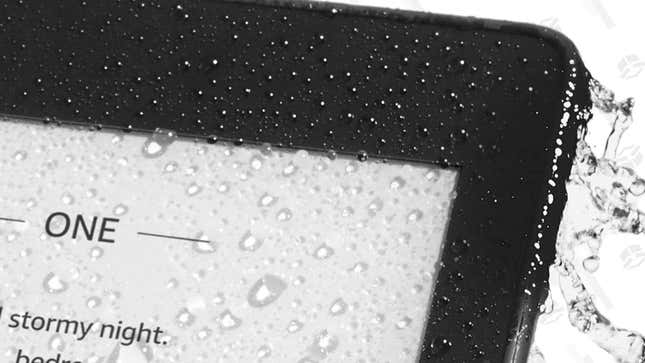 Basically every device Amazon makes was on sale for Black Friday, with one glaring exception: The new, waterproof, Bluetooth-equipped Kindle Paperwhite. So if you were holding out on a deal for all your pool and bathtub reading needs, your patience has been rewarded today with a $30 discount for Mother's Day.
Better still, this is the best deal we've seen, and if you have an Amazon Prime credit card, you'll get 20% cash back, which effectively lowers the price to $72.
Oh, and if you want the cheaper, all-new Kindle—that's also cheaper now, too. It's selling for $70 which is also the lowest price we've ever seen.

---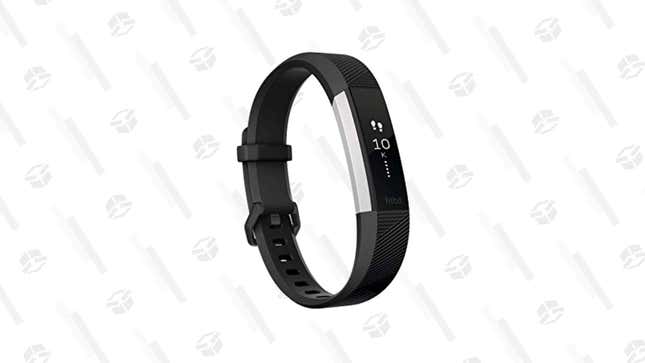 It is time to start tracking your steps! If you haven't gotten a Fitbit yet, now is the time to jump on the bandwagon. The popular fitness trackers count steps, monitor your heart rate, track your sleep, and can do so much more, depending on which model you choose. Right now, the Fitbit Alta HR (black, large) is available for an all-time low of $75.
The Alta HR operates with Bluetooth technology and automatically syncs all of your information as you work out/walk/sleep when wearing it. Other colors and sizes of the Alta are also on sale, though not nearly as cheap as the large black wristband.
---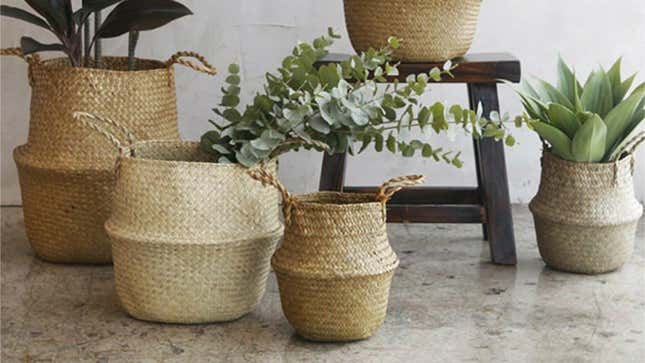 Seagrass planter baskets are ostensibly designed to hold plants, but large ones like these are also a trendy way to hide things like towels and blankets out in the open, and smaller ones can hold...smaller things. They're an attractive way to store stuff, basically!

We actually just covered them yesterday on The Inventory:
I keep a very small one by my cat's bed to store her treats, brush, and nail clippers—stuff that was always floating around and driving me crazy. Plus, they collapse when not in use for easy storing, and can be great for displaying plants inexpensively while keeping them in the plastic pots they often come home from the store in.
This pack of three large baskets has always sold for $30 on Amazon, but it just dropped to $25, so click that Buy Button and get your Instagram ready to show off your apartment.
---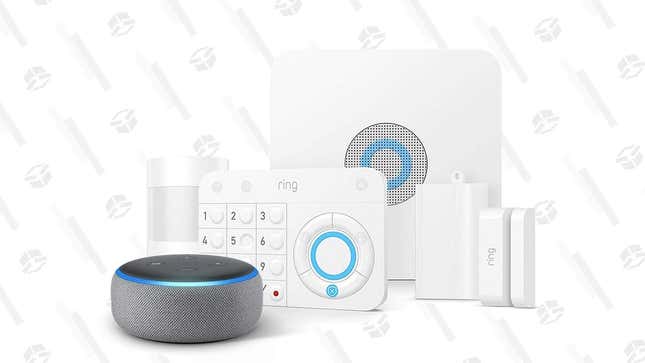 Ring is best known for its security cameras and doorbells, but its indoor home security system is one of our favorite options without a monthly fee (but if you do want 24/7 monitoring, it's only $10 per month). The five-piece entry level starter kit includes a keypad, base station alarm, a contact sensor, a motion sensor, and a range extender, and today's $169 deal is within $10 of the best price Amazon's ever listed.
And oh yeah, they're throwing in a free Echo Dot too. That means you can arm, disarm, and check the status of your system with only your voice. Larger systems with more sensors are also on sale (just select the one you want from the product page), some of which (like the $249 11-piece set) are cheaper than they've ever been before.
---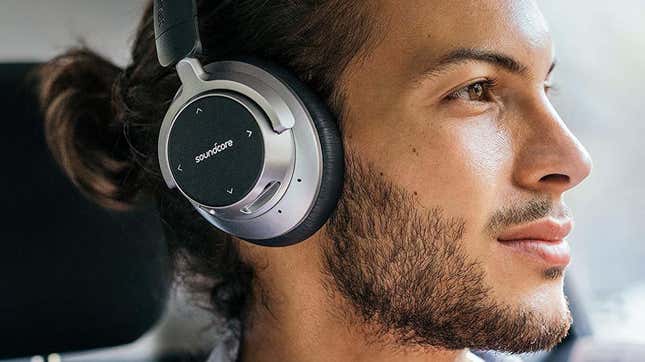 Anker makes a lot of gadgets, but noise canceling headphones were a notable gap in the company's lineup until very recently. So if you want to block out the world with the new Soundcore Space wireless over-ears, you can save $20 right now, no promo code required.
The Wirecutter-recommended Soundcore Spaces run for 20 hours in wireless noise canceling mode, or you can use them wired for up to 50 hours with NC enabled, which are some of the best battery life specs we've seen in this market.
---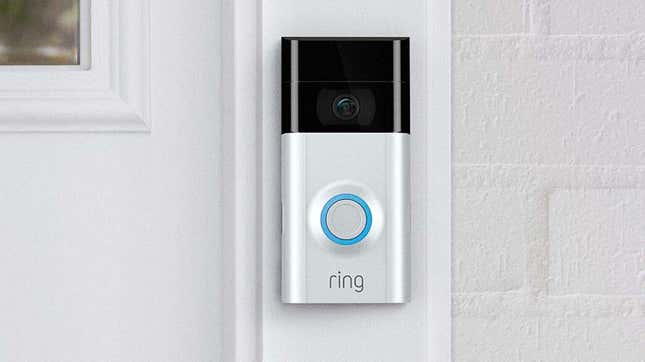 Ring's security systems aren't the only Ring things on sale for Mother's Day. The company's iconic video doorbells are also on sale right now, complete with free Echo Dots.

The Video Doorbell Pro is $50 off at $199 (not accounting for the Dot), and hooks into your existing doorbell wiring.If you don't have doorbell wiring hooked up, the battery-powered Ring Doorbell 2 is $30 off at $169, again with a free Echo Dot.
---
It's not cold outside anymore, but anxiety is always in season. In addition to keeping you warm, a weighted blanket can work wonders for your anxiety, and several different models are on sale for Mother's Day, if you still haven't picked out a gift.
Options include a beefy 20 pounder for just $58 (with code Y2HG8QOB, the best price we've ever seen for a blanket that heavy. Just be sure to note the promo codes above or below. Prices start at $45 for a 15 pounder as well (with code LQXUGKPY), which with the exception of last week's short-lived $35 deal is the best we've seen.
Personally, I want my weighted blankets to be capable of breaking ribs (I own a 25 pounder myself), but the general recommendation is 10% of your body weight. Not to stress you out, but we wouldn't expect this deal to last for long.
---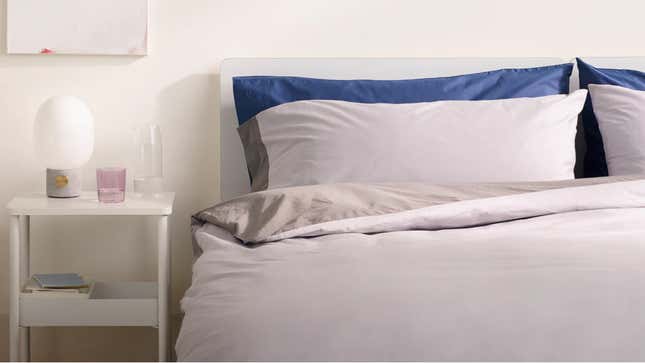 You shouldn't skimp out on good sheets, an essential component of a good bed, and right now, some of our favorites from Casper are on sale. For a limited time, take 30% off sheet sets in three difference varieties — Airy Linen, Cool Supima, and Weightless Cotton — along with duvets, pillowcase sets, and quilts. It's a sweet deal that will surely bring forth sweet dreams.

---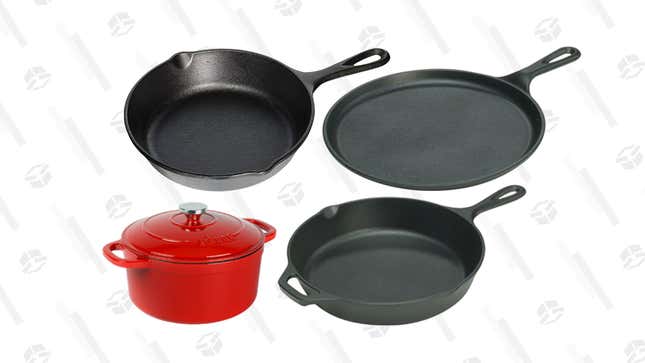 Waiting to invest in cast iron cookware? Stop. The humble and inexpensive cast iron skillets and dutch ovens are some of most important pieces of cooking gear you can own, and right now Walmart has a 5-piece set (one piece is a lid) for just $60. (A comparable set is selling for $12 more on Amazon.)
---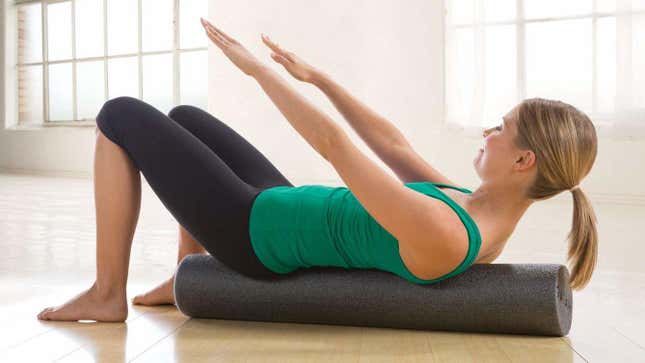 Life is stressful, so roll out all that tension in your back and beyond with this $17 Gaiam Foam Roller, down to its lowest price ever. Foam rollers are a secret weapon of workout fiends for pre-workout loosening up or post-workout soreness reduction. Or just skip the workout altogether and lay on top of this thing for a nice spine stretch.

---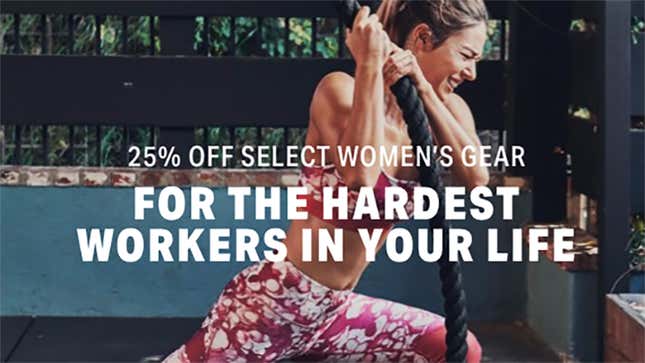 Whether your mom loves to work out or just lives in athleisure, you'll find something give gift her for Mother's Day at Under Armour's latest sale. Take 25% off select women's gear, including leggings, shirts, shorts, and bags, no promo code necessary. Just be sure to pick out your present quickly; this deal ends Monday.
---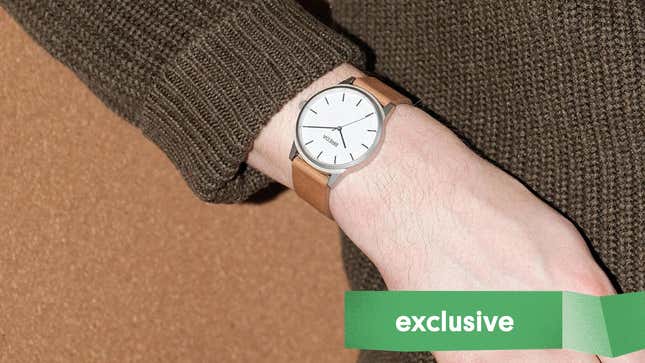 If it's time to upgrade your watch, Dallas-based watchmaker Breda makes the minimalist-cool ones your wrist has been craving. And now, you can get a wear-with-everything timepiece of your own with this exclusive $30 off deal on regular-price styles, plus free shipping through May 8. Or, since the time for buying a Mother's Day gift is ticking away, get one for the lady who gave you life—anyone mom appreciates nice accessories and occasionally needs to know what time it is will appreciate it. Just use code MOM30 to score the savings, and start counting down the seconds until your order arrives.
---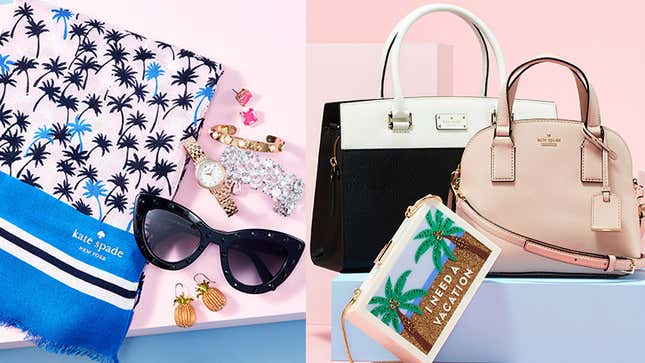 If you can't get enough of quirky, cute stuff from Kate Spade, today's your lucky day. Nordstrom Rack is hosting a series of flash sales on all things Kate Spade, from handbags and coats to jewelry and shoes, through May 10. But if you want to snag the best stuff for yourself (or your mom!), you should hurry; items are already selling out.
---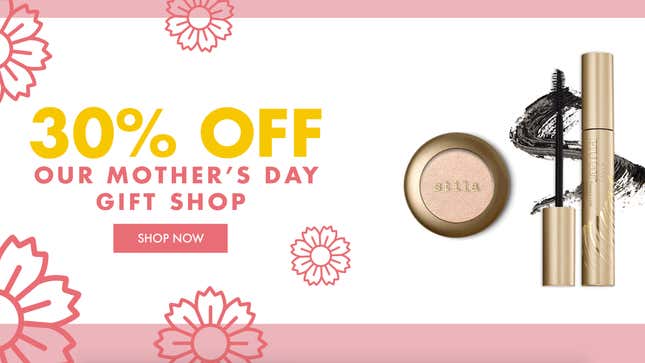 Stila Cosmetics is celebrating mom with a 30% off sale on a selection of their top products. Right now, save on items including Shimmer & Glow Liquid Eye Shadow, Correct & Perfect All-in-One Color Correcting Palette, and Stay All Day Foundation & Concealer. Plus take an additional 15% off with promo code BOSS15. Just be sure to place your order by May 6 to guarantee it arrives in time for Mother's Day.
---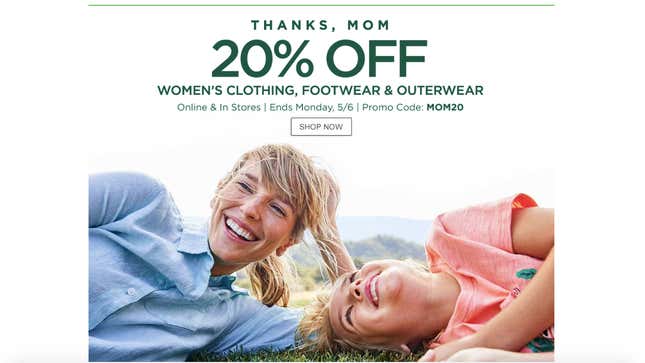 If you're mom is the outdoorsy type, or just the type who, uh, wears clothes, you'll be able to find something for her at L.L.Bean's Mother's Day Sale. Through May 6, take 20% off women's clothing, shoes, and outerwear with promo code MOM20. She'll love a new jacket, top, or tote, and you'll love the price.
---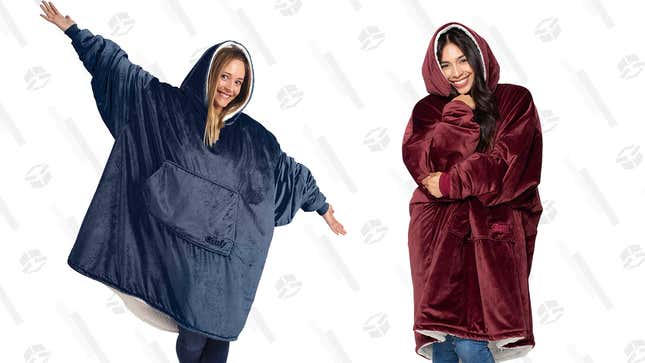 Sometimes, wrapping yourself in a cocoon of blankets is simply not enough. In those moments, reach for this cozy, reversible Comfy Original Blanket Sweatshirt, now on sale for $34.

This oversized sweatshirt-blanket is one-size-fits-all and long enough to cover a good portion of your legs. One side features super soft sherpa material, while the other features super soft material in your choice of 9 colors, but both sides have a handy front pocket in which to store your phone, or just your hands. It will definitely replace all your regular, non-hooded and/or sleeveless throw blankets and hey, maybe even your clothes, too—no judgement.
---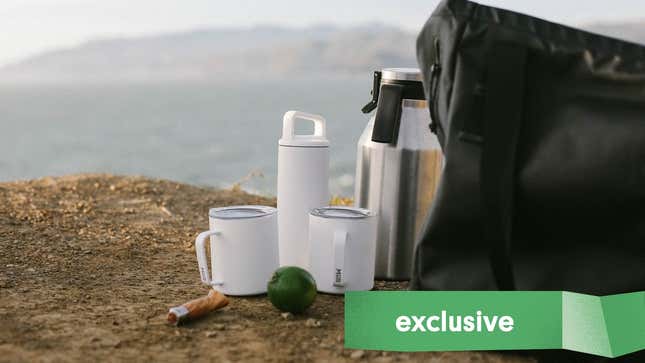 From growlers and howlers to tumblers and camp cups, Miir makes some of our favorite drinkware around, whether you're hauling it into the backcountry, or sipping from it at home.

Today on Amazon, most of their wares (including the wine bottle and wine tumbler, which are usually excluded from these sales) are about 25% off their regular prices (prices vary a bit by color, in some cases), and our readers can save an extra 10% on anything they sell with promo code 10Kinjadeal. We'll toast to that. A few favorites are below (along with their deal prices), but you can also just head over to Miir's Amazon storefront and browse from there.
Bonus: Don't miss out on the Limited Edition designs, which feature great artwork and bold colors.
---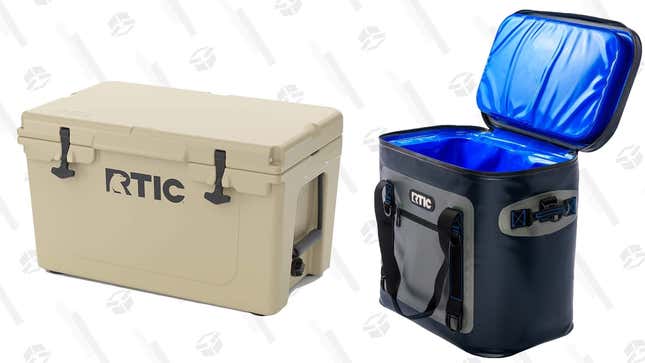 We're approaching peak picnic/camping/beach trip season, and if you don't own a cooler that you really like, some of our readers' favorites are on sale right now on Amazon.
You can save today on both soft and hard RTIC coolers, both in multiple sizes. The Soft Packs are actually our readers' favorite coolers, and they really do keep ice frozen for days. Purely for ergonomic reasons, I prefer them to the hard coolers, but the hard ones include a drain to let out excess water, which is a nice plus.
Though Amazon doesn't actually show them as discounted, all three soft packs are down to their best prices in at least 11 months. The 20-can model usually costs about $120-$130, the 30-can model hovers between $140 and $165, and the 40-can behemoth has sold for at least $165 for most of the last year.
The 20 and 45-can hard coolers both fluctuate in price a little more, and both were a few bucks cheaper briefly in February, but these are both still very good prices, historically.
---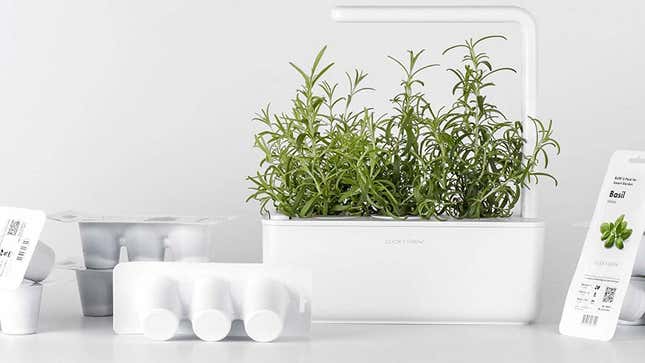 Click and Grow's indoor herb garden has been described as " idiot-proof indoor farming," and you can get the mini starter kit for $75 today from Amazon today, a full $25 less than usual.

The kit comes with three maintenance-free basil cartridges to get you started, , but you can also purchase plenty of other flowers, herbs, and vegetables from Amazon to suit your taste. Functionally, this thing is pretty similar to MiracleGro's line of Aerogardens, but aesthetically, it looks like like an Apple product in the best possible way.
---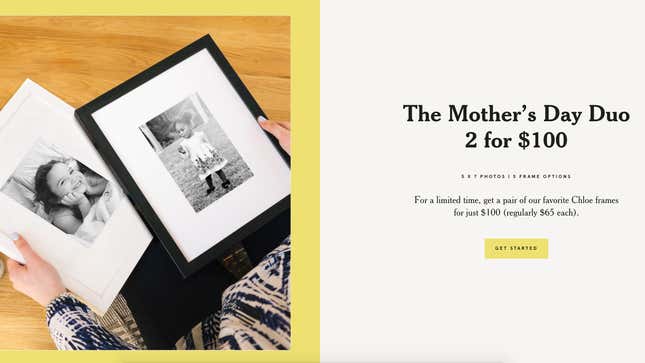 We love Framebridge for their nice frames and impressive gallery walls, and now, it seems the service is coming through for Mother's Day, too. For a limited time, you can get two Chloe frames—normally $65 each—for $100. Upload your photos by May 5 to be sure the frames arrive at Mom's doorstep in time for the big day. Go with a pic of you two together; she'll be overjoyed to have a nice memory with her offspring hanging on the wall, and even more excited about how nice the fame looks.

---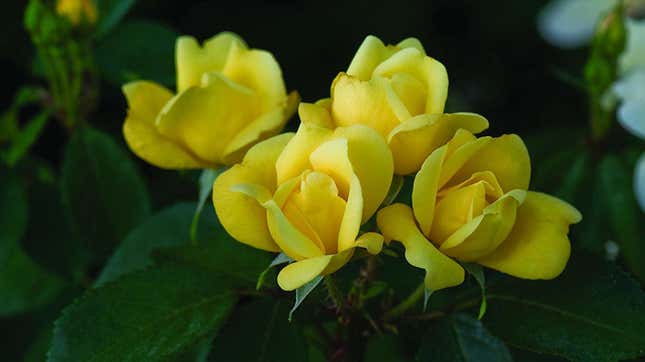 Sure, you can (and should) buy your mom some flowers for Mother's Day. But imagine if you gave your mom not just one bouquet that inevitably won't last very long, but rather a living, flowering plant that will produce flowers indefinitely? Thanks to Amazon, you can do just that. A range of rose and peony plants are currently on sale for $17 to $19 (with one peony plant with multiple blooms going for $38). If your mom has a green thumb, this is the gift for her.

---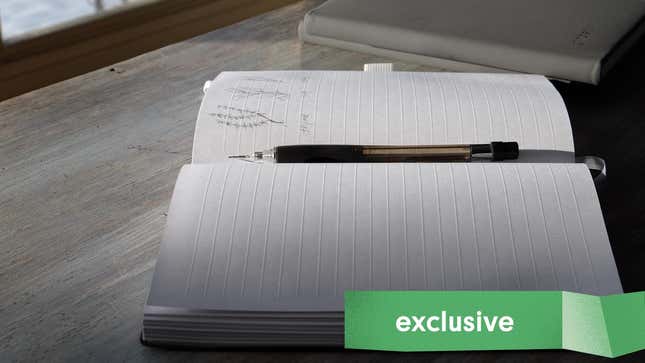 We've long been fans of Ghost Paper's notebooks, which feature subtly embossed lines that you can actually feel as you write, and now you can save 20% on the company's notebooks (including a new model!) for Mother's Day with promo code KINJA501.
From our Inventory write-up:
Ghost Paper uses texture, rather than ink, to create the alternating embossed and debossed lines on its pages. The effect is subtle, even invisible at certain angles, and straddles the line of offering tactile feedback without interrupting pen and pencil marks.
Since then, our readers have bought thousands of the company's 96-page faux leather-bound notebook, which is back on sale for $20 with code KINJA501 today. That code will also save you 20% on the brand new, 200-page spiral-bound version, which is actually cheaper to start with. The cover and binding aren't as premium, but Ghost Paper sent me a few spiral bounds to check out, and the embossed lined paper is just as good, which is what really matters.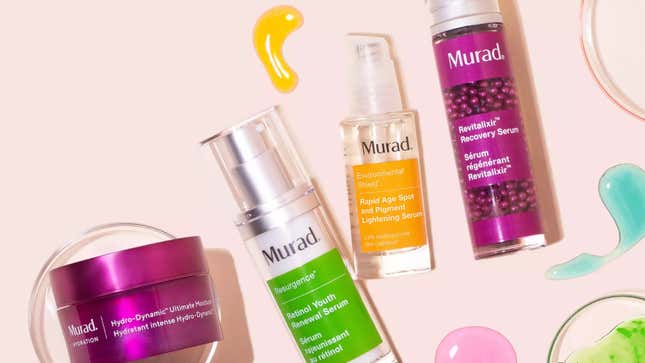 Murad makes a whole lot of effective products for fighting back against any skin issues, from acne to signs of aging. And starting today, you can add them all to your skincare regimen for 20% off their usual prices thanks to Murad's Friends & Family Event. Might we recommend picking up the brand's cult-favorite Rapid Age Spot and Pigment Lightening Serum, the most effective dark spot treatment I've ever tried, or the Retinol Youth Renewal Serum, one of our favorite retinol treatments in the skincare game? Just be sure to use promo code FAMILY20 at checkout to snag the savings.

---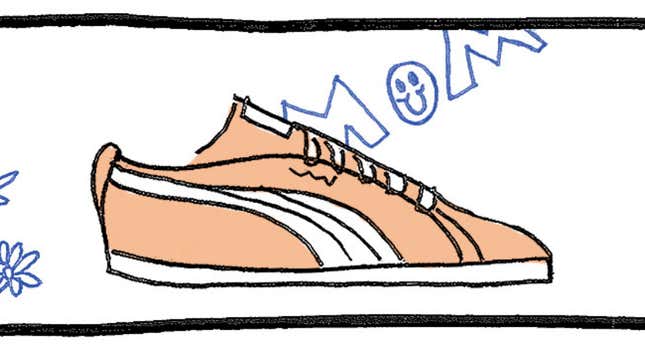 PUMA, purveyor of cool-yet-functional athletic apparel and sneakers, is celebrating the most important lady in your life with a sweet deal on already discounted sale items. Starting today, save an extra 30% on the women's sale, which is currently stocked with over 350 styles sure to put a spring in your mom's step. Use promo code MUM to get the discount, and start Mother's Day off on the right foot this year.
---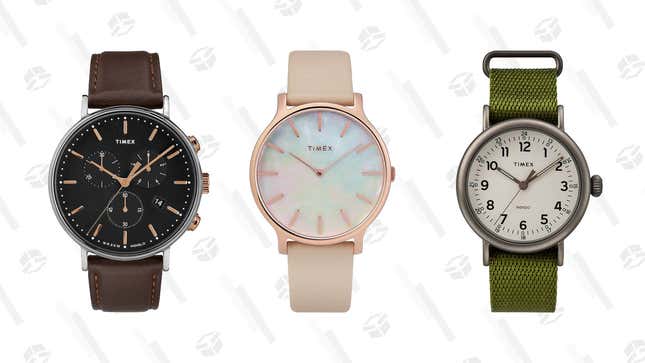 The time has come for TIMEX's Buy More Save More sale event, in which shoppers can take 15% off orders $49 or more, or 25% off $99 or more. So it's a pretty good time to invest in a new timepiece for yourself, or maybe even pick one up for Mom or Dad for their respective upcoming holidays. But watch out! The clock's ticking on this deal, so get your watch purchases in now.
---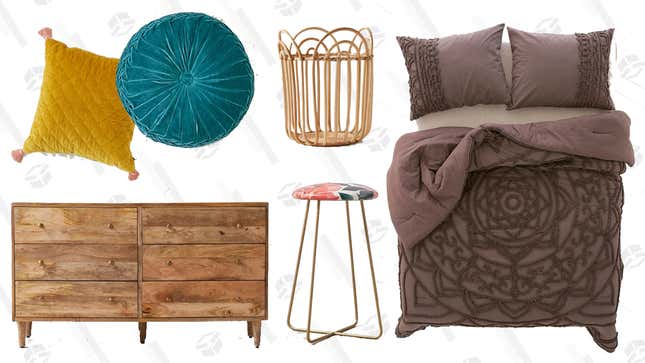 Urban Outfitters wants to outfit your urban (or suburban, or rural, whatever) home for less. Right now, take up to 40% off home decor, all of which possess that hip and cool flair that Urban has come to be known for. Go as big as a whole new look for your bed, or as subtle as a few unique accent pieces; either way, you'll be getting a good deal.
---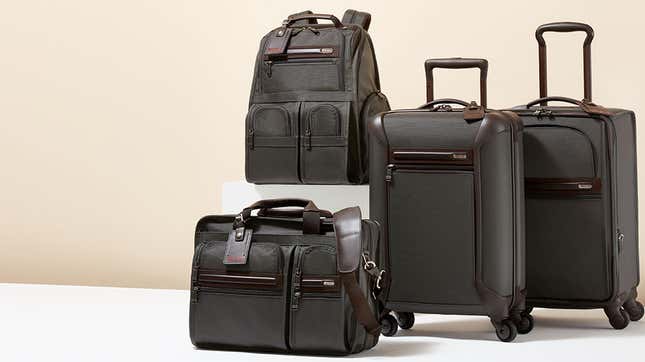 Looking to get outta dodge this spring? Nordstrom Rack feels you — and all the stuff you need to haul with you. Prep for your trek with a ton of stylish Tumi gear, now on sale for just two days. Everything from rolling carry-ons and duffles, to sleek backpacks and travel wallets are included in the sale, so you can certainly find the perfect bag to lug around on your big trip.
---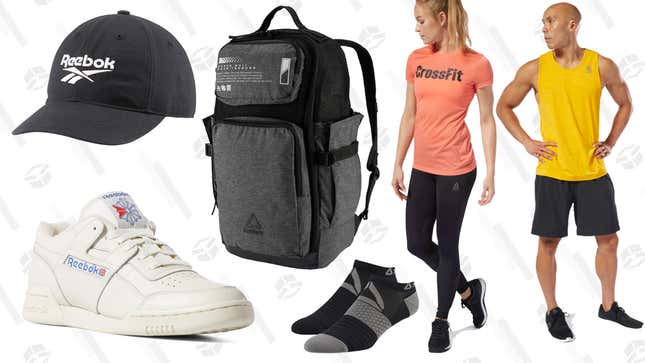 Today's a good day to restock your workout wardrobe with tons of sneakers, apparel, and accessories from Reebok, since right now, you can take $20 off orders of $100 or more, $10 off orders of $85 or more, or $5 off any order with promo code SAVEMORE. With pretty much the entire site included in the promotion, you'll certainly break a sweat scrolling through all these deals.
---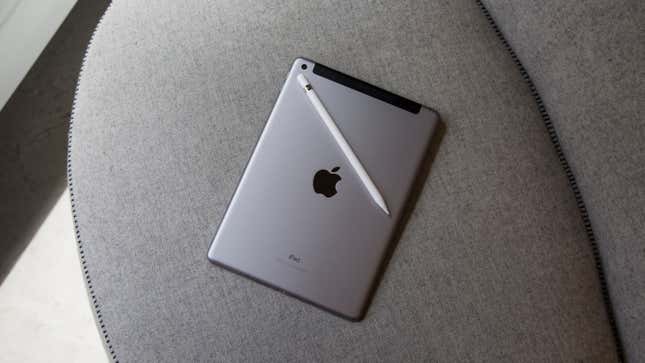 Unless you really need the iPad Pro (and you almost definitely do not), the standard, vanilla 2018 iPad is a terrific tablet for both consuming and creating media. It even works with the Apple Pencil, the first non-Pro iPad to do so.

While we saw some better deals on these around Black Friday (if you were quick enough to snag them), $250 for 32GB is still a terrific price. If you ask me, it's worth buying one of these for the express purpose of playing Civilization VI on the go.
---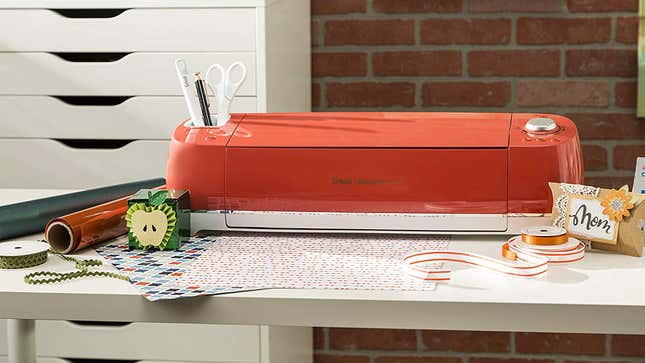 If you're unfamiliar, Cricuts make all those custom stickers, delicate doilies, and Instagram-ready greeting cards you see around your crafty friend's house. You too can start being a craft wizard with Amazon's sale on this popular Cricut Explore Air 2 machine.

Let's talk about the cool stuff it can do: It can cut any design you create in Photoshop/Illustrator/etc. or you can select a design for its extensive library. You can design and cut on the go, using Cricut's app on your phone or tablet. It's strong enough to cut through a bunch of different materials like faux leather, vinyl, and speciality paper. Lastly, the Explore Air 2 cuts faster and has more color options than the first model.
The heavy-hitting deal here is the bundle which includes the base unit plus a basic tool set, and a vinyl brights sampler selling for $230. This set rarely moves away from its usual $287.
But if you just want to go for the standalone unit (which typically sells for $250), it's available for $211 in Mint, Persimmon, and Cherry Blossom flavors, so go open that Etsy shop.
---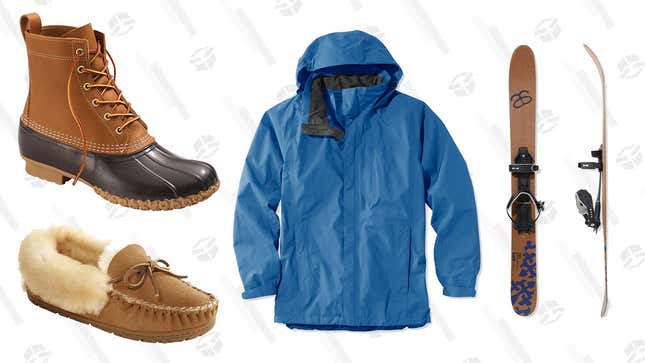 If you're ever planning to head outdoors this season, L.L.Bean is what you want to be wearing when you do it. The outdoorsy brand is taking 25% off your order with promo code SAVE25. This deal seems to apply to both full-price and on-sale items, exclusing non-L.L.Bean brands. So now's the time to stockpile Bean Boots, Wicked Good Slippers, and whatever other gear your closets can hold.
---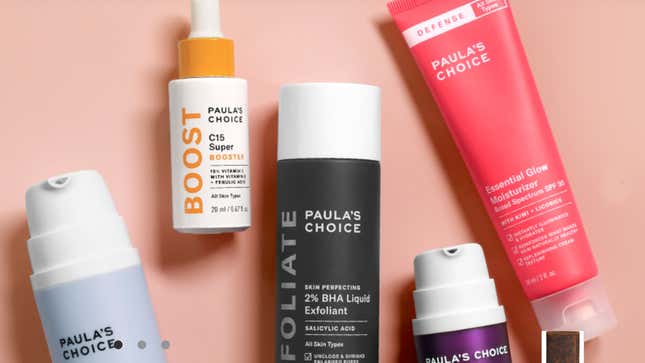 It would be the correct choice to take advantage of this skincare sale at Paula's Choice. Through Friday, take 15% off best sellers (excluding kits, sets, sale, and new items as noted on product pages). There's no promo code required, so why not pick up our favorite retinol serum and anything else you need for your face?

---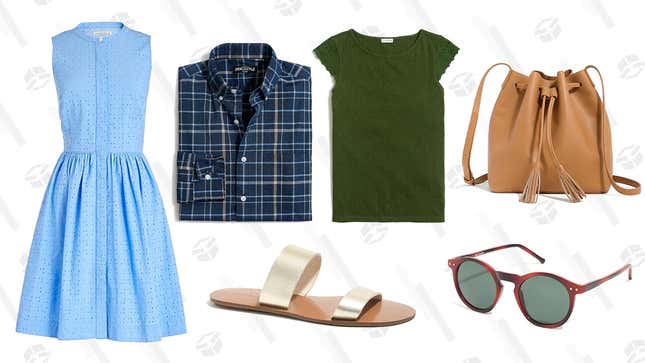 J.Crew Factory is already marked down significantly compared to its regular J.Crew counterpart, but now, the Factory is taking its discounts to a whole new level. Take 50% off everything on their site, plus an extra 20% off your purchase with promo code TOOGOOD. The whole factory is currently stacked with springtime staples in that classic J.Crew aesthetic, so shop and save on those in-season styles now.
---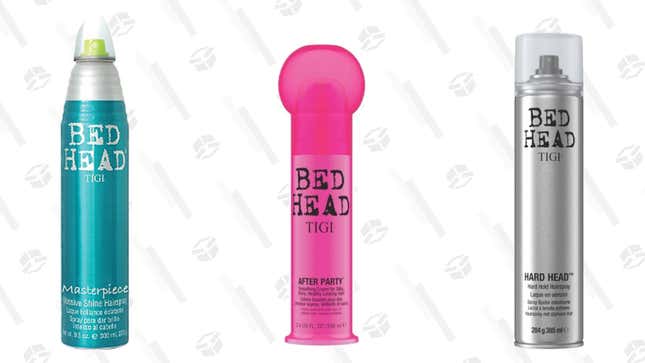 Summer is approaching, and that means humidity is on its way to ruin your hair. Save yourself from flyaways, and snag select TIGI products for up to 60% off right now at Ulta. Plus, if you spend $20 on TIGI products at Ulta, you'll get a free Rockaholic Dirty Secret Dry Shampoo.

If your hair isn't too crazy, but you want a little bit of hold and a lot of shine, you can buy TIGI's Bed Head Masterpiece Shine Hairspray for $10, which is 60% off retail price. If humidity is actually your enemy, then you're going to want to grab Bed Head After-Party to combat frizz; it is also 60% off and selling for $10. If you need extra-strength hold to keep your hair in check, Bed Head Hard Hairspray is the way to go for 50% off. Time to get some bed head, but on purpose.
---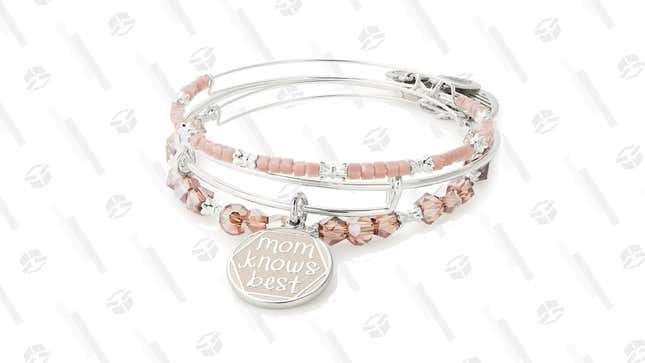 For the moms who love to get jewelry, Alex & Ani bracelets are kind of the hot new obsession. If you're stuck on a gift for Mother's Day, Alex & Ani currently has a 20% off sale, using the code MOM20. The sale doesn't just pertain to "mom" things. So, if your mom loves Game of Thrones or Harry Potter, Alex & Ani has plenty of themed bracelets to choose from.
If your mom does enjoy proudly displaying that she is a Mom with a capital M, then you're still in luck. You can finally admit she's been right all of these years and get her a Mom Knows Best Bracelet Set for $78. If you're not quite ready for that admission, you can get her a stand Mom Crystal Infusion Charm Bagle for $32.
---
Breville added air frying and dehydrating features to your favorite line of toaster ovens, and the feature-packed Smart Oven Air is $80 off today, within $11 of the best price we've ever seen.

Trust me when I say that once you own one of these, you'll hardly ever use your "real" oven anymore. It preheats significantly faster, it's much easier to program, and it's big enough to cook all but the biggest meals. They don't go on sale often though, and the Air model hasn't been this cheap since December. Trust me, it'll really come in handy when it comes time to prepare Thanksgiving dinner.

---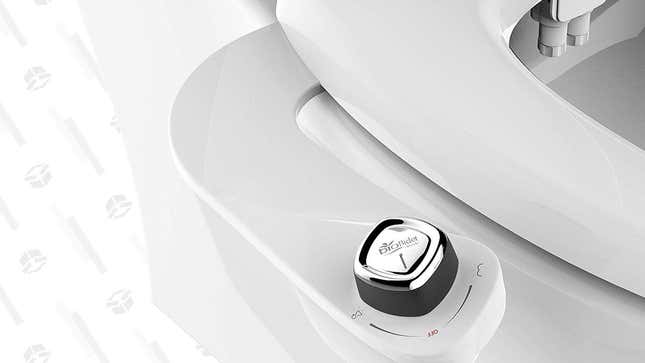 If you don't care to have LED lighting built into your bidet, or just don't want to wait to make the long overdue switch from wiping poop off your butt with dry paper (sorry to be crass but that's what we all do, it's insane!!), Bio Bidet's already-released Slim Edge bidet is on sale for just $26 today, with Prime shipping.

Like the upcoming Glow, it includes two nozzles (the other's for feminine cleaning), brass fittings, and a slim, easy-to-install design. Trust us, your tush will thank you.
---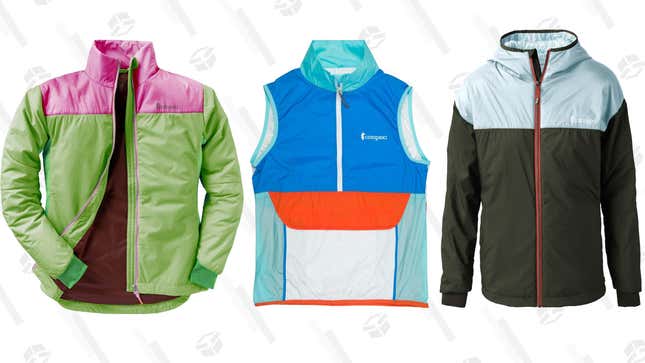 It's no winter, but spring weather still often calls for a jacket. Layer up with select styles from Cotopaxi that are perfect for this time of year, thanks to this flash sale. Take up to 50% off a selection of insulated jackets in colors that scream springtime, so you can look seasonally appropriate without secretly shivering whenever you step outside.
---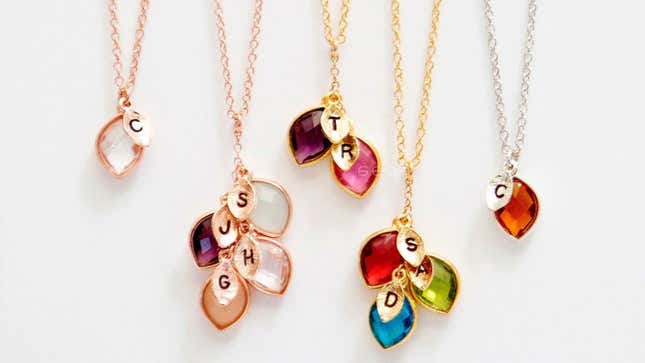 Moms are the best and they deserve to be treated like queens, that's just a fact. They get one day of the year where we're supposed to tell them how much they mean to us. If you suck at gift giving and never know what to buy your mom, look no further. You can definitely make her cry some ugly tears on Mother's Day with this gorgeous personalized birthstone necklace.
Etsy seller GeoMinimalist sells family tree birthstone necklaces, and there is no one better to buy them for than your mom. Maybe your grandma, too? Depending on how many kids your mom has, you can choose from one to 10 leaf options. Right now, you can save 25% on the necklaces, meaning they now cost between $27 and $109. If you have more than nine siblings, just cut the list down to your mom's Top 10.
You can always get two necklaces if your mom is also a grandma; one necklace for her children and one necklace for her favorites, the grandbabies. The necklaces come in three shades: gold, rose gold, and silver, as well as three chain lengths, 16"-18", 18"-20", and 20"-22". Your mom will never say this, of course, but she'll like this gift more than anything your siblings get her.
---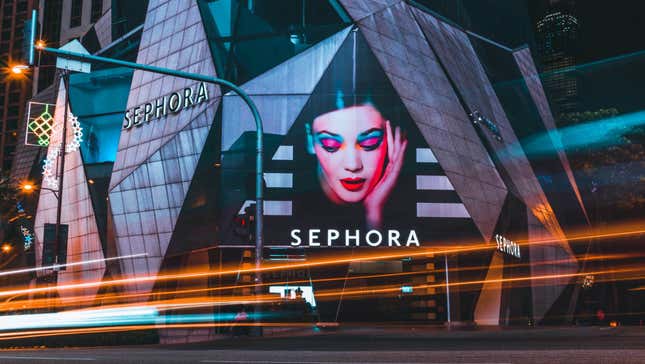 If you have had an expensive face cream or foundation in your shopping cart at Sephora for weeks, time to get your credit card out. Their Spring Beauty Insider sale has officially begun. Sephora shoppers can get 10-20% off their entire purchase during this sale. It pays to spend a lot of money at Sephora during the year because the company's top-tier shoppers get first dibs at the sale.
When: April 26 – May 6
Tier Requirements: Spend $1,000 during the year
Discount: 20% off
Promo Code: HEYROUGE
When: May 2 – May 6
Tier Requirements: Spend $350 during the year
Discount: 15% off
Promo Code: HEYVIB
When: May 2 – May 6
Tier Requirements: None
Discount: 10% off
Promo Code: HEYINSIDER
Sephora Rogue members earn extra benefits, like early access to sales, free shipping, free full-sized products, and free makeovers. Insider members don't need to hit any spending threshold and it is free to sign up (so sign up now!).