There's water all over my kitchen sink.

It's a weird problem to have. Sinks get wet, that's what they're for. But my sink was somehow always drenched in an area that is not really meant to be wet: Every time I got through doing dishes, there'd be a distinct damp spot on the upper right corner of the sink, where I kept the dish soap.
I wondered if my faucet was leaky. (I mean, it probably is leaky, but I don't know how to fix that, nor do I feel like learning how.) Or maybe I was the problem. I wondered if I was washing dishes wrong, or just splashing water around every time I reached for the dish soap. I thought about all of these things pretty much any time I used the sink, but also, I have priorities, you know? The mysterious dampness around my sink just wasn't one one of them.
As usual, an online impulse purchase came to the rescue. At some point, I was searching for something sink-related on Amazon, and saw this kitchen sink caddy being recommended to me by the some algorithm or another. It was like $9, so I bought in, literally.

Mind you, I already had a very practical sponge holder—a sponge holder I feel passionately about, in fact! A sponge holder that is perfect in its unassuming subtlety. And yet.

I bought this new kitchen sink caddy anyway, and I happen to like it a lot. It's light blue, and a lot of other things in my kitchen are also light blue (like my backsplash, famously). It has a suction cup on the bottom that makes it stick to the counter. There's enough room on it for my dish soap, hand soap, a scrubber brush, and a sponge. And it keeps the sink and the surrounding counter much drier than before.
G/O Media may get a commission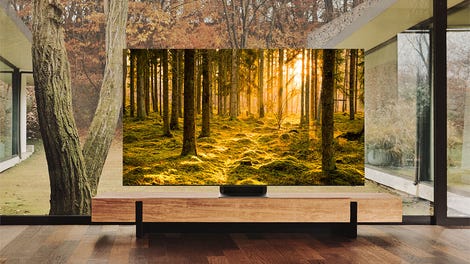 Up to 40% off
Samsung Smart TVs
But clearly, I didn't think this purchase through, because now I have too many sponge holders. There are worse problems to have, though. Like damp sink spots of ambiguous origin.
---