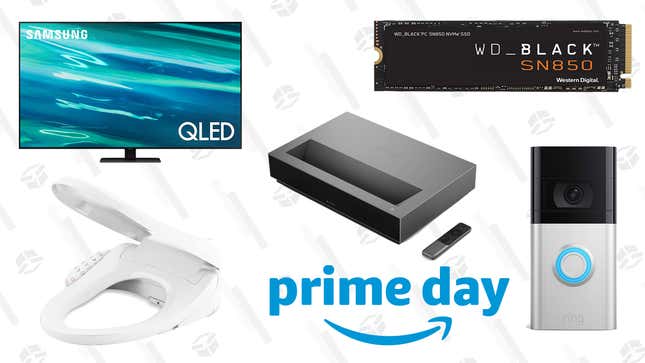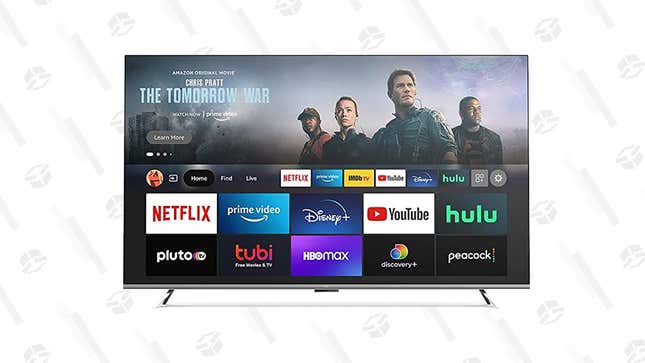 For Prime Day, Amazon has some sick deals on their signature 4K Ultra HD smart TVs. Capable of streaming, gaming, and good old fashioned live TV, these are a steal at anywhere from 22% to a whopping 40% off of the 65" Omni. The Omni has a razor-thin, sleek profile, and is compatible with Amazon's Echo speakers for booming, theatre-quality sound. Obviously, these are compatible with Alexa so you'll never scramble for the remote control again. All you'll need to do to fight for control over the evening's programming is raise your voice just a smidge.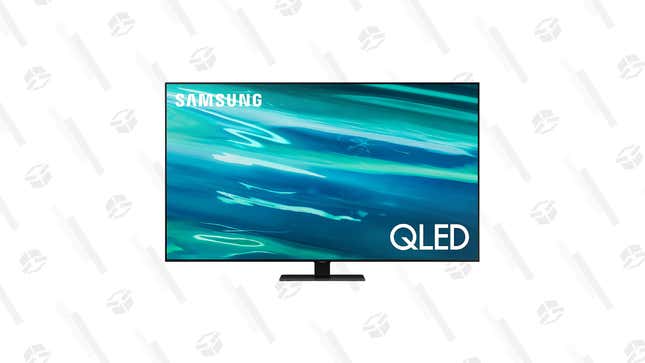 A nice TV is one heck of a treat, but hey, why not treat yourself? This Samsung 55-Inch QLED 4K Smart TV is down to $798 today if you're an Amazon Prime member, and features an incredible depth and range of colors thanks to the UHD, has 4K resolution, 3D audio thanks to Object Tracking Sound, uses a quantum processor for incredible clarity, and even has access to a bunch of streaming apps as well. Again, this is a Prime Day deal that duals as an Amazon Prime member exclusive, so if you've been on the fence about getting a subscription, here's that sign you were looking for.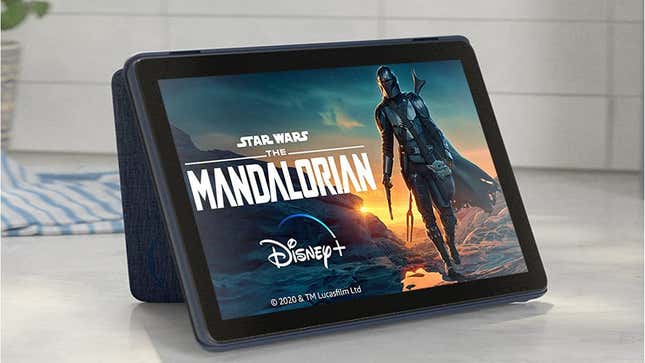 Prime Day continues and as expected, many of the savings to be found are associated with Amazon's own product lines. For instance, you can save 50% on the 32GB and 64GB versions of the Fire HD 10 Tablet. That's just $75 and $95, respectively. These do get discounted pretty often, but it's worth mentioning this is still the lowest they've been in months. The displays are 10.1" across and are 10% brighter than the previous generation's displays. They each have a long-lasting 12-hour battery life so you can enjoy extended periods of Netflix, Hulu, and more.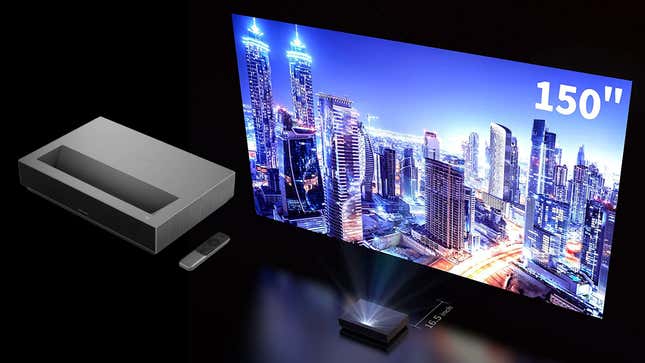 Prime Day continues and with that, we have a Wemax Nova 4K Projector that has dropped in price to $1900. It's powered by Android TV meaning you can stream your favorite content from HBO Max, Hulu, Netflix, or Disney+ right on the projector without the need of a media streaming device like a Fire Stick TV. The projector sits on a shelf or entertainment center on the same side of the room as you want it to be projecting. Just position it between 5.5" and 19.3" away from the wall to create a screen size between 80" and 150". That's right, this thing supports and full 150" with HDR10. Good luck finding a TV that big.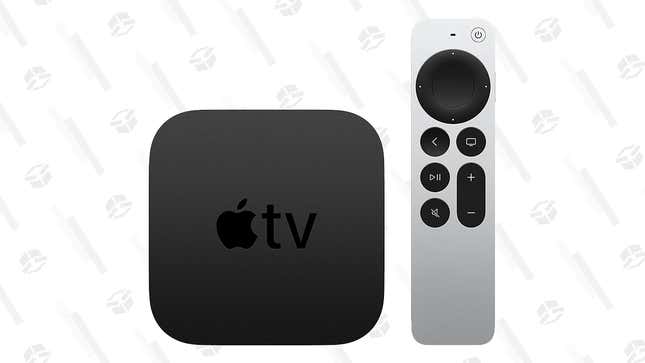 If you're still watching movies on your dirty old laptop: who hurt you? The Apple TV 4K is $70 off for Prime Day, and will upgrade every movie, TV show, and vine compilation on Youtube you'll ever watch again. There was a time when Apple's "ultimate smart home hub" was a bit of a joke–an afterthought up against sleek laptops and increasingly enormous phones. That's not the case anymore: The Apple TV 4K is, for my money, the best media streaming device in the world. The apps are intuitive, the playback is crystal clear, and the newly redesigned remote finally works like it's supposed to: as a TV remote.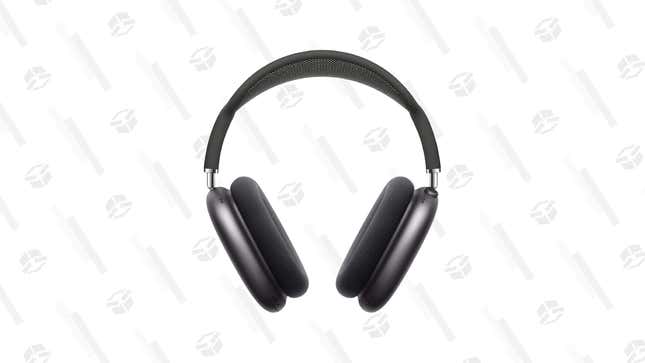 If you're an audiophile, or someone who wants to become one, then grabbing these Apple AirPods Max Over-Ear Headphones is a very good idea. They have dynamic drivers for high-fidelity audio, active noise cancellation to keep you immersed in your own little world, and uses Spatial audio to make it feel like you're surrounded by the sound completely. Plus, because they're over-ear headphones, they're great for people that vehemently hate earbuds, which is fair enough. Save 18% on your new favorite air of headphones during Prime Day only.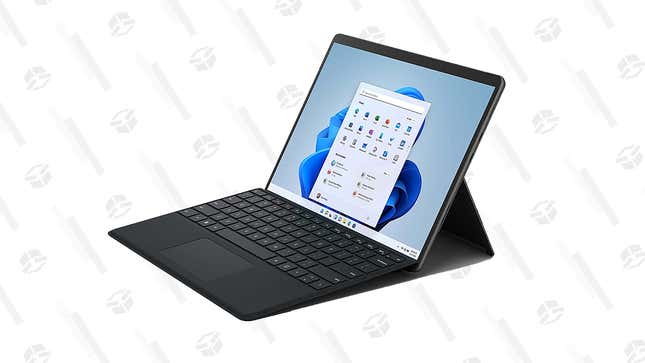 If you're looking for a new computer, why not choose something that isn't quite a computer instead? The Microsoft Surface Pro combines everything you want and need in a powerful laptop then adds the ability to rip the screen from the keyboard without breaking, which is something we've all wanted to do to our computers at some point. Is it a tablet? Is it a computer? Who cares. It's more than $400 off. And that's what really counts, you know?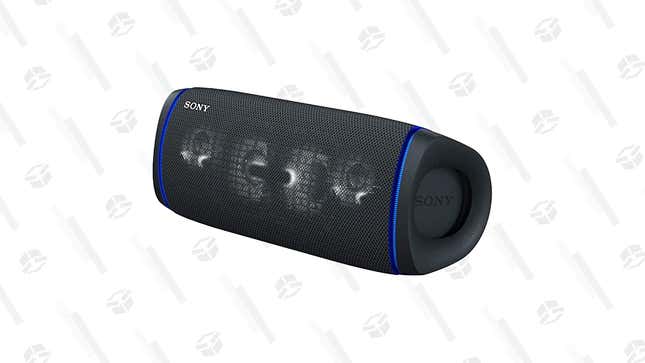 If you have reason to be the most esoteric person at your barbecue, backyard thing, or rooftop hangout, and mom says it's YOUR turn to use the Bluetooth, then our Prime Day suggestion is this Sony Bluetooth speaker. Play the music only YOU want to listen to for the duration of its 24-hour battery life, like the Minions: Rise of Gru (Original Motion Picture Soundtrack), produced by Jack Antonoff and featuring the Minions singing Simon & Garfunkel (bad) and St. Vincent singing "Funkytown" (okay). And if you REALLY want to turn things up? This bad boy can use "Party Connect" to sync up to a maximum of 100 speakers. For $148, no one can question your taste again. Happy Prime Day, and happy listening!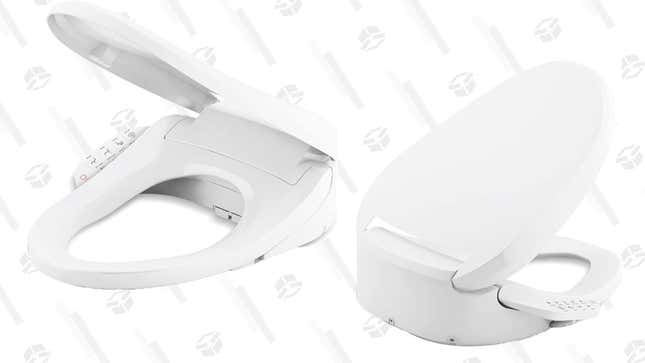 Several coworkers here at Kinja will proselytize, unprompted, about the benefits of a bidet. Probably any bidet owner in your life will. So, since we can't beat them ... let's join them, shall we? Maybe even with the Kohler Elongated Warm Bidet Toilet Seat, which is down to just $235 for Amazon Prime Day. It's normally $666 (spooky!), which means we, new bidet converts, will save over $400 on our new favorite thing. That makes it 65% off for this period only. The Kohler Elongated Warm Bidet Toilet Seat is surprisingly easy to install, and allows you to control the nozzle placement, water temperature, and water pressure with each use from its backlit LED panel. Plus, as the name suggests, it's heated. And it includes a nightlight setting. The bidet attaches quickly to any toilet seat and features self-cleaning features. Which is kind of funny, because its whole function is human-cleaning. Anyway, bidet sale. Go get it.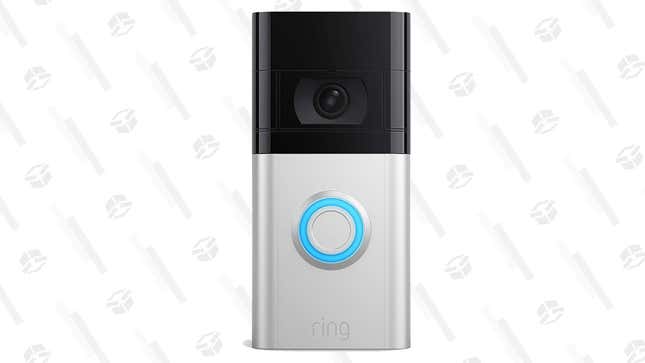 Ding-dong! Did you hear that? It's the sound of the Ring Video Doorbell 4, available for just $170 at Amazon during the Prime Day 2022 celebrations. That's 23% off the usual price of $220, which means you're saving $50. The Ring Doorbell 4 is an easy-to-install 1080p HD video doorbell powered two ways: Either by a removable and rechargeable battery pack, or by wiring it into existing hardware in your home. With it, you'll be able to maintain and and protect your space 24/7. You don't even have to be home for that! It can send notifications to the mobile app, anywhere you are. Invest in security for less. It's just one of the many fabled Prime Day miracles coming true this year.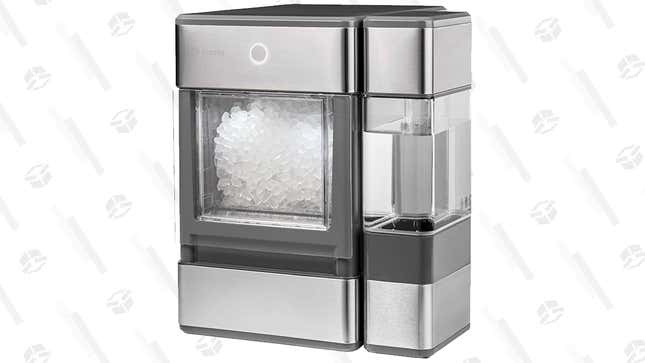 Folks, you know good ice when you crunch it. This GE Profile Opal Countertop Nugget Ice Maker serves up the chewy ice for all your iced coffee needs (and other beverages of course). This machine makes nugget-shaped ice that is made of "compacted ice flakes," which gives them a crunchable texture. Beyond that cronch, the sleek GE machine can hold up to 3 pounds of ice, and can make up to 24 pounds of ice per day. This one doesn't have Bluetooth capability, but there is a model that does, so you can refresh your crispy nugget-shaped ice presumably from the other room.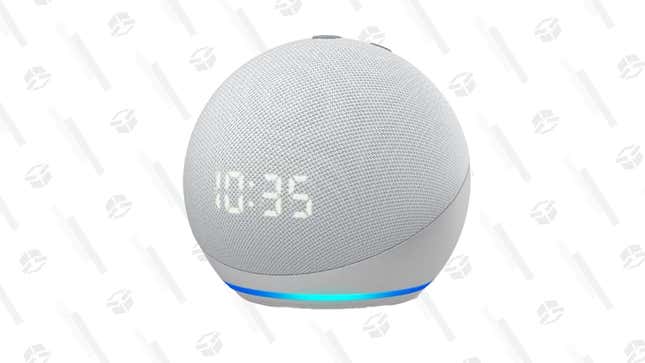 And of course, the Echo Dot is on sale for Prime Day too. Amazon's most popular smart speaker with Alexa has a compact design and is perfect for functioning as an alarm clock. See the time and the alarms set on the Echo Dot's LED display, and give a gentle tap to snooze. Echo Dot can sync up to compatible smart devices, so you can ask Alexa to play music from Spotify or Apple Music in selected rooms, or to dim lights using just your voice. A delight and a smart home essential, with a huge chunk taken off the price for Prime Day.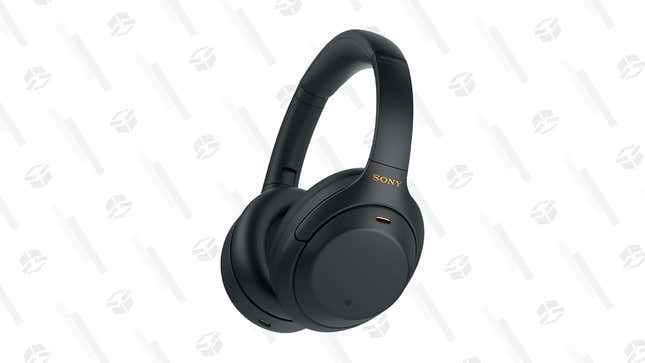 If Apple's not really your thing, your best bet for hard-hitting headphones comes from Sony this Prime Day. The Sony Wireless Noise-Canceling Headphones are far better than just good. They turn podcasts into conversations you wish you could interrupt and tinny music into head-shuddering ballads. They feature dual noise sensor technology to allow for the best noise-canceling experience you've ever seen (or heard), a battery life of up to 30 hours, and they can all can be controlled via fancy-ass touch sensors. They don't look half bad, neither.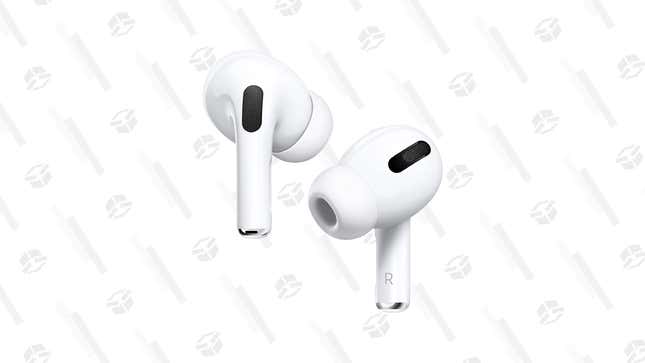 If you own an iPhone but you don't already own a set of Apple AirPods, then good news, you can grab them now with 32% off thanks to Amazon Prime Day. They have active noise cancellation to block out everything you don't want to listen to, have a transparency mode to allow other noises to reach you when you need to keep an ear out for the door or something, and even include adaptive EQ to make sure you get the most out of whatever you're listening to.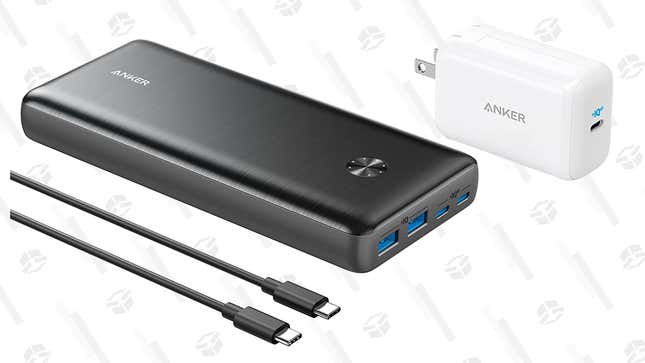 This powerful Anker Power Bank is on sale for Prime Day, and though small, it is mighty. It can charge up to four devices at once with both USB-C and USB-A outputs, and has incredible compatibility, ranging from Apple products to Dell laptops. Anker has impressive longevity: it can charge an iPhone 13 Pro five times before running out of electricity juice. And when it does? Only 2.5 hours on a wall charger and it's ready to charge your devices up again. Its sleek, lightweight design makes it a perfect travel buddy too. Take this speedy power bank on vacation and you'll never worry about fighting for your life at the airport phone charging station.
More Prime Day Deals We Love

Storage
Power
Audio
Home Theater
Computers & Accessories
PC Parts

Mobile Devices
Consoles
Peripherals
PC
PlayStation
Xbox
Nintendo Switch
Toys & Board Games
Home Goods 
Smart Home
Kitchen
Tools & Auto
Apparel
Health, Beauty, & Grooming
Camping & Outdoors
Fitness
Movies & TV
Books & Comics