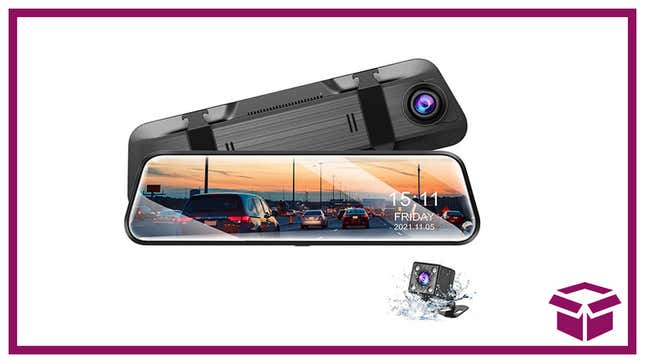 Are you driving an older vehicle without a built-in backup camera? Fearful of getting into a fender-bender without clear evidence of who's at fault? Check out this 4K Rearview Mirror-Mounted Touchscreen Dash Cam with Voice Control and Rear Backup Camera, available now at StackSocial for $96 — 20% off the regular $120 price.
4K Dash Cam and Rear Backup Camera | $96 | StackSocial
The 10-inch touchscreen fits over your existing rearview mirror, making installation a snap. The dashcam is fitted to the rear of the screen, and the backup camera comes with 33 feet of cable so it can be routed through the car to the dashcam, where it connects to the AV port. The unit is powered via USB-C charger which plugs into your 12V socket. You can easily toggle from dashcam to backup cam, and even display both simultaneously, and the unit keeps recording even if the memory card (not included) is full. Ease of installation and peace of mind are the instant benefits of the 4K Dash Cam and Rear Backup Camera, and the $96 StackSocial price is hard to beat.