Welcome back to Buyrone! If you read the last edition, the votes were very split on what costume I should buy for my dog Tyrone for Halloween. There were quite a few write-in costume suggestions, the best being a giant mutant spider. If you missed the first Buyrone, welcome to the new series I convinced Shep to let me write.
Now, I need to say this, since a commenter on the last Buyrone decided to remind me my dog is not a decoration meant for my amusement. Duh, I know. Tyrone is a tiny little dog, and those of us with tiny dogs know, they get cold! If the temperature dips below 65, Tyrone needs to bundle up. He actually loves it when I put a t-shirt on him. If I come home with clothing, he sticks his nose in the bag 100 times until I pull out the shirt, take off the one he is wearing, and put the new one on. He has many t-shirts, sweaters, and hoodies in his wardrobe. But you know what he doesn't have? A hat.
---
G/O Media may get a commission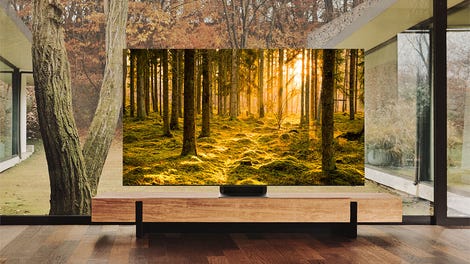 Up to 40% off
Samsung Smart TVs
Should Tyrone wear a standard baseball hat? He might like to match his mom, as I tend to wear baseball caps in the spring and fall. Do dogs even know watch matching is? I like to think so, but I digress.
This little yarn hat also doubles as a neck warmer. Since Tyrone is a dog, he can't really wear a scarf. But now he can look like a dinosaur while his neck and head are warm.
Of all the hats, this seems the most practical. A fleece lining? That'll surely keep Ty's tiny head warm. Snoopy would approve.
I've told Tyrone to stop aging, as he is supposed to live forever. This hasn't happened yet. So, should I get him a hat and bandana for his next birthday bash?
No, that is not a pilgrim costume. It is a tuxedo with a fancy tophat. Tyrone surely will be invited to a few weddings this season, right?
The full-on neck and ear warmer might make Ty feel like his head is stuck in a sock (again). This ear warmer is a little less restrictive but still can provide warmth when it's cold out.
---
Have any other suggestions? Drop them in the comments! 
---