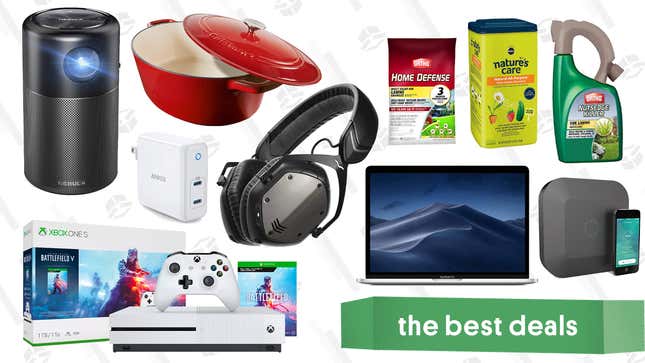 A Cuisinart Gold Box, Nebula Capsule sale, Xbox One S bundles, and Walmart Groceries lead off a Monday's best deals.
Bookmark Kinja Deals and follow us on Twitter to never miss a deal. Be sure to read our guide on how to prepare for Prime day and bookmark our Prime Day deals hub to be ready for the big day.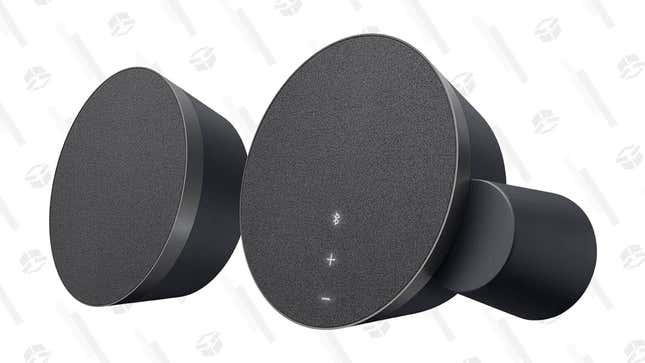 Right now, you can pick up a refurbished Logitech MX Sound audio system for a a low $39, or $60 less than buying it new.

In addition to connecting to your PC with a 3.5mm cable, the MX Sound also includes Bluetooth to pair to your phones and tablets, with one-touch switching between devices. And not for nothing, they happen to look way better than most computer speakers, which matters for something that sits out on your desk all day.
---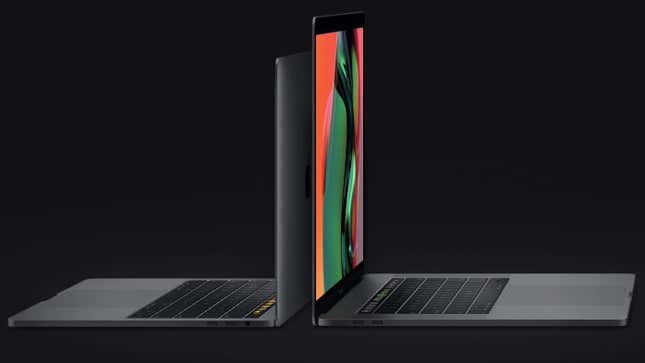 Apple's brand spankin' new MacBook Pros (hopefully) fixed the line's longstanding keyboard reliability issues, and of course, they're plenty fast too.

If you were waiting on a deal to pick one up, Amazon's currently taking $150 off the 13" model, and $200 off the 15". The deals are available in both Silver and Space Gray, and you can get the 13" with either 256GB or 512GB of storage. Amazon doesn't currently have the 512GB 15" in stock, unfortunately.
---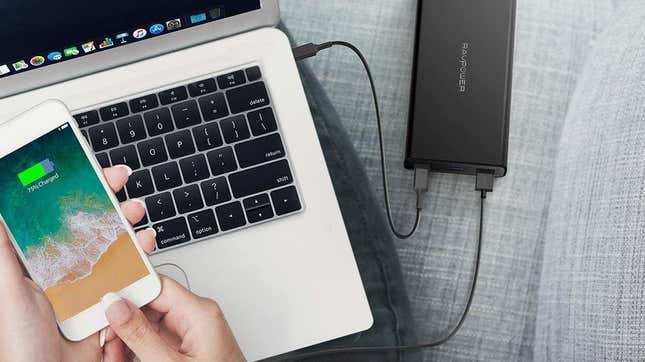 RAVPower 45W USB-C PD Battery Pack 20,100mAh | $48 | Amazon | Clip the $5 coupon and use code KINJAXPD
Not only are USB-C PD battery packs getting cheaper; they're getting more powerful too. This one from RAVPower has a 45W USB-C port that can charge a MacBook or MacBook Air at full speed, or a MacBook Pro pretty quickly. Not that long ago, battery packs over 30W were basically unheard of.

It's also right in the Goldilocks zone in terms of size: 20,100mAh is plenty to keep your laptop or Switch charged on a cross-country flight without taking up too much space. Clip the $5 coupon and add promo code KINJAXPD at checkout to get it for $48 today.
---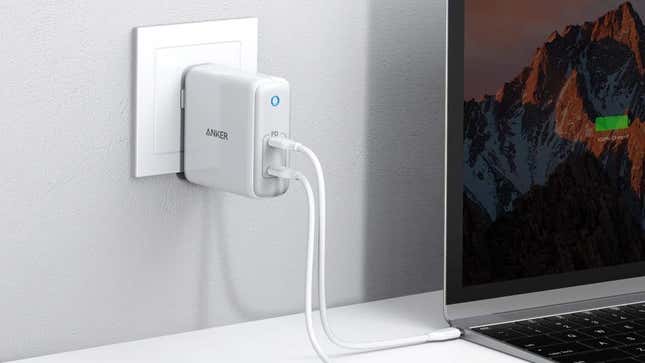 Anker's PowerPort Atom PD 2 fills a specific, but very unique niche in the charging landscape. It's a 60W USB-C charger (the same as a 13" MacBook Pro charger) with two ports. Plug something into one of them, and you'll get the full 60W over one port. Plug two things in, and they'll both output 30W, which is still enough to charge most laptops (not to mention Switches, tablets, and phones), albeit more slowly.

Normally $55, it's on sale for $44 right now, the first deal we've ever seen on the thing.
---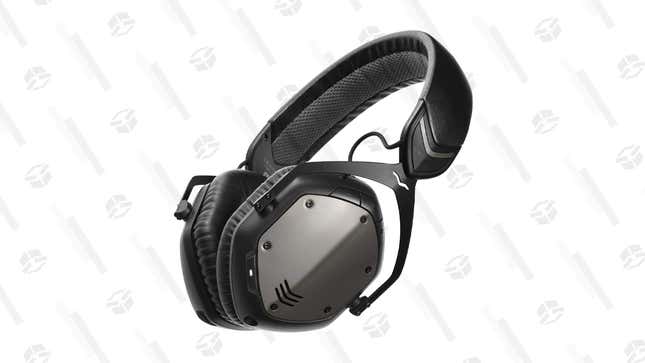 V-Moda's design language is unmistakable, and not everyone's cup of tea, but there's no denying that they make really great headphones. Their Crossfade Wireless over-ears are virtually indestructible, can run in both wireless and wired mode, and pack in massive 50mm drivers that should sound terrific no matter what you're listening to. Today, the gunmetal version is down to $100 on Amazon, about $65 less than usual.

---

Anker, as you probably know by now, makes a lot of products. But I don't think any of them are as ambitious as the Nebula Capsule, a surprisingly good portable projector shrunk down to the size of a soda can.
At this size, the Capsule is obviously not as bright as a projector you'd permanently mount to your ceiling, and its standard definition resolution won't dazzle, but it can run for hours on a charge, and has great audio built in, making it ideal for an impromptu outdoor movie night, or even as a replacement for your bedroom TV. I've played around with it, and you can see all of my thoughts here.
For a limited time, the first-generation Capsule is marked down to $220 on Woot, down from the usual $300.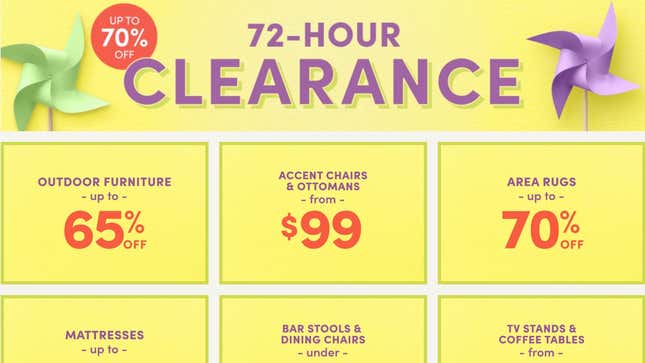 You only have three days to save on a whole lot of home goods from Wayfair's 72-Hour Clearance Sale. Snag up to 70% off everything from outdoor furniture, bedding, area rungs, storage solution, wall art and much, much more. Just be quick about picking out your selections; your chance to make your home summer-ready will be out the door soon.

---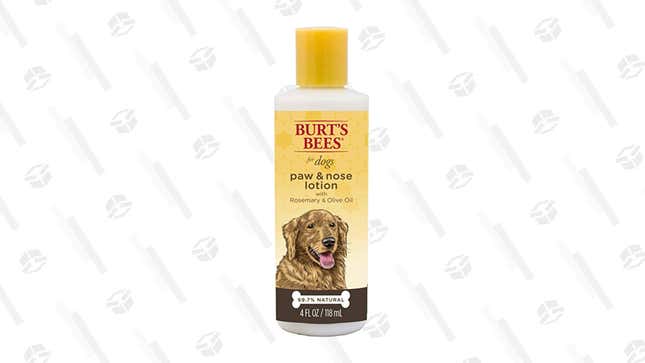 If your dog suffers from dry skin, Burt's Bees has a lotion with rosemary and olive oil that is safe to use on sensitive skin. It is great to use on cracked paws, which can happen after dogs walk on hot concrete and pavement during the summer months. Right now, you can get the Burt's Bees for Dogs All-Natural Paw & Nose Lotion for only $3 as an add-on item on Amazon. It shouldn't be hard to meet the minimum for add-on item purchases since you probably already have $25 worth of goods in your cart.

---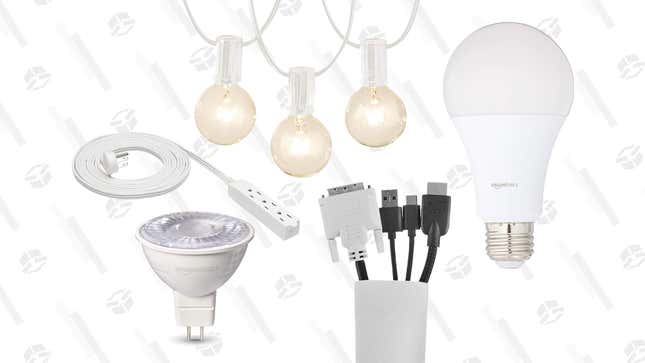 You know how Amazon makes/sells everything nowadays? Well, a whole bunch of those, specifically home goods, are discounted by 15% right now. Choose from patio lights, light bulbs, power strips, and refrigerator filters...

Nothing here is particularly exciting, but you probably had a few of these on your to-buy list, and you might as well save money while you check a few things off. Just make sure you use the promo code ABHOME at checkout.
---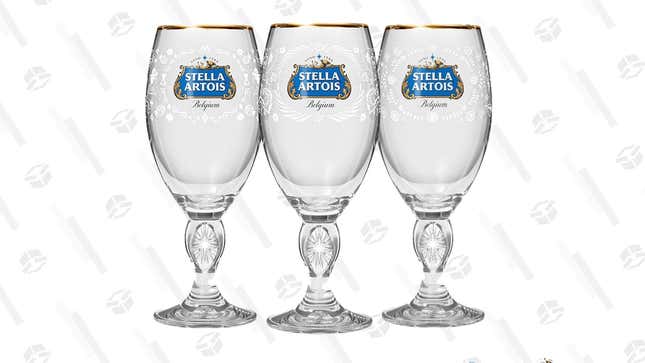 Every year, Stella Artois sells a charity chalice to benefit water.org. This year's model features etchings designed by watercolorist Eili-Kaija Kuusniemi that illustrates the effect that clean water has on families, and for every one you buy, Stella Artois will donate five years of clean drinking water to someone in need in the developing world. So why wouldn't you buy it for $5?

---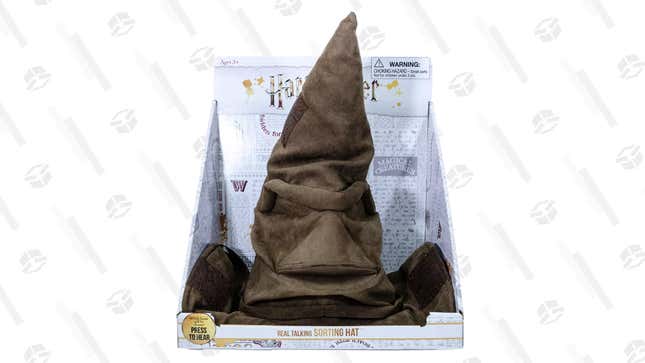 How long have you been waiting to hear the Sorting Hat shout your Hogwarts house for all to hear? You can finally proclaim if you're a Gryffindor, Slytherin, Hufflepuff, or Ravenclaw with pride. Right now, the Harry Potter Real Talking Sorting Hat is half off at Target, making it a steal for only $10. This would be the perfect addition to any Harry Potter parties you might have planned.

---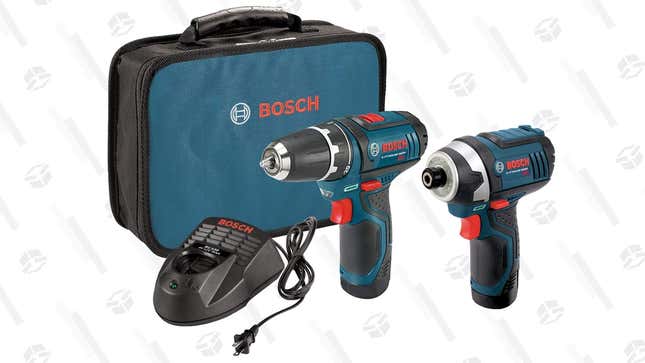 Amazon has driven the price of this Bosch 12-Volt combo kit down to $99, the same price as Black Friday.

That price gets you a PS41 impact driver and a PS31 drill-driver, plus a carrying case to keep them organized. We love Bosch's 12V tools for their slimline battery design, which makes the drills much more maneuverable than the competition. The set typically sells in the $140-$180 range, and boasts a stellar 4.7 star review average.
Bonus: If you add any item from this page to your cart (several are under $3), you'll save $20 on your entire order at checkout.
---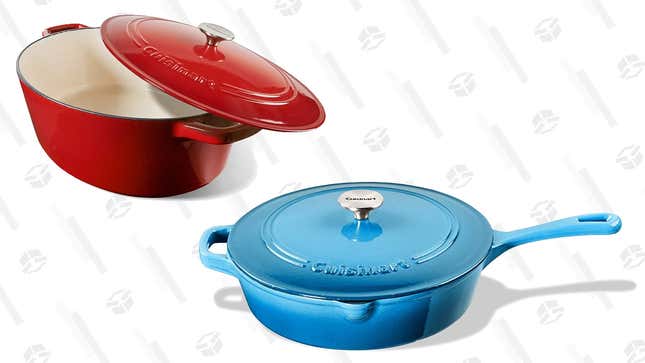 As far as I'm concerned, an enameled dutch oven is right up there with a good knife and great spatula in the hierarchy of must-own kitchen gear, and a couple of Cuisinart's iconic models are on sale in today's Amazon Gold Box, along with a 12" chicken fryer.

These things are on approximately 99% of all wedding registries, so even if you already own one yourself, they could make great gifts. These prices are only available today though, and you can choose from multiple colors, so don't let this deal simmer for too long.
---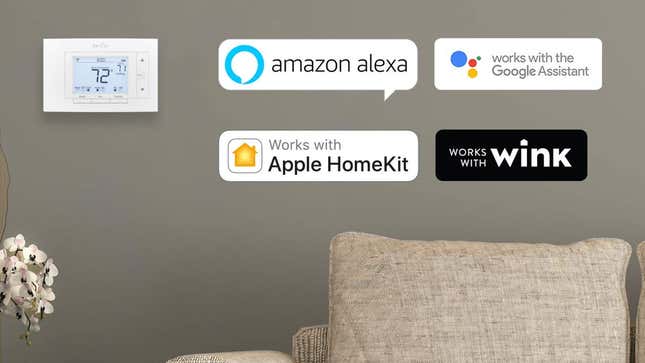 To be sure, the Sensi Wi-Fi thermostat isn't as sexy looking as a Nest or Ecobee, but it has the same basic feature set for under $100. You can control it via a smartphone app, Apple HomeKit, or even Alexa, so we're willing to overlook its decidedly average industrial design, especially since today's price is the best Amazon's listed in several months.

---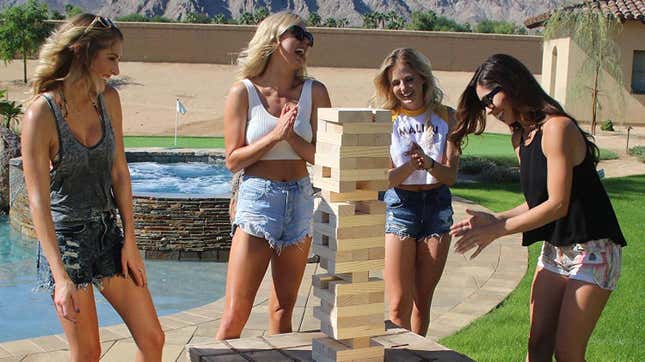 Everyone has played Jenga at one point in their life. But have you ever played giant Jenga? It's surprisingly even more competitive, and has a much higher risk of injury. Exciting!
You can get this off-brand version, GoSports Giant Wooden Toppling Tower, for $62 right now on Amazon. It comes with 54 giant wooden blocks that can stack up to five feet tall a dry erase rule board, and a carrying case.
---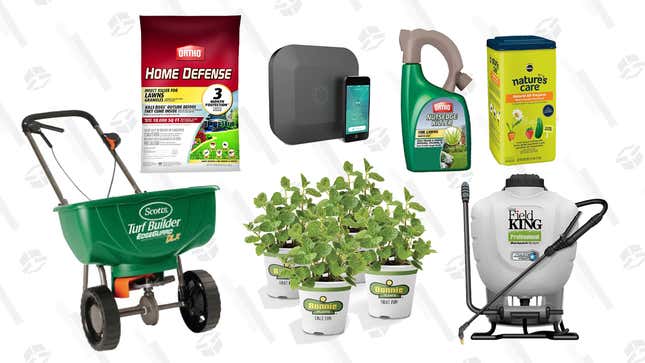 Today only, Amazon is marking down everything you'll need to keep your lawn healthy. Choose from plant food, a Blossom 7 smart watering controller, tools, weed preventers and killers, and more from brands like Roundup, Scotts, and Miracle-Gro.

Just note that this is a Gold Box, so these prices will only stick around for a day. Prices start at just $4. So, make sure to check out the main Amazon page to see all of your options.
---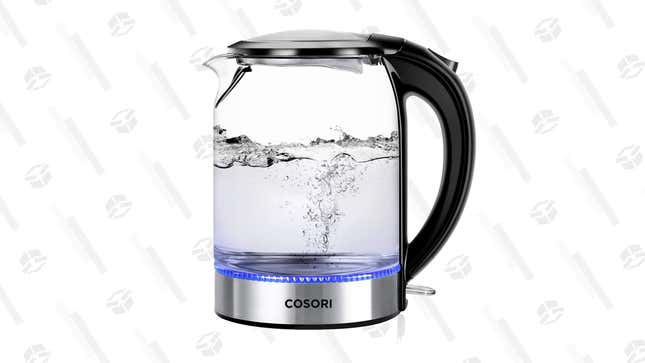 It's not cold outside anymore, but you can still stay cozy inside with a nice hot cup of whatever made with this Cosori glass kettle, now on sale for $31 — that's $1 away from the best price we've seen. A built-in LED light indicates when your water has reached its boiling point, and it certainly won't be an eye sore on your kitchen counter. This deal won't last long, so drink up this discount while you can.

---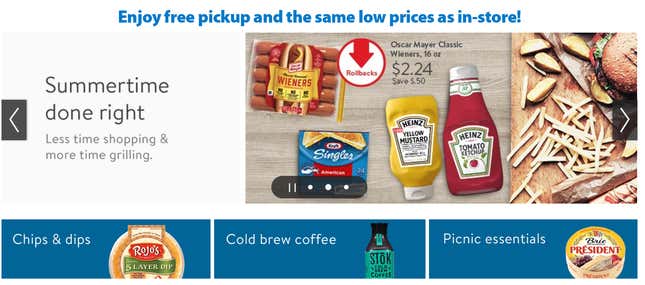 There's really no good reason to step foot in a grocery store anymore. A bunch of stores off delivery now, or at the very least, curbside pickup, and Walmart is leading the charge.

Today, if you place a $50 grocery order at Walmart and choose curbside pickup, you can get $10 off with promo code LA9ARAAC. This code works for both new and existing customers, and I promise it's better than any coupon you'd find in-store.
---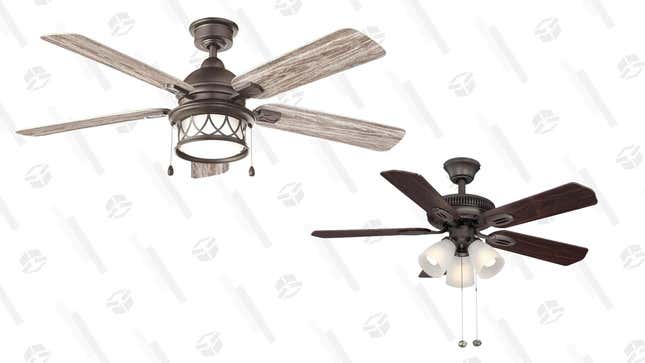 Has your ceiling fan been around since before you moved in? The average ceiling fan apparently is only meant to be used for a maximum of 10 years. If yours looks much older than that, it is time to replace it. Thankfully, you can get up to 25% Off Select Ceiling Fans at Home Depot today. You can get a Home Decorators Collection 52" Artshire LED Natural Iron Ceiling Fan for $139 or an Ellard 52" LED Matte White Ceiling Fan for only $90.
---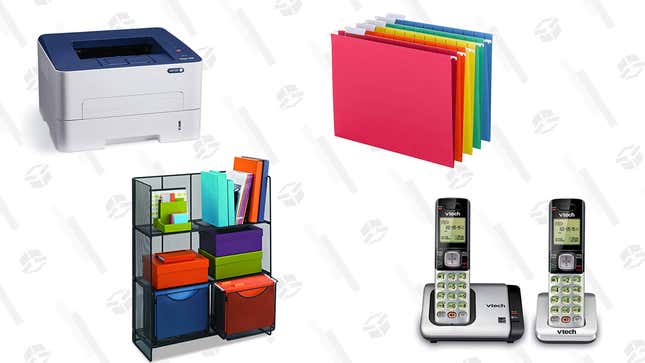 If you work from home, it is time to stop working from your bed. You can give your home office space a little TLC right now, thanks to today's Office Supplies Gold Box on Amazon. You can get a Xerox laser printer for only $65 during today's sale. And if you're going to be printing a lot, you might want to invest in some hanging folders while they're only $11. You can make everything neat and tidy with this fold-up shelving unit that is $20 off.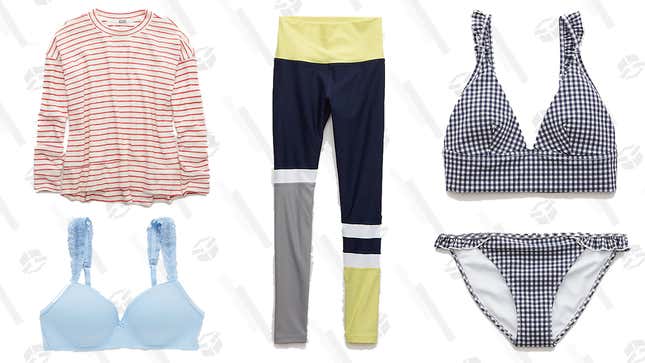 Aerie is most well known for very well-made, highly affordable underwear, but the brand is so much more than that. Right now, you can get your taste of Aerie's collection of apparel — including some cozy sweaters and tees, stylish activewear, sweats, and pajamas, plus swimwear and yes, bras and bralettes — for 60% off. (Unfortunately, undies aren't included in the sale.) So snag some new stuff for summer; these styles will serve you well through the impending warmer months and beyond.
---
Lands' End makes the kind of summer-y apparel that a preppier, more put-together you would wear, like cardigans and button-downs, as opposed to the ratty cutoffs and tees you often resort to this time of year. Now, that classic warm-weather look is more attainable than ever with 40% off full-priced styles from the retailer, plus free 2-day shipping. Just use promo code FIREFLY, along with pin 2343, and outfit yourself and your entire family in the stylish summer wardrobe you all deserve.

---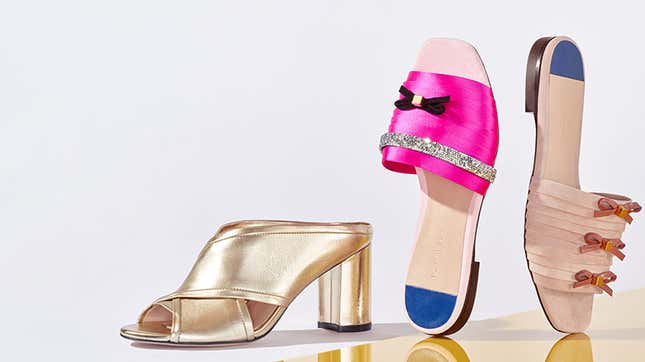 Stuart Weitzman makes famously reliable, trendy shoes that are well worth their typically high price tag, but today, the brand's boots, heels, flats, sandals, and sneakers are marked down significantly at Nordstrom Rack. Take advantage of hundreds of dollars off a new pair, and set foot into the new season with some fancy new footwear.

---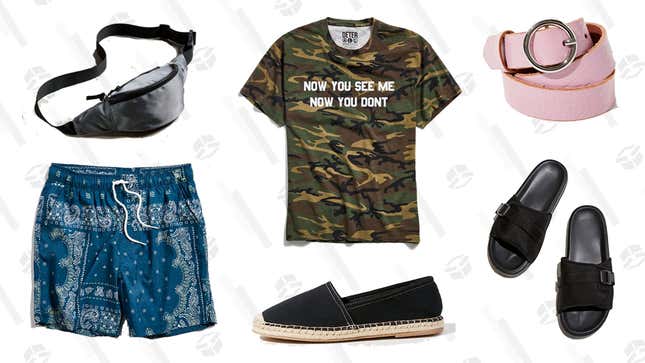 Need new clothes, but don't want to spend all your dough? Browse through Urban Outfitters' updated sale section, which now features over 1,400 new items for men, women, and home that are all less than $20. This deal will only last for one more day, though, so start sifting through for the stuff you'll wear all summer long.

---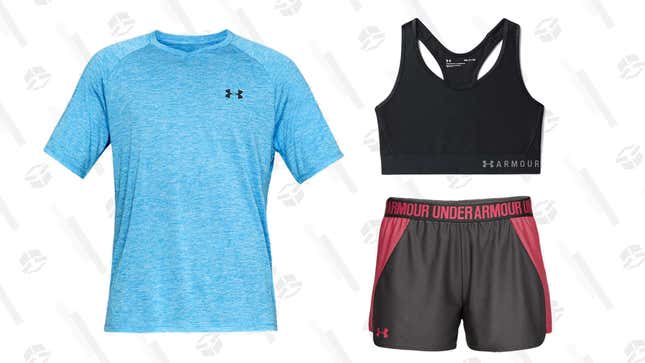 Nice weather means more time spent working out outside, and less time trapped in the gym. Ensure you're prepared for your summertime fitness regime by shopping Under Armour's Semi-Annual Event. You'll save up to 40% on everything from shorts and tees to sports bras and sneakers, so stock up now and get ready to sweat this season.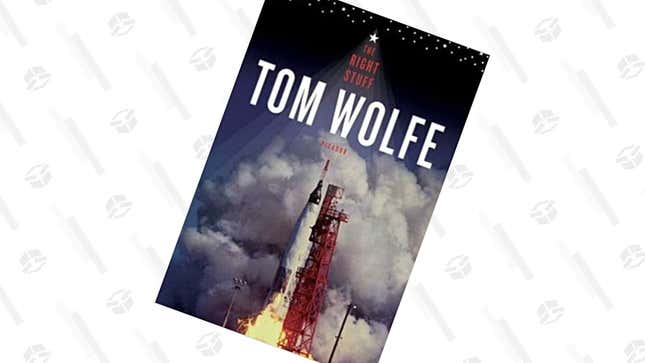 If you like NASA, space, history, or reading in general, Tom Wolfe's The Right Stuff should be on everyone's must-read list, and you can download it to your Kindle for just $4 today.
Millions of words have poured forth about man's trip to the moon, but until now few people have had a sense of the most engrossing side of the adventure; namely, what went on in the minds of the astronauts themselves - in space, on the moon, and even during certain odysseys on earth. It is this, the inner life of the astronauts, that Tom Wolfe describes with his almost uncanny empathetic powers, that made The Right Stuff a classic.
---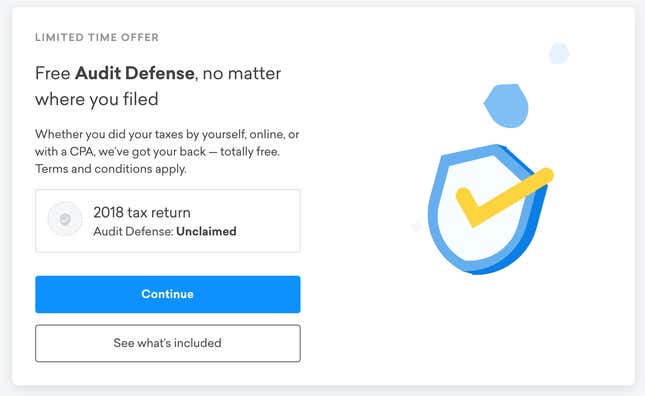 Getting audited by the IRS sounds like less fun than a root canal performed by an art history graduate, but for a limited time, Credit Karma will give you a level of protection for free, just for signing up.

This deal is valid whether or not you used Credit Karma Tax to file your taxes this year. All you have to do is provide your information here (yes, including your social security number) to get a year of free coverage for your 2018 (and only your 2018 tax return). Services include consultation with a tax expert, help with drafting correspondence for the IRS, document review, and more. You can find out more details here. The audit would still suck, but at least it would be more like getting a root canal from an actual dentist.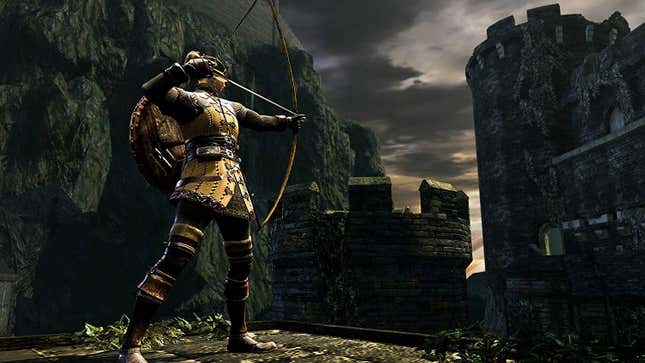 Dark Souls Remastered arrived Nintendo Switch last year, and it's worth playing, even if it's a bit rough around the edges. Normally priced at $40, Walmart just marked down to $25, the best price we've seen. See what all the hype is about!

---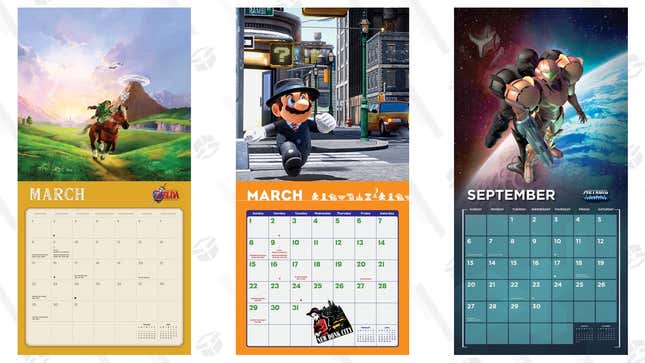 Do you need a wall calendar in this day and age? Probably not. But if you're a Nintendo fan, these officially licensed calendars will let you put your favorite games on display for a full 365 days.

The Super Mario Odyssey, Legend of Zelda, and Metroid calendars are all up for preorder for $10 today, down from the original $15. All three are for 2020, and they all come out on July 30, so start counting down the days.
---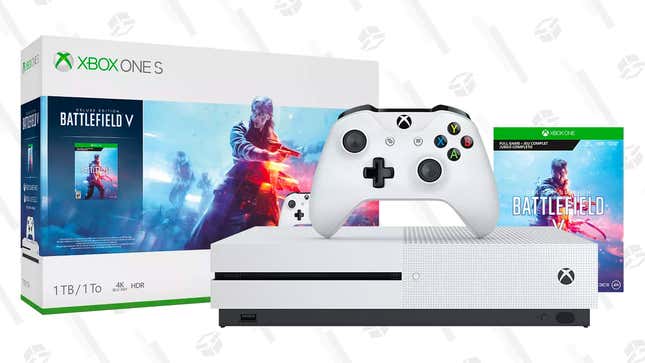 Target's offering up your choice of Xbox One S 1TB bundles, plus a copy of either Battlefield V or NBA 2K19, and a $50 gift card for just $250. That's a solid bargain which could give you another game, or a spare controller for the price of that disc-less model.

---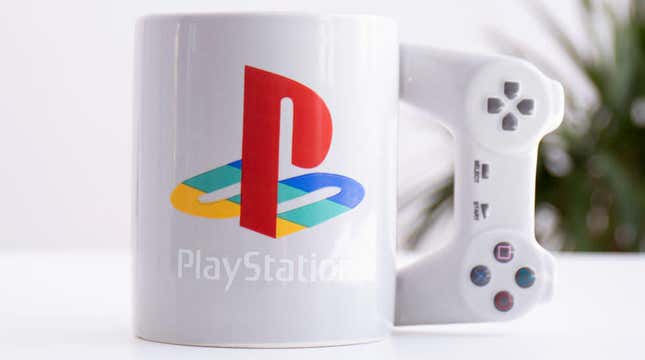 If you no longer use your OG PlayStation anymore, you don't have to forget all of the good memories just yet. You can enjoy a nice cup of coffee or tea in this PlayStation Controller Mug from Firebox. Sadly, you can't smash all the buttons to get your way, but it will probably work better than your actual controller ever did. Right now, you can get this mug for $4 off.

Tech
Home
Lifestyle
Media
Gaming
Deals You May Have Missed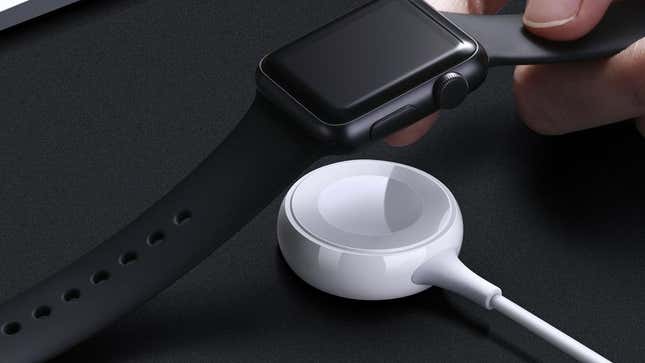 Every Apple Watch owner should have two charging cables. One for their nightstand, and one for their luggage. It's a very easy cable to forget at home, and if you find yourself on the road without a charger, it's painful to march into an Apple Store and fork over $29 for a new one.

There haven't been too many third party options to date, but this model from UGREEN is MFI certified, and only $19 today (after clipping the 5% coupon and using code ZIZ2V2YF), the best price we've seen for a 6' cable. Just note that it won't fit in most Apple Watch charging dock accessories, so you're probably better off putting this one in your bag.
---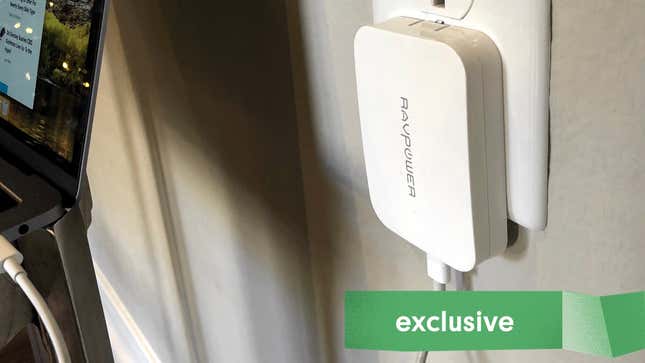 RAVPower's 45W USB-C charger was one of the first to market this year that used GaN components instead of silicon, allowing it to be smaller and lighter without overheating.

Its uniquely slim design and bottom-facing port makes it ideal for sticking behind furniture, and it's also one of the best chargers I've used in those notoriously loose airport and airplane AC outlets. For a limited time, get it for $40 (down from $50) with promo code KINJAYIE.
---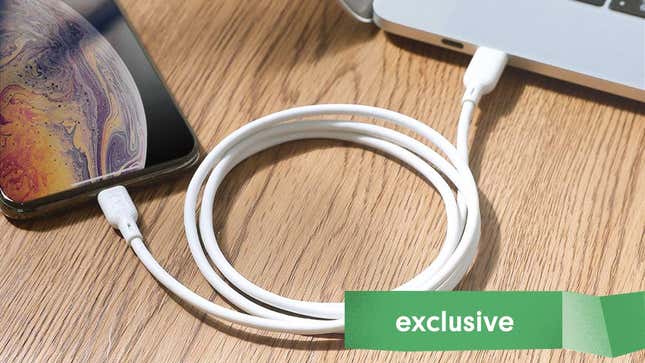 Third party, MFi certified USB-C to Lightning cables are finally here, and this $12 cable deal from RAVPower (with promo code KINJA207) is one of the most affordable we've seen to date. That costs more than a regular third party Lightning cable, but if you plug it into a USB-C PD charger, it'll charge your iPhone at 18W. With regular Lightning cables, you're limited to 12W.

For context, that means you can charge a newer iPhone from 0% to 50% in just 30 minutes, which can really pay dividends while you're traveling, and want to get as much juice as possible into your phone while you're waiting to board a flight.
---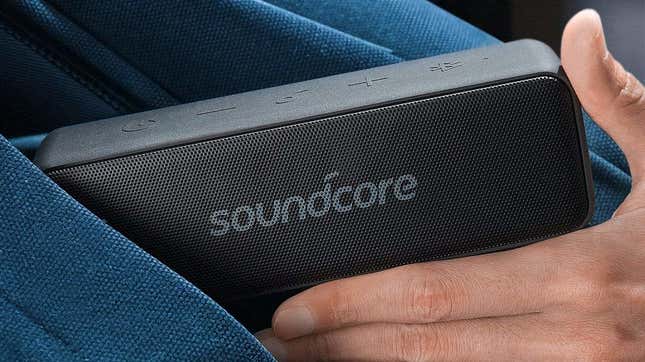 Anker's SoundCore Motion B traded in its legendary predecessor's 24 hour battery for a 12 hour battery, but it comes in at a lower price, and with improved IPX7 water resistance.

At an all-time low $20, you're getting a speaker that'll be loud enough to hear from across the pool thanks to dual drivers and 12W of audio power, and one that can fall into said pool without an issue.
---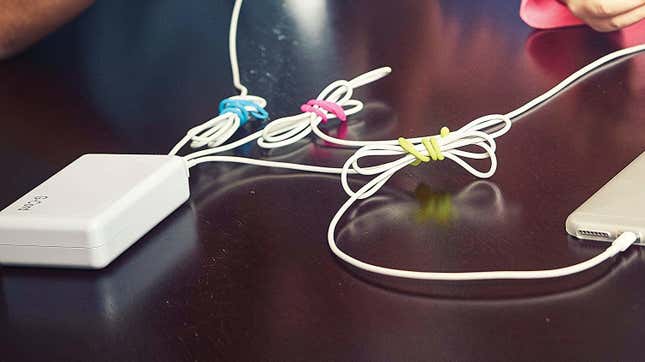 Nite Ize's reusable gear ties are basically the twist ties you get on a loaf of bread, but thicker, stronger, and perfect for holding together wires behind your home theater. Today on Amazon, get a pack of four for an all-time low $3, as an add-on item.

---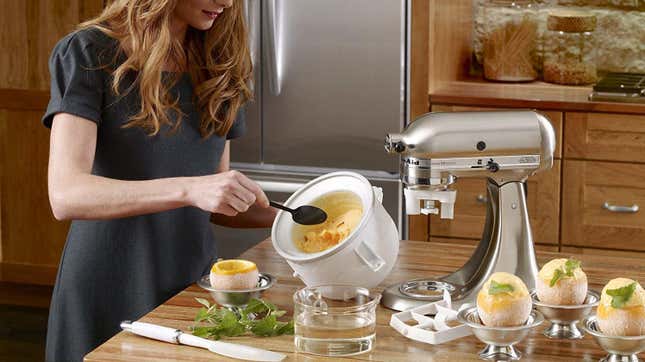 Your KitchenAid isn't just for mixing doughs; this attachment turns it into a full-fledged ice cream maker too, and it's down to $45 right now on Amazon.

You just freeze the bowl, add your ingredients, and let the KitchenAid do the churning for 20-30 minutes. I scream, you scream, we all scream for good deals.
---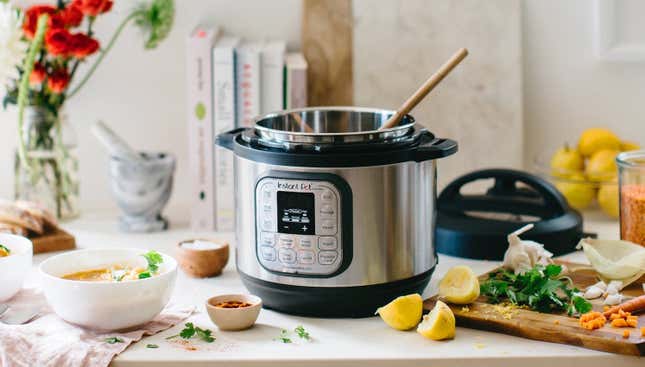 If you don't own a pressure cooker, today's a great day to fix that. The pint-sized 3 qt Instant Pot Mini wants a permanent home on your kitchen counter, and it's about $9 off once again.

Perfectly sized for any apartment, this is also our readers' favorite slow cooker, and one of their favorite rice cookers too. To put a fine point on it: It's one of the most versatile kitchen gadgets you can own. Even if you already have one, I don't need to tell you that these make great gifts, so this is a great deal for procrastinators.

---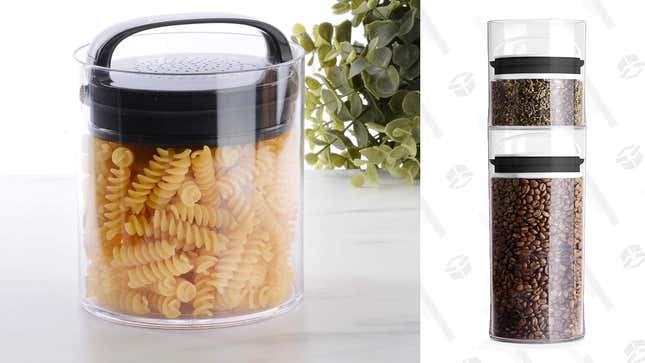 Prepara's Evak food storage containers make coffee (or grain/pasta/snack) storage look sexy, but the cool design serves a functional purpose as well. As you remove coffee and push the lid further and further down the container, it'll press out all of the excess air, which is what makes your beans lose flavor.

The small one is down to $8 today (it's a great deal even before you clip the $.28 coupon), the best price of the year.
---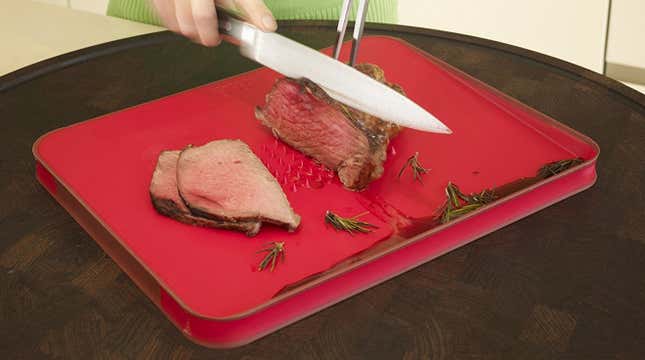 Joseph Joseph's Cut & Carve cutting board is double sided, dishwasher safe, and angled to collect juices. One side even has spikes to hold your meat in place while you carve. No, it's not as pretty as a butcher block, but it's a functional cutting board that you'll find yourself using every night. Get the black one for an all-time low $14 today, down from the usual $20.

---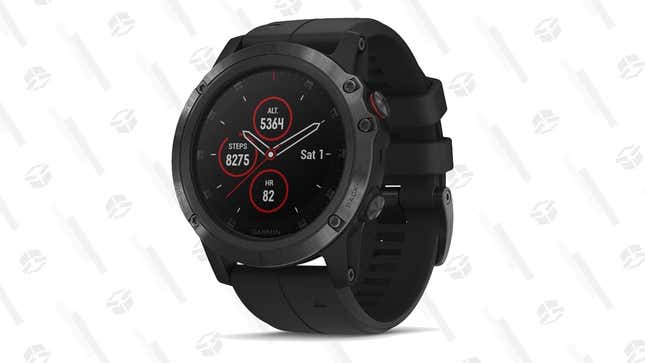 The Garmin Fenix 5 Plus GPS watch is only for the most demanding of runners, but it's the best watch of its kind that you can buy. Here's what we had to say about it over on The Inventory:

We're launching out of the gates with the priciest watch on the list. Garmin is well-known in the GPS world and the Fenix 5 Plus leads the way with a bevy of features. For starters, there are modes for both regular running and trail running (along with hiking, cycling, and any other sport you may consider…). If you're an experienced runner who wants to track VO2 max, recovery times, and training loads, the Fenix is your jam. Moreover, if you are into topo maps, this watch allows you to upload GPX routes to follow. And did we mention that it's compatible with Spotify?! Of course, luxury comes at a price: the Fenix 5 Plus is more than four times pricier than the Garmin Forerunner 35 (below).
At $600, it's never been cheaper on Amazon, if you can believe that.
---
The NFL season is still a long way's off, but if you buy the new Madden every year anyway, you might as well preorder it right now on Amazon while it's $9 off.

Madden 20 will have three main modes:
Face of the Franchise: QB1 - Be the Face of an NFL franchise where the decisions you make matter in your journey to become an NFL Superstar
Franchise - Simulate a full NFL career and leave your legacy as a player, coach or owner with single-player and multiplayer online-connected leagues
Ultimate Team - Compete in the ultimate NFL fantasy team-building mode featuring your favorite NFL players from the past and present
---
If the 21-pound, top-rated Gloomhaven just wasn't quite enough board game for you, the recently-released expansion pack is on sale for an all-time low $29 today, down from the usual $40.

Gloomhaven: Forgotten Circles adds 20 new scenarios that take place after the events of Gloomhaven, plus a new character class, seven new monsters (including three bosses), and 14 new items. And as you'd expect, it has a stellar rating on Board Game Geek, just like the base game.
While you're at it, you should probably pick up the removable sticker set for the expansion.
---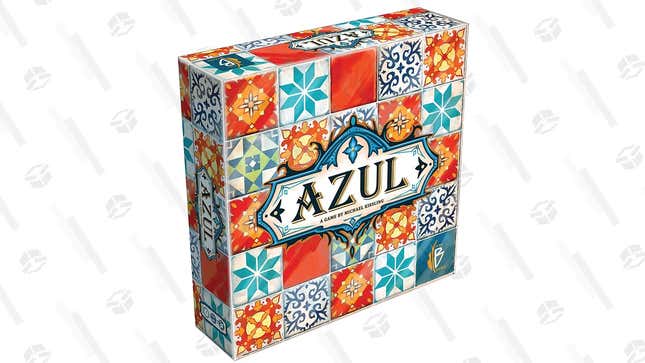 Azul was Board Game Geek's #1 most played board game last summer, and cracked our readers' favorite video game list, and you can add it to your own collection for $23 from Amazon. That's an all-time low price, but you don't really need much of an excuse to buy this one.

Azul was designed by the world famous, award winning game author Michael Riesling. Azul captures the beautiful aesthetics of Moorish art in a contemporary board game. Players compete as artisans decorating the walls of the royal Palace of Dvora. By carefully drafting the correct Quantity and style of tiles, the most clever of artisans plan ahead to maximize the beauty of their work (not to mention their scores!) while ensuring they wasted no supplies in the process.
Seriously, this game is gorgeous, and just as importantly, it feels great to play.
---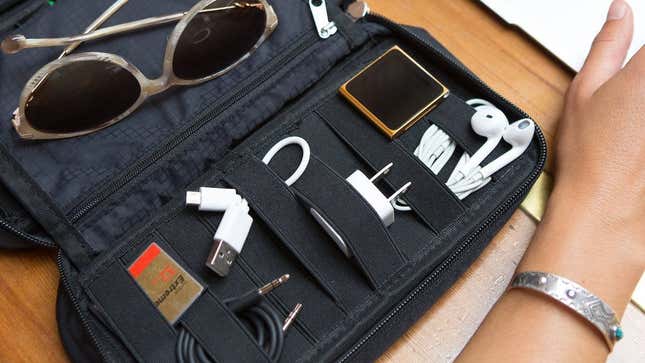 What gift do you get for the gadget lover who already has everything? A bag to carry their gadgets, of course. The Zero Grid Electronics Travel Organizer is bursting with pockets, straps, and zippers to keep all of your tech gear organized and untangled while you're on the road. Get it for an all-time low $13 today when you clip the $1 coupon and use code 9LFMU9F3.

---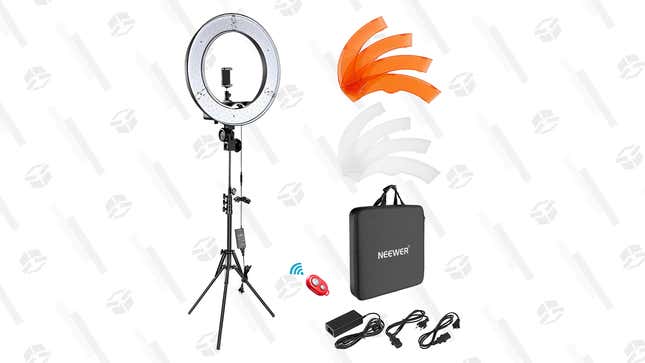 Time is a flat circle, and so is the most flattering light source known to man. Today, you can brighten up your day and your face with a Neewer Ring Light Kit, down to $90 on Amazon when you clip the $20 coupon.

Ring lights are beloved by Instagram influencers and beauty vloggers alike for their downright mystical ability to neutralize splotches and blemishes resulting in a soft, flawless glow. It would make a great gift for the aspiring YouTuber in your life, or just use it to look awesome in your next selfie. (I'm speaking from personal experience here; I was once photographed using an acquaintance's ring light, and the resulting image became my Twitter profile picture for the next two years.)
---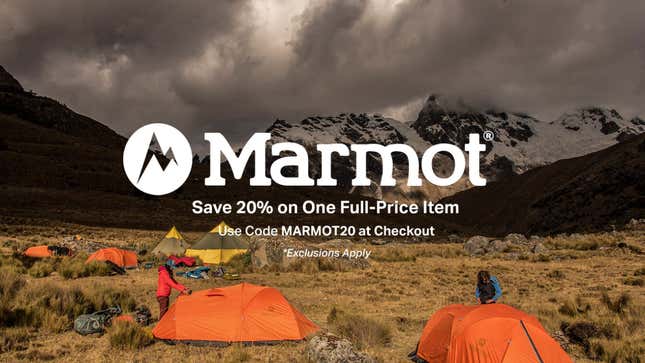 If you have plans to hit the trails this summer, check out this deal on Marmot gear at Backcountry. Right now, take 20% off a full-priced Marmot item at the outdoor retailer with promo code MARMOT20, so you can finally pick up that tent or sleeping back you've been missing.

---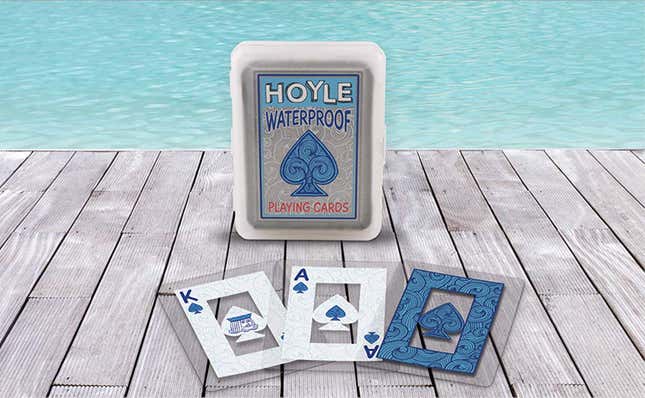 Ever had a desire to play cards by the pool? Now you can, with this waterproof clear deck of cards. It's just $5, but summer fun? Priceless.

---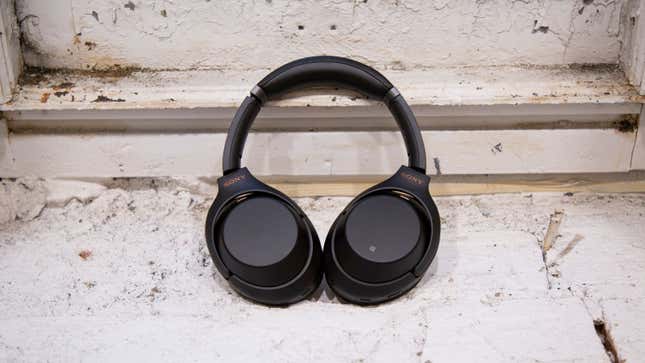 Drop (formerly Massdrop) is offering one of the best deals on the best noise canceling headphones right now, the Sony WH1000XM3 Bluetooth Wireless Noise Canceling Headphones.

While supplies last, you can snag them and mute the entire world around you for $289, down from the usual $349. And, sure, that's is still a big investment, but if you spend a lot of time in noisy planes and trains, or if you work in an open office and just need to be able to find a quiet space, you won't find a better set of headphones.

---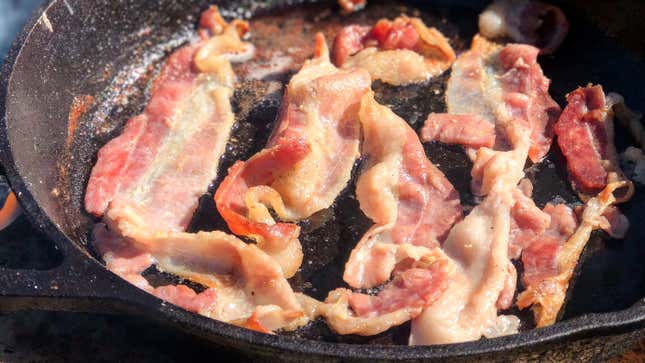 Butcher Box's most mouth-watering annual offer is finally back: Free bacon in every box for the life of your subscription. Bonus bacon. Forever.

Butcher Box ships grass fed beef, heritage grade pork, and free range chicken right to your door for less than $6 per serving, and if you sign up now for a limited time, you'll get a FREE pack of uncured bacon in every box for the life of your subscription. Think of all you could do with an extra pack of bacon every month.
Your bonus come bundled with any of Butcher Box's pre-selected boxes, which are priced at $129 for 24 servings, or $238 for 48 servings, which can be delivered every 30 or 60 days. For a nominal surcharge, you can also build a completely custom box, with your choices of proteins.
Note: You'll have to enter your email at the beginning of the process. I know, it's annoying.
---
A new season is a good time to rethink you home decor, and you can certainly find ways to spruce up your space with something from Design Within Reach's Summer Clearance Sale. Save up to 60% on everything from full-on furniture like sofas and chairs, to eye-catching accents like lamps and rugs. Quantities are limited, though, so don't wait to load up on the stylish pieces that fit right in with your home aesthetic

---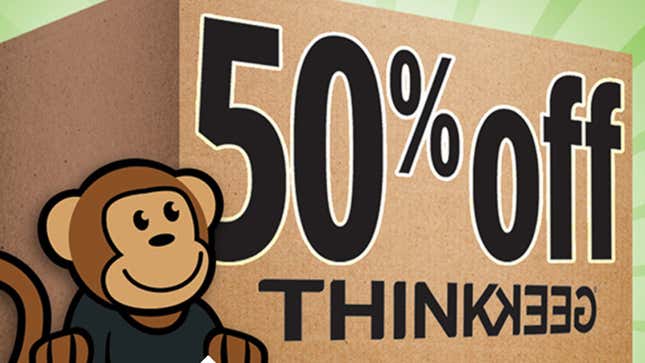 This year, we said our goodbyes to Game of Thrones, the original Avengers, the Defenders, and, now, we say goodbye to ThinkGeek. As Gamestop prepares to absorb the beloved bastion of nerdom, ThinkGeek is having a "moving" sale.

Grab geeky t-shirts, a giant sword, or a mug to show off your loyalties, whether it be Lannister, Stark, Gryffindor, or Avenger.
Just make sure to use the MOVINGDAY code during checkout to get the discount. Be warned, all sales are final.
Good-night, sweet ThinkGeek; And flights of angels sing thee to thy rest.
---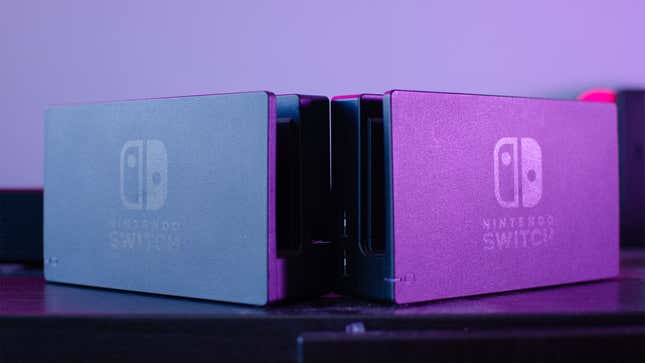 The Nintendo Switch's best asset is its portability, but unfortunately, the same cannot be said for its TV dock. If you don't want to unplug a bunch of cables just to move it from one TV to another, you can pick up a spare for $69 right now, $21 below MSRP. Honestly, that's still probably more than it should cost, but that's the best deal we've seen in months on the best Switch accessory you can buy.

---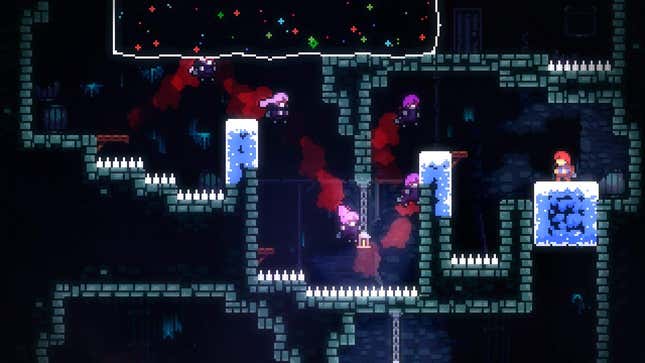 Celeste isn't just one of the best platformers to come out in recent years, though it is that. It's also a poignant story about depression with a banging soundtrack. At $13 (down from $20), it's nearly as much of a must-buy for Switch owners as Hollow Knight for $7.50.

Note: It's also on sale on the eShop, but you'll get more Gold Points by buying it from Amazon.
---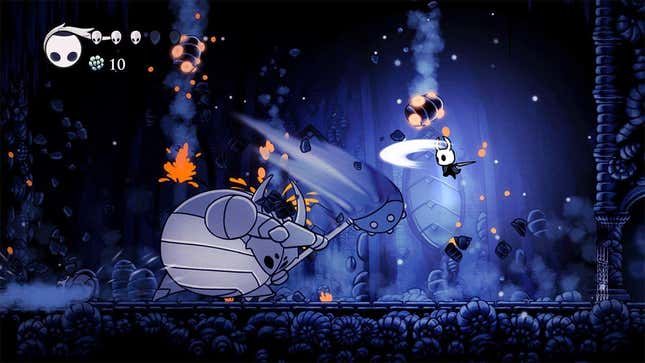 If you own a Nintendo Switch, Hollow Knight is just as essential as Breath of the Wild or Mario Odyssey, and at only $7.50 today, it's a lot cheaper. And by redeeming a digital code from Amazon, you'll receive credit for Gold coins as if you paid the full $15 price. If you bought from the eShop, you'd only be credited for the discounted price.

Seriously; the atmosphere, the map design, the controls, and particularly the music are absolutely top notch here. If you like Metroidvanias, this is a master's thesis in the genre.
---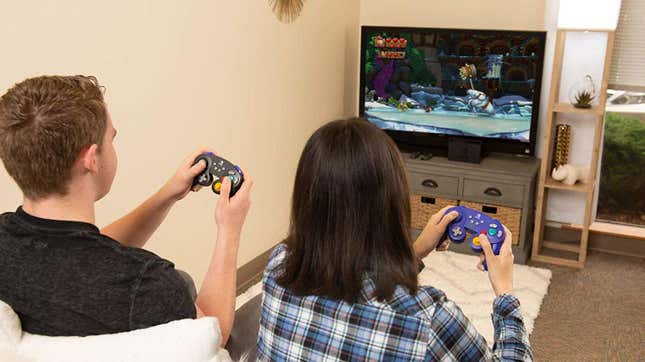 We all know that the GameCube controller is the only appropriate controller for Super Smash Bros., and now you can use one for Smash Ultimate on your Switch, no wires required.

PowerA's GameCube gamepad connects to your Switch over Bluetooth, no dongles required, and includes everything you need to play every modern Switch game, including home and screenshot buttons, and L3 and R3 clickable sticks, which the original GameCube controller lacked. Normally $50, you can snag one for $37 today, or $40 if you really want purple.
---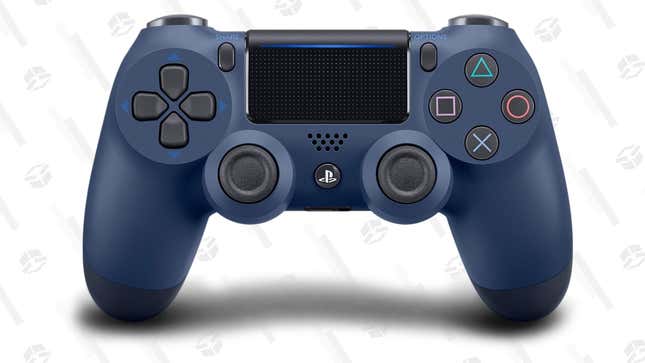 Beauty's in the eye of the beholder, but if you ask me, the midnight blue DualShock 4 is one of the best looking game controllers out there right now. It's just a perfect shade of blue. If you agree, today's $40 deal is as good as we've seen outside of Black Friday, when it was briefly on sale for $39.

Bonus: When iOS 13 comes out in a few months, you'll be able to use it with your iPhone, your iPad, and your Apple TV!
---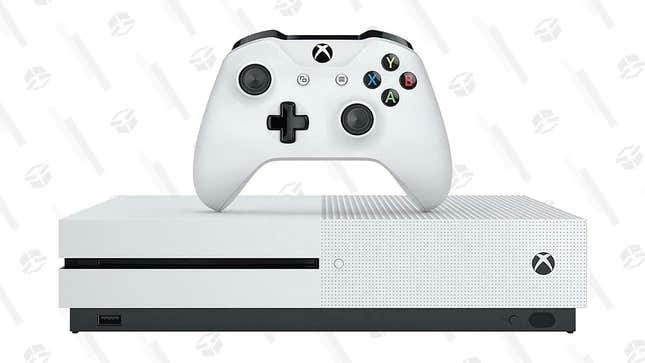 Thanks to a 15% off coupon from eBay, you can pick up a standalone Xbox One S console for a low $169. That's practically impulse buy territory on this still capable gaming machine. Better still, unlike the all-digital version, this model can play games on discs, saving you space on your 1TB HDD and lets you buy discounted and rent games.

Just add the system to your cart, and the discount will automatically be applied. With what you save, why not pick up Cuphead, too?
---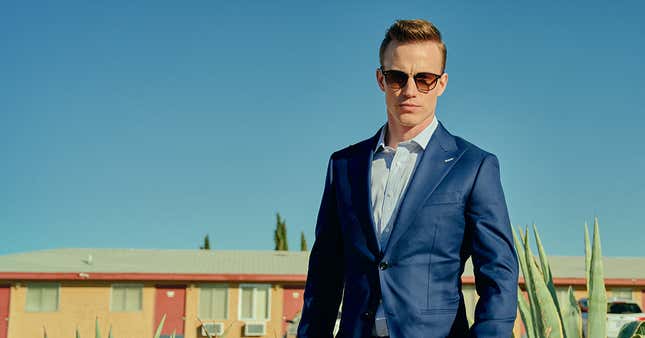 Buying a suit off the rack is almost always a disappointing experience. It never fits quite right, the selection is limited, and it always feels like you're spending way too much for a garment that you don't really love.

Indochino addresses all of these shortcomings with custom tailored suits (and more!) that are cut to fit your specific body, and that allow you to tweak all of the little details and accoutrements to your liking. So today, head over there and design totally unique suit that's built just for you for just $299 with promo code KINJA19.
That code will work on any of the suits on this page, and includes all of your customizations and shipping. If you get it and it doesn't fit quite right, you can even go into an Indochino store to get it adjusted or remade for free, or even get reimbursed after taking it to another local tailor if you don't have an Indochino store near you.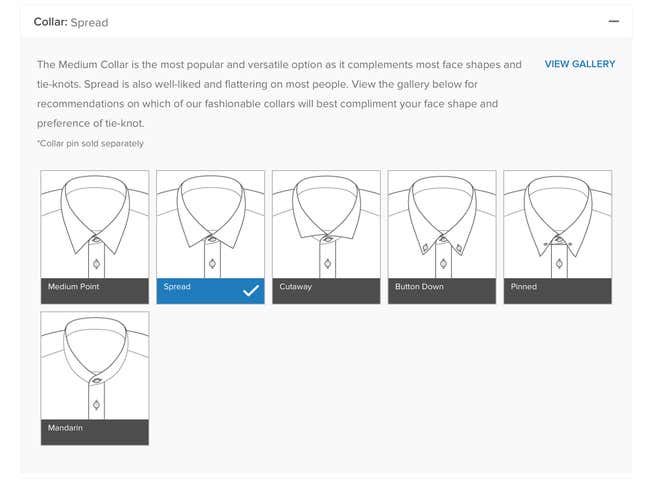 Just about the only thing it doesn't include is a shirt to wear underneath, and they've got you covered there too with a $59 shirt of your choice with promo code KINJA19. And just because it's "just a shirt" doesn't mean you don't get a ton of customizations here too. You can configure it with six different collars, multiple lengths (say, if you want to wear it untucked), short sleeved or long sleeved, and more.
---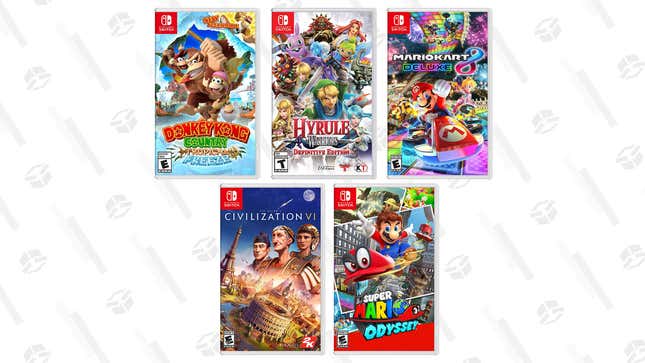 Save big on Mario Kart 8 Deluxe, Donkey Kong Country: Tropic Freeze, Hyrule Warriors: Definitive Edition, Super Mario Odyssey and Sid Meier's Civilization VI digital codes. These are about $10-$20 off their regular price and an excellent deal if you're going the digital route.

---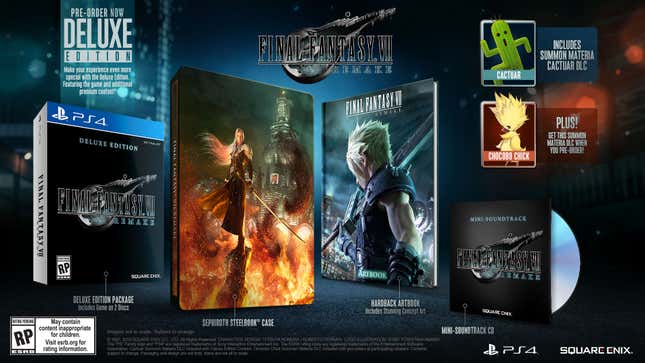 Final Fantasy VII Remake is finally out next March (along with, uh, just about every other video game?), and Walmart's currently offering a $10 discount when you preorder the Deluxe Edition.

That includes the game, a steelcase, an art book, a sound track, and some exclusive DLC. With the discount, your price only comes out to $10 more than the standard edition, so if you were going to pick up the game anyway, this is worth considering. Kotaku got a hands on with the game (and details about its new combat system) at E3 this week if you're on the fence.
---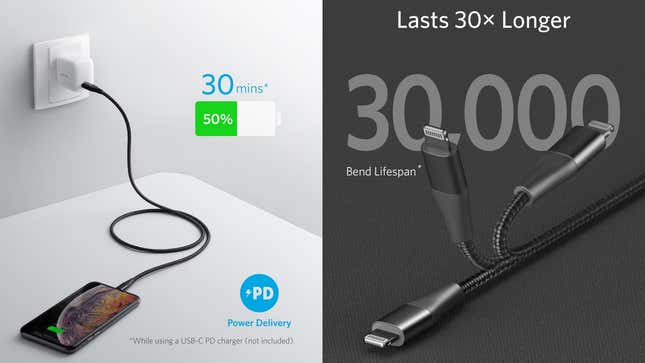 Apple only started allowing third parties to make USB-C to Lightning cables a few months ago, but Anker's already brought the fast-charging technology to their best cable: the PowerLine+ II.

The cable combines the best stuff from all of Anker's premium charging cables, including a nylon-braided wrap, metal connectors, a 30,000 bend lifespan, and even a lifetime warranty if it somehow does ever break. And since it's USB-C, it allows you to charge your iPhone at the fastest possible speeds from any USB-C PD charger: from 0% to 50% in just 30 minutes.
Just use promo code ANKERC2L to get the deal. Valid on black or red.
---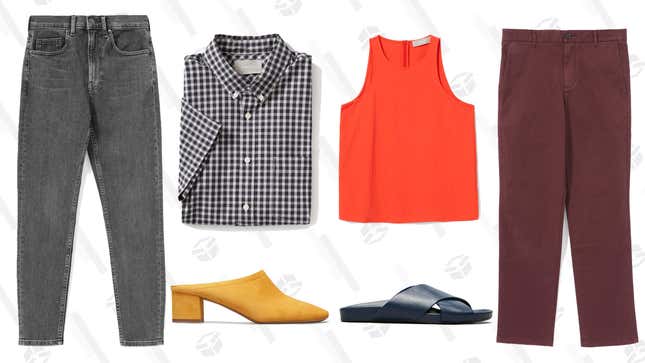 Everlane's Choose What You Pay section (which, for the unindoctrinated, allows shoppers to choose from three different, discounted price points for an item) is always a good source of savings on some of the brand's coveted, stylish basics, but it's usually pretty limited. That is, until now.

Everlane Biggest Choose What You Pay Summer Event is on, and sections for both men and women have been flooded with a ton of new overstocked inventory, including a selection of coveted Everlane denim and shoes for the ladies and a range of chinos for guys. This is likely the last you'll see of these styles, so take your pick before they sell out, as many of Everlane's offerings are wont to do.
---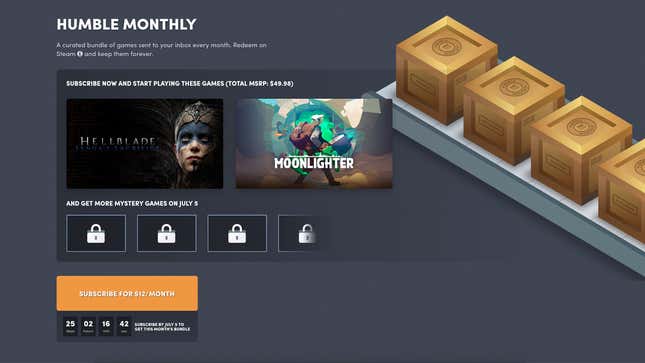 This month's Humble Monthly games include Hellblade: Senua's Sacrifice and Moonlighter. And as always, more games will unlock every Friday until the end of the month.

If you're not familiar, Humble Monthly is a $12 per month subscription service and releases a cache of PC games each month, plus 10% off in the Humble Store, and extra benefits on certain Humble Bundles. The best part? Even if you cancel your membership, every game you add to your Steam library is yours to keep.
---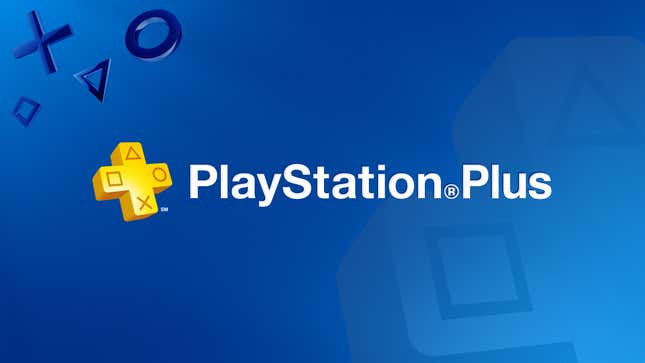 If you didn't buy enough years for $40 back on Black Friday, you can get the exact same price today on PlayStation Plus from Amazon today in celebration of E3. If you own a PlayStation 4, or are planning to buy one soon, the only question is how many of these membership years you should buy, not whether you should buy them.

---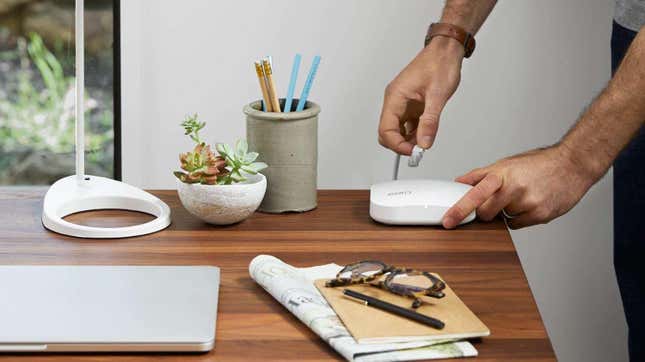 If Amazon's recent acquisition of eero didn't scare you off the pioneer in mesh networking, the retailer is celebrating its new networking play-thing with big discounts across the board, for a limited time.

Get a an eero and an eero Beacon (which plugs straight into the wall and doubles as a night light) for $239 (a $60 discount), an eero and two beacons for $319 (an $80 discount), or for the largest and most densely constructed houses, three full eero routers for $399 (a $100 discount). To be clear, If you live in a one bedroom apartment, you don't need any of these, but if you find that a single router doesn't get you a reliable Wi-Fi signal in every part of your house, mesh systems like these are a godsend.
---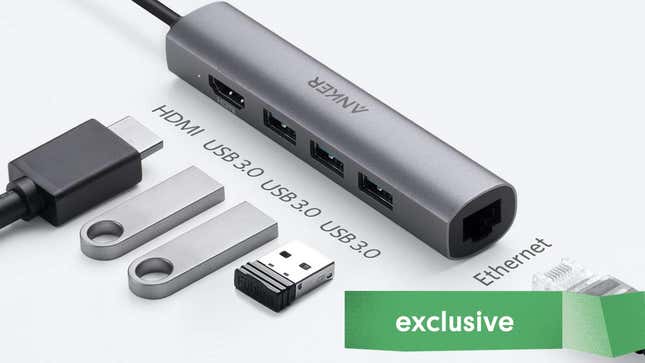 USB-C has been great in a lot of ways, but it's going to be a long time until all of our accessories use the new connector. So if you have a laptop, tablet, or even phone whose only physical connection to the outside world is a USB-C port, you're going to need a dongle.

Luckily, this space-saving option from Anker includes three USB 3.0 ports, an HDMI port, and even an ethernet port, and you can add it to your bag for just $32 today with promo code KINJACH5. The $33 list price is itself an all-time low by $3, so our code is a cherry on top.
---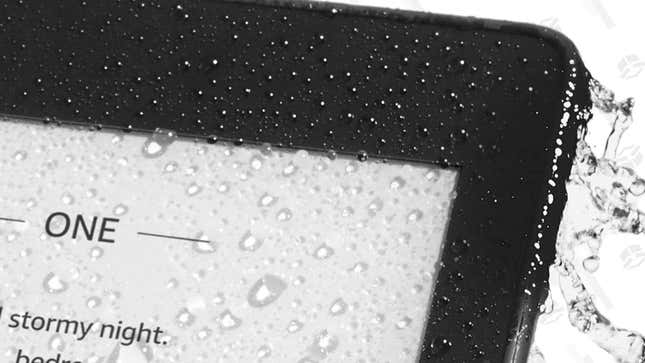 The new, waterproof, Bluetooth-equipped Kindle Paperwhite is $30 cheaper today. This is one of the better deals we've seen, and if you have an Amazon Prime credit card, you'll get 10% cash back, which effectively lowers the price to $90.

Oh, and if you want the cheaper, all-new Kindle—that's also cheaper now, too. It's selling for $70 which is also the lowest price we've ever seen. The more expensive Oasis is also $50 off with 20% cash back for Prime card members.