I've never really been a jeans guy. I buy maybe one pair every couple of years from Levi's or Gap, and they've always been fine. Good, even! But I never really give them any thought after the cashier swipes my credit card. As a work-from-home blogger, I often go days at a time in the same pair of sweatpants or shorts. But I picked up a pair of Everlane's jeans during a sale late last year, and they're the rare pair of pants that I actually look forward to wearing.

The difference is in the stretchiness of the denim. Everlane calls it a "touch of stretch," but I think that undersells it a bit. They aren't like jeggings or anything—it's still denim through and through—but the material has a surprising amount of give to it, and as a result, I find that the jeans are comfortable whether I'm sitting, standing, walking around, or eating a meal that's entirely too big (I wore them a lot around the holidays, so trust me on this point).
I have the slim fit cut, and my wife says they make my butt look good. She's unsparing in her critiques of how my pants fit, so this was not just a throwaway compliment. Obviously, your body type and preferences will determine how well any pair of pants fit, but Everlane offers several different cuts, and the stretchy denim gives you a little more leeway than you'd get from most other jeans.
Even if they aren't on sale (deals are exceedingly rare), these are pants that you can feel good about buying. At $68, they're a bit more than you'd spend on a basic pair of jeans at the mall, but still significantly cheaper than a lot of the premium brands out there.
G/O Media may get a commission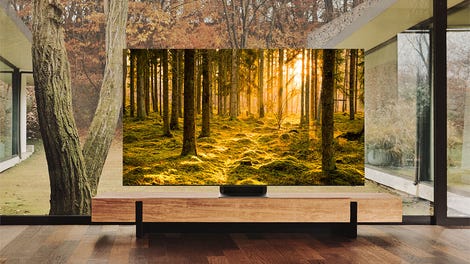 Up to 40% off
Samsung Smart TVs
Plus, they're produced in a factory that recycles 98% of its water, uses solar panels to produce most of its electricity, and air dries its jeans with the world's most impressive dry cleaner conveyor belt, which uses way less electricity than traditional drying. Even the byproduct "sludge" of the denim production process is sent to a brick making factory, where it's incorporated into bricks that are used to build affordable housing. On the pantheon of things that are destroying the planet, I'm not sure jean production would rank very highly, but every little bit of environmental awareness counts.
---