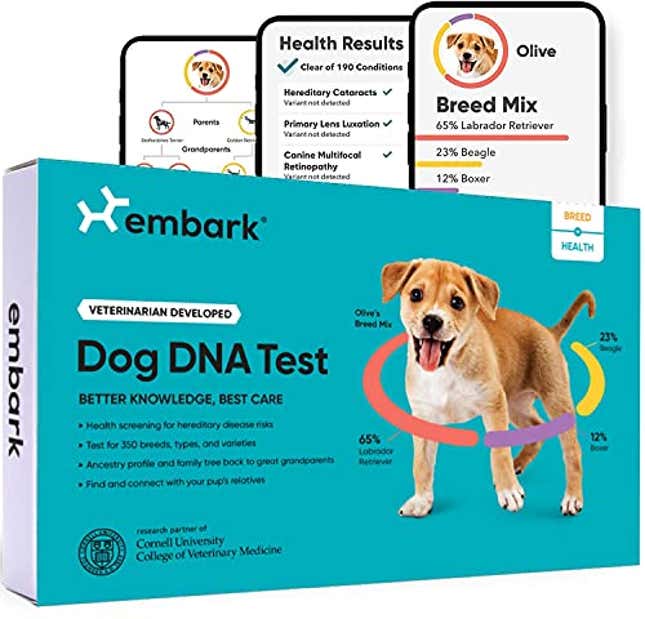 If you've ever wondered what specific breeds and traits make up your beloved mutt or what genetic health risks they might face, then the Embark | Dog DNA Test | Breed & Health Kit readily available on Amazon is the perfect investment. Not only does it offer an accurate breed identification feature that tests over 230,000 genetic markers, but it also screens for more than 350 dog breeds, providing you with a comprehensive understanding of your pet's lineage.
But why should this matter to you as a dog owner? As it happens, knowing your dog's breed is vital for various reasons. By understanding your dog's breed, you can design a more personalized and beneficial nutrition and exercise plan, cultivate a better understanding of their behavior characteristics, and more importantly, anticipate potential health risks. The Embark Dog DNA Test offers a sense of security as it extends its services beyond breed identification to health screenings as well.
Moreover, Embark's panel tests 230+ health risks and provides hundreds of actionable insights to tailor your pet's lifestyle and prevent potential issues down the line. According to Embark, 75% of dogs are either at risk or a carrier for a genetic health condition, and 37% of dog owners have changed how they care for their dog after receiving these test results. The ability to prevent your dog from facing avoidable health problems makes the Embark DNA Test not just a trivial process but a crucial step in ensuring your canine companion lives a long, healthy life.
Averse to regular health check-ups? Worry not! Embark's DNA Test can be taken easily at home without employing any invasive measures. It is as simple as swabbing your dog's cheek and sending the sample back to Embark. They generally deliver results in 2-4 weeks and keep you updated every step of the way.
Endorsed as the highest-rated dog DNA brand on Amazon with over 16,000 5-star reviews; it is easy to see why Embark is a widely trusted choice for discerning pet owners. By utilizing research-grade data and partnering with Cornell University College of Veterinary Medicine, Embark's DNA test is the epitome of accuracy and scientific advancement.
To make this deal even sweeter, Embark's Dog DNA Test is currently available at a hefty 30% discount on Amazon for a limited time. So why wait? Take this opportunity to invest in your furry friend's health, happiness, and overall well-being today! Purchase the Embark | Dog DNA Test | Breed & Health Kit and embark on a journey of genetic discovery.
This deal was originally published by Inventory Bot on 7/11/23 and updated with new information by Se Jeong Bae on 7/13/23.