Men wearing nail polish isn't exactly new, but it's mercifully becoming more common thanks to leading fashion icons like Brian David Gilbert, Harry Styles, and probably other important people. If you're ready to try out something flashy, or just a little accent to class up your look, here's the stuff you'll need to start polishing your nails.
If you're new to this, don't be worried. For a lot of people who grow up presenting or identifying as male, nail polish or makeup in general might seem like foreign concepts. But we're here to break down those gender stereotypes and help you get started, even if you've never once dipped your soon-to-be colorful toe in this end of the pool.
A Base Coat
Did you think we were going to dive right into nail polish? Nope! While you can get away with putting polish directly on your nails, it's a bit like painting a wall without using primer first. Only on your nails, it can be even more complicated. Colored nail polish can stain your nails once it's removed. Clear coats like this help avoid that by putting an invisible layer between the polish and your nails.
Your Favorite Color Nail Polish
G/O Media may get a commission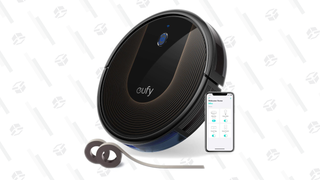 48% Off
Eufy BoostIQ RoboVac
Here's the part where you get to be creative. There is no shortage of nail polish colors out there. Bright vivid hues can make you stand out, while more subtle shades can help give your nails a little pop without being distracting. Coordinating your color with your clothes is particularly fun. Plus, it demonstrates your own attention to detail and shows off your planning skills. The man who shows up for a presentation in a pressed blue suit and coordinated crisp blue nails is probably someone you can trust to have detailed notes ready on time for your next meeting.
A Top Coat
That's right, a third coat! (Well, technically, a fifth coat, since you should apply two to three coats of your color of choice for optimal saturation.) Like a good lacquer, a top coat on your nails will seal the paint and protect it from damage. And you can expect your polish to take a bit of damage. It's on your fingers after all, and can chip pretty easily. Additionally, a top coat can help your polish dry more quickly, and give your nails a glossier sheen that catches the eye just a bit more.
Nail Polish Remover
Your nail polish will eventually chip off in small chunks, but that's not exactly the best, or best-looking, way to go about removing it. That's where nail polish remover comes in. However, chemicals in acetone-based remover that strip off polish can also be harsh on your nails. Natural nail polish remover is a more gentle option.
Acetone Dip
Still, acetone is by far the most common way to take off your polish. A more powerful alternative to nail polish remover, and especially helpful if you need to take your nail polish off in a hurry, is an acetone dip. This little tub contains a sponge soaked in acetone solution. Stick your finger inside the jar, rotate it around on the sponge, and your polish should come off in a matter of seconds. Just be warned, this will dry out the skin on your fingers real quick.

Hand Lotion
If you use acetone dips, you'll want to follow it up with a good hand lotion to keep your fingers moisturized. And, frankly, it doesn't hurt to use one even if you didn't just remove your polish. Immediately after using the acetone, pump a bit of lotion on your fingers and rub it around until your fingertips stop looking like a dried-out, barren desert.
---