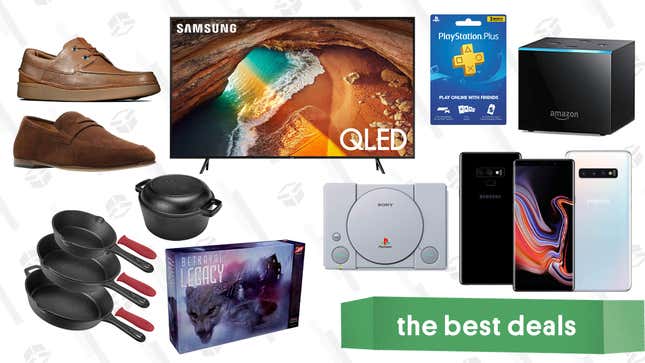 A Journelle sale, cast iron cookware, PlayStation Plus membership, and camping pads lead off a gaming deal-packed Friday.
If you are shopping for your dad right now, we are updating our Kinja Deals Father's Day discounted deals post daily and have a thoughtful Father's Day gift guide as well.
Bookmark Kinja Deals and follow us on Twitter to never miss a deal. Be sure to bookmark our Prime Day deals hub to be ready for the big day.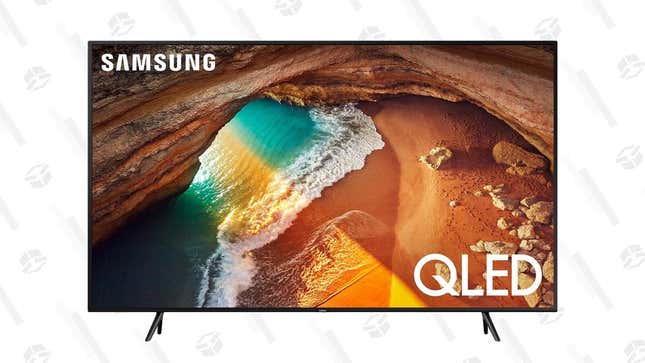 Samsung's "entry" level QLED TV for 2019, the Q60, isn't 8K like its more expensive siblings, but it carries over many of the same impressive features, and is a fantastic display in its own right.

https://theinventory.com/samsung-s-first-8k-consumer-tv-is-impressive-but-not-be-1834867084?ks=searchpage
Today, you can get the 55" version for a new all-time low $898, which is about $100 less than the previous lowest price. That includes Samsung's Quantum Dot-enhanced panel for more vivid color, and even Samsung's "Clean Cable" solution that offloads your ports to a separate box that's easier to hide.
https://gizmodo.com/why-your-next-tv-could-and-should-be-stuffed-with-qua-1677617045
---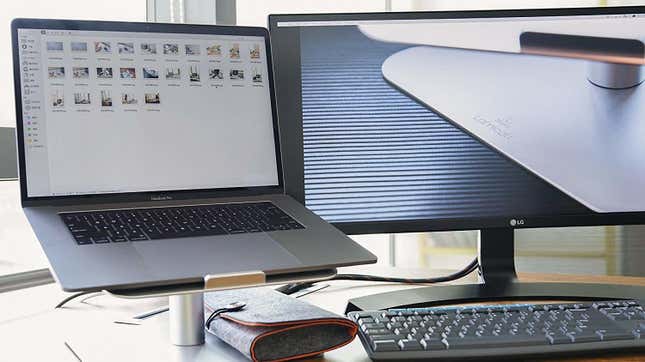 Staring at a laptop screen sitting on a desk is terrible for your neck and your posture, but a laptop stand can bring your screen up to a more ergonomic height. This one from Lamicall looks great, rotates 360 degrees on its base, and is only $20 right now with promo code LAPTOP55.

https://lifehacker.com/how-to-ergonomically-optimize-your-workspace-30833302
---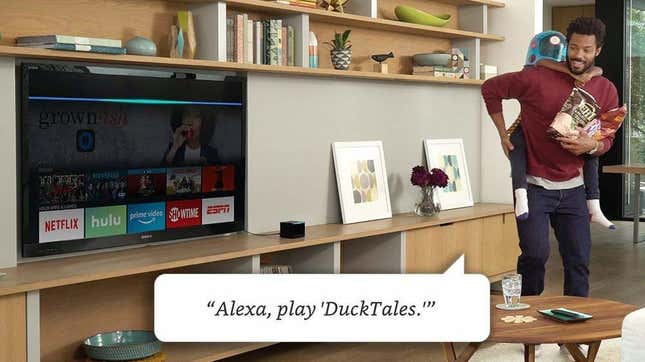 Amazon's Fire TV Cube is basically the love child of a Fire TV Stick and an Echo Dot, and Woot's blowing them out for $60 each today. That's half the cube's normal price, and a better deal than we saw on Black Friday.

At $120, it was probably a tough sell, but for just $10 more than a 4K Fire TV Stick, with the same HDR and Atmos abilities, in addition to hands-free Alexa, it may be worth it.
https://gizmodo.com/alexa-is-a-pretty-crappy-tv-remote-for-now-1826919223
---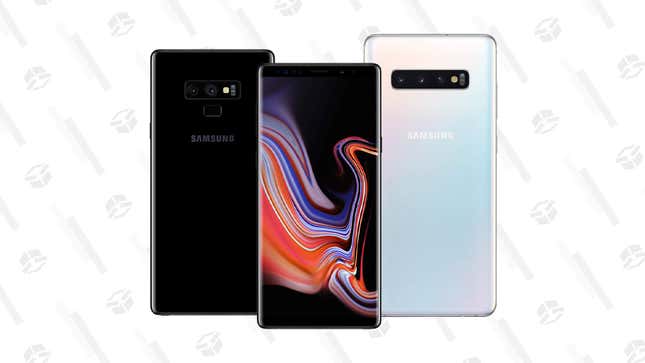 Samsung makes some of the best smartphones around and right now they're offering some rad bonuses with the purchase of one of their latest phones.

https://gizmodo.com/the-best-phones-you-can-buy-right-now-1830552418
In addition to a free year-long subscription to YouTube Premium, Samsung will throw in a pair of wireless Galaxy Buds when you purchase any Galaxy S10 (Gizmodo's pick for the best all-around phone) or Note9 (Gizmodo's best hyper phone) from their website.
https://gizmodo.com/samsungs-new-galaxy-buds-almost-give-airpods-a-run-for-1833105155
You can also trade in an older device for up to $450 off. But quite frankly unless you're trading in a latest generation iPhone, you won't get that much.
So, if you've been wondering when the best time to buy a new Samsung phone... this is it. Just don't wait too long, this ridiculous bundle deal ends tomorrow. (Oh, your dad might like one btw.)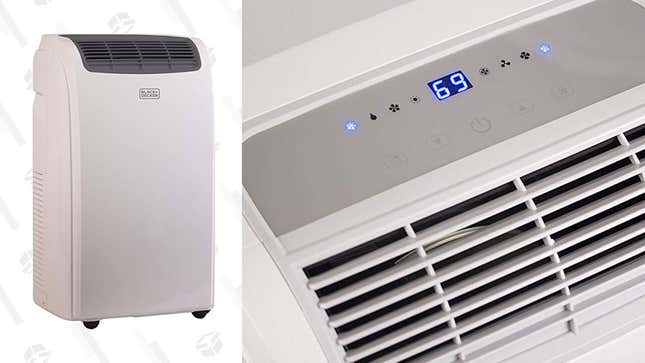 It might only be the first week of June, but we're already over this heat. If you don't have central air or your room is just always hotter than the rest of your house, you need to invest in a portable air conditioner. Right now, you can get a BLACK + DECKER 10000 BTU Portable Air Conditioner for $299 on Amazon. This is powerful enough to cool down a 10' x 20' room during the summer. If you know a soon-to-be college freshman, this could make a great gift for them to bring to their dorm room.

---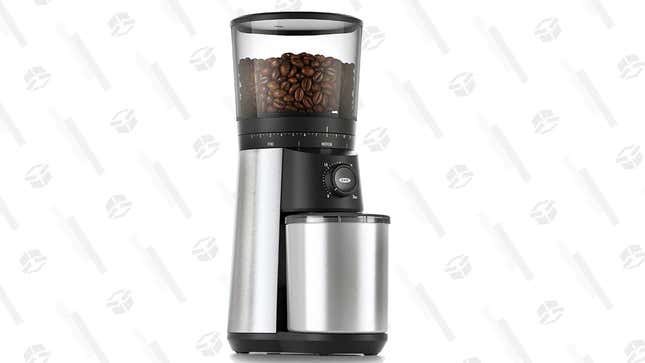 Do you always stop at an expensive coffee shop on your way to work? If you care about the taste of your coffee, then it is time to start making a pot at home. If you've never gotten into K Cups and prefer ground coffee, skip buying preground and get your own grinder.
The OXO BREW Conical Burr Coffee Grinder is $80 on Amazon right now. This model has durable conical burrs, which helps create uniform grounds. If you brew with your own grounds, you're guaranteed to have a strong and flavorful cup of coffee. This grinder has one touch start, 15 settings, and can hold up to .75 pounds of coffee beans.
---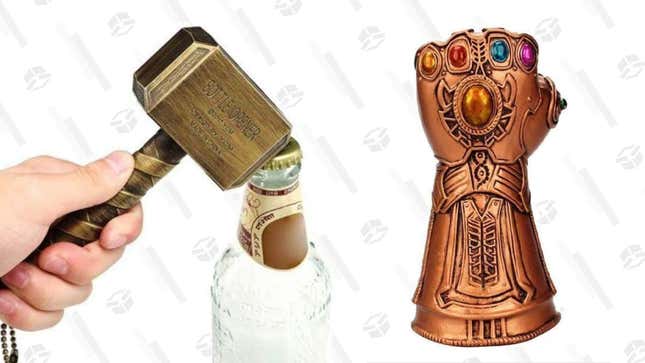 If you want to drink like Thor, you can get into his mindset when you wield Mjolnir. Now, we're not talking the one that was forged in the heart of a dying star. This is a mini version of Thor's hammer that you can use to crack open a beer. You can get an Avengers Bottle Openers, Thor's Hammer in silver or bronze for $11 with the promo code KJVENG. Using the same code, you can channel your inner Thanos with this Infinity Gauntlet bottle opener. If you haven't gotten your dad a present for Father's Day yet, one of these three bottle openers makes a great additional gift.

https://kinjadeals.theinventory.com/the-kinja-deals-guide-to-discounted-fathers-day-gifts-1835239680?ks=curation
---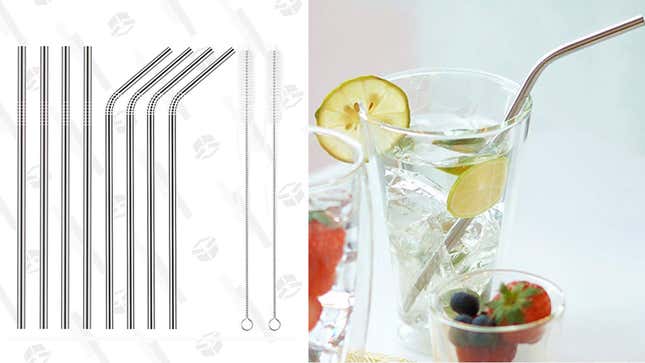 If you're looking to cut down on your single-use plastic waste, ditching plastic straws is the way to go. These straws cannot be recycled and can take 200 years to decompose in a dump. Some people don't like paper straws since they can start to dissolve during use. Metal straws are a great alternative and are easy to clean. Right now, you can get YIHONG Set of 8 Stainless Steel Metal Straws for $6 when you clip the $2 coupon. This set has four straight straws and four tumbler straws, plus two cleaning brushes.

https://lifehacker.com/how-to-waste-less-plastic-this-summer-1826260480
---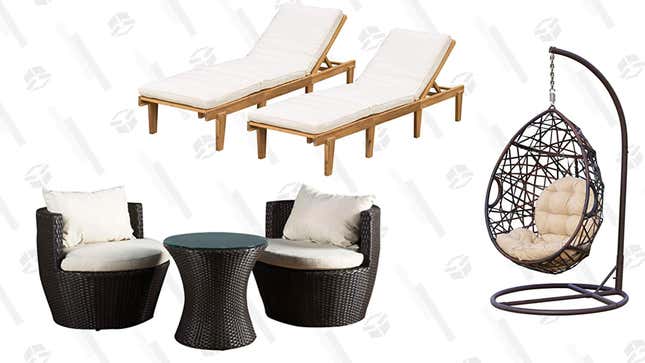 We're less than two weeks away from the first official day of summer and the sales are ramping up. If you like to host a lot of outdoor parties when the weather is nice, why not impress your guests with some new patio furniture? You can get up to 20% off Chris Knight Patio Furniture on Amazon today only. If you've always wanted a teardrop hanging chair but didn't want to pay full price, you can get a wicker one for only $200. You can soak up the sun in a set of two teak chaise loungers for $343.

---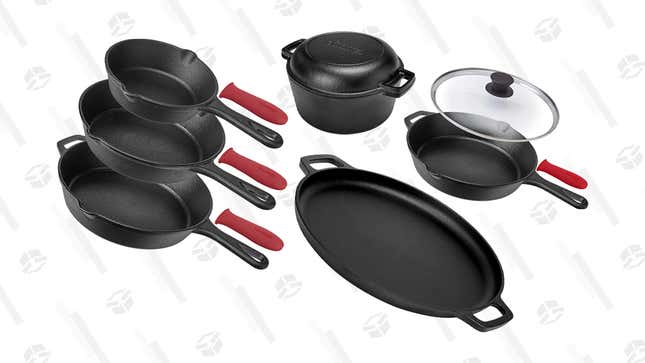 Today's Gold Box is lowering the price on a a number of pre-seasoned Cuisinel cast iron pans, Dutch ovens and skillets. And, frankly, you've got a lot of options.

https://lifehacker.com/budget-kitchen-upgrades-for-every-kitchen-that-will-cha-5897045?_ga=2.176021090.1174510069.1554814722-101080673.1551539597
https://theinventory.com/bestsellers-lodge-cast-iron-skillets-1735499296
Don't know where to start? Cast iron skillets and Dutch ovens are pretty much mandatory for any kitchen.
If you love making pizza, try out this baking pan for $21 which doubles as flat pan to sear, grill and saute stuff outdoors, These prices are only available today though, so don't let these deals simmer for too long.
---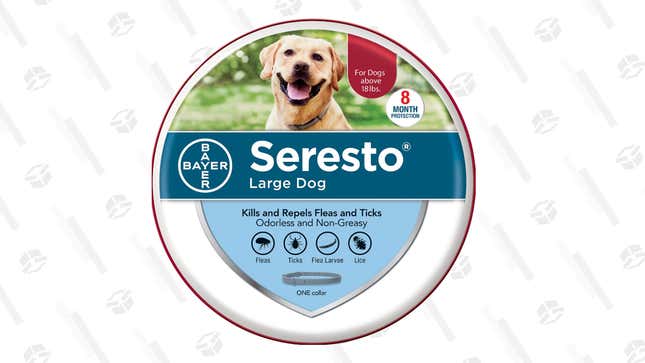 It is spring and you know what that means, tick season is upon us. If your pet goes outside at all, they need flea and tick prevention year-round. It is even more important during the warmer months. Right now, Chewy has a deal on the Seresto 8-Month Flea & Tick Prevention Collar. If you live in a household with a bunch of pets, you're going to want to hop on this fast. The Soresto collar is normally $58 on Chewy ($56 if you do Autoship), but if you purchase two or more collars, you can get 10% off your purchase. The collars come in three different options for large dogs, small dogs, and cats & kittens.

The Seresto collar is great for people who have a tendency to forget when they're supposed to administer their pet's flea and tick prevention each month. Since the collar is meant to be worn for eight months, you can easily set a reminder that far out and remember to replace it. Which is much easier than wrangling your pet every 30 days and trying to put a little bit of goo between their shoulder blades. The Seresto collar repels and prevents fleas, ticks, flea larvae, and lice.
---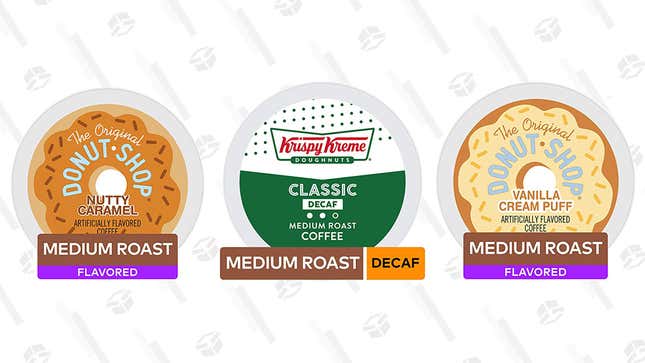 Unfortunately, it's probably not the best idea to eat a donut every day. But a daily cup of donut-flavored coffee? Sure, why not! In honor of National Donut Day, Amazon is marking down a batch of Keurig K-Cup Pods in a variety of donut flavors from Krispy Kreme and The Donut Shop. Just be sure to buy today, since this do-nutty deal will be eaten up by tomorrow.
https://lifehacker.com/where-to-get-free-donuts-on-national-donut-day-2019-1835101014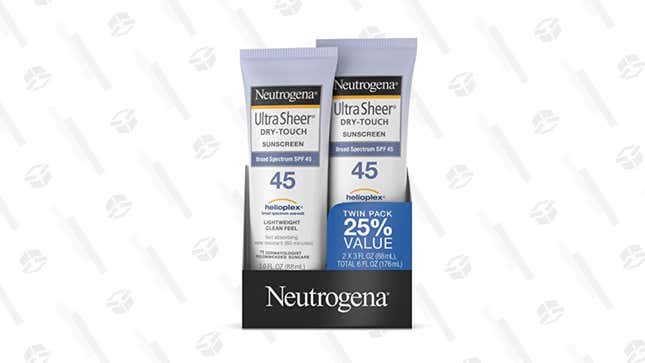 Don't get caught in the sun this summer without sunscreen. If you can't remember when you bought the sunscreen in your closet, it is probably expired. Right now, our readers' favorite sunscreen, Neutrogena Ultra Sheer Dry-Touch, is on sale. You can get two bottles for practically the price of one. If you select Subscribe & Save, you can clip a $3 coupon off your first order of Neutrogena Ultra Sheer Dry-Touch SPF 45 Sunscreen and it'll cost you $8.

https://kinjadeals.theinventory.com/most-popular-sunscreen-neutrogena-ultrasheer-dry-touch-1706325119?ks=searchpage
---
Summer is here, but let's be real: You'll probably still need a jacket for cool nights, and you'll definitely need one when fall arrives. So even though Mountain Hardwear is taking up to 60% off a selection of past season sale styles, you could probably still use many of the on-sale items right now, and for future winters to come. So load up on outerwear to keep you toasty warm the next time you step outside.

---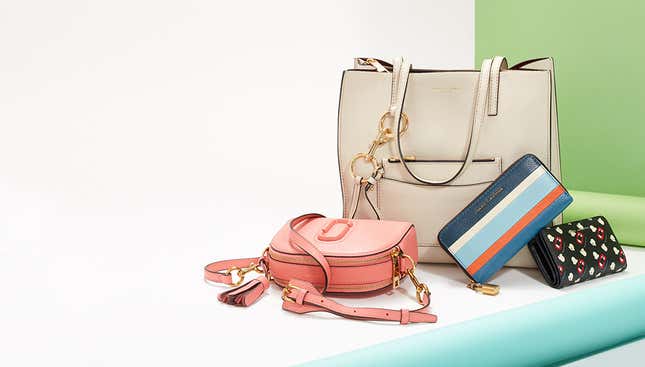 Marc Jacobs Bags and Accessories Flash Events | Nordstrom Rack
A designer bag from a legendary brand like Marc Jacobs will normally set you back hundreds, if not thousands, of dollars. But not today! Nordstrom Rack is marking down a load of Marc Jacobs purses of all shapes and sizes, not to mention a selection of jewelry, sunglasses, and fragrances. So scoop up some designer duds ASAP, since this stuff will surely sell out.
---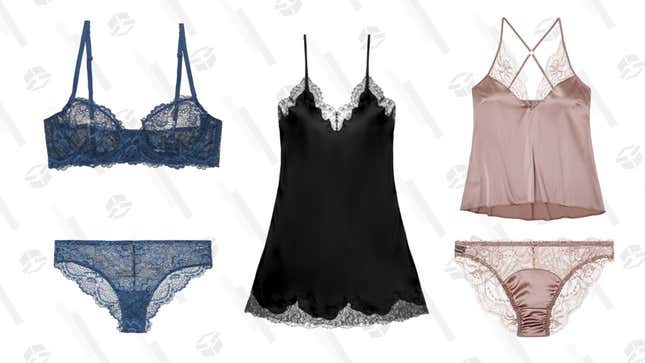 I don't think anyone really looks forward to lingerie shopping, but at Journelle—a brand known for being well made, size inclusive, and actually attractive—the whole process is shockingly bearable. And right now is a great time to hit up Journelle, since everything is 50% off thanks to their Semi-Annual Sale. So shop now and save on scores of bras, underwear, bodysuits, bathing suits, robes, and much more.

---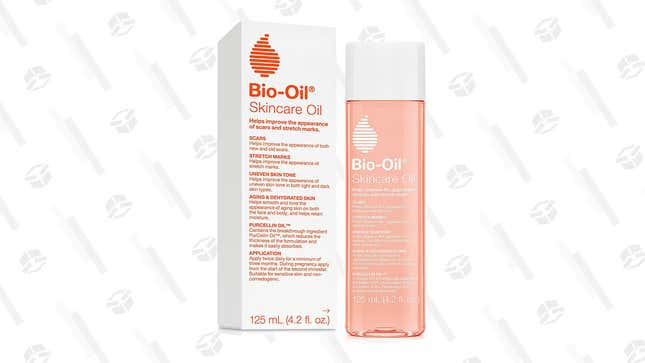 You guys know that I hate how gloppy lotion is. Hence why I pretty much can only stand to moisturize my body with this cult-favorite miracle product, Bio-Oil. (Fun fact: It's also a favorite of Kim Kardashian West).

Bio-Oil is non-greasy, non-pore clogging, and soaks into your skin nicely, plus it can help reduce the appearance of scars and stretch marks. It even smells downright pleasant, and right now, it's down to $15 at Ulta and Amazon. Buy some now, and start slathering it all over yourself soon.

https://theinventory.com/all-lotions-should-come-in-stick-form-1833069833?ks=searchpage
---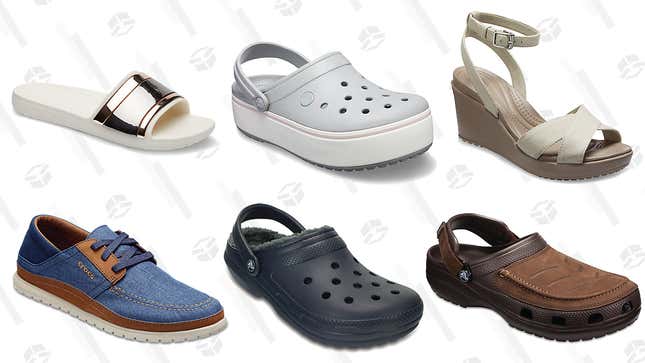 We all love to hate Crocs, but guess what! Those lightweight, hole-y, rubber-y slides are cool now, thanks to the always groundbreaking runway scene and one Post Malone. And you too can be hip to the trend thanks to this sale: A selection of clearance styles are an extra 25% off. In case you haven't noticed, Crocs also makes other shoes that barely even look like Crocs, not to mention, they'd make for some great pool slides this summer. So go ahead and stock up on Crocs, because fashun.

---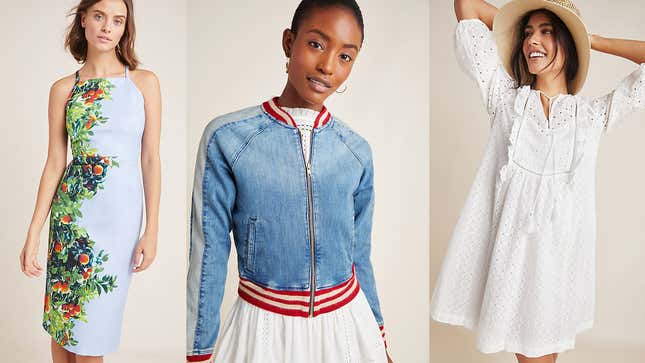 Does the point where you look at your closet and think to yourself, "I have too many good outfits," even exist? No, in fact, it does not. And it's because of sales like the one Anthropologie is currently running that we are (I am) like this. Right now, take 20% off all the whimsical, boho cool clothes from Anthro that are perfect for summer, including new arrivals (the discount will be automatically applied at checkout). These deals are just for this weekend, though, so buy now and figure out where you'll store everything later.

---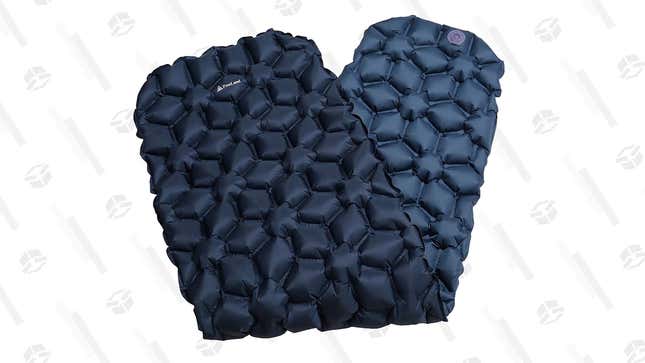 Just because you love camping and love nature and love communing with the great outdoors doesn't mean you have to love sleeping on the damn ground. There's dirt there! And rocks! And bugs!

This inflatable sleeping pad only weighs about a pound, and goes under your sleeping bag to let you actually get comfortable and wake up feeling refreshed. It's not from Klymit, the leader in this space, but it is only $20 after clipping the $6 coupon and using code CSAUA9W4 to save an extra $14.
---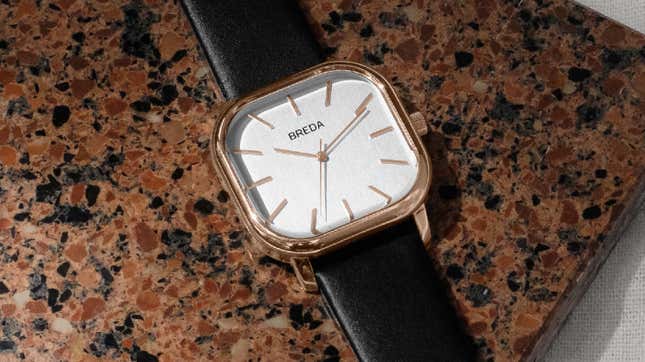 We're big fans of Dallas-based Breda's minimalist timepieces, and starting under $60 for a ton of different styles, they'd make for a great Father's Day gift.

For a limited time, use promo code KINJA30 to save 30% on the dozens of watches found on this page, plus free shipping, and even a free gift box.
---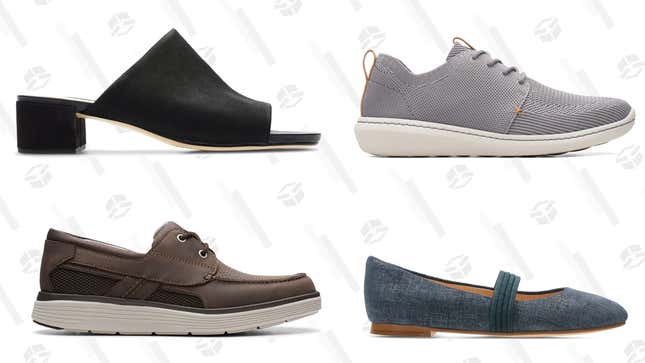 There's a lot to celebrate this time of year, and Clarks is here to help you out with a few of those gifts. In honor of graduation season and Father's Day, take 20% off a selection of the brand's comfy-yet-stylish footwear with promo code GRAD20. No matter who you're gifting to, you'll definitely be putting your best foot forward.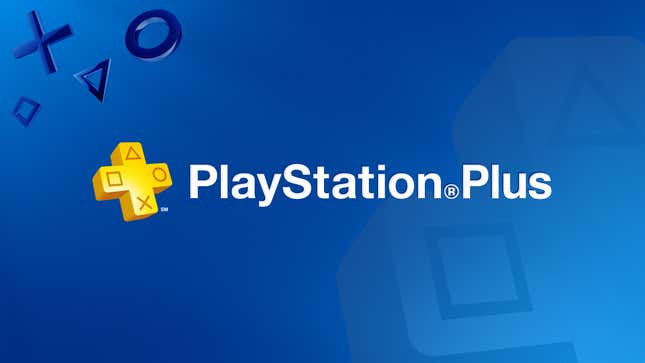 If you didn't buy enough years for $40 back on Black Friday, you can get the exact same price today on PlayStation Plus from Amazon today in celebration of E3. If you own a PlayStation 4, or are planning to buy one soon, the only question is how many of these membership years you should buy, not whether you should buy them.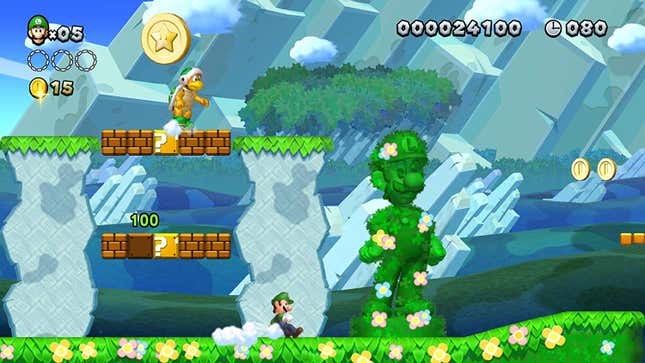 2D Mario > 3D Mario don't @ me.

https://kotaku.com/new-super-mario-bros-u-deluxe-the-kotaku-review-1831680503
New Super Mario Bros. U Deluxe has enough levels to keep you jumping and stomping until Mario Maker 2 comes out, and it's down to $45 on Amazon today, the best price we've seen on this particular Switch game.
---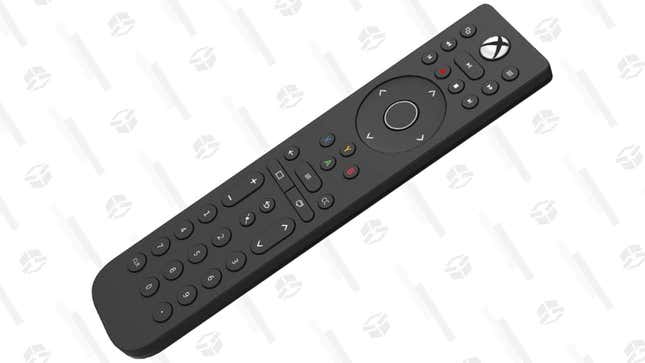 It's a first world problem, but I hate waiting for my Xbox One controller to turn on and sync to the console just to pause a Netflix video. If that's driving you crazy as well, this always-on media remote is only $15 today on Amazon, or about $5 less than usual. The best feature? As soon as you pick it up, the buttons light up automatically.

---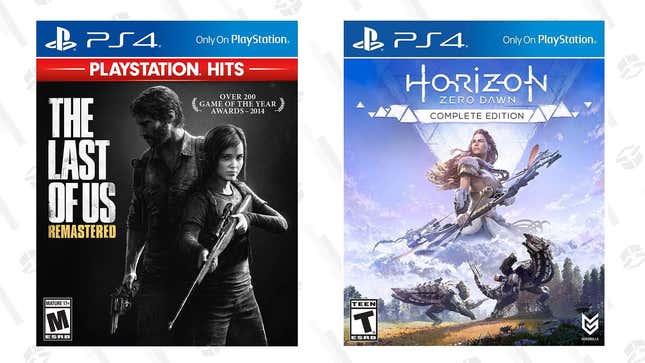 They aren't new games by any means (one is actually a remaster of a PS3 game), but The Last of Us Remastered and Horizon Zero Dawn are basically mandatory inclusions in any PS4 game library. Now, for E3, both of them are marked down to $10. The Horizon Zero Dawn deal is even for the complete edition!

---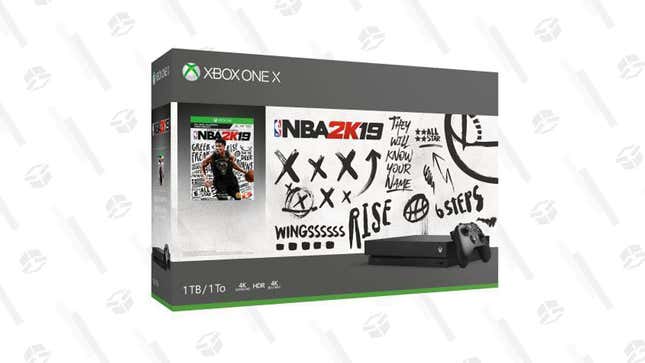 If you've been waiting to buy an Xbox One X, now is the time to spend your money. As a probable tie-in to the NBA Finals, you can get an Xbox One X 1TB Black Console NKA 2K19 Bundle for only $300 on eBay, the discount will appear at checkout. The bundle includes a black controller and Xbox One X, as well as a digital download of NBA 2K19. The Xbox One X has an AMD Octa-core CPU, 12GB RAM, 1TB HD, and 4K Blu-ray and streaming.
---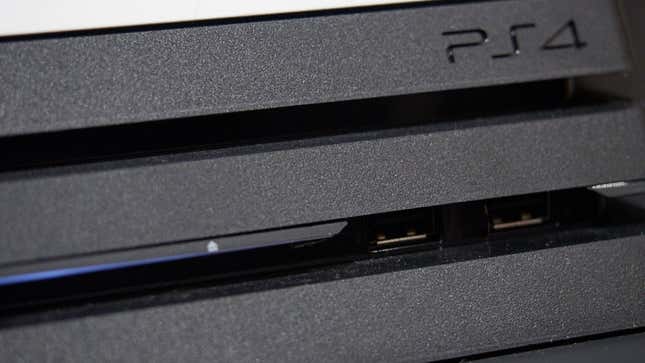 Unlike the (more powerful) Xbox One X, the PS4 Pro has been remarkably resistant to discounts since its release. Today though in celebration of E3, you can get it for $350, down from the usual $400. Just note that it doesn't come with any bundled games.
https://kinjadeals.theinventory.com/you-can-get-an-xbox-one-x-for-the-best-price-yet-plus-1835306127?rev=1559920151036
https://kotaku.com/should-you-buy-a-ps4-pro-1788841867
---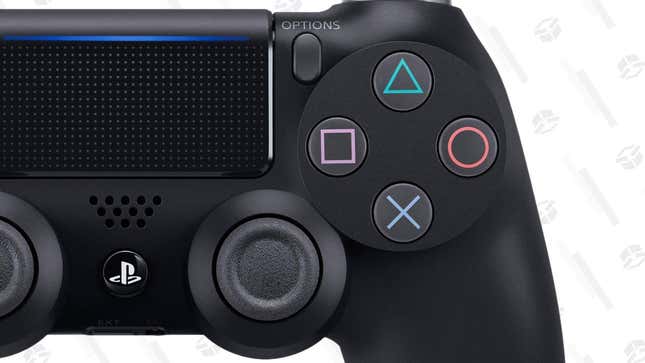 It's only available in black, but $40 is about as good a deal as you're likely to see on the DualShock 4 outside of Black Friday. Best of all, it'll work with your iPhone, iPad, and Apple TV once iOS 13 comes out in the fall.

---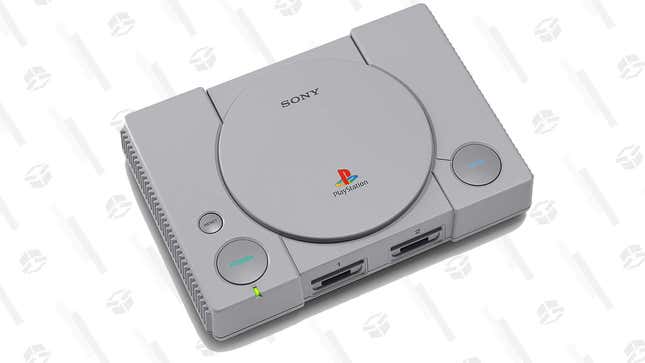 The PlayStation Classic doesn't have Suikoden II, which means it's a skip for me. But people who know better than me say it's relatively straightforward to add some yourself. And even if you don't bother hacking it, there's still plenty worthwhile pre-loaded games to keep you entertained.

https://kotaku.com/playstation-classic-the-kotaku-review-1830668016#_ga=2.96183583.2065457629.1552141983-101080673.1551539597
https://kotaku.com/its-mad-easy-to-hack-the-playstation-classic-1831022885#_ga=2.96183583.2065457629.1552141983-101080673.1551539597
While $100 was a lot to ask, this sale makes it *a lot* easier to just bite the bullet and buy it for $30 already. And if you want an even bigger discount, eBay has a few open-box units for just $28.
---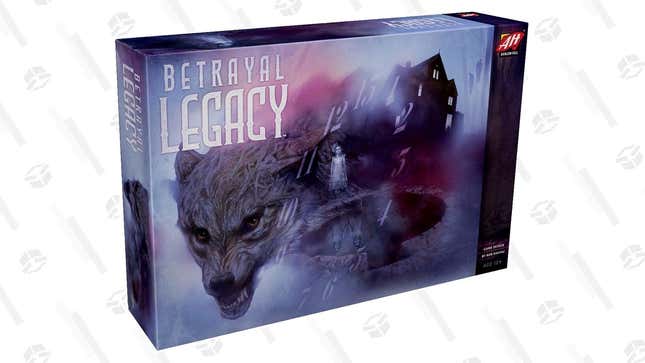 If you love board games, you owe it to yourself to buy Betrayal Legacy, especially when it's on sale.

https://theinventory.com/betrayal-legacy-is-long-form-board-gaming-at-its-best-1833327946?ks=searchpage&/setsession
The game is the Legacy version of the popular Betrayal at House on the Hill, and takes place before the events of the original game, fleshing out its backstory while giving you the freedom to craft that story through your play.
Here's what Eric Ravenscraft had to say about the game on The Inventory:
With each successive chapter, you unlock new rules, discover new secrets, and unfold the tale of the world's most haunted mansion. Legacy games in general have a sense of permanence to them. You'll have to destroy certain cards or make permanent alterations that might make the obsessive game collector cringe.

What you're left with at the end, though, is a tale (and a game) that's thoroughly yours. Once you've finished the story chapters, the game can be played as much as you want just like a normal Betrayal game. Your copy will have unique traits that no other copy has. And now, you know the deep and disturbing history of every tile, every item, and every body haunting the house on the hill.
$55 is within about $1 of the best price we've ever seen, and gets you a prologue and 13 chapters, each of which should take about 75 minutes to play through. And once you're done with the Legacy campaign, you'll be left with a fully functional (but totally unique to you) Betrayal game that you can continue to play.

---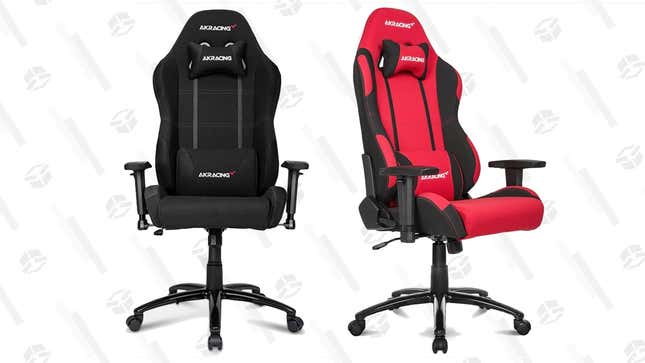 I know, I know, gaming chairs look ridiculous. But whether you sit for extended play sessions, or just spend a lot of time at your desk for work, they really can be worth the cost and potential embarrassment for the comfort they provide.

https://compete.kotaku.com/my-new-gamer-chair-fills-me-with-shame-and-existential-1823081150
AKRacing is one of the biggest names in the space, and their entry-level Core Ex chair is marked down to $186 at Drop (formerly Massdrop) today, way down from its $329 MSRP. Even though this is the company's cheapest gaming chair, it still includes full 180 degree recline, a rocking function, "3D" armrests, and even adjustable head and lumbar pillows to help you get the perfect fit for extended gaming or work sessions.
Tech
Home
Lifestyle
Media
Gaming
Deals You May Have Missed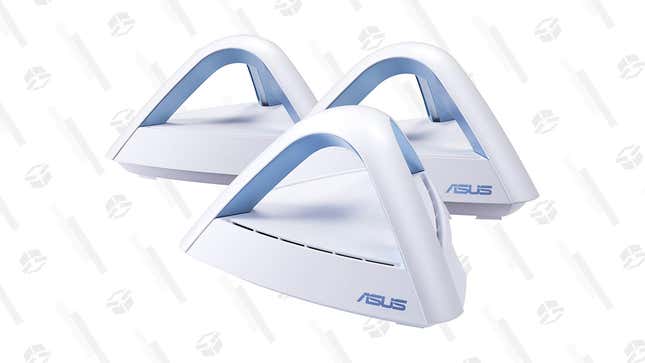 Let's get meshy. Asus's mesh routers are great, and this three-pack has never been cheaper.

https://gizmodo.com/how-to-buy-the-right-router-and-save-your-internet-1791514069
Here's how they work: multiple nodes, or access points, work together to blanket your home in signal. Better still, their glossy design encourages people to keep them outside of closets and drawers and in plain view to ensure unencumbered signal.
This current price is about $40 off its normal price. So, if you're wondering what the whole mesh network fad is all about, this deal isn't a bad place to start.
---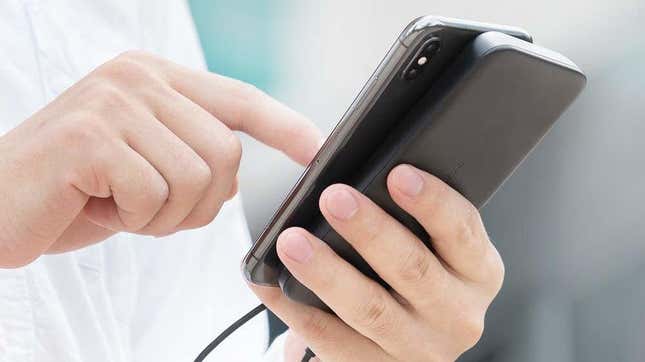 The first USB-C battery packs were all gigantic things that were designed for situations like keeping a laptop powered up during a long flight, and indeed, those are great!

https://theinventory.com/ankers-fast-charging-usb-c-to-lightning-cable-is-finall-1833135104
But lately, we've seen a proliferation of smaller, less powerful, and significantly cheaper USB-C PD packs like this one from RAVPower, just $24 today after clipping the $2 coupon and using code QSMXCUZR. Its 18W USB-C port can't charge a MacBook at full speed (though it can usually maintain its current battery level as long as you aren't playing games or exporting video), but it's enough power to charge a Nintendo Switch while you play Zelda at 40,000 feet, or your iPhone at the fastest possible speed before you land (with a compatible Lightning cable). For a lot of us, that's exactly what we need out of this sort of thing.
---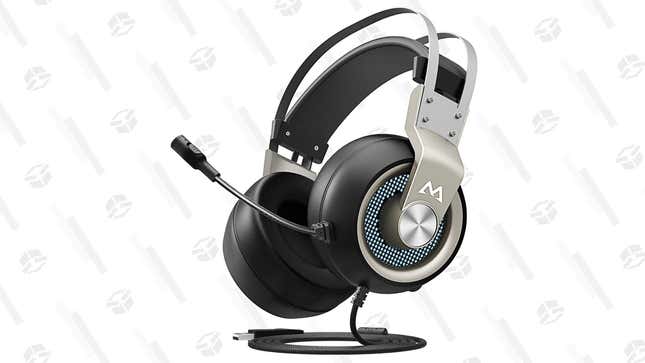 Will Mpow's EG3 gaming headset match the sound quality of a HyperX Cloud? Of course not. Do you want fancy LED lights? Try something from Razer. But if you're on a budget and want to experience 7.1 surround sound (which really helps in games like Fortnite and PUBG), you can't beat $19. Just use promo code MPOWEG3A at checkout to get the deal.

https://theinventory.com/these-are-your-five-favorite-gaming-headsets-1756659028
---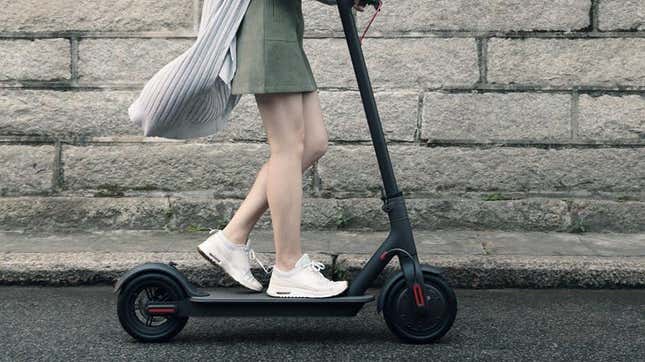 Why pay for an electric scooter by the minute when you can just buy one outright for the best price ever? The Xiaomi Mi Electric Scooter can cruise at 15+ mph for over 18 miles, depending on conditions, and includes some nice quality-of-life features like a built-in headlight and taillight, and a regenerative braking system to extend your range.

At an all-time low $399, it's a better long term investment than the plague of electric scooters that befell our cities over the past year. Just don't leave it in the middle of the damn sidewalk, please.
---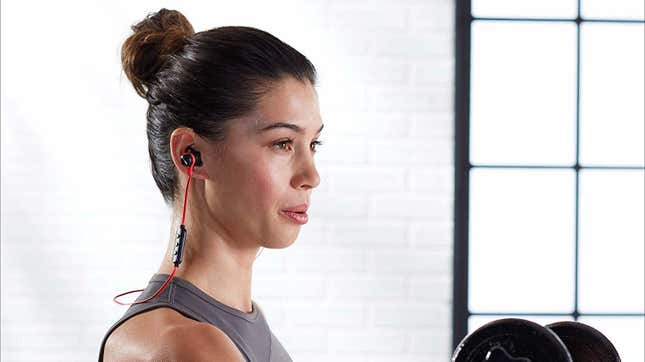 Amazon makes its own wireless headphones now, which shouldn't be too surprising, and you can try them out for an all-time low $15 right now.

That's a solid price for any Bluetooth earbuds, but particularly so considering that these boast an impressive 10 hours of battery life, and come with three sizes of tips and four sizes of wings to help you find the perfect fit. Even if you already have a set of wireless headphones that you like, it's never a bad idea to keep a spare set in your luggage or gym bag in case you ever forget your primary pair.
---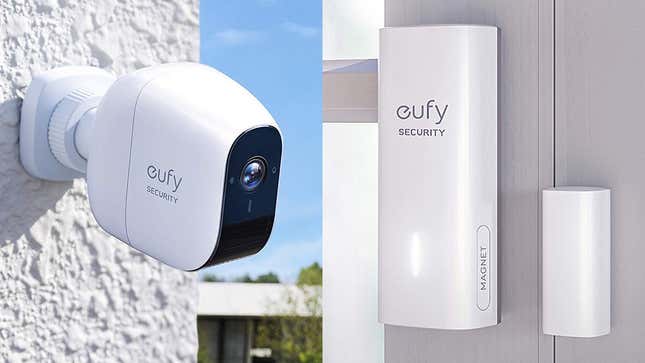 Anker's EufyCam home security system was a Kickstarter sensation, raising over $3,000,000. And now that the new version is available to all, you can get the 2-camera starter kit for $260 with a $20 coupon plus promo code EUFYCA88, the 3-camera kit for $370 with code EUFYCM55, a single add-on camera for $140 with code EUFYAD22, or the new entry sensor for doors and windows for $22 with code EUFYCM99.

https://news.theinventory.com/ankers-kickstarter-backed-eufycam-is-now-available-to-a-1832736180?ks=nativestream
These 1080p cameras are water resistant, support two-way intercom, include an audible alarm if someone tries to steal them, and most importantly, they run for a full year on a single battery charge, so you can set them up and forget about them.
Like most of these security systems, you can pay a nominal fee ($2.99 per camera) for Anker's cloud DVR service, but the base station also comes with a 16GB microSD card that can save your recordings locally as well. Either way, you'll still be able to get motion alerts and check in live from your phone for free.
Note: Apple announced that Eufy would support its new HomeKit-enabled cloud DVR service, but we've been told that this will require new hardware.
---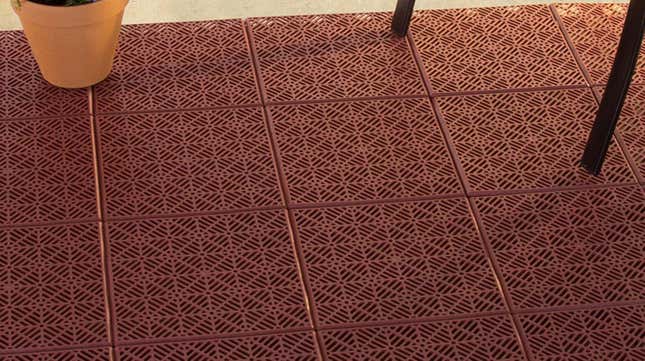 If your outdoor space consists of a drab, uninspired concrete slab patio or apartment balcony, and you don't have the time, money, and/or permission from your landlord to do anything about it, I have some good news.

These terracotta-looking tiles (they're actually plastic) are down to their best price since January, lock into place and sit on top of your existing patio, and allow for adequate drainage without making any permanent changes to your patio. They're nearly a square foot each, and cost $13 for six, so buy as many packs as you think you'll need before the sun sets on this deal.
Call me crazy, but all the string lights and tiki torches in the world won't do as much to improve your patio as these.

---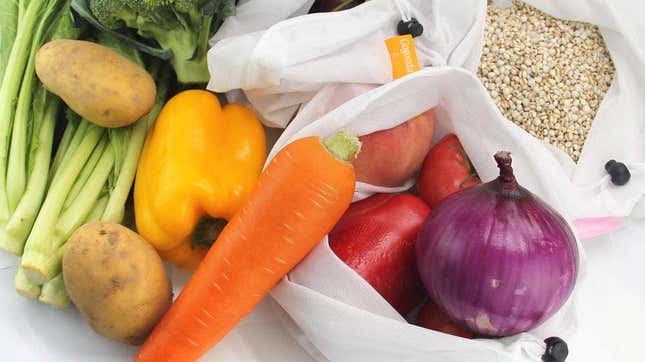 You've probably stocked up on reusable grocery bags by now, but what about the thin plastic produce bags that you grab at the store to hold your fruits and vegetables?

https://theinventory.com/you-have-reusable-grocery-totes-but-why-not-reusable-p-1834812091
Turns out, you can get reusable sacks for those too, and this set of 15 is down to just $10 today after you clip the 5% coupon (the $11 list price is the best in a few months to begin with). They're made from nylon, but transparent enough that your checkout attendant won't have to open them to see what's inside. And if you don't need all 15 for shopping, they can be used for holding just about anything. So go ahead, do Mother Earth a solid.
---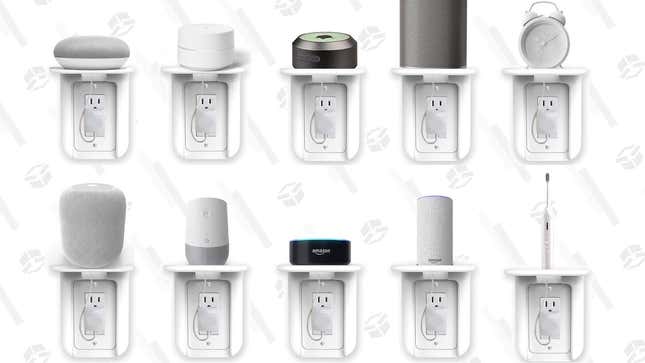 Why should your smart speaker, toothbrush, candles, and potted plants take up precious counter space when you can just add a shelf to a power outlet? WALI installs on any standard power receptacle, holds 10 pounds, and you can get two of them for $10 with promo code 8IP4HP94 today.
---
Late last year, we were blown away by Blanc's heated thermal shirt which actually felt like a regular shirt. Now, the company's back with a less eye-popping, but no less well-made second act.

https://kinjadeals.theinventory.com/preorder-and-save-on-a-heated-shirt-that-feels-like-a-r-1829473424
The Blanc Uinta Daypack 25 aims to combine the minimalism of a day pack with the features of a heavier backpack. Like a day pack, it's still primarily One Big Pocket inside, and made from a lightweight ripstop nylon that allows the whole thing to pack down to about the size of a 6" sub. In shape and in function, this is a lightweight day bag, like many you've seen before.
But the bag also steals features from more technical backpacks like YKK zippers to ensure the whole thing is rain-proof, a water bladder system with hose routing, anti-theft pockets for important travel documents, and a side-access zipper that gives us flash backs to the Peak Design Travel Bag. And while it's not structured enough to provide the support of a "real" backpack, it does include sternum straps to take a little pressure off your shoulders.

https://theinventory.com/peak-designs-travel-line-is-the-peak-of-flexible-travel-1828532666
The Uinta just went up on Kickstarter, with preorders starting at $39. Expected shipping in September.
---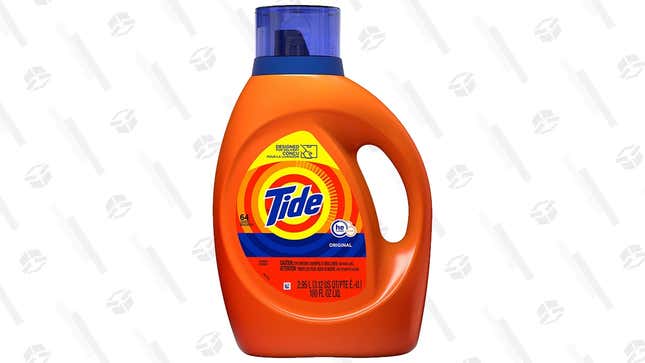 You need laundry detergent anyway, so you might as well get it delivered to your house for cheap. This 100 oz. (64 load) bottle of Tide is already affordably priced at $12 with Prime shipping, and a $2 coupon makes it even cheaper. That's about as good a deal as you'll ever see on Tide.

---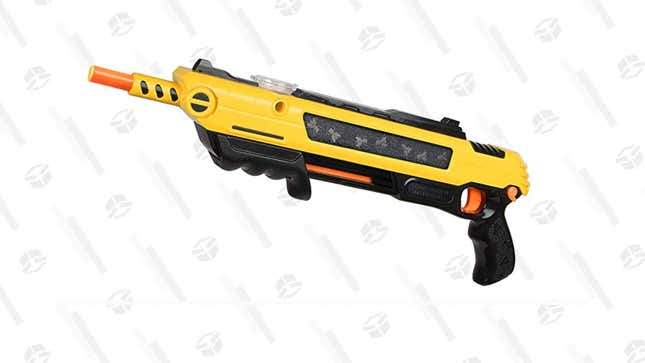 If you spend most of your summer cowering away from bugs, cower no longer. Sometimes, bug spray just doesn't cut it when flying bugs descend upon us. If you want to tell them to back the hell off, this Bug-A-Salt 2.0 Fly Gun is a couple of bucks off. The 2.0 version of this gun has greater accuracy than the previous model and uses less salt per shot, giving you about 80 shots before you need to reload. If your dad is always grumbling about flies and mosquitos, this would be a great gag (but useful) gift for Father's Day.
---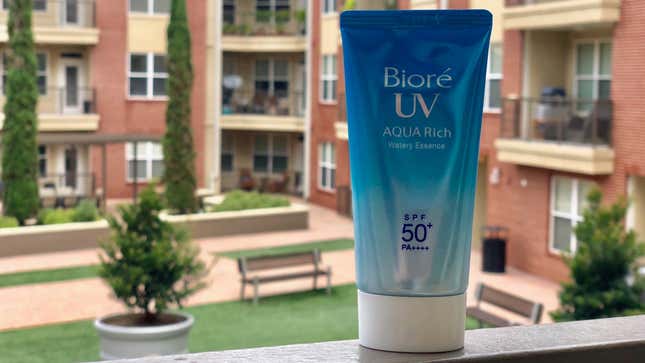 Does your skin turn a nice tomato red after only five minutes of sun exposure? You better stock up on some sunscreen now before you're assaulted by UV rays all summer long. Thankfully, a cult-favorite Japanese sunscreen is currently on sale.

You can get an extra large bottle (1.7x the normal size) of Biore UV Watery Essence for $14 on Amazon right now, or a regular sized bottle for $10. The larger bottle is a slightly better price per ounce, but they're both really good deals compared to their normal price points. The 50 SPF sunscreen is pretty literal to its name and is said to feel like water when applied to your skin.
https://theinventory.com/this-japanese-sunscreen-is-the-first-skincare-thing-ive-1828370379
Here's what Shep McAllister had to say about it on The Inventory:
As far as sunscreen goes, the only thing I really knew about it was that I didn't like it, and given the option, I would usually just opt to stay indoors until the UV index fell to around 3 or 4, or until someone invented a sunscreen pill, whichever came first.

That all changed when my wife introduced me to Biore Watery Essence sunscreen. It's SPF 50 (the bare minimum for my needs, thank you very much), waterproof for 80 minutes, and feels like rubbing water on your skin. Cool to the touch, it rubs in effortlessly, and doesn't come with the unpleasant smell or zincy stickiness of pretty much every other sunscreen I've used. About two minutes after putting it on, I've usually completely forgotten about it, which is a compliment of the highest order.
---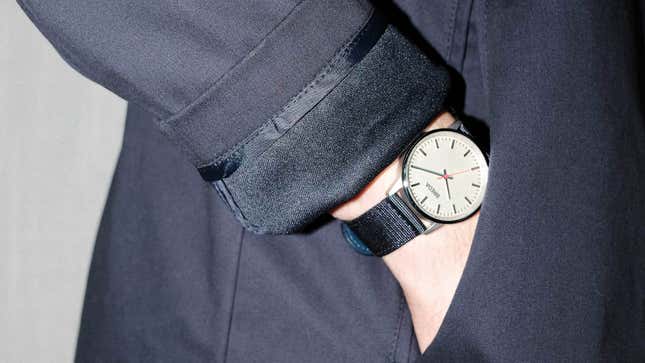 30% off Select Watches | Breda | Promo code KINJA30
We're big fans of Dallas-based Breda's minimalist timepieces, and starting under $60 for a ton of different styles, they'd make for a great Father's Day gift.
For a limited time, use promo code KINJA30 to save 30% on the dozens of watches found on this page, plus free shipping, and even a free gift box.
---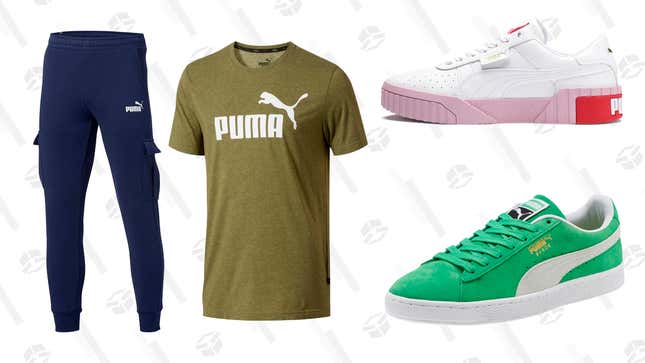 If nice weather isn't enough to motivate you to get that workout in, these deals from PUMA should do the trick. Now through Monday, you can score big savings on sneakers and athletic apparel from PUMA's Friends & Family Sale. Use promo code HEYBESTIE19 to snag 40% off full-priced styles and 25% off sale, and you'll be ready to hit the gym.

---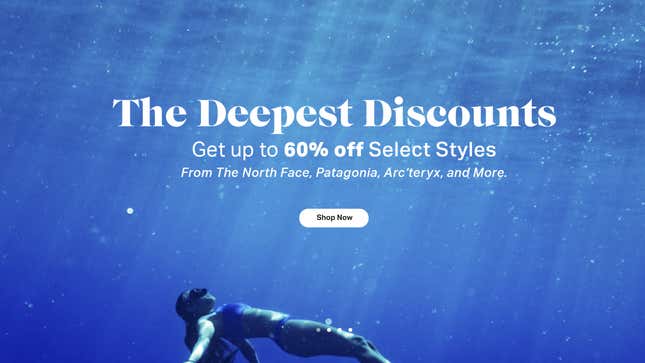 Don't turn your back on this deal from some of your favorite brands from Backcountry. Right now, over 16,000 select styles and gear from the likes of The North Face, Patagonia, Smartwool, Nike, prAna, Marmot, and more are up to 60% off, no promo code required. So be sure to peruse this promotion before you set off on any summer adventures.

---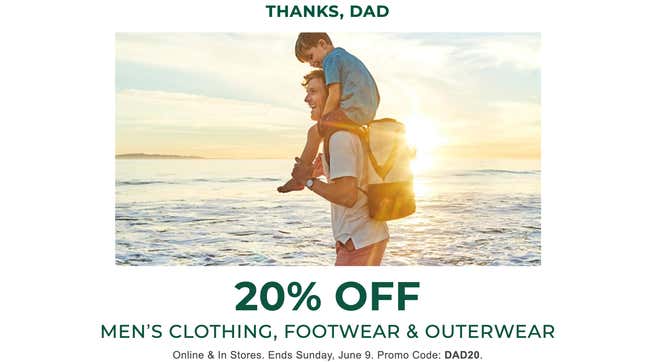 If your dad is an outdoorsman, or just a guy who likes to wear quality clothes like those from top notch outdoor retailer L.L.Bean, shop the brand's Father's Day Sale. Through June 9, you'll score 20% off men's clothing, footwear, and outerwear with promo code DAD20. Your pops will be thrilled with a pair of Bean Boots and Wicked Good Moccasins, and you'll be thrilled that you didn't spend a fortune.

---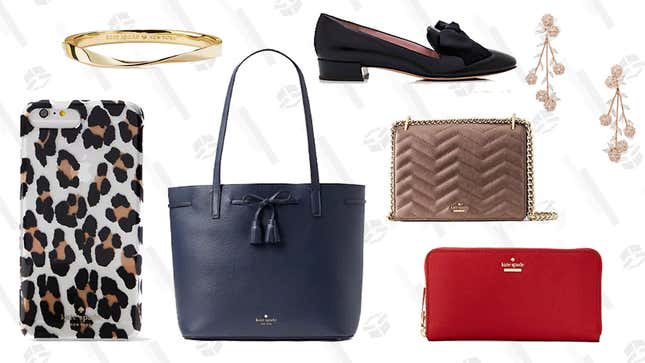 We've got a sale that will make you get out your wallet...and ditch it for something newer and cuter. The pocketbook purveyors at Kate Spade want to hook you up with new handbags, wallets, clothing, jewelry and other accessories this season, so they're taking 30% off everything on site as part of their Shop With Purpose sale event. Use promo code BETTERTOGETHER to take advantage of this designer deal, because 2% of net sales from this event will go to the nonprofit Tides Foundation, which funds mental wellbeing programs in Rwanda.

---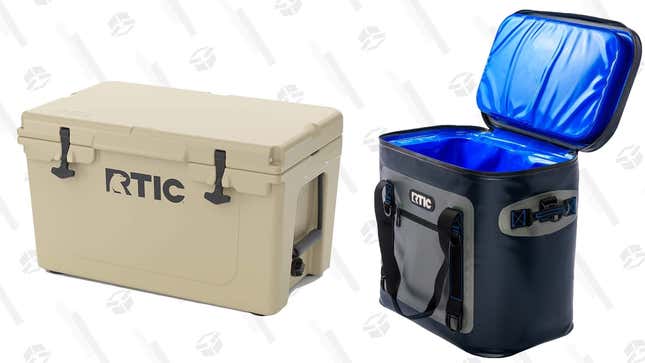 We're approaching peak picnic/camping/beach trip season, and if you don't own a cooler that you really like, some of our readers' favorites are on sale right now on Amazon.

You can save today on both soft and hard RTIC coolers, both in multiple sizes. The Soft Packs are actually our readers' favorite coolers, and they really do keep ice frozen for days. Purely for ergonomic reasons, I prefer them to the hard coolers, but the hard ones include a drain to let out excess water, which is a nice plus.
https://kinjadeals.theinventory.com/the-best-cooler-is-rtics-soft-pack-1794744262?rev=1556885232360
Though Amazon doesn't actually show them as discounted, all three soft packs are down to their best prices in at least 11 months. The 20-can model usually costs about $120-$130, and the 30-can model hovers between $140 and $165.
The 20 and 45-can hard coolers both fluctuate in price a little more, and both were a few bucks cheaper briefly in February, but these are both still very good prices, historically.
---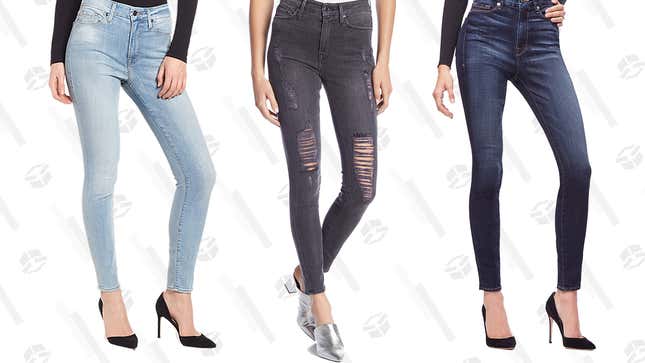 We're not trying to say that it's your patriotic duty to take advantage of this deal on Good American jeans. But if you're in the market for some denim, it's worth heading over to Nordstrom Rack to check out this sale.

A good variety of both regular and plus-size styles from the Khloé Kardashian-founded brand are around 60% off, plus several of the reality star's signature bodysuits. I've actually worn a few pairs of the jeans — most styles feature a good amount of stretch and an extra high rise — which I found to be above average in terms of comfort and shockingly flattering. They're not necessarily the sturdiest denim around, but they look and feel pretty damn good (American — sorry, had to).
---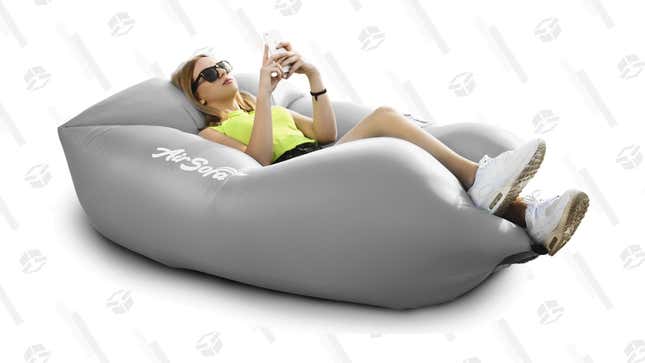 When you hang outside during the summer, do you usually sit in folding chairs or do you sit directly on the grass? Don't be a fool anymore. You can kick back and relax with this Inflatable Air Sofa Chair. Right now, you can get this for only $25 with the promo code KJCHILL. It is perfect for camping, a day at the beach or pool, or just in your own backyard.

---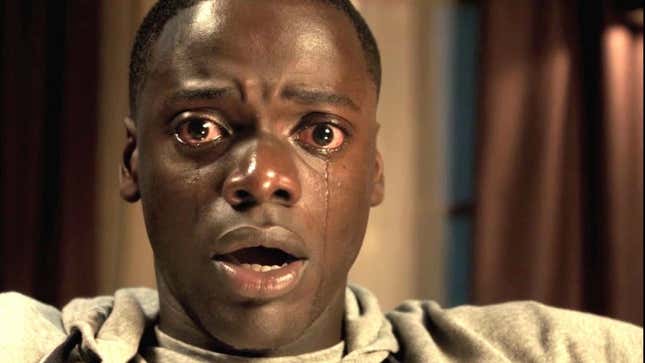 Get Out was a lot more than a typical horror movie, so even if you aren't typically a fan of the genre, you should absolutely add it to your Blu-ray collection for $5. You also get a digital copy, and even an alternate ending.

http://thegrapevine.theroot.com/get-out-becomes-biggest-domestic-hit-ever-from-a-black-1794181463#_ga=2.235189575.759166330.1505748686-1702779191.1505215922
http://io9.gizmodo.com/how-get-out-inspired-a-new-college-course-on-racism-and-1801027341#_ga=2.235189575.759166330.1505748686-1702779191.1505215922
---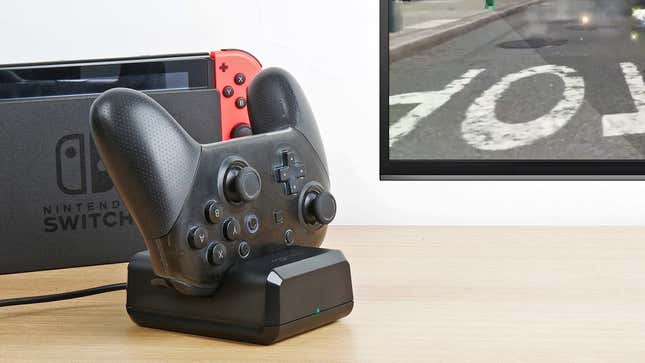 If you've ever had your game controller die in the middle of a game, you know true pain. In 2019, this should be a thing of the past, but shit happens and people forget to charge their controllers or change batteries. You don't have to worry about this issue if you have a Nintendo Switch Pro controller, thanks to Amazon. Right now, you can get an AmazonBasics Charging Dock for Switch Pro Controller with USB Cable for only $5. Now, hopefully, you'll remember to dock your controller when you're done playing for the night.

---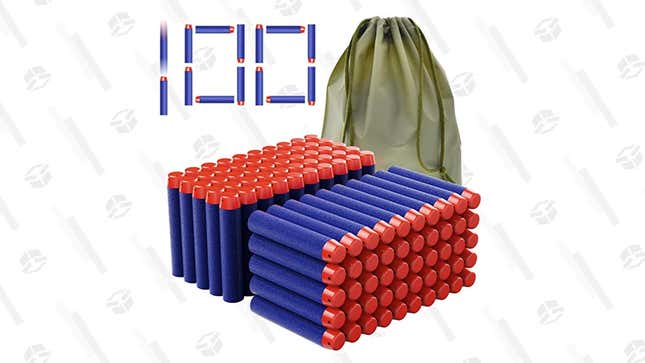 You need absolutely no reason or excuse to want to buy nerf darts. Shooting someone with a nerf gun is a simple kind of joy that needs no explanation. If you have a nerf gun, but always seem to lose your darts, you better stock up while they're on sale. You can get Coodoo Capitable Darts 100 PCS Refill Pack for $4 when you use the promo code 50N2U4YT. These darts are designed for Nerf N-Strike Elite Series Blasters Toy Gun but are compatible with most nerf guns that shoot foam darts.

---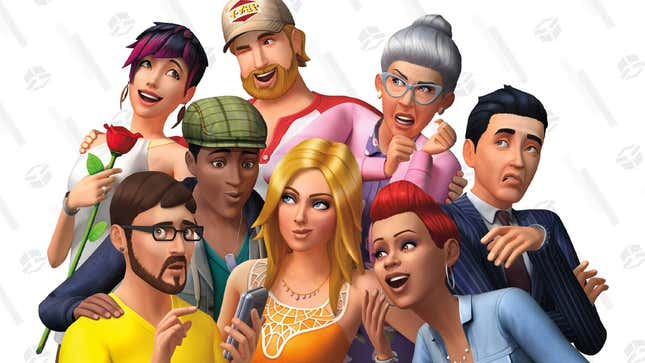 Upgrade your Sims 4 experience by picking up discounted expansions on Amazon right now. Choose from Bowling Night Stuff, Spa Day, Laundry Stuff, Spooky Stuff, and more starting at just $6.

https://kotaku.com/the-sims-4-is-free-right-now-so-here-are-the-4-most-es-1834954194
You'll find that adding these expansions to the base game, now just $5, can greatly increase the fun and possibilities of this simulator. If you need help picking which to buy, Kotaku's offered up its picks for the most essential expansions here.
Anyways, "Dag dag!"
---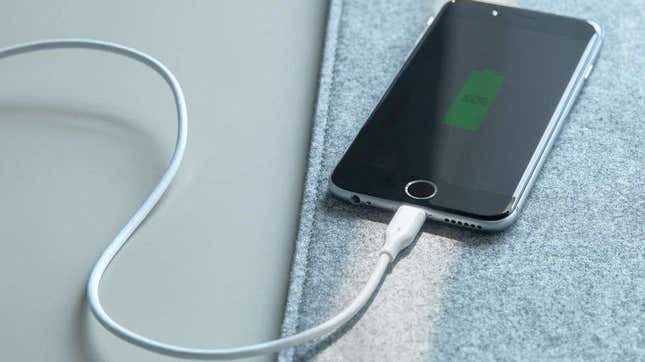 One can never have enough Lightning cables, and today on Amazon, you can get three of Anker's reader-favorite PowerLine cables for $17 (with promo code ANKER3PKL). That's less than Apple chargers for a single one of their inferior stock cables.

https://theinventory.com/your-favorite-lightning-cables-anker-powerline-and-pow-1782036601
PowerLine cables are reinforced with Aramid fiber for a longer life expectancy, and feature a much more durable collar at the end than Apple's famously delicate "turtleneck" Lightning cable collar.
---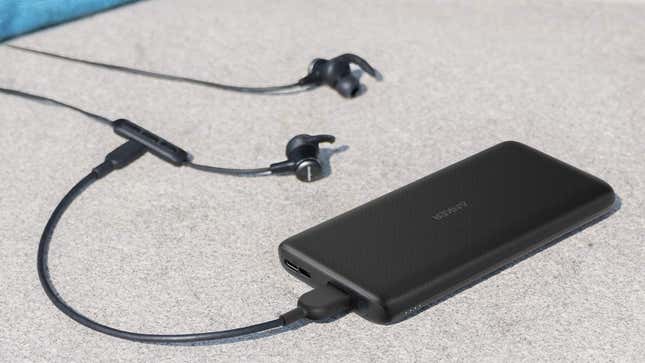 Anker's PowerCore battery packs dominate the portable charging landscape, and one of the most recent models packs in 20,000mAh of juice into a surprisingly svelte package.

https://theinventory.com/your-favorite-usb-battery-pack-is-the-anker-powercore-l-1762210276
There's nothing radically new about the PowerCore Lite, but there are great refinements and thoughtful features throughout. The textured exterior looks and feels great, and makes it easier to hold. The dual microUSB and USB-C inputs mean you'll almost always have a compatible cable to recharge them, though I wish the USB-C port doubled as an output. And finally, a trickle charging mode is perfect for charging things like Bluetooth headphones, which often don't draw enough power to prevent batteries from turning themselves off.
Normally priced at $50, it's marked down to $37 right now, no promo code required.
Last summer, Hexgears' X-1 set Kickstarter ablaze with the promise of a single keyboard that combined the feel of a mechanical with the wireless features and slim design of a modern chicklet keyboard. Now, they're back with a new model that edges a bit more towards traditional mechanical keyboard territory, while maintaining what everyone liked about the X-1.
https://theinventory.com/hexgears-built-a-slimmer-mechanical-keyboard-and-made-1828312834
The biggest change about the Hexgears Venture is that it's a full-sized keyboard, now with a number pad. It'll take up more space on your desk, but should help you breeze through spreadsheets in ways that just aren't possible without those extra keys.
About those keys...they're sculpted now, rather than flat, which makes the whole thing less dramatically slim than the X-1, but it's still low profile compared to most mechanical keyboards out there. You also get replaceable Mac keycaps in the box for free this time around, for the Apple users among you. Underneath the caps, you get per-key programmable RGB lighting, and even you get your choice of three different Kailh Choc switches, each of which provides different feedback and actuation points. Based on this sound test, I would definitely get the white ones, but I also work from home so...
The Venture is up for preorder now on Kickstarter starting at $119, with estimated delivery in October.
---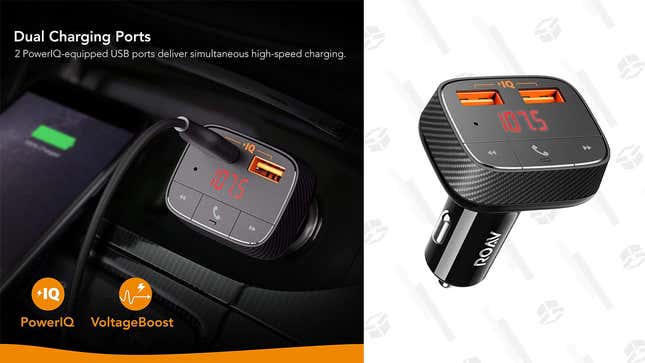 Anker's Roav brand, the manufacturer of an incredibly popular dash cam, also makes some seriously smart car chargers. This one's only $11 today if you stack the promo code ROAVARA2 with the on-page coupon.

http://gear.lifehacker.com/bestsellers-anker-roav-c1-dash-cam-1818554875
The SmartCharge F0 is an FM transmitter that takes the Bluetooth signal from your phone, and rebroadcasts it the FM radio station of your choice, giving you truly wireless audio and handsfree calls in older vehicles that don't have Bluetooth or even an AUX jack built in. And since this is an Anker brand, you also get two high speed USB charging ports.
---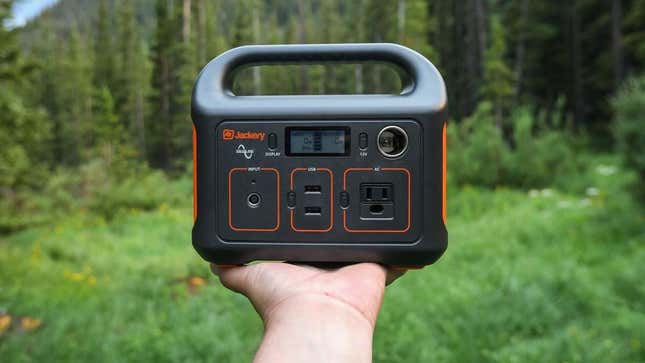 It should be pretty clear from the picture, but this isn't your average, pocket-sized USB battery pack. No, this lithium-ion power station includes USB ports, plus an AC and a DC outlet, and can charge laptops, drone batteries, medical devices, mini fridges, and even small TVs for hours on end. When it's time to recharge, you can hook up some solar panels (not included), or plug it into any wall or car outlet.

At 300W of maximum output (200W running power, 300W surge), it's not as powerful as even a small gas generator, but it operates silently, and can be used for a lot of the same things. Get it for $200 today with promo code JACKERY240.
---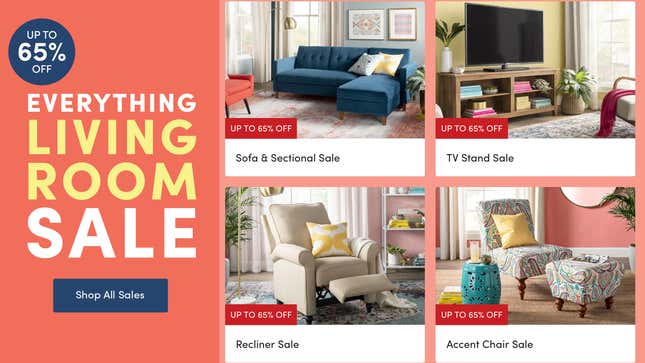 You probably spend a good amount of time in your own living room, so treat yourself to any upgrade your heart desires (or your home requires) with Wayfair's Everything Living Room Sale, happening now. Take up to 65% off a wide range of accents and essentials, including sofas, area rugs, curtains, lighting, and wall art, just to name a few. It's a deal you'll appreciate literally every single day.
---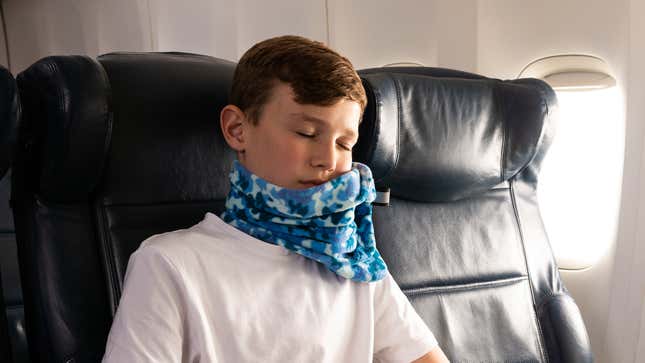 The unique, neck wrap-style Trtl Pillow has long been one of our favorite travel pillows, and the company just released a new, smaller model designed for kids.

https://theinventory.com/trtl-makes-sleeping-on-planes-less-of-a-pain-in-the-nec-1821433748?ks=inset
The Trtl Pillow Junior is more or less a smaller version of the original Trtl (the more adjustable Trtl Pillow Plus is still just for Mom and Dad, for now), but with a hand mitt on the front that makes it easier to put on and take off. Inside the wrap, a latticework of padded ribs provide some of the best neck support of any travel pillow we've tried, and can be placed on either side of your kid's head, depending on their sleep preferences.
https://theinventory.com/trtl-improved-every-aspect-of-one-of-our-favorite-trave-1833446121?rev=1559749018866
Trtl claims that the pillows were designed with input from elementary and middle school kids, who had a say in the cover designs, while the size of the pillow was determined from thousands of neck, jaw, and shoulder measurements from students.
---
The pillow launched today in three kid-friendly designs: Aqua-Pop blue, Sea Camo, and Zebra, and for a limited time, you can save 15% on any of the three with promo code 15TRTLJNR.
---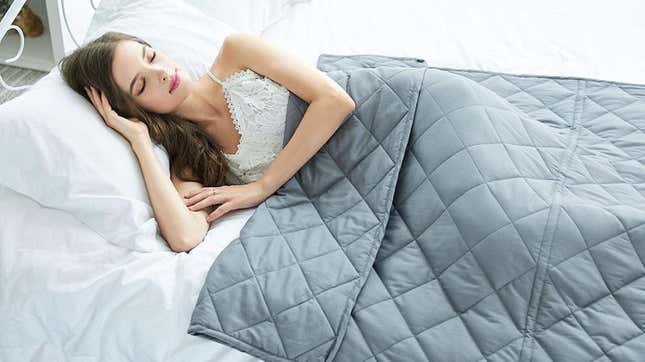 If you've been dying to try out a weighted blanket but didn't want to shell out a ton of money, you're in luck. Weighted blankets are meant to help relieve stress and anxiety, as they give the sensation of being wrapped up in a hug. Right now, you can get the 48"x72", 15-pound Click Me Weighted Blanket for only $38 when you use the promo code CHWB50Y8. Using that same promo code, you can also get the 15-pound 60"x80" blanket for $43 and the 20-pound 60"x80" blanket for $50.

---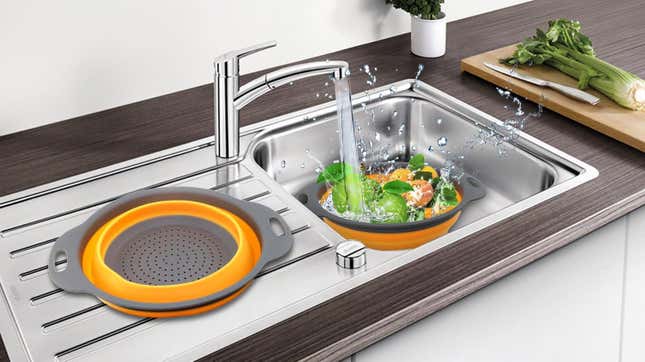 If you feel like you never have enough space in your kitchen, you're not alone. Plenty of tiny apartments lack a desirable amount of counter and cabinet space. There are plenty of ways to get by in a tiny kitchen if you find things that can fit into small spaces. This TedGem Two-Pack Collapsible Colanders Set fits the bill. Traditional colanders take up a lot of space, but these silicone colanders can easily squeeze into a tight space.

---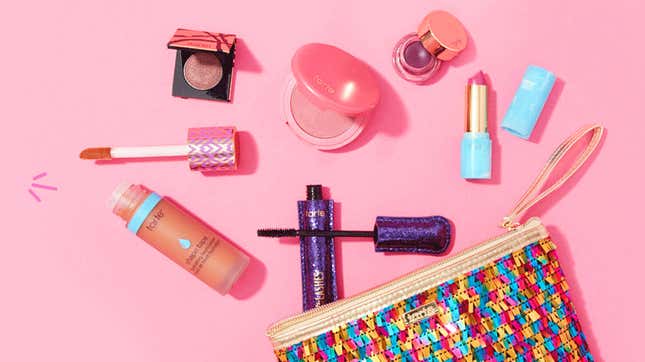 Talk about a sweet deal. Go-to makeup brand Tarte Cosmetics has reupped their incredible custom kit promotion. Beauty lovers pick seven of their favorite full-size Tarte products, plus a makeup bag to store everything in, for a mere $63. Yes, you read that right. The whole thing normally goes for over $200, so you'll definitely want to bag this one-day sale before it's gone.

---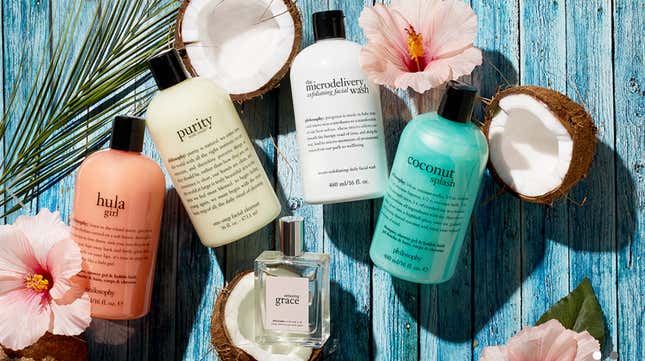 It's my personal philosophy that you should try out Philosophy's line clean, effective, and honestly, amazing smelling products, and there's never been a better time to do that than during the brand's Friends and Family Sale. So use promo code FAMILY to take 25% off your purchase, and pick up any product that catches your eye, like perhaps the acclaimed Purity Made Simple Pore Extractor Face Mask or the fresh floral Amazing Grace fragrance spray. No matter what skincare philosophy you abide by, you can't go wrong with this deal.

---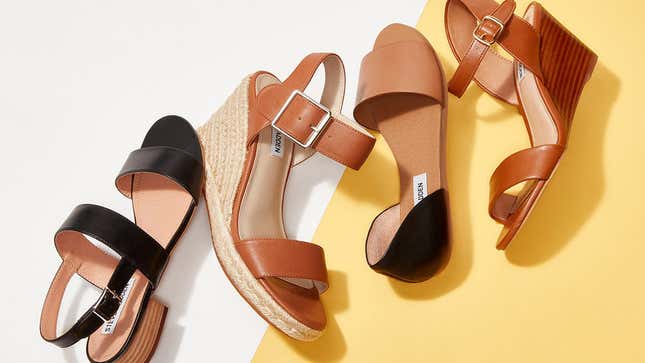 If I had a dollar for every Steve Madden flat I've worn out in my life, well, let's say I could buy a lot more Steve Madden flats. Except today, you and I can both load up on Steve Madden flats, sandals, espadrilles, and other seasonally appropriate shoe styles for less with this major sale on the OG brand and Madden Girl at HauteLook. Styles start at just $20 for the ladies, so be prepared to put your best foot forward.

---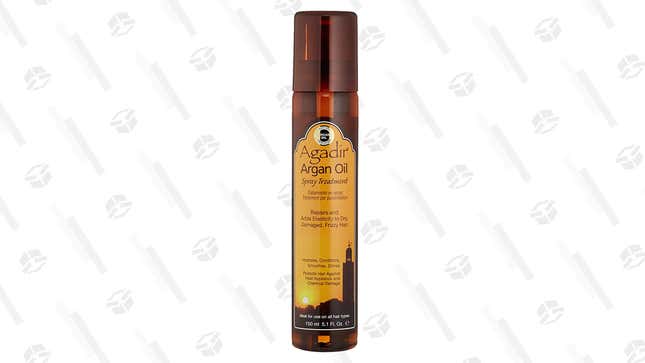 If summer has been known to suck the life out of your strands, consider stocking up on this Agadir Argan Oil Spray Treatment, now on sale for $20. Argan oil is lauded for its hydrating properties, which can help when your 'do is frizzing up. Just spray this stuff on damp hair to boost humidity resistance, or mist it onto an already dry style for a boost of shine.

---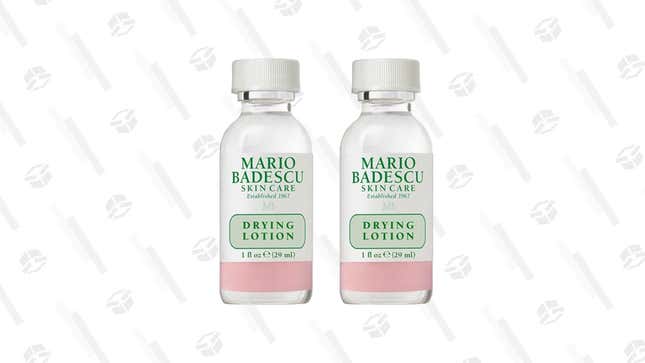 There are a lot of products out there that claim to zap your zits, but Mario Badescu's Drying Lotion stands alone. This cult-favorite spot treatment is renowned for its ability to banish a breakout and calm skin down, and today, you can score a two-pack for just $25 — a great deal, when you consider that a single vial usually goes for $17.

You'll notice that the solution in the bottle is separated: the pink clay-like substance at the bottom is topped with a clear liquid. DO NOT shake it up. Instead, use the Drying Lotion to dry out any pimples before bed by dipping a Q-tip into the pink stuff, then dabbing the paste-like concoction onto the zit. The offending blemish should be gone by morning.
---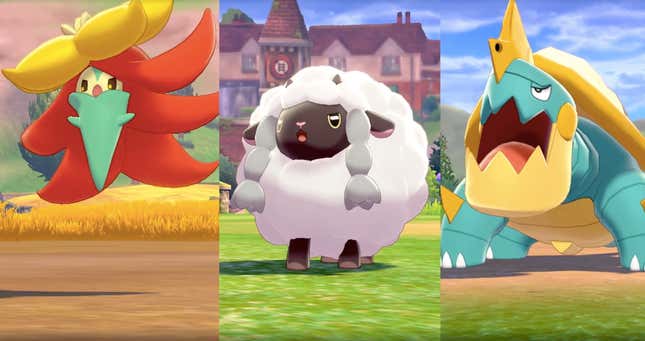 Pokémon Sword and Shield are officially out on November 15, and yes, they include co-op raids! So if after this morning's announcement you're ready to be the best, like no one ever was, Amazon's offering a (increasingly rare) $10 preorder credit to Prime members on both the Sword and Shield editions.

https://kotaku.com/pokemon-sword-and-shield-will-have-co-op-raids-and-eve-1835266586
Amazon offered these credits for a time after eliminating the Prime 20% video game discount program, but they've all but vanished by now. Just note that you won't receive it until 30-35 days after the game ships.

https://kotaku.com/nintendo-announces-pokemon-sword-and-shield-for-switch-1832926330
---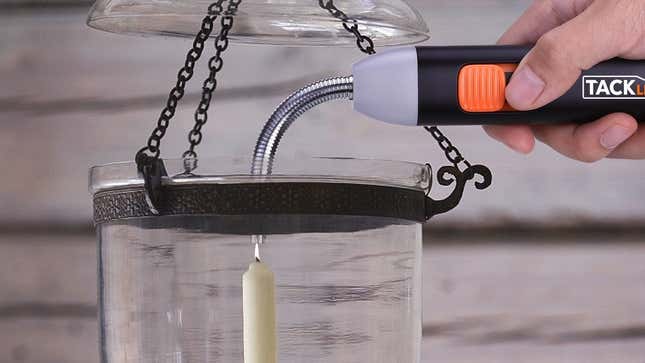 It's 2019, and your lighter doesn't need fuel anymore; it just has to charge over USB. This discounted arc lighter isn't really pocket-friendly, but its long, flexible neck makes it ideal for lighting candles, camp fires and other awkwardly-placed flammable things. Just charge the built-in battery, and you'll be good to go for up to 1,000 uses before you have to plug it in again.

Get it for $7 today with promo code QPR52CKR, the best price we've ever seen.
---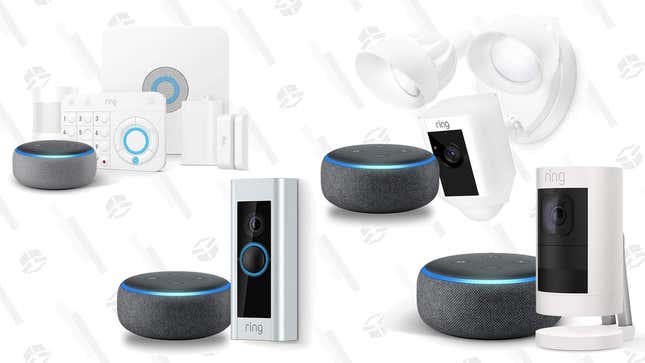 Video doorbell or standard security cameras? Camera-based or traditional security system? Whatever your home protection preferences, you can get a great deal on the setup of your choice today.

Amazon's discounting nearly all of its Ring products (save for the smallest accessories) right now, including two different video doorbells (the Ring 2 is battery-powered, while the Pro hooks into your doorbell wiring), a full home security starter kit (with a free Echo Dot), and various cameras, including the Floodlight and Stick-Up Cam, in both wired and battery forms. And in true Amazon fashion, they all come with free Echo Dots.
https://theinventory.com/buy-committee-should-i-buy-a-wi-fi-security-camera-or-1833949096
https://theinventory.com/stop-paying-monthly-fees-with-these-diy-home-security-s-1831804753
---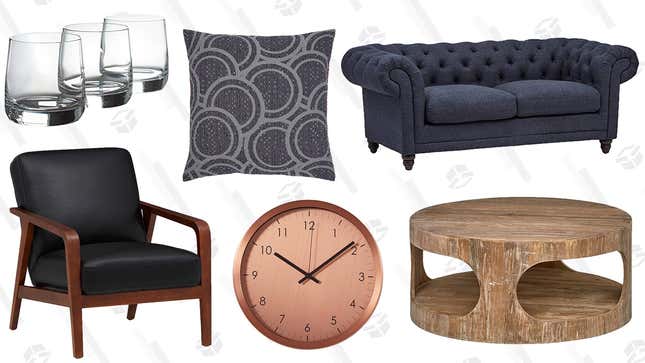 Don't look now (actually do), but Amazon's home furnishing offerings have gotten really good.

Today on Amazon, you can save on dozens of pieces of cookware, lamps, desks, chairs, and even entire couches. Every product in this sale that I checked was down to its best price ever, and I've highlighted a few of my favorites below. You'll want to head over to Amazon though to take your pick of trendy, understated mid-century modern decor.