Hundreds of you formed parties in the comments to nominate your favorite gaming headsets, but the time has come to pick just one.

---
Obviously, this is designed primarily for use with Sony consoles, but it'll work just fine with a PC and other devices as well
My Sony Gold Wireless Headset. I have a big head, and because of that headsets usually break or are extremely uncomfortable, but this was comfortable from day 1, has a built in mic, and even though the outer casing has cracked, I just wrapped it in electrical tape and it still works wonders! - Beroin
Seconded.

It's great for people with both consoles, I use the wireless feature for PS4, and the aux cable for the XB1. - MikeGomez
G/O Media may get a commission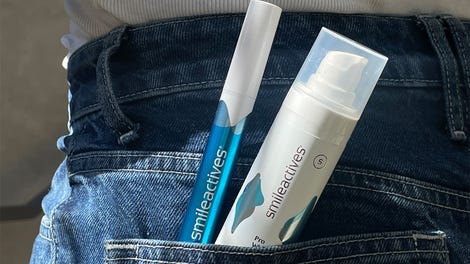 58% off
Whitening Powerhouse Pen & Gel Duo
---
The Astro A50 came out on top the last time we polled you about headsets, but can it repeat as champion?
It's a high quality headset that works with PC, PS4 & Xbox One. Simulated surround sound and rather comfortable to wear. Despite being wireless, I haven't had any major connectivity problems or loss in quality of sound. - RagnarokSam
I also have the Astro A50's. Best headset I have owned, battery life not as long as I would like, but not bad enough to really complain. - Egonraymondstantz
---
This is my pick. I went from a Playstation Pulse Elite and Logitech to the HyperX Cloud. It's by far a more comfortable headset than either (frankly might be the most comfortable headphones I've worn, period), and the sound quality is much better than both. When you get an actual nice pair of stereo headphones you realize the virtual surround crap is kind of a gimmick. - _griffy_
Loving mines. Great price for a great headset. Its audio quality competes with even audiophile grade headphones of similar (and even more expensive) price. Probably one of the few headsets that deliver great audio outside of just games.

I also find them very comfortable. - jamvng
---
I've had mine for a few years now and they've held up remarkably well, they're cross platform compatible (3.5mm for use with mobile, splitter for use with pc), they're infinitely adjustable, and comfortable enough to be worn for hours at a time. I've owned the V1 and the V2, and will probably end up replacing said V2 with the V3.

Also they come in lots of sweet colors. - pfoley
Very comfortable, lots of sound isolation (if it's not in the headphones I can't hear it), and I like the stowaway mic (flexible to position wherever and can push into headphone if not needed). - Shagford
---
This is the most comfortable and best sounding headset I've ever owned. I've bought 2 of them over the past 5 years. After I completely wore out the first one, I couldn't find another style or brand that was better. tried a lot of different ones that I ended up returning. - JDragon
This is my current PC headset after accidentally crushing my Speedlinks and then getting super annoyed with all the cables/hauling I had to do to use my Tritton AX Pro's for both my PC and Xbox 360.

I love them. They hang on my monitor with a charging cable plugged in when not playing, and I move the plug to my phone and pop them on as I sit down and fire up the PC. Easy peasy. Bonus... They sound great. - Bgrngod
---
---