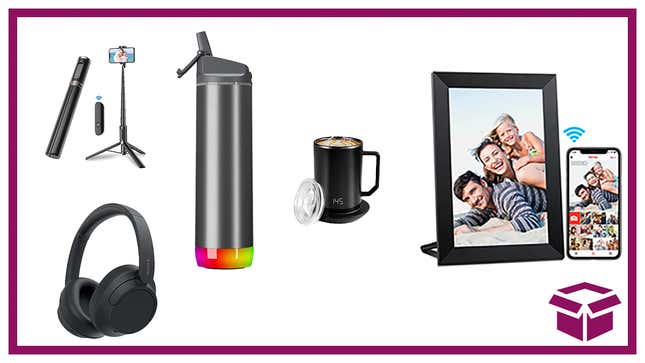 Looking for gifts for mom? We've already rounded up some of the best gifts:

But with Mother's Day just around the corner, we have some suggestions for the tech-forward mom specifically, including a 60" Cell Phone Selfie Stick and Tripod, Noise Cancelling Wireless Headphones and more. Impress your mom with these thoughtful tech gifts – and since this is The Inventory, you can be sure you won't go broke.
Give your selfie queen mother this selfie stick tripod
TONEOF 60" Cell Phone Selfie Stick, Smartphone Tripod Stand with Integrated Wireless Remote | $30 | 14% Off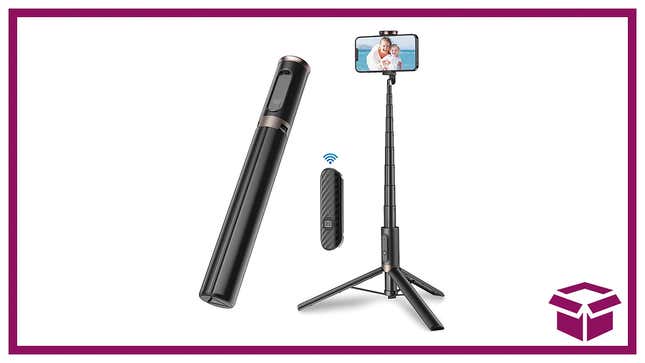 If the mom in your life likes to travel and take selfies of her adventures – or likes to take pictures of the family and friends, TONEOF's 60" Cell Phone Selfie Stick and Smartphone Tripod Stand with Integrated Wireless Remote is a great option. The lightweight and compact design makes this selfie stick makes it easy to carry around in a purse or a small bag. The 9-section, adjustable aluminum alloy telescopic pole allows the tripod to be sturdy while lightweight and corrosion-resistant and can adjusted from 11.4' to 60", which allows the user to shoot various heights that other phone tripod mounts can't shoot and to capture a wider field of view. The tripod can be easily opened and closed through the press of a button, and it includes a rechargeable wireless remote that support shooting within 10m.

Make sure your mother stays hydrated with a smart water bottle
HIDRATE Spark PRO Smart Water Bottle, 21 oz | $80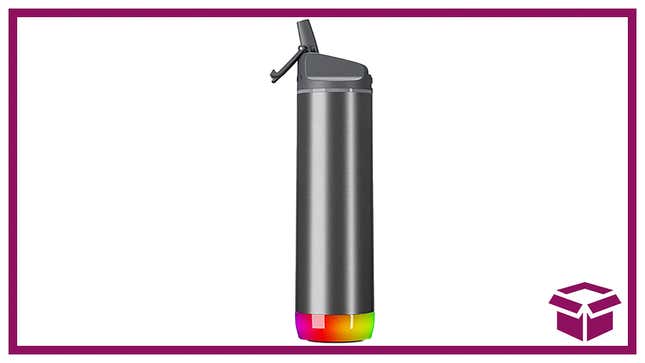 If your mom loves to keep hydrated and is techy, HIDRATE Spark PRO Smart Water Bottle will beat that those plain old metal refillable bottles by a mile and a half. This easy to carry, rechargeable water bottle connects to a phone app through Bluetooth and helps track water intake throughout a busy day of work and errands and includes a programmable, glowing LED lighting pattern for when you need to maintain water intake. It comes in two sizes – 17 oz and 21 oz – and in five colors.



A digital picture frame is a great way to enjoy her favorite memories
AEEZO 10.1" IPS Touch Screen Smart Cloud WiFi Digital Picture Frame with 16GB Storage | $10 | 38% Off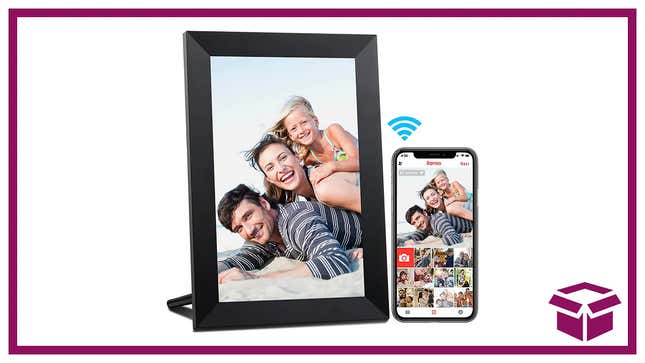 AEEZO's IPS Touch Screen Smart Cloud WI-Fi Digital Picture Frame with 16GB Storage may the perfect tech gift that will keep you and mom connected. With frameo app, you and mom can instantly share photos from your phone – and you can invite unlimited friends and family to share pictures via WiFi, so even grandma can stay connected to the grandkids! The 10.1" iPS HD touch screen gives uses an easy way to browse and delete photos and videos or pause the slideshow or adjust settings with a quick tap. With 1200 x 800 resolution, you get a clear and vivid display of those precious memories. And with 16GB memory, there's plenty of storage.



Doorbell cameras are a great home security tool for moms
Ring Video Doorbell – 1080 HD Video | $100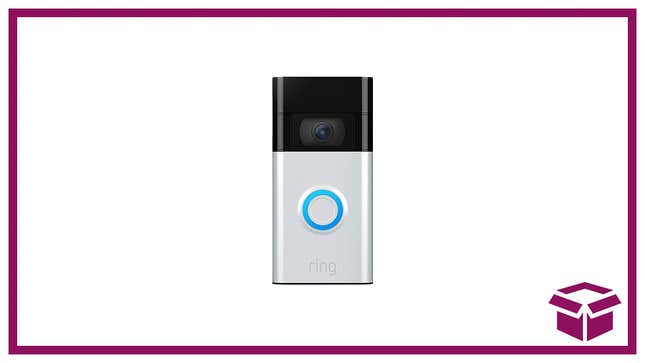 Maybe on a couple of occasions someone stole a package off mom's doorstep – or if you just want to make sure that the property is safe when mom is away, Ring Video Doorbell may be for you. Powered by built-in rechargeable battery and easy to set up, the 1080 HD video doorbell with enhanced features lets the user see, hear, and speak to anyone from your phone, tablet, or PC – and with improved motion detection, privacy zones and audio privacy, along with crisper night vision. You can also receive mobile notifications when anyone presses your doorbell or triggers built-in motion sensors. And with the Ring Protect Plan – subscription sold separately – you can record videos, review anything you missed for 180 days and share videos and photos. Peace of mind is affordable.
Get the coffee drinker who raised you a smart mug
FIRESWARM Temperature Control 12 Oz Smart Mug and Coffee Mug Warmer | $76 | 20% Off Clip Coupon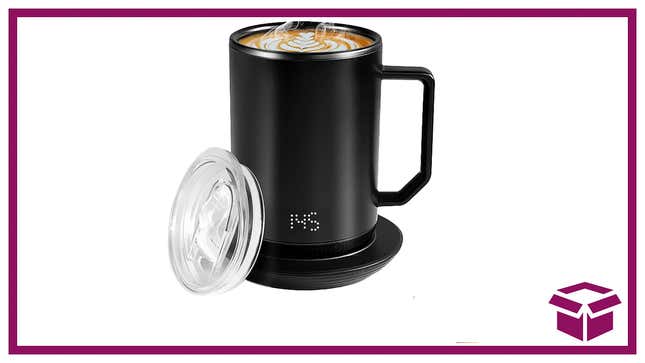 For a lot of people, my mom included, a hot cup of coffee or tea is a necessary part of the morning routine. But life can get in the way and leave you with cold coffee or tea. Disgusting and annoying, right? FIRESWARM's Temperature Control 12 oz Smart Mug and Coffee Mug Warmer is a self-heating travel coffee mug that features three temperature control settings — 135° F/140° F/ 145° F – and an LCD screen that displays temperature control. This mug also features a 2-in-1 vacuum seal that protects the mug's rechargeable battery while making it a sturdy travel mug. The transparent leak-proof lid lets you see how much liquid is left and eliminates any worries about spills. With a full charge, the battery can last four hours and with the coaster charger, your drink can stay hot all day. Just what a busy mom needs to get keep going.
Does your mother love to read? Then a new Kindle is what she needs
Kindle 8GB Paperwhite with 6.8" Display | $110 | 21% Off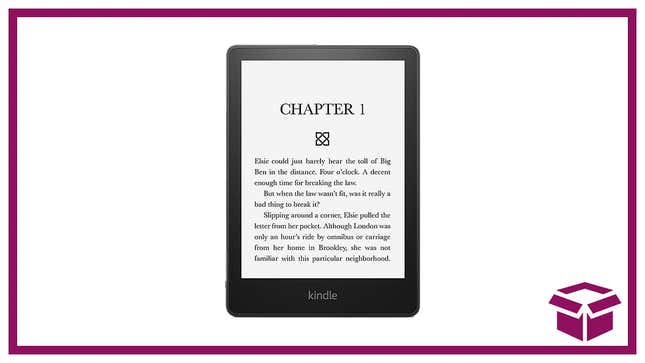 Purposefully built for reading, the Kindle 8 GB Paperwhite with 6.8" display is perfect for the mom who's an avid reader. Featuring a flush-front design, a 300ppi glare-free display and thinner borders with adjustable warm light, this e-reader reads like real paper, even in bright sunlight, while being easy on the eyes. With 8GB of storage, you can store thousands of titles with you, and because it's built to withstand accidental immersion in water, you can take the Kindle to the bath or the beach. You can also pair it with an audible subscription and Bluetooth headphones and speakers and go hands-free. Load it with the hottest best-sellers and mom will really thrive in her book club.
Noise cancelling headphones are the perfect Mother's Day gift for audiophiles
Sony WH-CH720N Noise Cancelling Wireless Headphones with Microphone and Alexa | $148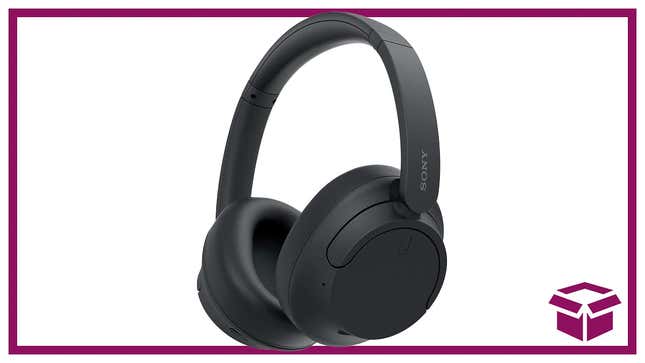 Sony's WH-CH720N Noise Cancelling Wireless Headphones with Microphone and Alexa is the perfect gift for the mom who's an audiophile, a hybrid or remote worker, who conducts video or phone meetings or enjoys audiobooks. Among the lightest and most comfortable design in their headphone lineup, this sleekly built model features high quality sound and well-balanced sound-tuning powered by Sony's Integrated Processor V1, which creates immersive sound. Adjustable Ambient Sound and Adaptive Sound control allows the listener to tailor sound to suit the surrounding environment, making it perfect for calls in a Starbucks or listening to music or an audiobook on a plane or a train. You'll get crystal clear hands-free calling and voice assistant with Precise Voice Pickup technology. And you get 35-hour battery life with quick charging – typically three minutes charge for up to an hour of playback. Mom will love them, and use them for everything.


An extra large air fryer is a great gift for mothers who love to cook
Nuwave Brio X-Large 15.5 Qt X-Large Family Size Air Fryer Smart Oven | $120 | 31% Off + $10 Off CLip Coupon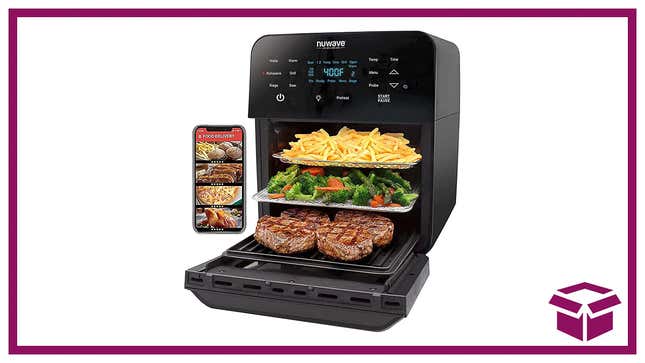 Air fryers are all the rage the past few years, and for a good reason. Nuwave Brio X-Large 15.5 Qt X-Large Family Size Air Fryer Smart Oven, like other air fryers uses super-heated air and an efficient airflow deign to cook crispy and delicious fried foods without messy oil, added fats, or calories – without defrosting. But what makes this air fryer different and a must buy? Well, it offers integrated digital temperature probe is set, the air fryer monitors the internal temperature of your food and automatically ends cooking when the desired internal temperature is reached, as well as carryover cooking mode to ensure that your food is never undercooked or worse, overcooked while resting. You can make necessary adjustments on the fly – and it features 100 pre-programmed menu presets for grilling, air frying, baking, broiling, roasting, dehydrating, reheating, defrosting, toasting and more. It's large enough to cook for the entire family and features easy-to-clean, premium never-rust stainless-steel rack, tray, and rotisserie kits with a reversible, ultra-non-stick grill and griddle plate. And all are dishwasher safe and easy to clean. Mom can cook healthier meals for the family – and much faster.
 
Originally written by William Helms on 4/25/23 and updated with new information by Miranda Martin on 5/10/23.