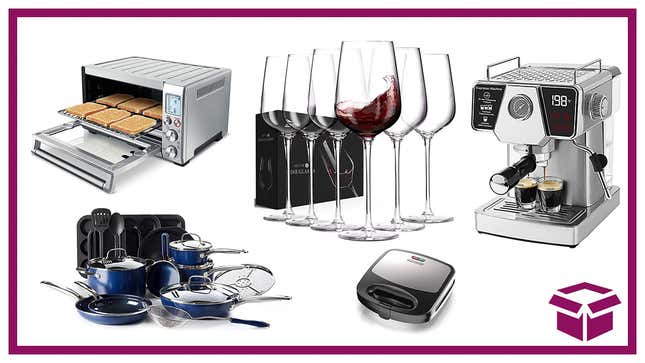 Still looking for gifts for mom? We've already rounded up some of the best gifts:
· Best Mother's Day Gifts Under $100
· Best Mother's Day Gifts Under $50
· Best Mother's Day Tech Gifts
· Best Mother's Day Home Gifts
But with Mother's Day just around the corner, we have some suggestions for the foodie mom specifically, including a 15.5 Quart Extra Large Air Fryer Smart Oven, a 20 Bar High-Pressure Pump, Touch Screen Coffee and Espresso Machine, a Smart Electric Pressure Cooker with Wi-Fi and more. Impress the mom who loves to cook with these thoughtful gifts – and since this is The Inventory, you can be sure that you won't go broke.




An extra-large air fryer is a great gift for mothers who love to cook crispy and delicious fried foods – without messy oil, added fats or calories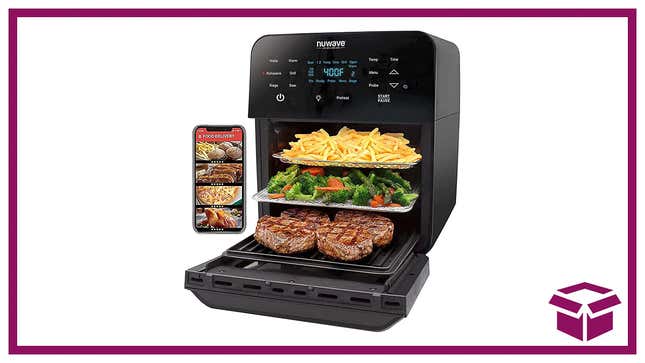 Nuwave Brio X-Large 15.5. Qt Family Size Air Fryer Smart Oven | $132.00 | 31% Off
Air fryers are all the rage the past few years, and for a good reason. Nuwave Brio X-Large 15.5 Qt X-Large Family Size Air Fryer Smart Oven, like other air fryers uses super-heated air and an efficient airflow deign to cook crispy and delicious fried foods without messy oil, added fats, or calories – without defrosting. But what makes this air fryer different and a must buy? Well, it offers integrated digital temperature probe is set, the air fryer monitors the internal temperature of your food and automatically ends cooking when the desired internal temperature is reached, as well as carryover cooking mode to ensure that your food is never undercooked or worse, overcooked while resting. You can make necessary adjustments on the fly – and it features 100 pre-programmed menu presets for grilling, air frying, baking, broiling, roasting, dehydrating, reheating, defrosting, toasting and more. It's large enough to cook for the entire family and features easy-to-clean, premium never-rust stainless-steel rack, tray, and rotisserie kits with a reversible, ultra-non-stick grill and griddle plate. And all are dishwasher safe and easy to clean. Mom can cook healthier meals for the family – and much faster.



Get the coffee drinker who raised you an espresso machine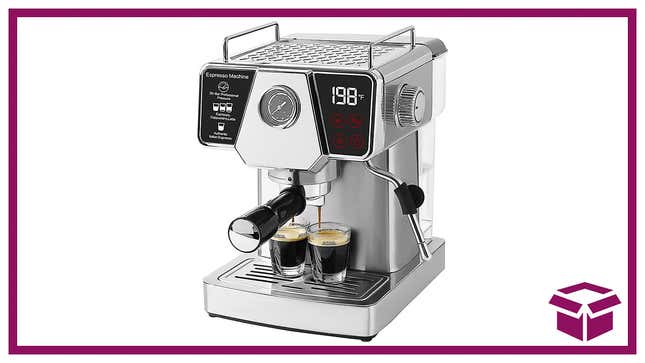 Homtone Espresso Machine 20 Bar, Touch Screen Coffee Maker, Cappucino and Latte Maker |$150.00 | 6% Off
For a lot of people, my mom included, a hot cup of coffee is a necessary part of the morning routine. But if you want to be a bit fancy and have a latte with Patrick Stewart's face in it – or a cappuccino, you'd have to go to a coffee shop, overpay for it – and then have an overworked and underpaid barista misspell or mispronounce your name. Annoying, right? Homtone's Espresso Machine 20 Bar, Touch Screen Coffee Maker, Cappuccino, and Latte Maker is a semi-automatic 2-in-1 espresso machine with a 20 Bar high-pressure pump and a touch screen display that allows the user to easily tailor every coffee drink they make to every taste as perfectly as your favorite barista with the same consistency – at home. Packing 1350W, this espresso coffee can brew a cup in 25-seconds after warm-up. And its sturdy, stainless steel construction will ensure that it'll look great in almost every kitchen, while having a long service life. Mom can finally have a cappuccino or latte at home, and save money, too.



A smart oven pro toaster oven will help mom be more efficient and complete her kitchen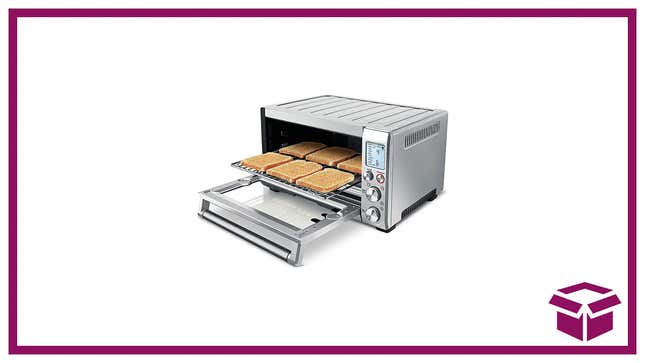 Breville Smart Oven Pro Toaster Oven | $276.00| 20% Off 
While air fryers were the all the rage a few years ago, you can't have a complete kitchen without a toaster oven. Featuring the Elementi iQ System, 5 independent quartz elements paired with smart algorithms that steer power to where and when it's needed to create the ideal convection powered cooking environment for perfect results every time, the Breville Smart Oven Pro Toaster Oven is a high-performance countertop oven that will reduce cooking time by up to 30%. But it's also incredibly versatile, as this countertop smart toaster oven features 10 cooking functions from toast to slow cook, which was specifically designed for low cook times at slow temperatures. But what makes the Breville Smart Oven Pro Toaster Oven different than most toaster ovens currently out there? Its 18.5" x 15.7" x 11.1" capacity, which allows enough room for 6 slices of bread, a 13" pizza, a roast chicken, a 9-cup muffin tray and for slow cooking with a 4.4. quart Dutch oven – and replaceable componentry like a regular large oven. It's easy to use and it'll make cooking quicker and more efficient, ensuring that busy moms will love it.



This smart electric pressure cooker is the perfect gift for the mom who loves to cook – and loves tech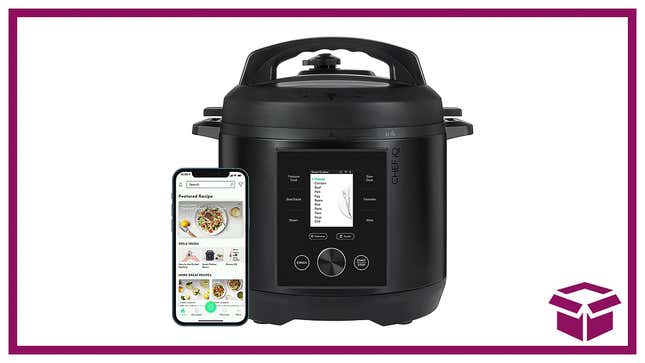 CHEF iQ Smart Electric Pressure Cooker with Wi-Fi and Built-In Scale | $125.00 | 38% Off
If your mom loves to cook and is tech friendly, CHEF iQ Smart Electric Pressure Cooker with Wi-Fi and Built-In Scale will be the perfect gift. The precise built-in scale uses four sensors to easily measure ingredients and cook by weight, simplifying both prep and clean-up – without the use of guessing, measuring cups, scales, or anything else. With the CHEF iQ app, you can connect the Smart Pressure Cooker to a smartphone – via Wi-Fi and Bluetooth – to access over 600 step-by-step video guided cooking recipes, a Cooking Calculator with over 1,000 presets for precise cooking parameters for every ingredient of your meal, eliminating the need for enter time and temperature settings or even timers. The app also wirelessly receives firmware updates, which allows it to gain additional features and improve its cooking algorithms. How many devices do you have in kitchen that can become more efficient and add features wirelessly? Of course, it includes a steam rack and a steam basket for fish, chicken, and veggies of different sizes and more. Plus, it's incredibly safe. Programmed with three pressure release methods – quick, pulse and natural – this pressure cooker balances convenience with increased safety.
Get mom some new cookware that will heat up faster and last for years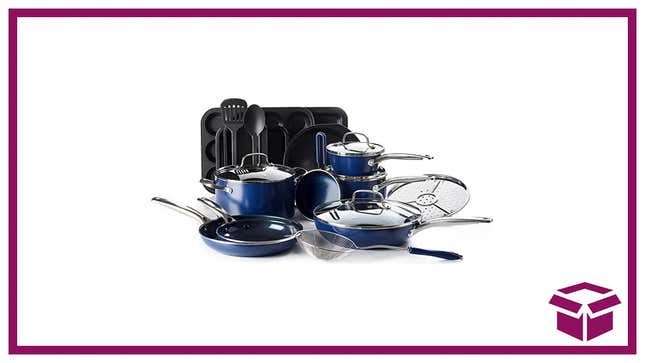 Blue Diamond Cookware Diamond Infused Ceramic 20 Piece Cookware, Bakeware Pots and Pans Set | $164.00| 18% Off
Taxes, death and occasionally replacing your cookware are inevitable facets of life. Blue Diamond Cookware's Diamond Infused Ceramic 20 Piece Cookware, Bakeware Pots and Pans set features Blue Diamond's signature diamond-infused ceramic nonstick coating, which is five times harder and 10 times longer lasting than traditional coatings, making it metal utensil safe – and because diamonds are four times more conductive than cooper, their cookware heats faster and cleans easier. It's dishwasher safe – and is oven and broiler safe up to 600° F. Made without PFAS, PFOA, lead, cadmium or any other heavy-duty toxin, this cookware's heavy-duty forged bases help to prevent warping, wobbling, or degrading. The 20 -piece cookware set includes a 5.5" frying pan, a 10" frying pan, one quart sauce pan and lid, a two quart sauce pan and lid, 11" saute pan and lid, a five quart stock pot and lid, a cookie sheet, a cake pan, a round cake pan, a one pound loaf pan, a 12-cup muffin pan, two nylon utensils, a mesh skimmer and a steamer plate, so mom can bake and cook safely and lovingly for many years to come.



Buy mom a high-quality knife set with a built-in sharpener – and don't go broke either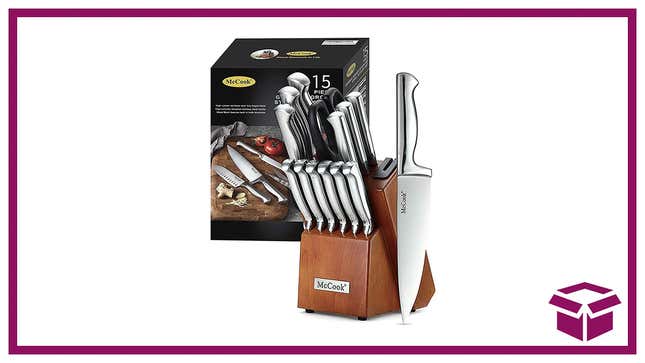 McCook MC29 15-Piece Knife Set | 48.00 | 63% Off
Having a good set of knives is a prerequisite for the beginning chef – and the professional chef. You can't go wrong with McCook's MC29 15-piece knife set, which includes an 8" chef knife, an 8" slicing knife, a 5" santoku knife, a 5.5" serrated utilty knife, a 5" fine edge utility knife, a 3.5' paring knife, six 4.5" serrated steak knives, 2 pairs of kitchen shears and hard wood knife block with built-in sharpener. Made of forced, high-carbon, one-piece German stainless steel, this knife block set features knives that are tarnish and rust resistant and are easy to clean. Each knife has optimized weight and good balance, which ensures that they fit nicely and comfortably in your palm. Their exclusive taper grind edge technology provides optimum sharpness for precise cutting and is easy to re-sharpen with the built-in sharpener, which saves you from having to hone blades on a sharpening steel. Get these high-quality knives, which are easy to clean and will last years of loving use and you'll complete mom's kitchen – and maybe even win her love forever.



A 3-1 waffle, grill, and sandwich maker can help mom expand her repertoire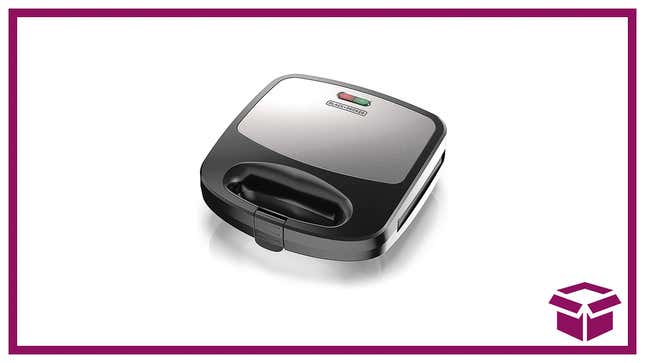 Black & Decker 3-in-1 Waffle, Grill & Sandwich Maker | 38.00| 31% Off

Maybe the mom in your life wants to expand their repertoire to include homemade waffles, breakfast sandwiches and paninis – and they want to do it without a ton of fat and grease. Black & Decker's 3-in-1 Waflle, Grill and Sandwich Maker is the perfect gift. Featuring interchangeable, removable and dishwasher safe non-stick plates for waffle, grilling and sandwich making, this compact and versatile device will have you enjoying delicious breakfasts and lunches without the fat, thanks to built-in grease run-off channels. The ready indicator light makes it easy to know when it's on or off. And the Cool-Touch handles stay cool during cooking ensuring that it'll be easy to move food and check on cooking progress – without getting burned. The whole family can use it – and its sleek design can fit in almost any kitchen.

The woman who raised you could use a glass or two of wine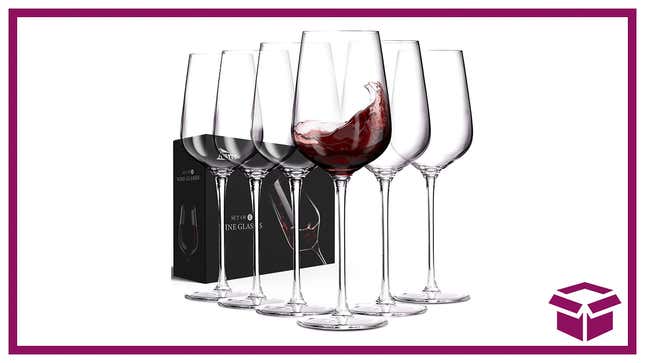 AILTEC Wine Glasses – Set of 6 Crystal Glasses with Stem | $40.00
If mom likes to entertain or have a glass – or five – of wine to wind down after a long and annoying day of work, errands and raising the kids, then she needs wine glasses will be a perfect gift. AILETC's Set of 6 wine glasses are lead-free, premium crystal blown long-stems are thin and transparent to enhance the tasting and visual experience of the wine you're drinking. The glass mouth was made through a laser cold cutting process technology that ensures that the ultra-thin and smooth rim allows wine to enter the mouth as smoothly as possible. Ideal for everyday use or entertaining, these glasses are perfect for several different red wine categories, and they're dishwasher safe. Mom will love these glasses – and she'll use them all the time.