Top Pick: The Matrix (4K UHD Blu-ray) | $25 | Amazon
What do you get when you mix one part year-long quarantine with one part Black Friday and a dash of new game console hype? That's right, the perfect recipe for a new 4K TV. If you finally upgraded your old beater to a fancy new model, here are the movies you absolutely have to watch—and show off to your friends.
Compared to old 1080p sets, newer TVs come in 4K or 8K resolutions (for a sharper image), HDR (for bright highlights that "pop"), and a wide color gamut (to better reproduce the range of colors we see in real life, including some very saturated shades). You can read a bit more about these things here, here, and here, but the bottom line is: when done right, an image can look more detailed, realistic, and punchy than anything you've ever seen on your previous TV. (Oh, and if you have a Dolby Atmos speaker setup, they'll sound more awesome, too.) If you can, I strongly recommend grabbing these movies on 4K Ultra HD (UHD) Blu-ray, since the picture and audio quality is better than streaming will be—but if that isn't an option, streaming will do in a pinch.
It should come as no surprise that the 4K remaster of The Matrix was handled with extreme care. This version was scanned at 4K from the original negatives, with new color grading overseen by the original director of photography. You'll see the results immediately: Even in the first scene, the police officers' flashlights are extremely bright against the dark background of the abandoned building, providing a "pop" that the original Blu-ray can't match. You'll see this throughout the movie, from the lights aboard the Nebuchadnezzar to small reflections providing depth to the image—to say nothing of the bright white emptiness of The Construct.
The 4K resolution provides a fantastic level of detail to the world, including some film grain that gives the whole thing a grittier feel. It may not be the most colorful movie for showing off that wide gamut, but it's a clear improvement over previous versions, and a good example of 4K HDR done well without overdoing it.

Available in 4K HDR on:
G/O Media may get a commission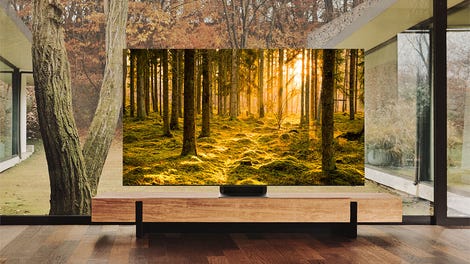 Up to 40% off
Samsung Smart TVs
Like The Matrix, Mad Max: Fury Road is one of those technical marvels of film that does a superb job of showing off the latest improvements in home theater tech. (It's why both films were on my list of the best surround movies, too.) But where The Matrix is a bit more restrained in its use of color, Fury Road amps up the saturation, lending serious punch to even the brown desert world around Max. Explosions burst with color like you've never seen on a TV, and the small glints of sun off the numerous chrome accents of the cars make for an incredible HDR presentation.
The 4K resolution, however, is merely an upscale from a 2K digital intermediate—an unfortunately common practice in today's film industry, garnering the name "fake 4K"—but seeing as HDR is the more impressive tech of this generation, I'm willing to include Fury Road here anyway.
Available in 4K HDR on:
When I bought my first HD TV way back when, the first Blu-ray I bought was the original Planet Earth. Now, that Blu-ray—which blew my mind 10 years ago—looks dull and washed out in comparison to its sequel. If you aren't convinced by 4K and HDR, you owe it to yourself to watch Planet Earth II. It's a mini-series, not a movie, but I don't think I've ever seen anything that demonstrates HDR's capabilities quite like it. The bright, intense colors are absolutely mind-boggling, and the sharp detail is a huge step up from its predecessor. Even the standard Blu-ray of Planet Earth II can't compete with the 4K HDR version—if ever there was an advertisement for buying a new TV, this is it. Oh, and its sister series, Blue Planet II, is just as phenomenal.

Available in 4K HDR on:
Animated movies allow film creators to go hog wild with HDR effects and wide color palettes, since they can literally draw whatever they want. Spider-Man: Into the Spider-Verse not only offers a fantastic story and groundbreaking animation techniques, but its HDR presentation makes it one of the best reference films you can use in evaluating a TV. Between deep blacks, bright highlights, and brilliant colors, this movie has a bit of everything for showing off what HDR can do. By the way: this is one you should really, really get on UHD Blu-ray, since streaming compression can sometimes choke under its complex animation sequences.

Available in 4K HDR on:
On the other side of the spectrum—literally, the color spectrum—Rogue One: A Star Wars Story is not what you'd call colorful, nor is it many people's go-to for demonstrating a new TV. But this movie blew me away with its presentation. Unlike some of the other titles highlighted here, most of Rogue One relies on more understated earth tones to tell the story, with some dips into more colorful scenes (like the tropical environment of the final battle). Yet, despite that, it looks phenomenal in 4K HDR thanks to the incredible detail and bright highlights that pervade the film. In the final scene with Vader, for instance, his lightsaber and the rebel blaster fire pops right off the screen against the dark background of the ship.
Rogue One is a good example of how HDR can excel in a movie even if you aren't blasting it with color and flash. It's also given me a newfound appreciation for what's otherwise one of my least favorite Star Wars movies.

Available in 4K HDR on:
Bias alert: this is my favorite movie of all time, and now that it's finally available in UHD, I have to gush about it here. Fresh on the shelves as of this month, the new 4K Blu-ray for Lord of the Rings, is, in a word, astonishing. Re-scanned in 4K and remastered from scratch in HDR, Peter Jackson and crew have brought this 20-year-old masterpiece into the modern era superbly. From the moment the camera starts panning to a relaxing Frodo in the forest, I was grinning like an idiot, and that didn't stop until the 11th hour of the trilogy (Extended Editions or bust).
The detail, particularly on those facial close-ups Jackson loves so much, is remarkable. The extra color and highlights perfectly accentuate the fantastical world of Middle-Earth without ever feeling gaudy (though if you really want to see it shine, watch the Fellowship's descent into Moria and the battle with the Balrog). It isn't perfect—the 4K restoration does draw attention to certain special effects that don't hold up as well today as they did in early-2000s standard def—but even with those small flaws, it's a gorgeous proof-of-concept for any Lord of the Rings fans on the fence about 4K HDR.

Available in 4K HDR on:
Other Honorable Mentions
There are so many movies that make good use of this technology that I couldn't possibly wax poetic about all of them here. But if you want even more to watch, here are a few other great demo movies:
There are almost certainly more movies that belong on this list that I haven't even had a chance to see yet. So if you've recently had your world rocked by a 4K HDR movie, share it in the comments below.
---