A conditioner is the last line of defense against spilt-ends, a dry scalp, and fading color. Whether you bow before the altar of the sulfate-free co-wash or remain faithful to your local drugstore aisle, it's likely that the conditioner you use is specific to your own hair needs and nothing short of a miracle. On Monday, we asked you to divulge your conditioner of choice and—oh boy—there was very little consensus to be found. Here are the five victors who managed to rise above the fray. If you don't find anything that suits you, don't hesitate to return to the comments section.

---
It's official. Devacurl's particular brand of no-poo zero lathering conditioning is triumphant. For ladies blessed with straight, manageable hair, please scroll on. Devacurl isn't for you. Lorraine Massey, proprietor of the eponymous Soho salon, is nothing short of a curl evangelist. Boasting olive oil, a lil' lavendar and wheat protein, Devacurl is chock full o' the good stuff, while avoiding sulfate, paraben, and silicone completely.
Let me start by saying that I DO NOT BUY INTO DEVACURL. Their haircuts are overpriced hogwash. They have some great products/styling tips, but I do not follow their gospel wholesale as some ladies do.

That being said: I have curly, dry, fine hair (but lots of it) — and this is simply the only thing for it. The. Only. Thing. I keep trying to swap it out for cheaper stuff, but whenever I cave and buy a giant bottle on Amazon (which to be fair is pretty reasonable at $27.50 for 32 oz) I plop some in and instantly say "oh, right, this is why I buy this shit". It's moisturizing as hell but light enough to use as a leave-in product for styling purposes. - Rachel Feltman
G/O Media may get a commission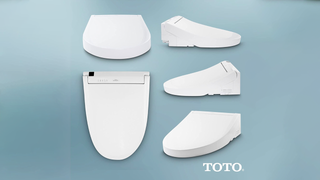 44% off
Toto Washlet Electronic Bidet Toilet Seat
---
If you have a problem scalp, listen up! Shea Moisture's line is uniquely designed to nurse along otherwise dry, damaged hair, returning it to swishy, glossy glory. However, a word of warning: For those dabbling in Shea Moisture's Jamaican Black Castor Oil line (It's really good, trust me), remember to be prudent with how much product you apply, at least in the beginning.
Great for my stupid, itchy sensitive scalp as well as my delicate, dry curls! Also, so affordable and available at most stores! - wearebarnacles
About 2-3 times a week, i use Shea Moisture's Shea Butter Deep Treatment Mask, which is fucking glorious and i can't say enough good things about it. - Punkrockprincess

---
Infused with oils native to Hawaii and plied with toxins native to your drugstore, this kukui oil conditioner is a perfect blend of both worlds. Pressed from the seeds of Hawaii's state tree, it excellently combats humidity while restoring dry and damaged hair. You can also buy it at literally any Duane Reade.
I usually stick to Organix Kukui Oil, it's like $8, and works great on my dry hair. I also use their Argon Oil conditioner from time to time. Works great, too. - mental iceberg

---
Living Proof's No Frizz line has quite the cult following, as evidenced by their devoted co-owner Jennifer Aniston. Boasting a molecule called OFPMA (sure, why not?), Living Proof swears that there's real, bonafide science behind their product. Whether or not that's true, it's an irrefutable fact that Living Proof delivers a fine dose of sulfate-free conditioning that's converted many a lady. There's only one catch: At $24 a pop, it sure ain't cheap.
I have super fine, but also thick, oily hair that is somewhere between wavy and curly depending on which part my scalp you look at. Air drying is simply not an option except for the 2-3 days a year when the heat and humidity levels are 100% perfect and I can sit outside in the sun for the 2 hours it takes to dry. My hair has gotten super soft and much healthier since I started using using Perfect Hair Day by Living Proof. I also get complimented on my hair at least once a week since I started using it (and shampoo). - September

I have thin, straight, baby fine hair. Literally, pat a baby's head, and imagine that hair on an adult, and that is what I have. It looks sleek and smooth for about the first 6 hours after I get out of the shower, and then it starts looking greasy around the peak of my forehead and temples. (I wash and rinse thoroughly, it's just my hair type.) That being said, I still have a dry scalp! The Living Proof Frizz (No Frizz) line cleans my hair and leaves it silky and manageable, but also allows me to go two days before washing my hair again. It is super pricey, with 8oz for $24, but they've also brought back the bigger 24oz bottle for $59. (You can get the smaller bottle at Sephora, but the big one isn't listed there yet.) Also noted, the lines are free of sulfates, parabens, and silicone. Some folks aren't concerned about these, but it is a key consideration for me. - Lizabethiet
---
Try to ignore the fact that Sexy Hair Concepts Healthy Sexy Hair Soy-Tri-Wheat Leave In Conditioner (Yes, that's the full name) sounds like a perfume specifically designed for a Bratz doll. Instead, let's focus on what it does right. S.H.C.H.S.H.S.T.W.L.I.C. is affordable at $12 bucks, works for ladies who have lots and lots o' fine hair, and is a-okay for color-treated hair.
Healthy Sexy Hair Soy-Tri Wheat Leave In Conditioner. WORST NAME, BEST THING.

I have a ton of fine hair, seriously, so much hair, but it's delicate. This stuff brought back my severely damaged bleached and colored hair; it made it silky again and kept it from breaking. I use it every time I wash my hair and it never builds up. You can buy it at Ulta and Target and lots of places. - bonjourbotox
This is a good leave-in. I second this nomination! I also have fine hair, and lots of it. For some reason manufacturers think everyone with fine hair has thin hair. My hair is highlighted several times per year and gets very tangly even though it is only chin length. I used to use The Rinse by Paul Mitchell, but I cannot find it anywhere anymore. It had lots of lightweight silicones in it. It did not weigh my hair down or try to add unnecessary body. I miss it. Thanks for reminding me I have some of this Healthy Sexy Hair leave-in spray. I forgot how much I used to rely on this one! - evnmorebitterer
---
Honorable Mentions
Now for the honorable mentions! ORS Root Stimulator is a godsend for women requiring a deep condition, Tresemmè is a tried and true classic, while Herbal Essences is a drug store staple. If you feel wronged by these omissions, please let me know in the comments and we'll count it as a vote.
---
---