I've never bought my own recliner. The end of the couch is fine. So maybe you could argue that I'm just easy to please when I tell you that I've turned this outdoor lounge chair into my indoor recliner. But man, is this thing comfortable as hell.
At our place, we have a small (very small) back patio. It over looks our scenic back driveway. There are trees. It's not the kind of place you're likely to spend a lot of time relaxing, so we never made getting patio furniture a priority. Until a friend of ours bought this "anti-gravity" lounge chair.
Note: the chair doesn't actually defy gravity.
It does, however, feel immensely relaxing. In the upright position, it provides just enough support to feel like you're laid back without ever reclining. If you choose to, you can lean far enough back to be fully prone and take a dang nap.
The chair has an attached pillow that you can use as a head rest or slide down for lumbar support. I've found the pillow works best in the lumbar position when sitting upright, as there's not quite as much support in that region. However, when you recline flat, the chair leaves just enough of a dip in your pelvic region that your body lays naturally and comfortably.
While the chair flows naturally between its fully upright and fully prone positions, you can lock it in at any point in between, which is nice because it's really hard to see the TV when you're flat on your back staring at the ceiling. Once again, my refusal to use this chair in the context for which it was designed has gone unpunished because it's just so damn nice.
G/O Media may get a commission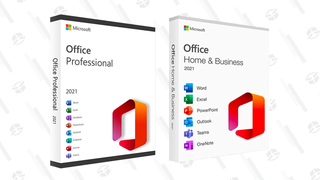 89% off
Microsoft Office Professional 2021 Lifetime License
Like any good recliner, it comes with a cupholder. In fact, an entire cupholder tray. There's space for two drinks, a tablet, or a book. Whatever you like to keep handy when you're relaxing. It's designed with, say, a Kindle in mind, but it also makes a great spot for the remote if you, like me, don't mind using things for something other than their intended purpose.
Finally, there's a shade canopy. I do not use this, as there is not a lot of harsh, direct sunlight in my living room. On the rare occasion that I drag this out to my patio so I can relax in front of nature rather than a nature documentary, the shade is nice to have, but it provides little more protection than, say, my own hat.
I am confident I could find a proper recliner that's nicer than this. What I'm using is essentially a glorified lawn chair. But then I checked prices on recliners. Did you know they're rather expensive? It's true! Even a cheap recliner new could run you $200-300. Meanwhile, this patio chair is about $80, and often on sale.
It's tacky, to be sure. It only barely matches the rest of my living room, and it sticks out like a very relaxed and tranquil sore thumb next to my red leather couch. Yet, given the choice between this chair and an expensive chair that was designed for indoor use, I'd much rather have the cheaper thing that does the same job perfectly.
---