The Best Cyber Monday Deals - 2019) : title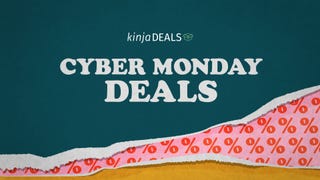 The Best Cyber Monday Deals - 2019
Stay caught up on all the best Cyber Monday deals from around the web, as curated by The Inventory's deal spotters.
We saw a lot of incredible deals during Cyber Monday, and while a lot of them have fallen off, these ten are still available for purchase..
Head over to our main post for more deals, and follow us on Twitter and Facebook to never miss a chance to save. You can also join our Kinja Deals Community Facebook group to connect with your fellow deal hunters.
#1: JACHS
Cyber Monday is here and Jachs is hosting a blowout sitewide sale to celebrate. You can snag up to 90% off certain Jachs essentials from the Cyber Monday 2019 Collection. You can score these deep discounts on new pajamas, button downs, shorts and more, with styles starting at $8.

To ensure no one misses out on these incredible deals, there is no coupon necessary. Every discount will be marked accordingly on the page.
#2: VIZIO TV
G/O Media may get a commission
20% off + Coupon
Xbox Series S - Cheapest Ever
If you managed to make it the whole weekend without buying a TV, it might be because you're waiting on a deal like this. Vizio's 55" 4K HDR TV is down to $280, which puts it within stone-throwing distance of impulse buy territory.

#3: POKEMON
It's back! Right now, eBay's selling Pokemon Sword or Pokemon Shield for $48. I've spent 30 hours on Pokemon Sword, and I can tell you that it's the Pokemon game I've been waiting years for. And this the best deal we've seen on these two recently released Nintendo Switch games.

#4: Google Home Bundle
Google has a habit of giving away Google Home Minis, but even so this bundle is a looker. For $35, you can grab a Google Home Mini, plus a standard Chromecast, both of which usually cost at least that much alone. The one downside is that this Chromecast only casts in HD, so if you've grabbed a new 4K TV, this won't make use of it, but it's still handy to have around.
#5: Philips TVS
Everyone waits until Black Friday or Cyber Monday to get a new TV. I'm happy to report that you're waiting was not in vain. A number of Philips 4K TVs with Google Assistant are marked down today at Walmart. A Philips 43" TV is $248, a 50" TV is $268, a 55" TV is $318, and the 65" TV is $488.

These TVs all have 4K UHD and HDR 10, to give the best picture quality with the most detail and captivating colors. The TVs have AndroidTV, which includes endless entertainment options. Google Assistant is built right in, to help search for movies, content, TV, and more. You can use Google Assistant to play your favorite content, control the TV, plan your day, and more.
#6: ninja foodi
Ninja Foodi 8-Quart Pressure Multi-Cooker | $169 | Walmart
Looking to upgrade your kitchen appliances? Say no more, the Ninja Foodi is here to help. The larger model (8-Quart) is marked down by $110 today at Amazon and Walmart. That price includes a crisping lid, a pressure lid, 8-Qt. Ceramic Coated pot, 5-Qt. ceramic Coated cook and crisp basket, stainless steel rack, and a recipe book.
Our very own Corey Foster, Deals Researcher/Expert on Life, has dubbed the Foodi the "King of the Kitchen." He said this on The Inventory:
Having always been enamored with the ability to cook an entire chicken quickly in my Instant Pot, yet constantly disappointed in the lack of browning and flavor on the resulting cook, one of the first things I did (after air frying a bunch of stuff) was to toss a seasoned chicken into the Ninja Foodi to test its tendercrisp feature. It did not disappoint. Cooking took a little longer than in the Instant Pot because of the finishing step to crisp it, but the result was worth the wait. It was like a bird fresh off the grocery store rotisserie, but juicier, more tender, and seasoned exactly the way I prefer.
#7: SAMSUNG MICROSD
Samsung makes some of our favorite MicroSD cards and today every capacity in the entire Samsung EVO line is down to its lowest price ever—or within a dollar of it. Every model from 32GB up to 512GB are cheaper than they've ever been. If you've been looking for a cheap way to upgrade the storage on your Switch or take more photos with your DSLR, there's a steal here for any budget.

#8: Anker Soundcore Liberty 2 Pro
When does "Monday" mean an entire week? When it's got the word "Cyber" in front of it. For Cyber Monday, Anker is knocking $40 off its truly wireless earbuds for the entire week. That doesn't guarantee they'll stay in stock all week, though so if you know you want 'em, grab 'em.

#9: fanatics
The great thing about a site like Fanatics is that it is the place where you can buy apparel to represent all of your favorite teams. Whether you only love one sport, or you're a big fan of everything from the MLB to the NBA to the NFL and more. From now until midnight you can shop Fanatics' Cyber Monday Flash Sale. You can score up to 70% off select items when you use promo code MONDAY.

#10: REI sale
Now that Black Friday is over and REI folk are back from opting outside, they've got another blockbuster sale. Starting today, REI's Cyber Week sale can save adventurers up to 50% off a ton of gear.

The outdoor retailer's slashing the price on a ton of gear, from brands like Columbia, Smartwool, Merrell, The North Face, and a whole lot more.
Additionally, you can save an extra 25% on one REI Outlet item with the code CYBERDEAL19.
This sale runs until the 8th, but don't put off filling your cart. All the best stuff always sells out early, so make sure to gear up before someone else runs off with your stuff.