Sometimes the best gifts are completely intangible. This holiday season, instead of shopping for the perfect thing to wow your loved ones, gift them an experience instead. You'll find something for every budget among these trips, tours, and experiences both close to home and far, far away—none of which will soon be forgotten.
Travel in general can be transformational, but when you add an extremely challenging physical element to that journey, it can truly be life-changing. The Ausangate Trek is exactly that. After a few days exploring Machu Picchu and the Sacred Valley of Peru, hikers on REI Adventures' Ausangate Lodge Trek spend four grueling days at high elevation, alone with some of the most incredible vistas I've ever seen. Rainbow Mountain, that candy-colored slope you've likely seen before on influencer Instagram, is the most well-known gem of the Ausangate Trek. But believe me when I say it is the least exciting part of this adventure. Every day, hikers trek from lodge to lodge between 14,000 and 17,000 feet, with deep red, mustard-yellow, and vibrant green peaks in every direction, countless llamas and alpacas criss-crossing the trail. The altitude is no joke—this trip is strictly for people who want a serious physical challenge and want to make some new friends with fellow hikers while laughing through the pain. But I guarantee the adventurer in your life will come home with stories to tell for years to come. REI Adventures also offers dozens of other trips around the world for outdoor lovers of all ages and athletic abilities.

Enable a budding roadtripper to get out to all of the United States' most gorgeous places with an annual National Parks Pass. For $80, this pass gets the holder and a car full of people into more than 2,000 recreation sites across the U.S. for free for a whole year. Entrance fees at popular parks like the Grand Canyon, Arches, Shenandoah, and Rocky run $30 to $35 per car when you visit them individually, so even if your adventurer only plans to visit a few, it will quickly prove to be a bargain. You can buy the pass in person at any national park or online from REI.
G/O Media may get a commission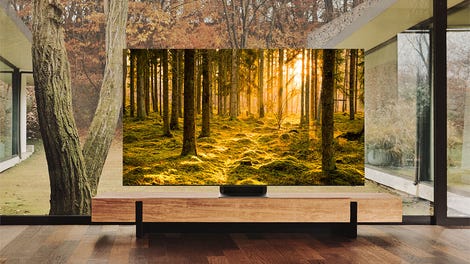 Up to 40% off
Samsung Smart TVs
Just a few years ago, trans-Atlantic flights were prohibitively expensive and regularly the single most costly aspect of any vacation. But with more budget carriers running more routes than ever before, these days you can easily snag sub-$400 flights between major cities in the U.S. and Europe. Scott's Cheap Flights subscription helps you find those cheap tickets before they sell out, by sending daily email alerts about flight deals and mistake fares to and from your favorite airports. I've used this newsletter to score a $600 round-trip ticket from Denver to Tokyo and a $400 round-trip flight from Denver to Amsterdam.
Helicopter tours are always exciting, but they're even more epic when coupled with standup paddleboarding on a lake you can't drive or hike to. Blackcomb Heli, in British Columbia, recently debuted a picnic and paddleboarding day trip to Marriage Lake—even more picturesque in person than the prettiest mountain lake you've seen on the cover of a magazine. The flight takes you over glaciers and brings you through stunning views before dropping you at the lake, where you'll have a gourmet picnic lunch and some time to paddle around on a Red Paddle Compact SUP—also a great gift for anyone who lives in a tiny apartment—which packs down surprisingly small enough to fit in the basket of the heli.
If you're shopping for a newbie hiker or backpacker who wants to get out into the wilderness but needs someone to show them the ropes, the Fjällräven Classic is an excellent introduction to the backcountry. This Swedish gear company holds mass backpacking events all over the world every year to help newer folks get comfortable with outdoor skills and make new friends doing it. So far for 2020, trips have been announced for Germany, China, Denmark, and the United Kingdom.


Do you have an upcoming trip planned with someone you're shopping for? Browse through Airbnb's Experiences and their new Adventures for daytime activities and overnight trips curated by locals that you might miss on Top 10 lists targeted toward tourists. In Iceland, for example, you'll find an Arctic fox hiking adventure for $200 per person, and in Mexico City, you'll find scores of mezcal and taco tours. You'll also find week-long trips like a 12-day history and adventure tour through Tunisia for $3,660 per person. Want to give an experience without breaking the bank? Look through Airbnb's offerings in your own city or state and plan a day or weekend of exploring your home through the perspective of a tourist. It's a fun—and affordable—way to feel like you're traveling and experiencing a new place without having to foot the bill for a flight.


 TourRadar is an incredible hub for travel inspiration, pulling together the tour offerings of dozens of adventure companies worldwide into one site—and frequently offering screaming deals. Right now, a handful of tours are on sale for 50 percent off, including a 10-day trip through Rome, Tuscany and Venice for $1,090 per person, and a 5-day tour of Cambodia for $530 per person. TourRadar also has easy ways to search for tours specifically geared toward young adults, seniors, and couples.

Language Classes
For aspiring world travelers and linguists, give the gift of knowledge in the form of a subscription to language-learning software like Rosetta Stone or a language immersion class at home or in another country. Spanish immersion experiences can be surprisingly affordable—at Colombia Immersion in Medellín, for example, where I've taken a few weeks of Spanish language classes, it costs less than $1,200 for a full month of living with a local family and taking 4 to 6 hours of classes each day.
---