When it comes to trend stories (or really any story, I suppose), a good editor will ruthlessly cut from your first draft any lazy turns of phrases, or too-obvious observations. In the wintertime, that means dull ledes like, "The holidays are just around the corner!" and "With the temperature dropping, it's time to really start dressing..."
But here's the thing.
This is a story about how awesome winter layers are to wear, so I'd be remiss not to mention that with the holidays around the corner, a cozy cashmere turtleneck under an English Lit professor-worthy tweed sport coat would easily secure you best-dressed honors at your annual office party. And I'd be letting you down if I *didn't* point out that with the temperature dropping, a Fair Isle sweater or fleece pullover in a modern silhouette would look just right for your family's annual holiday card pic.
So yes. The holidays are almost here, and it is time to really start dressing! Read on for the definitive list of the four best #SGapproved winter layers for guys:
I'm done tiptoeing around how great you'd look in a turtleneck, guys! Our team at SG HQ has always couched this plea in such wishy-washy language ("Well, we just really think turtlenecks are super-stylish, so if you think maybe, at some point in the distant future, you might want to consider wearing one, that could be cool…"). Otherwise, we get a barrage of backlash from guys who fear the funnel and want to tell us all the reasons why turtlenecks won't work for them.
But guys...You. Look. Awesome. In. Turtlenecks. Full stop! It's time to embrace this winter style staple once and for all!
G/O Media may get a commission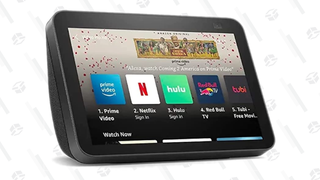 If you're worried about appearing bulky, keep the fabric streamlined and smooth - think merino wool or cashmere.
Yes, a Fair Isle sweater can look hokey when worn in an on-the-nose, Who wants some eggnog?! kind of way. Think: one in red or green (or red AND green) with reindeer and snowflakes splashed across the chest.
But I'm here to tell you, Fair Isle sweaters have the range! There's plenty of styles that rely on geometric designs in colors outside the traditional holiday hues...or at least styles that stick to one color at a time so you don't look like a Christmas card exploded on your torso.
Bottom line? Think: "holiday-agnostic" when shopping for a Fair Isle sweater, and you'll get more winter months-mileage out of this style.
There's something so incredibly nostalgic about a fleece pullover that makes me want to bring back other favorite trends from my childhood. Like snap bracelets, and the Sister Act 2 soundtrack.
The newest fleeces are meant to be worn as part of an outfit, not as outerwear, so be sure to layer accordingly for a comfortable outdoor to indoor transition.
I mean, look. Sport coats are obviously a year-round must-have for men (they're SUCH an easy way to make even the most blah of outfits feel more pulled together). In the winter, though? That's when you get to really have fun with this dressy topper, breaking out of your all-season wool styles in navy and grey, and getting a little funky.
Think: Harris tweed, herringbone, houndstooth..anything that starts with "H" really. These textured sport coat styles lend a cultured panache to any outfit.
---