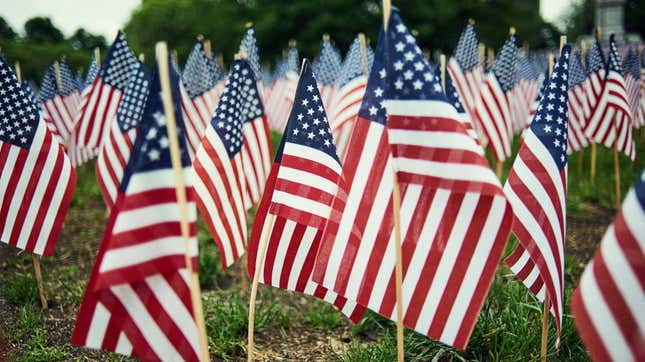 While you're out there gearing up for the arrival of Memorial Day Weekend, we'll be here, updating this post with all the best Memorial Day sales and deals this nation has to offer.

Bookmark Kinja Deals and follow us on Twitter and Facebook, or sign up for our newsletter to never miss a deal.
---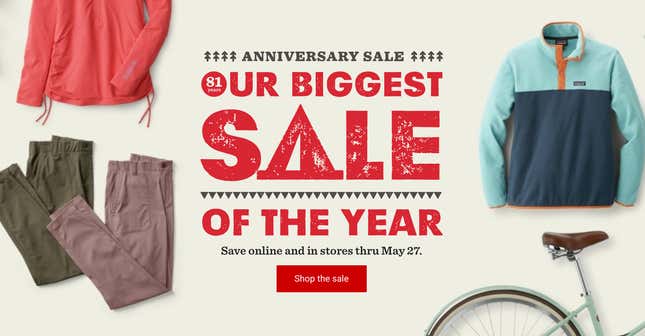 It's baaaaaack. REI's annual Anniversary Sale is always the company's biggest sale of the year. In fact, it's basically REI's Black Friday, since the brand famously opts out of the post-Thanksgiving deal bacchanal. So get over there before all the good stuff is gone.
For the biggest markdowns, you'll want to proceed directly to the Peak Deals section, where limited quantities of certain items are marked down by 50% or more.
Some great options elsewhere in the sale include Patagonia's famous Nano Puff jackets (men | women), hiking and trail running shoes from all the best brands, tech gear like GPS watches and portable power solutions, and swimwear from the likes of prAna, O'Neill, and Patagonia.
If you have affinity for certain outdoor brands, you can also just head to REI's All Sales page, and sort by your favorite brands.

See something you want that isn't on sale? REI members can save 20% on a single full priced item at both REI and REI Outlet for the duration of the sale with promo code ANNV19. A lifetime membership costs $20, and is totally worth it.

---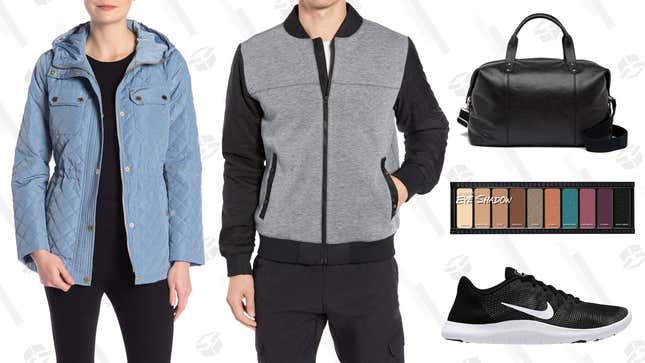 Just in time for a new season, Clear the Rack is on at Nordstrom Rack. And while we know and love this sale for being full to the brim with heavily discounted styles for men, women, and kids, this time around, Clear the Rack is really stepping things up with over 14,000 — yes, you read that correctly — items included in the promotion. Shoppers will be able to snag these already marked-down styles with an extra 25% off at checkout, for a total of up to 75% off savings.

The best way to sift through this massive stock is probably to sort by your favorite brands, since a few of your favorites — including Nike, Cole Haan, Nike, Levi's, Kate Spade, and so, so many more — are up for grabs on clearance. And be sure to keep an eye out for some of our most beloved styles, like these hike-friendly Smartwool socks, a breezy Bonobos sweater, or a seasonally appropriate floral shirt. No matter what you're in the market for, chances are it's among the thousands of great deals that the Rack is clearing out now.
---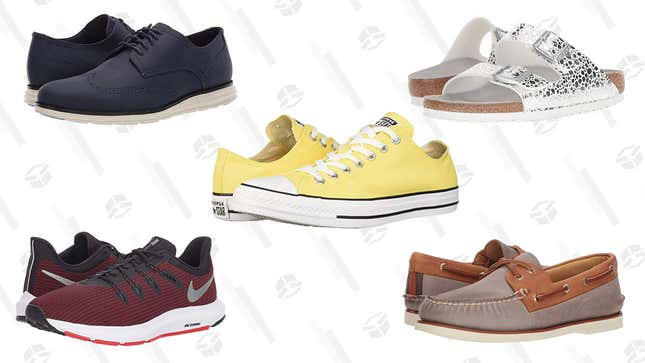 Zappos sales don't come around too often, but right now, this one-stop shoe shop is marking down over 70,000 items—I swear, that's not a typo!—with their Memorial Day Sale. The best way to sort through a sale of this size is to filter by brand, and as you've probably guessed by now, select styles from a slew of your favorites, including Adidas, Nike, Cole Haan, Frye, Puma, Sam Edelman, and more, are among the great deals available. And don't forget, while Zappos is shoe central, they do also have great deals on apparel, including Columbia outerwear, joggers, socks, and more. So you'd better start sifting through this sale now, so you can snag everything you need to start summer off on the right foot.

---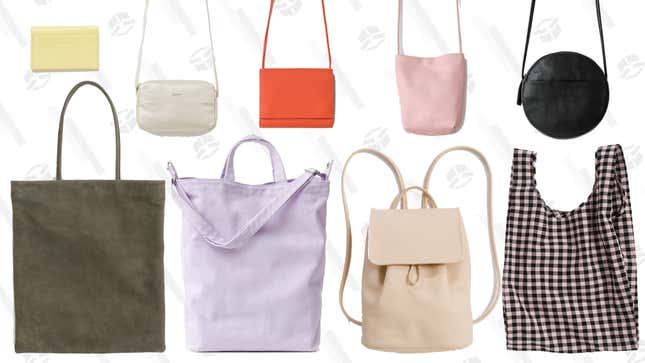 I can't own enough Baggu bags — seriously, I have two of their nylon bags, two leather bucket bags, and a canvas duck bag, and I love them all dearly. No matter what kind of bag you're in the market for, chances are Baggu makes a highly wearable, very sophisticated version of it that's built to last, and now, the bag brand is taking 15% off their entire site in honor for Memorial Day with promo code LONGWEEKEND. I'm not even going to try to resist this Baggu blowout, and neither should you.
---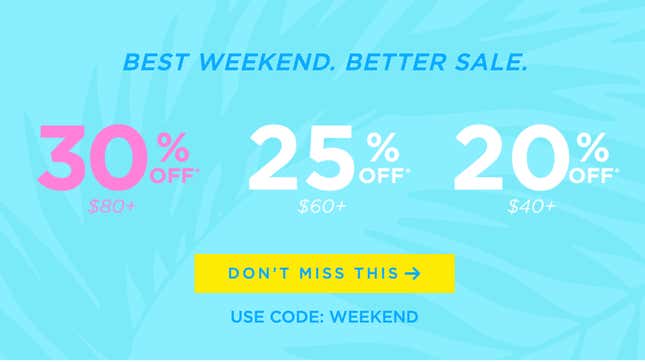 Here's a sweet deal to spice up your makeup bag: Tarte Cosmetics is taking up to 30% off their entire site for Memorial Day. The more you spend, the more you save, so orders of $80 or more will get the full 30% discount, while orders of $60-$79 will get 25% off and orders of $40-$59 will get 20% off. Use promo code WEEKEND, and stock up on everything from the brand's famed foundation to skincare products to eyeshadow palettes to take advantage of free shipping on orders of $40 or more.
---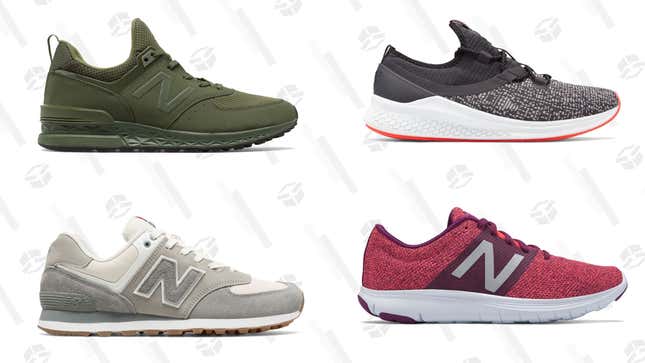 This weekend, step up your sneaker game thanks to Joe's New Balance Outlet. The retailer is currently offering up to 40% off men's and women's shoes (plus almost 100 styles for men and women going for 50% off or more), and 70% off apparel for men and women with their Memorial Day Sale. But don't let these stellar prices through you off balance, since you only have until Monday to snag the styles that suit you.
---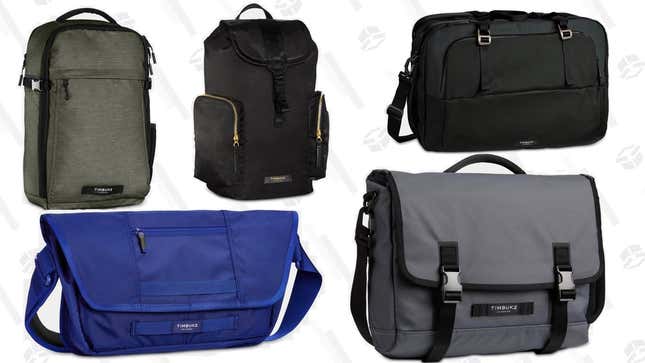 Need a new pack for your upcoming journey to Timbuktu? No? How about just a sleek carry-all tote or spacious backpack from Timbuk2, the brand? Right now, these bag brainiacs are offering up to 25% off your favorites (excluding bulk orders) in honor of Memorial Day. All the junk overflowing out of your ol' faithful messenger bag will thank you.
Might we suggest checking out the reader-favorite Copilot, a durable roller with a lifetime guarantee; our favorite under seat Commando Messenger Bag; or the ever practical yet stylish Launch Pack, which clocks in at just over a pound — though it certainly punches far above its weight.
---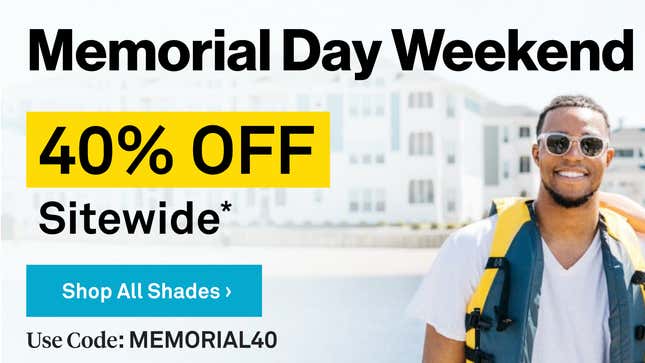 Sunglass Warehouse offers some of the best deals in sunglasses even when they aren't running a sale, so when you can get an extra 40% off sitewide (with promo code MEMORIAL40), you should fill up your cart.

Notably, this deal works on the site's clearance section as well, which has glasses available starting at under $3, so these deals are so bright that you're gonna need shades. You'll get free shipping on orders over $25, so stock up.
---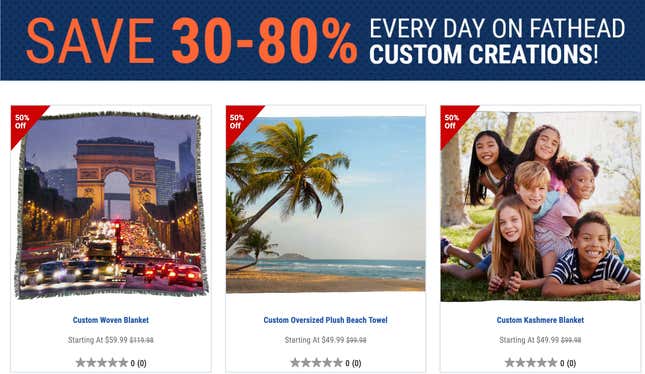 You know Fathead for the company's silly life-sized wall decals of athletes and celebrities, but did you know they can also create custom ones? Not to mention custom throw blankets, custom towels, custom canvases, and even custom giant heads for photo ops and parties.
Now through Memorial Day, everything that Fathead can customize is 30-80% off, so go ahead and stock up on cheesy gifts for the rest of the year.
---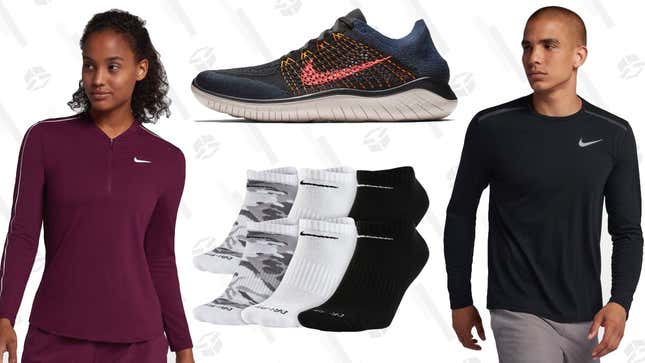 When it comes to having a corner on the market, nothing really compares to Nike. And right now, use the code SAVE25 and take an extra 25% off their entire clearance section for both men and women. Over 2,500 already-discounted items are even cheaper now, and everything you could need for a good workout wardrobe is included, from apparel, to sneakers, to gear.
---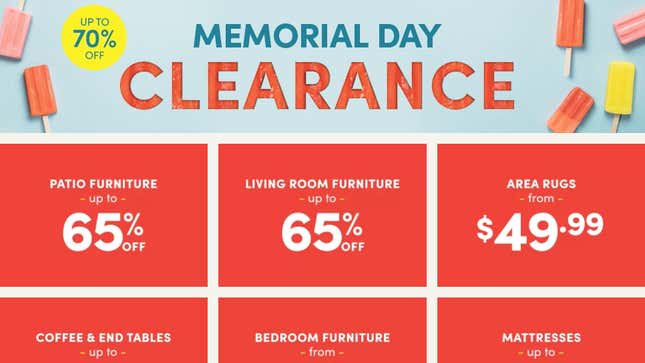 If your house needs some sprucing up before summer, look no further than Wayfair's Memorial Day Clearance sale. Right now, you can save up to 70% on tons of home items, including patio furniture, mattresses, major appliances, backyard play sets, and more. Order now, and your home is officially barbecue-ready before the long weekend hits.
---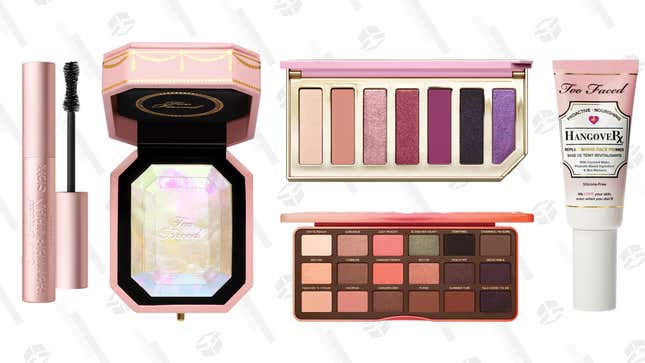 Too Faced has a deal for your face as part of the brand's Friends and Family Sale Event. Makeup lovers can take advantage of 25% off sitewide with promo code SUMMER25, not to mention free shipping on all orders. So it's finally time to try fan favorites like the brand's Sweet Peach Palettes, Diamond Highlighters, Better Than Sex Mascaras, and Hangover Primers, and get all dolled up for the long weekend.
---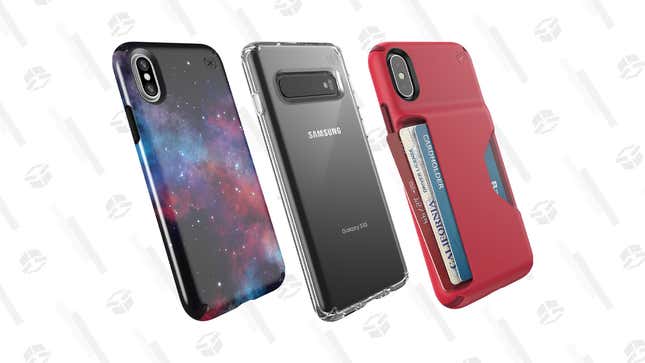 If you've beaten your current phone or tablet case all to hell, you can treat yourself to a new one from Speck during their big Memorial Day sale. For a limited time, they're marking down every case they sell by 30%, plus free shipping on all orders. They still aren't the cheapest smartphone cases you can buy, but they're among the best.

---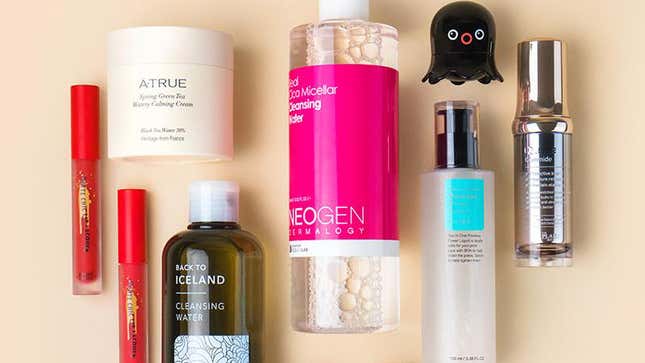 If there were ever a time to get into K-beauty, it would be right now — both because May is about the time that summer weather starts really wreaking havoc on your skin, and because Soko Glam, one of the internet's favorite K-beauty retailers, is in the midst of a Memorial Day Sale. Now through Monday, take 25% off a range of on-sale products and brands with promo code MEMORIALDAYGLAM. I'm personally a big fan of this very cute blackhead scrub stick, this Cosrx nourishing rice overnight mask, and this healing ampoule (basically just a super charged serum) from Missha, which also happens to feature it-ingredient snail mucin. Also, Soko Glam's sale is a great opportunity to stock up on sheet masks to take you through the season, just saying.
---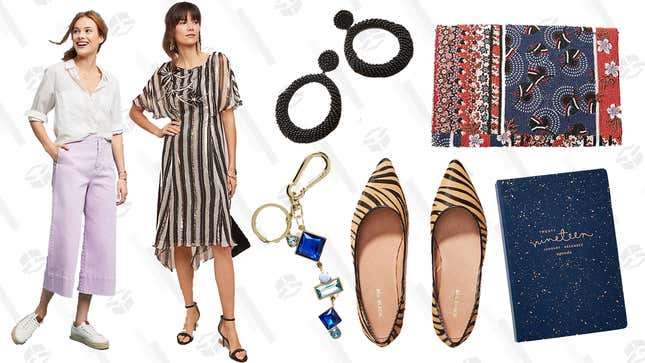 The only thing better than wandering through the boho fantasy land that is Anthropologie IRL, is getting sucked into one of their sales online. Right now, everything in the sale section at Anthro, from unique apparel and accessories to creatively designed homewares, is an additional 40% off. To top it off, there's nothing you need to do to take advantage of this deal; just add to cart, and the discount will be automatically applied. Oh, and by the way, there are currently over 1,400 items under Anthropologie's sale section. Happy browsing!
---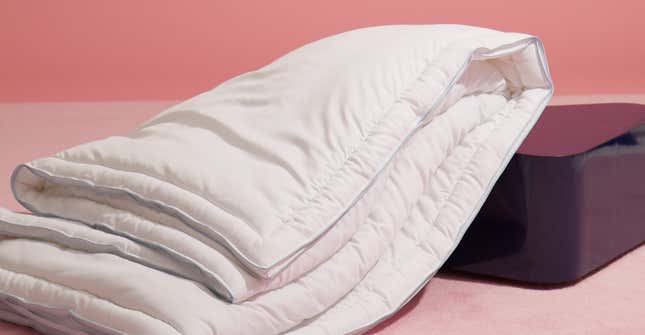 Buffy comforters are a boon for people who run hot, but also like to be tucked under a cozy, fluffy blanket at night. Made from super soft eucalyptus fibers and filled with BPA-free recycled plastic water bottles, the brand's Cloud Comforter is breathable yet soft, plus it's anti-microbial, cruelty-free, water-conservational, and machine-washable. And now, you can try one of your own for $20 less than usual using promo code MEMORIALDAY.

Because Buffy knows buying a comforter sight unseen is unsettling to say the least, they offer a 30-night commitment-free trial. That means that you won't actually be charged for your purchase until the 30 days are up. But rest assured, once you are charged, the $20 discount will be applied accordingly.
---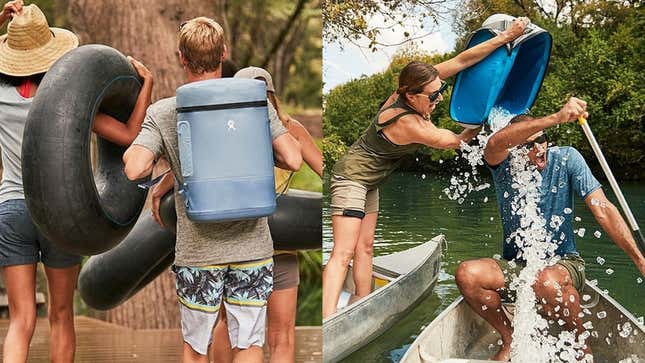 You know Hydro Flask for its bottles and drinkware, but they also make some damn good coolers, and select colors are 25% off today, just in time for summer.
This deal applies both to the 24L cooler tote and the 22L cooler backpack, and you can add on free shipping with promo code FASTSHIP19. Both will keep ice frozen for 48 hours, feature lightweight construction, and will never leak thanks to YKK Aquaseal zippers.
---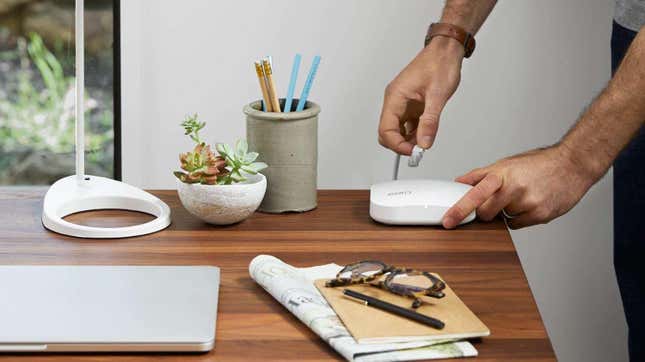 If Amazon's recent acquisition of eero didn't scare you off the pioneer in mesh networking, the retailer is celebrating its new networking play-thing with big discounts across the board, for a limited time.

Get a an eero and an eero Beacon (which plugs straight into the wall and doubles as a night light) for $239 (a $60 discount), an eero and two beacons for $319 (an $80 discount), or for the largest and most densely constructed houses, three full eero routers for $399 (a $100 discount). To be clear, If you live in a one bedroom apartment, you don't need any of these, but if you find that a single router doesn't get you a reliable Wi-Fi signal in every part of your house, mesh systems like these are a godsend.
---
Amazon's Echo Wall Clock is a revelation for the specific (but I think quite large!) subset of people who:

1) Use Alexa timers in the kitchen with some regularity.
and
2) Don't have an Echo Show with a screen built in.
Just pop in some batteries, hang the clock, and a ring of LEDs will automatically count down the minutes and final 60 seconds of any timer you set with your voice. It's elegant, seamless, and I can't stand how much I love the thing.
It came out late last year for $30, but it just got its first discount ever, down to $25. The clock is ticking on this deal though, so don't waste any time.
---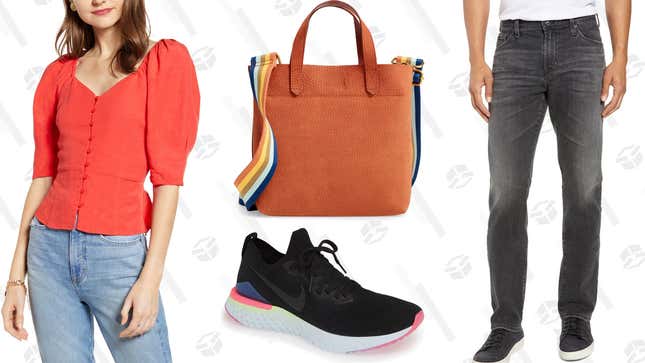 Nordstrom has three large sales each year: The Anniversary Sale, and two Half-Yearly Sales. And since we're sort of, almost halfway through the year, Nordstrom is taking up to 50% off a boatload of styles for men, women, and kids.

Brands as disparate as Cole Haan, Gucci, J.Crew, and Nike are all included in the sale, so it'll take time to look through all the stuff. Good thing we've got a nice long weekend coming up.
---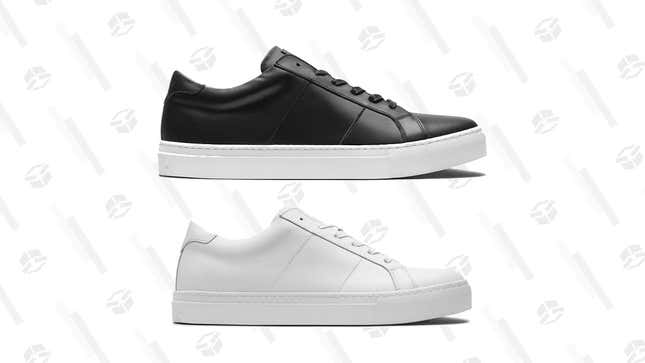 I know it's obvious, but it needs to be said: Greats are great casual sneakers, and now, you can get a pair for a great deal. The relatively new, Brooklyn-based brand with the Italian-based leather is taking 20% off their whole site for Memorial Day with promo code SUNNY20, which is really good considering most of their sneaks aren't cheap. They are, however, worth their price.
Their classic-looking, leather-swathed Royale is made in Italy; we previously dubbed the style one of our favorite white sneakers. And, speaking from experience, they look great in not-white, too.
---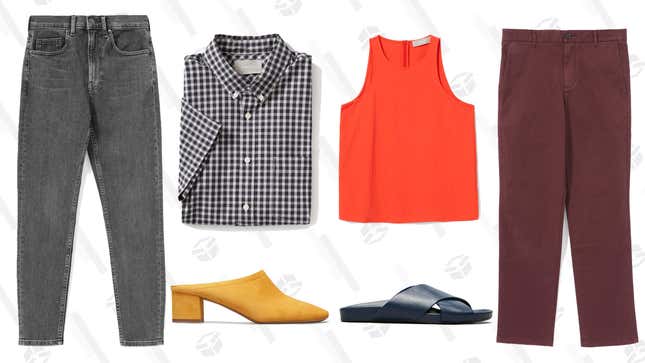 Everlane's Choose What You Pay section (which, for the unindoctrinated, allows shoppers to choose from three different, discounted price points for an item) is always a good source of savings on some of the brand's coveted, stylish basics, but it's usually pretty limited. That is, until now.

Everlane has flooded their Choose What You Pay sections for both men and women with a ton of new overstocked inventory, including a selection of coveted Everlane denim and shoes for the ladies and a range of chinos for guys. This is likely the last you'll see of these styles, so take your pick before they sell out, as many of Everlane's offerings are wont to do.
---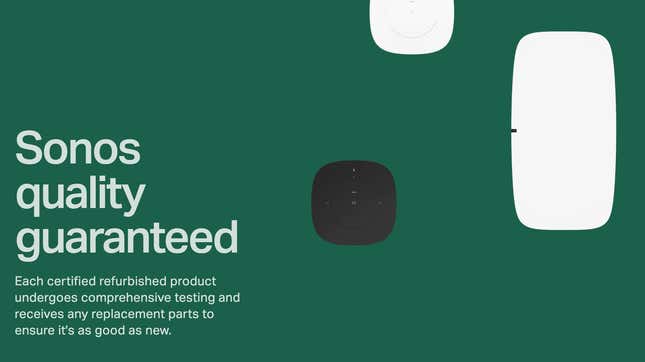 We occasionally see deals on individual Sonos refurbished products, but we've never seen a refurb sale like this.

For a limited time, you can grab a Sonos Play:1 for $119, a Sonos One with Alexa and Google Assistant for $139, a Play:5 for $399, a Playbar for $549, and a Sonos Sub for $549.
Note: If one color is showing up as out of stock, try the other.
The $119 Play:1 is the refurb deal we're most used to seeing (though it's been quite some time), but the others are extremely rare. Savings compared to buying them new range from $30 to $150, and you get the same one year warranty, free shipping, and free returns that you'd get with brand new speakers. So whether you're starting your Sonos setup, or adding to the family, you'll want to grab these before they're gone.
---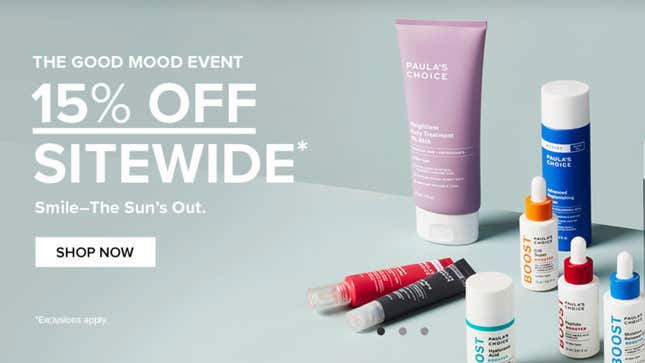 It would be the correct choice to take advantage of this skincare sale at Paula's Choice. Through Monday, take 15% off sitewide (excluding kits, sets, sale, and new items as noted on product pages). Plus, on orders of $65+, you'll get a free travel-size Resist Perfectly Balanced Cleanser and a free travel-size Resist Youth-Extending SPF 50 with promo code GOODMOOD. So why not pick up our favorite retinol serum and anything else you need for your face?
---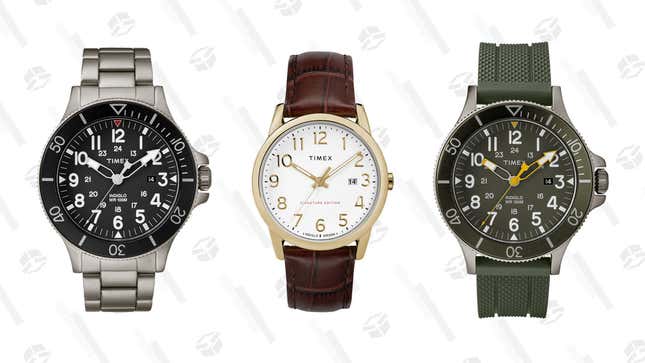 Watch out! You don't want to miss this Timex Summer Sale. Now's the time to take advantage of 20% off a selection of Timex watches for men and women with promo code SUNNY20. And — bonus! — shipping is free. But you don't have a minute to spare; shop now before the clock runs out on these deals.
---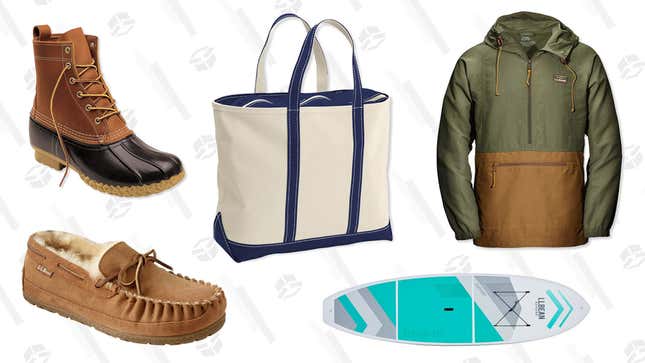 If you're ever planning to head outdoors this season, L.L.Bean is what you want to be wearing when you do it. The outdoorsy brand is taking 20% off your order with promo code SUMMER. This deal seems to apply to both full-price and on-sale items, excluding non-L.L.Bean brands. So now's the time to stockpile Bean Boots, Wicked Good Slippers, and whatever other gear your closets can hold.

---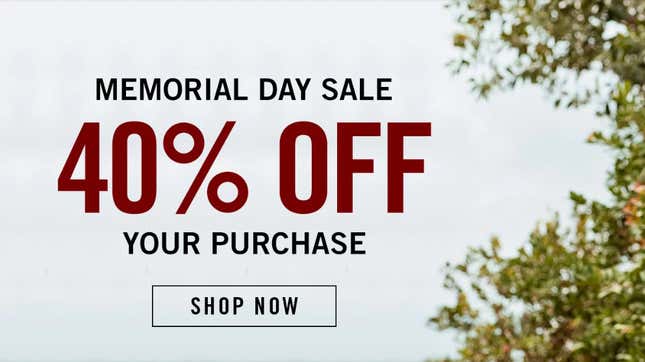 Guys, it's time to stock up on new styles for summer from Perry Ellis' Memorial Day Sale. Right now, everything on their site—from suits to casuals tees and pants—are 40% off, and you can snag an extra 15% off with promo code AFFILIATE15 for a total of 55% off savings. Don't forget to throw in code FREESHIPPING to snag free shipping (the codes should stack). You look more stylish already.
---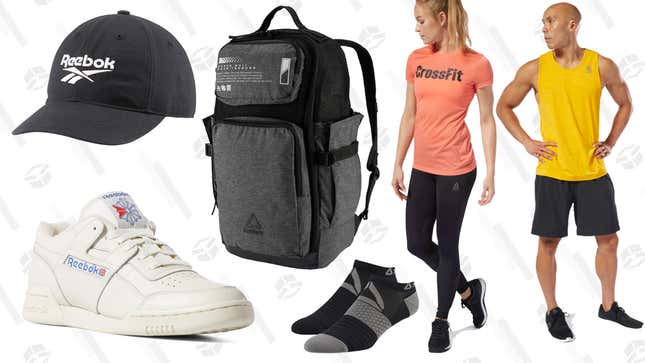 The holiday weekend is a good time to restock your summer workout wardrobe with tons of sneakers, apparel, and accessories from Reebok, since right now, you can take 30% off orders of $99 or less, 40% off orders of $100 to $250, or 50% off orders of $250 or more with promo code MDW. With pretty much the entire site included in the promotion, you'll certainly break a sweat scrolling through all these deals.
---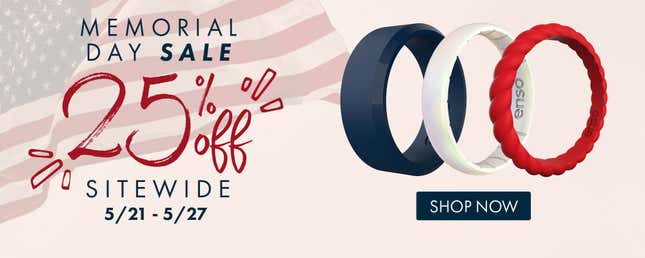 Whether you're worried about losing your wedding band while working out, or you just don't want to end up like Jimmy Fallon, silicone wedding bands are practical, affordable, safe, and actually pretty good looking. If you're curious to try one out, Enso just kicked off its Memorial Day sale, taking 25% off every ring they sell.

We've tried out Enso's Elements ring, which incorporates real metal into the silicone for a bit of shine, and while it won't fool anyone up close, we were still impressed. But they also offer a ton of other styles too, some starting around $10, and they're all included in the sale as well. Hell, they're cheap enough that you could buy several, and pick one based on your mood or outfit.
---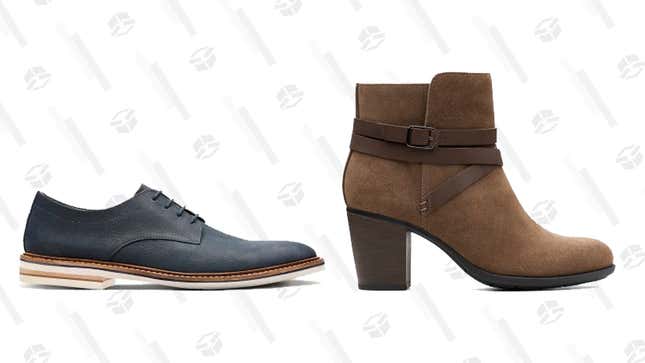 At the intersection of "cute" and "comfortable," you will find Clarks. And right now, the footwear brand is kicking off their Memorial Day Sale with an extra 25% off all sale items with promo code EXTRA25. Treat your feet to new sandals, loafers, slip-ons, and more from this shoo-in of a deal before it's out for the summer.
---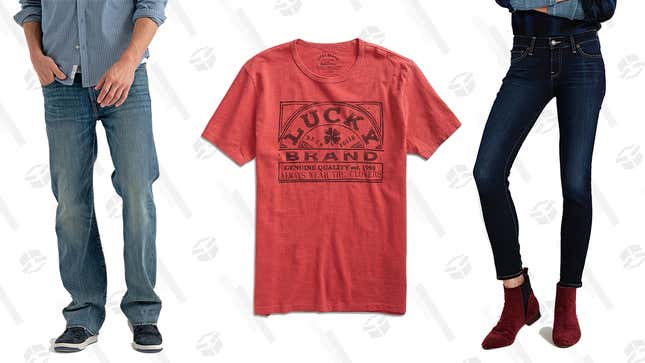 Well isn't this lucky: Bohemian-cool retailer Lucky Brand is offering up a sitewide sale just in time for summer: Everything from the retailer is 40% off thanks to the brand's Big Weekend Sale. So take advantage of this blowout to add to your supply of good jeans, vintage-y tees, shoes, and plenty of other summer styles. Don't press your luck by waiting too long, though; this sale will be over by tomorrow.
---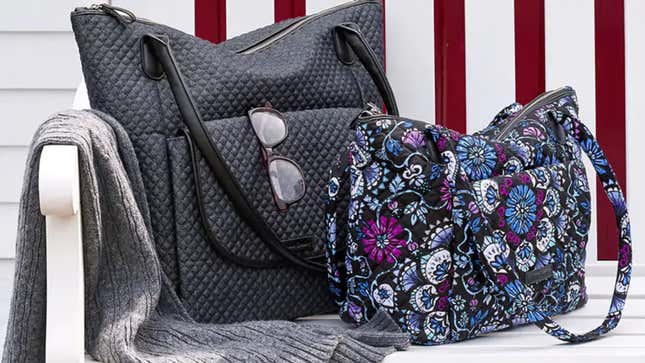 You might remember Very Bradley as the brand of the paisley quilted tote carried by your great aunt, but in recent years, the retailer has expanded their prints beyond florals into more modern patterns. And I must admit, their solid bags, duffels, pouches, and other travel accessories are downright stylish. So consider taking advantage of the brand's 25% off sitewide Memorial Day Sale. There's a reason that tote from years back is so memorable; these bags hold up. And there are patterns to please any taste — yes, including good ol' paisley.
---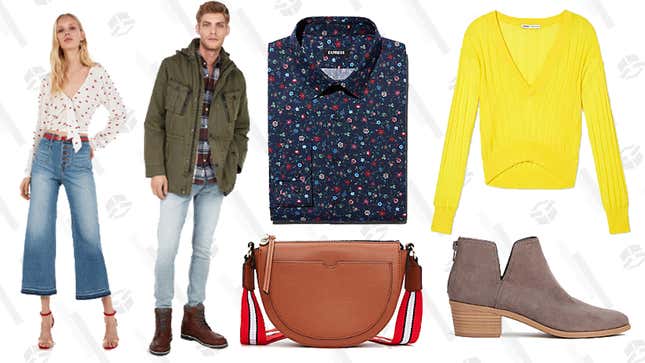 Summer is certainly something to celebrate, and Express is using the incoming warmer temperatures as an excuse to take 40% off everything for men and women, including clearance. But like all nice weather, this sale won't last forever, so snag the styles you want — everything from dresses, shirts, suits, pants, jeans, and accessories —now.
---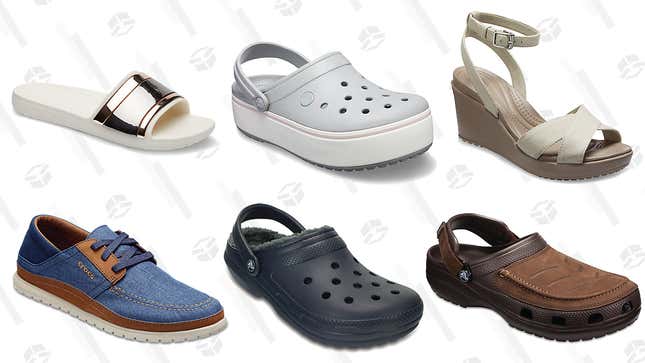 We all love to hate Crocs, but guess what! Those lightweight, hole-y, rubber-y slides are cool now, thanks to the always groundbreaking runway scene and one Post Malone. And you too can be hip to the trend thanks to Crocs' Memorial Day Sale. All the shoes on site are 30% off, and in case you haven't noticed, Crocs also makes other shoes that barely even look like Crocs. So go ahead and stock up on Crocs, because fashun.
---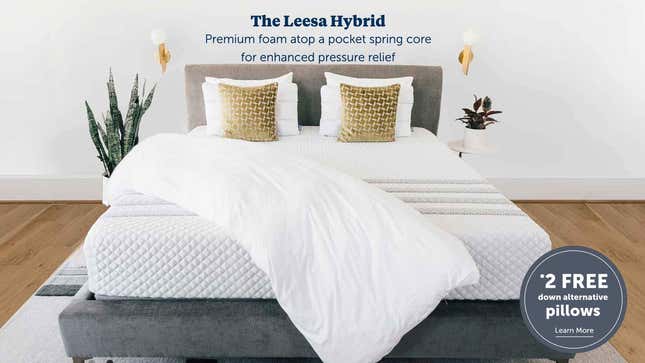 Memorial Day is one of the best times of the year to buy a mattress, and Leesa isn't letting us down with 15% off both its standard foam and hybrid spring mattresses, plus two free pillows with every order.

The pillows themselves are somewhat mysterious—they're automatically added to your card, and are described as "Down Alternative Pillows," which aren't listed on Leesa's pillow page—but hey, they're free.
The queen Leesa mattress will set you back $845 during this sale (down from $995), and the equivalent hybrid mattress costs $1,440 (down from $1,695). If you need help deciding, there's a comparison page here, so you can sleep easy with your decisions.
---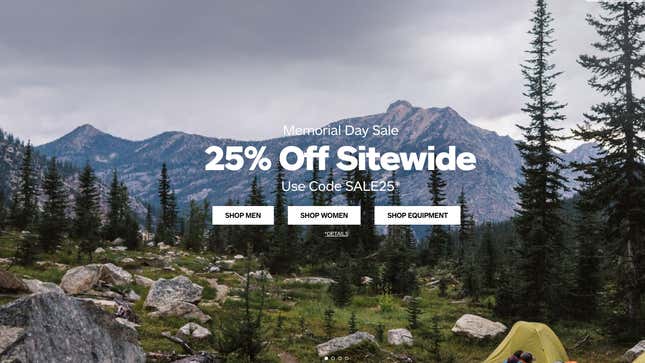 The changing of the seasons is a great time to buy new clothes, and Marmot is thinking about getting you geared up to go outside outside for less. Right now, they're is taking an extra 25% off sitewide during the company's Memorial Day Sale. Just use promo code SALE25, then start planning your summer outdoor excursions while you wait for the gear to arrive.

Need somewhere to get started? The Marmot Precip and Minimalist were both among our readers' favorite rain coats.
---
BioLite, the company behind the wood burning camp stove that recharges your phone with fire, just kicked off its Memorial Day Sale, with something for every tech-loving outdoor enthusiast (no, they're not mutually exclusive interests!).
The CampStove 2 is there, as is the SolarHome 620, which adds some lights and USB chargers to any off-grid shed or cabin, and the HeadLamp 330, which is our favorite product of its kind. But the most exciting deal is the first ever discount on the FirePit. This Kickstarter sensation uses thermoelectric fans to promote big, beautiful flames that you'll be able to fully enjoy thanks to the transparent mesh sidewalls. It also doubles a hibachi grill, so safe to say the next neighborhood barbecue is going to be in your backyard.
---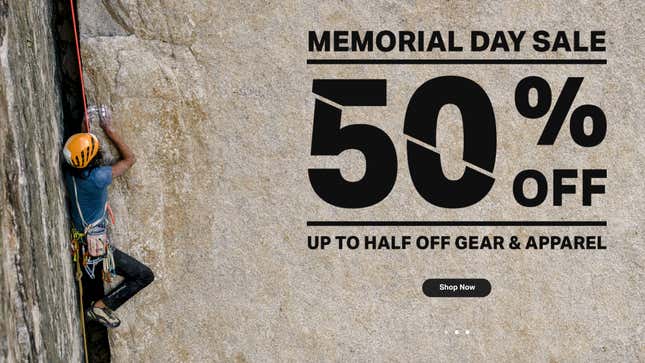 The Memorial Day sales have descended upon us, and if you're Memorial Day Weekend will include some outdoor adventures, be sure to head over to Backcountry. Right now, over 21,000 items, including gear and apparel for the whole family, are up to 50% off thanks to the brand's Memorial Day Sale, including stuff from The North Face, Osprey, prAna, Mountain Hardwear, and more. So, load up on everything you'll need for summer activities before this sale heads out on a permanent vacation.
---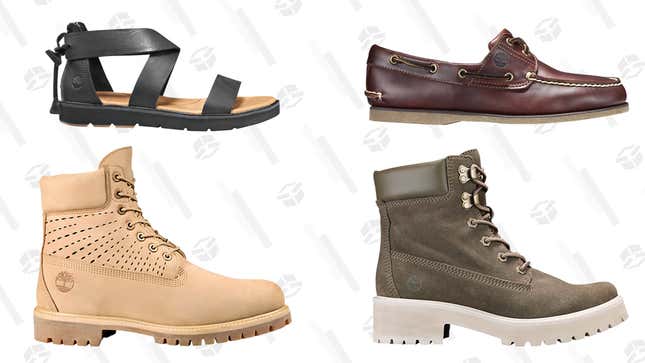 Treat your feet to a new pair of Timberlands from the brand's Memorial Day Event for 25% off. Yes, there are plenty of men's and women's boots included in the promotion, but there are also several sandals, boat shoes, and styles for kids up for grabs. Step to it!
---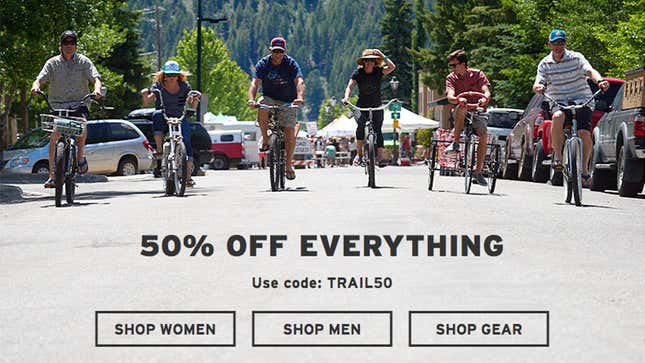 If you're thinking of going outside anytime soon, this Eddie Bauer sale will serve you well. The outdoor retailer is taking 50% off everything on their site (excluding tents, sleeping bags, and non-Eddie Bauer brand products) for their Memorial Day Sale with promo code TRAIL50. So stock up on all the gear and apparel you need for the rest season (or future seasons) before these hot deals cool down.
---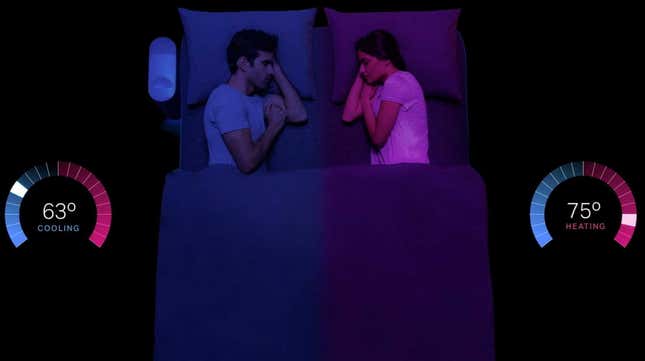 Between the privacy violations, the techno-fascism, and the ever-increasing indignities of gig-based capitalism, the future kind of sucks! But hey, at least we got a liquid cooled mattress out of it. Finally.
Here's how it works:
The Pod features a series of fluid-filled channels running through the foam mattress, and a single hub that can cool the liquid to as low as 55 degrees, or heat it up to 115, and circulate different temperatures to both sides of the bed independently. If you like a cool mattress, and your partner prefers things warm and cozy, this seems like a complete solution where electric blankets only solve one person's problem.

Of course, this being 2019, it also works with Alexa ("Alexa, cool down my bed"), tracks how much you're tossing and turning, and can even gently wake you up in the morning by cooling down the mattress. You can skip all the smart features and just enjoy the Pod for its unique climate control options, but they're there if you want them.
The Pod only came out last month, but now you can save $200 for Memorial Day, plus free in-home setup (a $200 value). It's still an expensive mattress, let's be clear (even on sale we're talking over $1,900 for a queen), but there's really nothing else quite like it on the market.
It's not nearly as slick, but you can also achieve a similar cooling and heating effect with your existing mattress with ChiliPad, as we've covered here.
---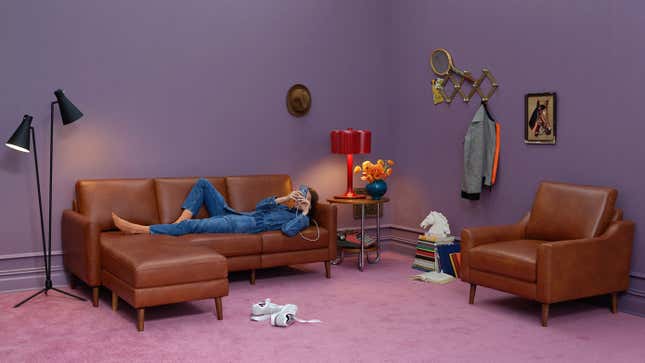 With its modular design, free shipping in regular-sized-boxes, and attractive design, Burrow sits on the throne of the direct-to-consumer sofa industry, and you can score a rare deal on the couch (or chair, or ottoman) of your choice during the company's Memorial Day sale, including the company's brand new leather offerings.

For a limited time, promo code SUMMER19 will get you 10% off all orders, 15% off orders of $1,400 or more, and 20% off orders of $2,500 or more. Some of the site's marketing materials say that you can save "up to $500," but the 20% code doesn't seem to be capped, as we were able to save over $600 on a larger order.
A loveseat, any couch, or a chair paired with an ottoman will get you over the minimum here. As always, you get to pick your fabric, your leg color, and even the height of your arms, and you also get a 30 day risk free trial, with a simple return process if you don't like it.
---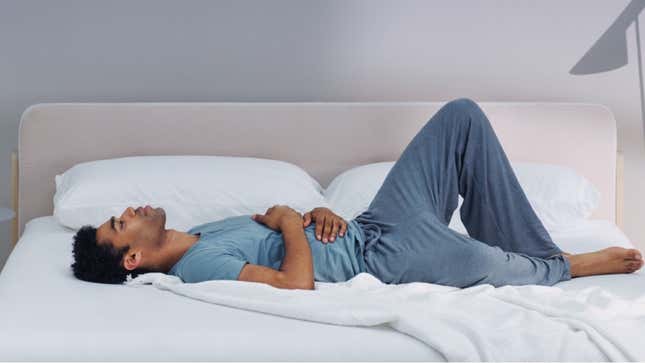 Beyond the standard $50 discounts you hear about in the middle of every podcast, Casper mattresses don't go on sale often, and Casper accessory deals are even rarer. But Memorial Day's 10% sitewide sale (live now) holds the promise of serious savings, if you still haven't gotten rid of that old coil spring.

They've run the same deal for a few other holidays this year, but this is still a solid deal if you're in the market for a great bed.
To get this deal, you have to buy a mattress (sorry, dog mattresses don't count), so you can't take advantage if you're only shopping for accessories. But 10% savings on a standard Casper mattress works out to nearly $100 on a queen, or as much as $240 on the new, advanced Wave mattress. Just use promo code MEMORIAL19 at checkout to see the savings stack up.
The best part of the deal is that any accessories you order at the same time will be discounted as well. I'm personally a huge fan of Casper's pillow, but they make everything from adjustable bed frames to sheets to box springs, and unlike the mattresses, those aren't eligible for the aforementioned common podcast discounts.
---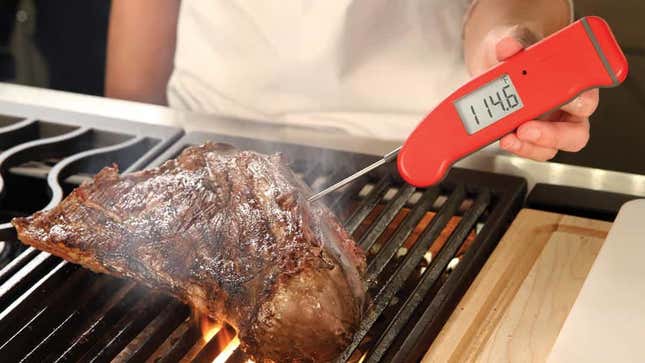 If you want to invest in your cooking, a good meat thermometer isn't far behind a good knife in the hierarchy of important gear. And today, you can score a rare discount on the best thermometer out there. In fact, $59 is cheaper than the last open-box deal we saw on this thing.

Our readers love the Thermapen because it displays the temperature in 2 - 3 seconds, has a 3,000 hour battery, is waterproof, and is accurate to within 0.7°F.

Here are just a few readers gushing over the Classic model:

Thermapen Classic (or really any of the Thermapens). Bar none the best thermometer for cooking I have ever bought — accept no substitutes.

Somewhat expensive at ~$70-$120 range, but I've been using mine for years and years, and it still gives me an accurate reading in less than three seconds. Well, well worth the price. Especially excellent for the grill. - theburners
Without a doubt. No other thermometer comes close. I've said it before on Kinja that the Thermapen is the best piece of kitchen equipment I've ever bought. - the-return-of-samba00
This model doesn't see significant discounts very often, and when it does, it's usually only on one or two colors, whereas today you can pick from several.
---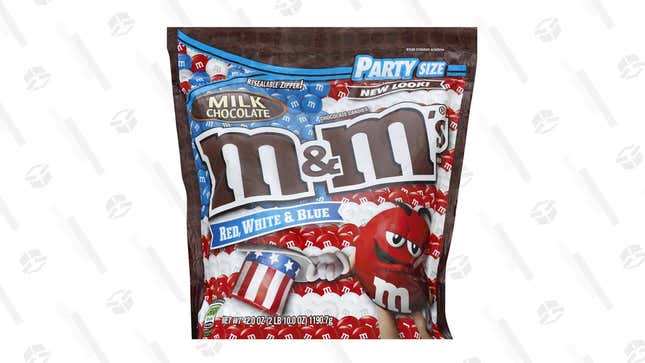 Looking to get a little snack for your Memorial Day BBQ this year? You're going to want to throw a bag of M&M's in your shopping cart. Right now, you can get 15% off a 42 oz. bag of Red, White, & Blue M&M's on Amazon when you clip the coupon on the page. The bag is "party size," but we totally won't judge you if you just want to keep these all to yourself.

---