For The Inventory this year, we're breaking out our #SGapproved gift guides into two tiers for men and women - one for when you've said, "I like you" and another for when you've said "I love you."
The former clocks in with less expensive, (slightly) less personal gifts, while the latter ratchets up both the price tag and the intimacy levels accordingly.
This week, check out the gift guide for what to get a newly-special man in your life.
Below, 15 ideas for what to buy a new guy you've told, "I like you" to (but that's it).
G/O Media may get a commission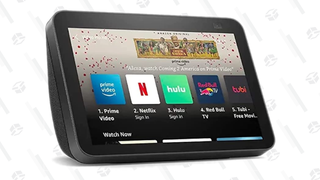 The best our team has found for reusable mugs that fit nicely in your hand and can be tossed in your bag without the mess when you've polished off your morning hit of caffeine.

If your guy's as anxious as a cocker spaniel during a thunderstorm, he might find some relief (at night, at least) with a weighted sleep mask.

Bonus: At only 1 lb. of weighted pressure, a sleep mask's a lot lighter to wrap than a weighted blanket.
Instapots are the new 'cooking a turkey in a trash can.' Manly in an outdated way but still kind of cool. Personally, I'm terrified of these au courant kitchen devices, but if he likes to cook and doesn't own one of these bad boys yet, he'll be super psyched to unwrap it.

Is it weird to gift a new partner a set of bed sheets? If it wasn't this ridiculously soft set from Buffy, maybe. As it is, you can get away with a slightly nagging "Hey, your sheets are disgusting and maybe you should wash them more often, and for that you need at least one alternate set" present. Just lean into a "Oh man, I have these and I know you'll love 'em" vibe. You know, breezy!

Grooming items can be tricky when it comes to gifts for a new guy - he probably already has a favorite scent, and you don't want to try to get him to add a step to his skincare routine with a serum or moisturizer masquerading as a present. A luxe body wash, then, is perfect because it's (I hope?!) something he's already using in the shower, and you get to take advantage of the upgrade from whatever he's been washing with, too.

Watches are a great gift, especially when they're not so expensive it makes you want to barf.

For the guy who wants to have people over because he finally lives on his own, but is intimidated by the idea of ThRoWiNg A dInNeR pArTy.

A cool sweatshirt is the perfect gift for a still new-ish relationship because it doesn't in any way imply you're trying to change him. It's just, y'know, a cool sweatshirt.

This is *kind of* a joke gift but also great for any guy who's still living in a home he shared with an ex. Time to banish negativity and bring in some good vibes for the new year and new relationship!

Sunglasses are another good "fashion" gift. Everyone can use an additional pair in their repertoire, and if his were rescued from a corporate retreat swag bag, or would look more at home worn while jet skiing than walking down the street, a mid-priced stylish pair like these Warby Parkers is clutch.

For the guy who hasn't cracked open that copy of Infinite Jest on his nightstand since you started dating him.

The good thing about women giving men a present in a very small box: he probably won't think you're proposing.

In SG's first gift guide, I pointed out that gifting a small, basic item rendered in luxe fashion makes for a great present. In that case, it was fancy-schmancy socks. Here? A ribbed beanie fit for James Bond, in ultra-soft lambswool and angora.

Sneak a peek at his shoe size and gift him a pair of bright-white sneakers to wear on days it doesn't snow. Yes, winter boots would be more functional, but a) they're way more expensive, and b) far less fun.

---