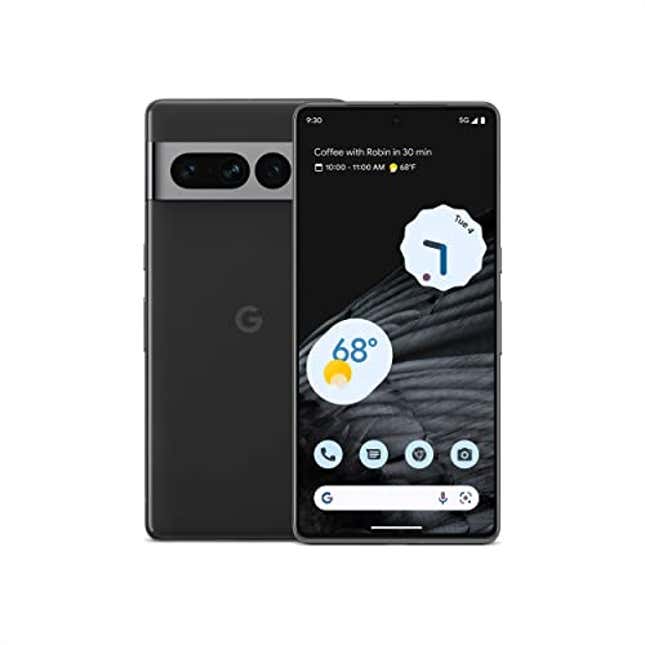 Meet the Google Pixel 7 Pro — the latest revolutionary smartphone that encapsulates the power of Google in a phone, available for purchase at Best Buy today. This 5G Android phone, one of the most powerful smartphones on the market, offers a blend of power, performance, elegant design, and top-tier technology: fitting for those who demand the best-of-everything phone.
What sets the Google Pixel 7 Pro apart starts with the heart of the phone — Google's Tensor G2 processor. This efficient, secure, and ultra-fast processor guarantees top-notch performance and a seamless user experience, elevating your mobile experience to special heights.
Next, let's talk about its camera. The phone boasts a 5x telephoto lens coupled with a 30x Super Res Zoom for crisp and clear zoomed-in pictures. The upgraded ultrawide lens powers Macro Focus — ultimatley bringing those minute detailing alive. This camera technology ensures the best photo and video quality you can get from a Pixel phone.
The battery life of the Google Pixel 7 Pro is another selling point. You won't have to worry about a dying phone with Pixel's Adaptive Battery that can last over an entire day. If that's not enough, the Extreme Battery Saver can extend your battery life up to 72 hours!
An immersive viewing experience is guaranteed with its 6.7-inch Smooth Display, which smartly adjusts up to 120Hz for smooth, responsive performance, making everything look stunning. Also, the durable design, Corning Gorilla Glass Victus, and IP68 water and dust protection mean that this phone can withstand anything and everything life throws at you.
Security is paramount, and the Google Pixel 7 Pro understands that well. With Google Tensor G2 and the Titan M2 security chip backed by VPN from Google One, you can be confident that your personal information remains safe on your device.
Supporting all major carriers, this phone provides the flexibility to change carriers and choose your data plan. Additionally, managing devices becomes easy with the "Find My Device" feature and the Google Assistant.
There's a reason the Google Pixel 7 Pro is often referred to as Google's best-of-everything phone. This device brings together impressive performance, stunning photography features, immersive display, unbeatable battery life, and robust security measures in a sleek and elegant design. Meet the pinnacle of smartphone technology and shop for yours at Best Buy today. Don't wait- get the future in your hands now!
This deal was originally published by Inventory Bot on 7/12/23 and updated with new information by Se Jeong Bae on 7/13/23 and Emily Knepp on 8/9/23.