You keep buying board games and you swear you'll play them some day. But before you go all Marie Kondo your pile, get your collection sorted with some proper organization tools.
Get More Accessible Shelving Units
A shelf is a shelf, right? Not when it comes to board games. The more sections you have, the easier it is to pull out a specific game. Ideally, you'll want units with enough shelves that you can only stack maybe two or three games before moving up to a new shelf. Cube organizers in particular are excellent for this. Better yet, ladder-style shelves give you progressively larger shelves so you can put your bigger games down below and your small games up top, while making all of them equally accessible.

G/O Media may get a commission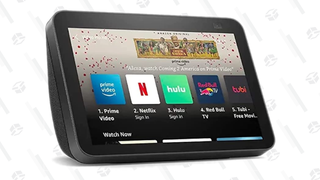 Save Space With a Hanging Closet Organizer
Hanging closet organizers are usually aimed at things like clothes or shoes, but they're a perfect way to store some games in unused closet space, or on the back of a door. These work better for the more recent trend of thicker, square game boxes like Catan, as opposed to thin, wide ones like a traditional Monopoly box.

Hide Party Games In a Lift-Top Coffee Table
Convertible, lift-top coffee tables are the best. You can raise them up to eat or work on things when you're on the couch, and drop the top back down when you want to lounge and watch TV. Best of all, most have dedicated space under the top for storage which is perfect for stashing your party games. When you have company over, just lift the top, pull out a game, and start playing. When you're not using them, they're out of sight, out of mind.

Put Thin, Wide Games In a Pot Lid Rack
One of the worst aspects of the old-school, thin board game boxes is that you can stack a lot more of them on top of each other in a vertical space. This sounds like a good thing, but it turns into a nightmare when you want to get at one on the bottom of the stack. Instead, use a pot lid rack and store them sideways. This way you can pull them off the shelf more like books on a shelf. The rack keeps them all upright, so you don't end up with a mess of games knocked over with pieces spilling everywhere. You'll just want to make sure the dish rack has wide enough gaps for board games, and this variable-length rack from IKEA takes the guess work out of that task.

Get a Portable Carrying Case
If you want to take your games with you, an unbalanced stack of boxes isn't going to cut it. This carrying bag from USA Gear is large enough to multiple big box games, and comes with dividers to help keep them separate. Straps keep boxes in place so they won't get shaken up too much, and the exterior is weather resistant to prevent water from damaging your games.

---