Confession: I do not have any kids. I did, however, spend over 15 years of my life regularly babysitting, nannying, and generally getting paid to keep kids alive in the absence of their parent or guardian. (I actually started doing this at age 11. If you've seen the John Mulaney bit about his childhood babysitter basically being a larger child, that was basically me.) While I am no expert on parenthood, I have seen my fair share of playrooms, bedrooms, and bathtubs full of kid's toys. I also learned that there are lots of different ways to raise happy, healthy kids, and just as many ways to keep their stuff off the floor. Because no matter what child-rearing decisions you make, it still hurts like hell when you step on a tiny plastic Lego.

Just like there's no one-size-fits-all for parenting, there's no one-size-fits-all for organization. Factors like your own sense of style, rules about where toys can be stored, and the age of your child will factor into what makes the most sense. Plus, toys themselves vary, from tiny army men to oversized stuffed animals. If you're currently struggling to keep L.O.L. dolls off the floor (and to maybe find ways to encourage your children to actually clean them up) here are some things that might help:
Over-the-door shoe organizers are, in my opinion, pretty crap at actually organizing shoes. But they are a good way to organize kid's crap. The tall, skinny pockets for individual shoes can be great for toys like Barbie-type dolls or stuffed animals. The more cubby-style organizers that hang in the closet can also work for a variety of toys. The larger ones, designed for things like sweaters, are especially good for board games.

G/O Media may get a commission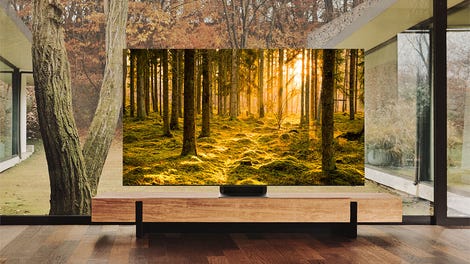 Up to 40% off
Samsung Smart TVs
If your main problem (and your child's main joy) is stuffed animals, there are entire lines of bean bag-style chairs that are designed to be stuffed with them. They can also be used for dress-up clothes and extra blankets if you need the extra padding. It takes functional storage to another level.

When it comes to bath storage, the main goal is really preventing mold from growing on these perpetually damp toys. Bins, even ones with drain holes, can still gather water. This mesh net, which hangs from the wall, drains well and keeps favorite bath toys close at hand.

mDesign is a perennial Amazon reviewer favorite, and it might just be because their simple, functional products might just remind you of the Container Store, but at way cheaper prices. Their plastic bins have a go-anywhere appeal, from the kitchen to the bathroom to, yes, the playroom. If you (or your kids) like things in their place, nothing makes it easier to locate than clear, stackable storage. They come in a near-endless variety of sizes for different types of toys. The refrigerator bins, for example, would also be great for pens and pencils of a future Picasso. Or for organizing Leo tiles, or doll shoes, or whatever it is that needs a little bit of narrow storage.

mDesign also makes a small trash can that can also be used for organization, instead of garbage. The slim, narrow shape means you can get a few for filing away toys, or use one for organizing toys, blocks, or even books. The narrow shape is great for coloring books and magazines.
If you want things even more organized, most drawer organizers can be a little prescriptive. If you want more flexibility, these plastic drawer dividers give you that (and then some). Things as small as miniature figurines or nail polish bottles can be accommodated, along with larger figurines and toys. (Or even both, side by side.) The plastic can be trimmed if needed as well.

Again, every family is different here, but if you want your kids to keep toys in a family area or living room, but aren't particularly interested in kid-ccentric storage, there are options. Three-drawer side tables can store their fair share of toys, and even allow a slight amount of organization. (Dinosaurs in one drawer, Polly Pocket in another.)

Ottomans with concealed storage can also be a handy spot for toys to live in a more mixed-use area. And while there's no shortage of shelves sold with soft bins in them, this set from Safavieh provides a refreshing upgrade with cane drawers.

Metal utility carts are another multipurpose solution for your bar cart, gardening center, and more. Kids can use them for books, craft supplies, and toys—or all three. The cart can even be wheeled to separate play areas if stairs allow.

I have written about these under-bed drawers before, and I stand by them, despite their so-so-rating. Namely, they're the only true rolling under-bed storage that doesn't require basically installing a new piece of furniture. One of the biggest complaints is that it's rickety, but most reviewers who reinforced it with things like zip ties give the drawers a 4 or 5-star rating. (For what it's worth, I just used regular floss and it was fine.)
Or, you could always just get a wooden toy chest that's also not an eyesore, and can double as a bench, always works. Tell your kids to put up their toys, and worry about the knot of yoyos, spider man figurines, and Magnatiles later.

---