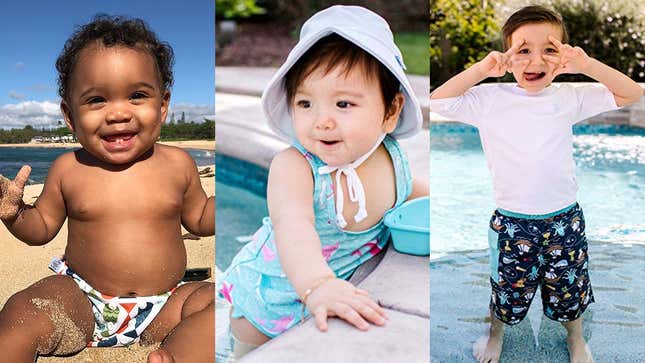 If I could write a poem about reusable swim diapers I would, because that's how much I love them. Why you ask? Well, disposable swim diapers are—as the name indicates—single use, which means they need to be removed and thrown out as soon as you pull your kid out of the water. Doesn't that sound super wasteful to you? It does to me, especially considering that your kid might have not even dirtied the diaper.

But it doesn't have to be this way! Reusable swim diapers do exist, and a lot of them are pretty good! So, with summer in full swing, I wanted to share with you my favorite reusable swim diaper options, so that you can be ready to go splashing with your little ones.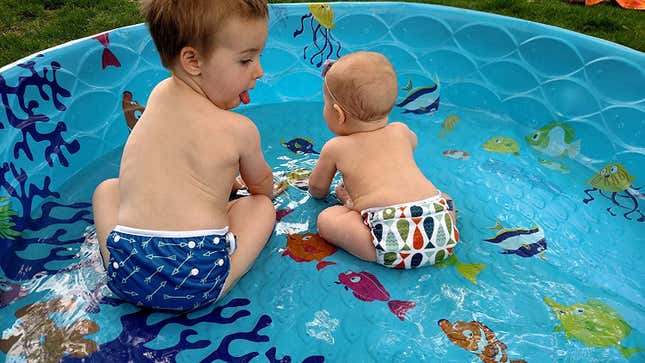 The awesome thing about these diapers is that your kid can grow with them, which makes them the most affordable option over the long term. They come off easily with less mess like a regular diaper (no poop down the legs!), and because the waist and legs are both adjustable, kids from 8 lbs. to all the way to 36 lbs. can use them. This specific brand also has a one year guarantee, so if something happens to your diaper while you're at the water park, they'll refund your money, and give you a new diaper to keep.
G/O Media may get a commission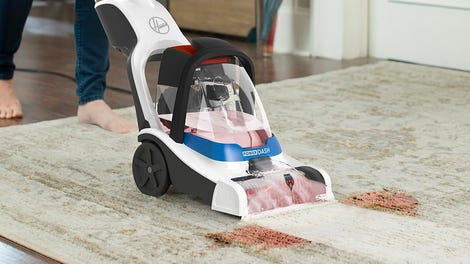 26% Off
Hoover PowerDash Pet Compact Carpet Cleaner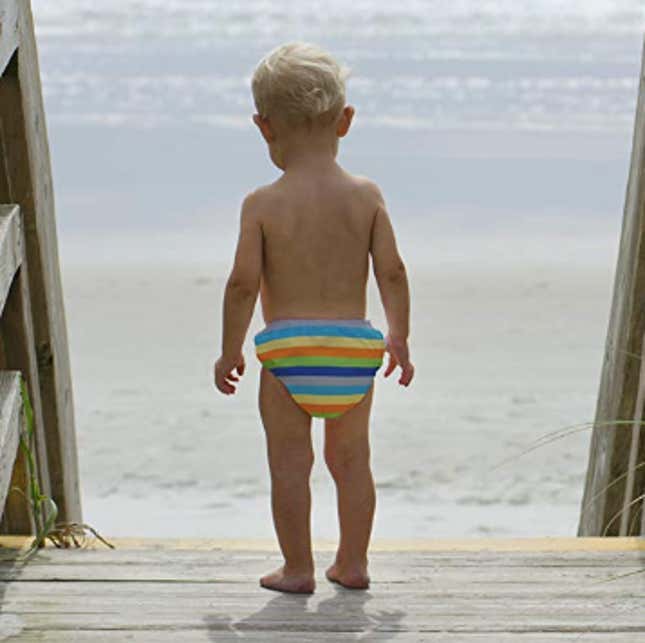 The endless cute prints on i play's diapers make them one of my favorite brands, but the company has over 28 years of experience working on swim gear for kids, so of course I trust them when it comes to swim diapers. The liner helps prevent diaper rash, and the absorbent layer makes sure poops stay inside the diaper. The snaps on the side make it easy to putting the diaper on, and even easier to take it off once it's wet and potentially dirty. I recommend using i play's rash guard and sun hat as well for full SPF coverage. Sizing is available from 6 months to 4 toddler.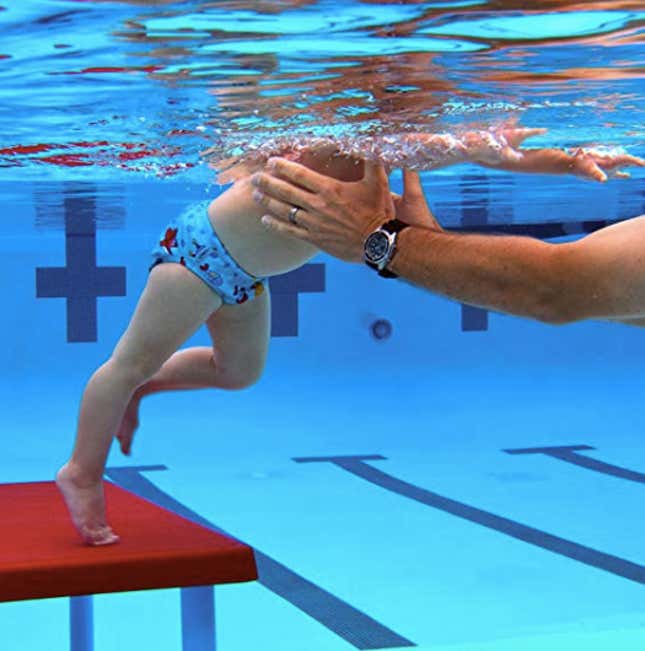 The key to pull-up swim diapers is making sure they are tight around the legs and torso, because if they're a little loose, you're in for trouble when your kid poops. Another downfall of having no snaps is that sometimes when pulling off the diaper, poop can go everywhere if you're not careful. However in my experience using FINIS's swim diapers, we've never had anything escape when we didn't want it to. I've also found that not having snaps means your kid won't start getting marks on their legs as they get bigger, which is a small but notable advantage. I recommend going by weight for sizes, which range from 9lbs to 45lbs.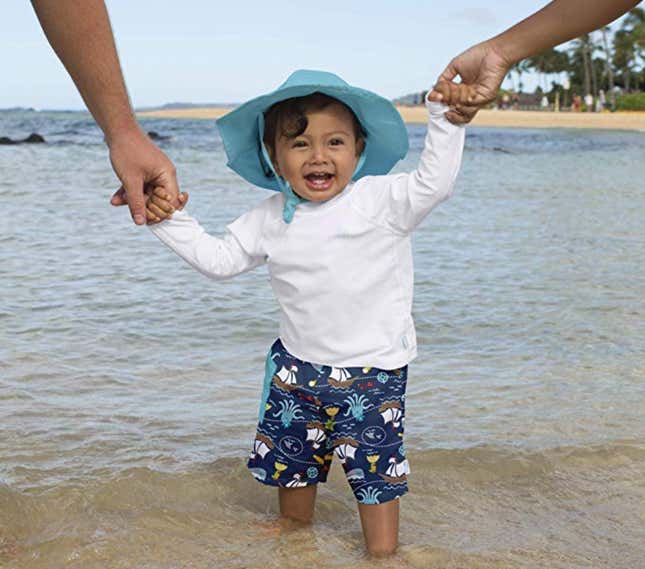 Perfect for the potty training phase and even awhile after they have mastered going to the bathroom—just in case—i play's trunks are ideal for toddler boys that want to run around in the sand. There's a pull up swim diaper included inside the trunks that will hold up messes while you get ready to change them if needed. They all come with cute prints and also a little pocket, which I'll admit I love, for your kiddo to carry around their favorite rock from the beach. I'm a sucker for little pockets! They come in sizes from 6 months to 4 toddler.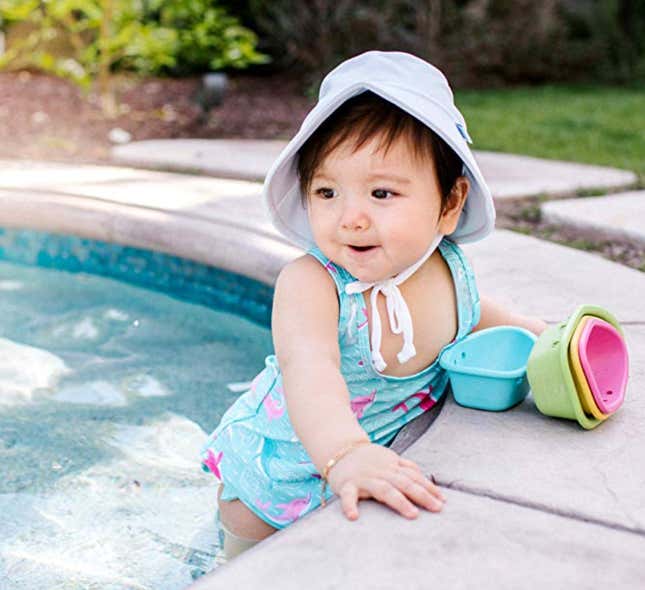 For parents of girls who want more coverage as they grow older, but are not ready to move to a regular swimsuit yet, iPlay offers the option of a tankini. It comes with a pull up reusable diaper and a tank top, both in matching print. The extra good thing about the tankini is that you don't need to buy a rash-guard to cover your little, one as the tank top is designed for SPF 50 sun protection. One less thing to carry around and wash! Sizes available from 3 months to 3 toddler.
---
And just a friendly reminder: Disposable diapers only hold poop, so don't put your kids in the swim clothes and get in the car because, well, you'll have a wet car seat by the time you get to the beach.