Finding a sports bra that doesn't cut off your circulation but also supports the girls is tough. Especially when it comes to large busts, support is priority number one, and comfort is a close second. No one wants a sports bra that digs into their body while they're trying to give it their all at the gym.

Unfortunately, style is often left by the wayside in favor of concerns #1 and #2, and ladies with bigger chests stuck with boring and frankly, ugly sports bras that are black, gray, beige, or white. Luckily, some brands are finally understanding women with big boobs actually like a little color in their workout gear. See below for a few sports bras that are stylish, offer maximum support, or are comfortable for low-impact activity.
PSA to all major bra companies: Women with D+ sized breasts also like colorful bras. If we have to look at one more plain white sports bra again, we might die. For larger chests, this Lululemon Energy Bra actually provides ample support when running. As many women know, running is the true test of whether a sports bra actually supports large busts. Lululemon carries this bra in 16 colors, with fun options like calypso pink, jubilee, lilac, and more. The bra is available in sizes 2 through 14 (for reference, a size 10 fits women who are in the DD range).

G/O Media may get a commission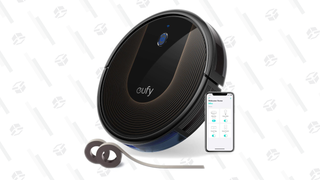 48% Off
Eufy BoostIQ RoboVac
---
Now, you might think the last thing you want in a sports bra is the pain of underwire, but it is useful for support. The Panache Women's Underwire Sports Bra has over 3,200 reviews and four stars on Amazon. The color options for this bra are pretty spectacular, with hot pink options and galaxy prints. Depending on the size (between A and H) and color option you choose, this sports bra ranges in price between $40 and $81.
Let's just tackle this topic now: Boob sweat is real, and it is awful for women with larger chests. Have you ever tried to pull your sports bra off after a really vigorous workout? It's more difficult than doing 30 burpees in a row. The C9 by Champion Mesh Ventilated Sports Bra doesn't totally eliminate boob sweat, but it really does help cut down on sweating while keeping everything in place while you're bouncing around. You don't have to worry about a stray boob hitting you in the face during jumping jacks. Target sells this bra in sizes XS to XXL for $30 and then in plus sizes 1x to 4x for $33.

---
Nike is well known for their workout gear, and their Rival Women's Sports Bra actually fits the bill for women with larger chests. It has a breathable racerback with adjustable straps and a 2-row hook-and-eye back closure, for a more customized fit, since everyone has their own preferences for where things should be positioned. What this sports bra lacks in color variety, it more than makes up for in size options. You can order this online in sizes 30A through 38E.

---
If you cannot handle underwire sports bras, but need a bra that mimics that, the Anita High Impact Wire-Free Sports Bra has you covered. It was designed for intense workouts, like HIIT and Zumba. The encapsulated cups are essential for support, as well as compression for holding everything in place. Bare Necessities products are created for women with larger chests, so overall, this sports bra comes in band sizes 30 through 46 for cup sizes C through H.

---
Like we've said, when you're doing a high impact workout, chances are there is going to be some boob sweat. Thankfully, Sweaty Betty's High-Intensity Run Bra will save you from drowning in a pool of your own sweat. The middle mesh insert allows for breathability, while the cups have encapsulation for support. This sports bra is available in two chic colors (black and aubergine) in sizes A through F.

---
Sometimes, for support, you need more than just underwire. This Wacoal sports bra additionally has thick straps and a 3-row hook-and-eye back closure for extra security. For optimal support, it's suggested to order one band size up but one cup size down for the best fit. You can get this sports bra in sizes 32C to 40G.

Not every sports bra requires maximum coverage and support. If you're doing a lower impact activity, like pilates and yoga, coverage and comfort are more critical. Hell, sometimes you just want to wear a sports bra instead of an actual bra when you're lounging around. Aerie's Chill Seamless Sports Bra is soft enough to sleep in. If gold medal Olympian Aly Raisman is willing to promote a sports bra, we trust it does the job it is required to. This sports bra is sold in six different colors in sizes XXS and XXL.

---
If you're looking for a typical, no-frills sports bra for a chill day, a racerback is pretty standard. This C9 Champion sports bra is designed to reduce chafing, which means it is great to wear for long periods of time. It offers ample coverage, so you won't feel like you've got an obscene amount of cleavage on display. You can get it in five different colors between XS and XXL.

---