Ladies, it's time for some real talk: finding the right sports bra can feel like an exercise in futility. The fit is funky: it's too tight or not supportive or straps fall where they shouldn't. And if it does stay in place and function as it should, there's a 50-50 chance that it will be uglier than a suit of armor. And, did we mention that snagging a few decent sports bras can amount to more than a monthly car payment?

Truly, it's mind boggling how something so necessary can be so frustrating. That's why I've done the leg work to identify 11 of my favorite sports bras. And, it wasn't just me testing. As much as I love my 34B boobs, I realize that larger-breasted women may not share my opinions, so I enlisted a few friends ranging from A-cups all the way to a 36EEE. Rest assured: if we included it on this list, your girls will thank you.


Thanks to a high-cut neck and a band that sits roughly two inches below your breasts, this best-seller is meant to be worn alone. Four-way stretch means the bra moves with your body rather than restricting you, and a generous cut at the armpit means that nothing digs into your skin. There are no cups so I'd recommend sticking to light impact activity, although one C-cup tester ran a 10K without any issues.
I realize looks don't matter but I couldn't help but fall in love with the Momento's strappy back details that accent the racerback design. Staying true to prAna's roots, this bra is made from a recycled nylon blend that adequately wicks sweat away. Removable modesty pads are a great option for ladies of all sizes, and a moderately-cut neckline kept everything tucked inside during downward dog. As a B-cup, I could even run a couple miles in this bra, but it wouldn't support women with larger breasts.
G/O Media may get a commission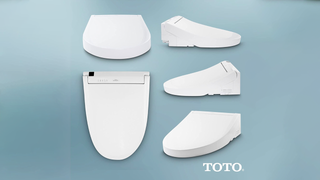 44% off
Toto Washlet Electronic Bidet Toilet Seat
Handful traded extra support for a flattering cut on this minimalist-yet-insanely-comfortable bra. Convertible straps can be adjusted to straight back, halter, or an X-back style making this the most versatile in test. The company recommends tightening the adjustable straps to improve support, but our larger testers still found it lacking for higher impact activities. Regardless, it is the only sports bra in our comparison that passably goes from gym to work and back again, so count it.
Easily one of the most comfortable bras in test, the Seamless Strappy is made from Smartwool's characteristic seamless Merino wool that wicks sweat away from the body while keeping body odor at bay. Engineered cups provide enough lift to prevent a major uniboob scenario while providing adequate support for medium impact activities like hiking or light jogging. I wore this beauty on a sweat-filled CrossFit session and was pleasantly surprised to find it completely dry by the time I returned home.
Manduka is a company with roots in yoga so it's not surprising that the Mudra bra shined on the mat. But, I was pleasantly surprised to realize that the moderate coverage and thick straps meant this bra performed well for medium impact activities too. Plus, the recycled polyester materials is easier on your body than some of the harsher fabrics, making the Mudra an all-around good option.
Thanks to a compression fit and strappy back details, women with A, B, and C cups found the Don't Rest X bra to be a top performer in the gym. A scoop neck allows for plenty of breathing room but larger C cups found it to be a bit revealing. The highlight of the bra is its insane ability to stay put, regardless of the activity. After wearing it snowshoeing, cycling, and to a cardio kickboxing class, one tester reported that the straps barely budged. Bonus: at $40, it's a bargain.
Women who wear an A or B-cup will love the elasticity and comfort of the Madison bra. Thanks to its elasticity, this bra has a tight fit that moves well but doesn't provide enough support for larger women. The seamless designs cuts down on chafing and made for a bra that testers repeatedly called one of the most comfortable in our test.
It's rare for a B-Cup and EEE-cup to agree on a bra so when it does happen, we feel like celebrating. The Running Bra managed to contain the bounce on our EEE-cup tester during an Orange Theory Fitness class, causing her to praise the flattering design and comfortable moisture-wicking material. But, while smaller-breasted women loved the scoop-neck design, larger women found it too revealing.
Title Nine is known for their BRAvangelists so it's no surprise that our EEE-cup found the Athena bra to be her absolute favorite, even claiming that it felt like it was custom-made for her. The adjustable shoulder straps minimized uncomfortable bouncing during a 5K jog but never dug into her shoulders. Some sweat accumulated on the waistband but our tester found that to be an acceptable tradeoff for the superior performance.
At first glance, most testers found the aesthetics of the Zip Bra less than pleasing thanks to a full-coverage honeycomb mesh back and a thicker-coverage front: "It reminds me of a bullet-proof vest," one noted. But, these same features create a fully-supportive bra that completely minimizes bounce and maximizes breathability during the sweatiest of workouts. While the easy on-off zipper in the front looks a bit harsh at first, it provides ample coverage for larger-breasted women and one even grew to love the easy design.
---