Scrunchies in 2019 are a fashion statement, but back when I was a kid in the '90s, they were just a highly practical hair accessory, especially for people with curly hair. Sure, a normal, thin elastic will get the job done (the job being a ponytail or bun), but they'll also probably leave you with a dreaded hair dent. Scrunchies are a good way to stay dent free, and back in the day, they were everywhere.

I don't remember how I figured out that scrunchies are better than elastic hair ties; it feels like I was simply born with this innate hair tie knowledge. But I do know that when scrunchies became less "cool," my affinity for them never waned—it just moved underground. Case in point: I've not-so-secretly slept with my hair tied up in a scrunchie for as long as I can remember.
I've found that the best way to preserve my curly hair (and frankly, any other hair style) overnight is via something called The Pineapple. Basically, this style method involves putting your hair in a ponytail on top of your head (like, close to your forehead) before you go to sleep, so your curls don't get flattened out when you lay your head on the pillow—also, that's why some people like to sleep with a silk pillowcase. It's called The Pineapple because, well, it kind of makes you look like a pineapple when you're upright.
But over the years, I've learned that not all scrunchies are created equal when it comes to executing The Pineapple, and there are key differences between day and night scrunchies. For instance, some scrunchies will still cause a dent if they're too tight or if they're the wrong material. Eventually, my scrunchie collection dwindled from a trove of colorful, drugstore-bought fabric options to a single, pilled, purple fabric scrunchie, which become so soft and stretched out from years of nightly use that I recently realized I needed to seek out new replacements scrunchies in preparation for when the day it would inevitably give out.
And here are the results of that search. Basically, silk or satin—not fabric—are the ideal sleep scrunchie material, and the fatter the scrunchie, the less chance it has of denting your hair. Yes, some options are on the pricier side, but you'll get years of use out of any one of them, trust me.
G/O Media may get a commission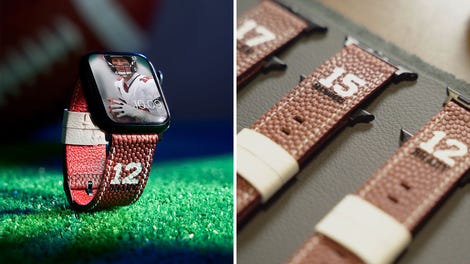 Official NFL PRODUCTS
Official NFL Apple Watch Bands
This set of five satin scrunchies from Kitsch is the best budget option around, which makes sense since satin is understandably less expensive than silk. The 100% Satin Charmeuse fights frizz while you snooze and prevents breakage. Plus, they're a good size, and the blush color is unobtrusive enough that you could easily wear them during the day if you so choose.

These are scrunchies I find myself turning to most often. Slip is by no means a bargain scrunchie brand, but I must say, I do feel a difference when their scrunchies are in my hair. I prefer the slimmer variety of these in the daytime, but at night, I'm all about this larger version. They're luxurious, and puffy, and never too tight or too loose.
Lunya is a company dedicated to making you feel your best when it's time for bed, and the brand's Washable Silk Scrunchie is truly an innovation in the sleep scrunchie space. Instead of looping this scrunchie around your strands multiple times (as you would with any traditional ponytail holder), you simply pull your hair through this scrunchie once, then tighten the pull tabs to find your ideal amount of tension. Bonus: It's now available in four neutral, yet aesthetically pleasing hues.

---