Anker string lights, a top-selling phone charger, and XCOM 2 lead off the best Presidents Day deals.
Bookmark Kinja Deals and follow us on Twitter to never miss a deal.
Top Tech Deals
Razer made a 5.1 sound bar designed specifically for gaming, because of course they did, and it's marked down to an all-time low $130 today. Just be careful with that subwoofer if you have neighbors in your building, or like, within a half mile or so.
G/O Media may get a commission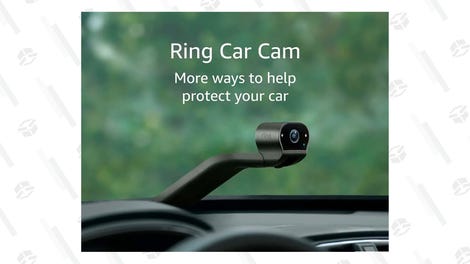 ---
One of the best gifts you can give someone is a cure for battery anxiety, and this 22,000mAh battery pack from RAVPower should do the trick for just about everyone.

Today only, you can pick one up for an all-time low $30 in either black or white. The battery's sufficient to charge smartphones at least five times, and can even juice up an iPad Mini twice. And since there's plenty of power to go around, you also get three ports to share. Just note that like all Gold Box deals, this price is only available today, or until depleted.
---
You know the little charging brick that came with your phone? Throw it out, and spend $5 on this replacement from Aukey (white only with code MPO8UHUK). It's basically the same size as Apple's standard iPhone charger, but it includes two ports, folding prongs, and 2.4A of current (shared between the ports) to charge your devices faster.
---
4.1 stars, 5600 reviews, $18. It's time to go wireless.

---
You don't necessarily need to buy a smart outlet switch to schedule your lights or other appliances; this Kmashi timer can set three on/off intervals every day for just $10. The obvious use case here is to make your home looks occupied while you're on vacation, but it could also control sprinkler systems, air conditioners, slow cookers, or basically anything else with a mechanical power switch and an AC plug.

---
If you've tried an unamplified HDTV antenna (like the standard Mohu Leaf), but can't quite pull in every channel you want, this leaf-style mode from Aukey includes a USB-powered amp that should add a few miles of range. That's a match for this model's all-time low, and one of the best prices we've seen on any amplified antenna.

---
If you're still wrestling with a terrible inkjet printer at home, do yourself a solid and pick up the reliable Brother HL-2380DW monochrome laser printer today for just $100 today.

While it doesn't print in color, it more than makes up for that with the ability to spit out 32 pages per minute, duplex printing, and inexpensive toner cartridges that can last for years without being replaced. We've posted a lot of Brother deals in the past, and we've heard nothing but good things from readers about them. Plus, this particular model has a sterling 4.4 star review average on Amazon, a built-in scanner, and AirPrint and Google Cloud Print support, so it should serve you well for years.
---
Sony's MDRV6 Studio Monitor Headphones are some of the oldest (25 years old!) still-relevant headphones on the market, and have always been one of the best values in the space. In fact, they were one of our readers' five favorite headphones period in a Kinja Co-Op earlier this month.

If you're in the market, Amazon's marked the MDRV6 down to $78 today, which is about as low as they get these days.
---
The Roku streaming stick is all you need, and Amazon's selling refurbs today for $35, one of the best prices we've seen. Even if you already have the old model, it might be worth $35 just for the ability to use your phone as a wireless headphone receiver for your TV, which allows you to watch shows in bed without waking your significant other.
---
Whether your current mouse is giving you chronic wrist pain, or you just want to try something different, this 4.3 star rated wireless ergonomic vertical mouse from Anker is only $16 today, or $4 less than usual. In addition to the clever design, it even comes with three adjustable DPI settings and forward/back buttons, which are pretty rare at this price level.
---
Take a good, hard look at the computer you're using right now. If it's seen better days (or if you just have a tax refund to spend), Microsoft's President's Day sale is a great excuse to upgrade.

The highlights here are on Microsoft's own systems, with $200 or more off both the Surface Pro 4 and the Surface Book. Check out the full deal listing though, and you'll find laptops and desktops from Lenovo, Dell, HP, AlienWare and more, with prices and configurations that should please just about everybody (except Mac users, of course).
Things are a little less exciting on the gaming front, but you can enjoy $50 discounts plus a free game when you purchase an Xbox One S, plus some (mostly modest) discounts on games.
Top Home Deals
Anker's home goods brand, Eufy, put its new set of copper string lights back on sale today for $9. Unlike last week's sale, this set doesn't include a remote, but it's also a few bucks cheaper, and is a fine option for indoor or outdoor decorating.
---
Vacuuming is objectively the worst chore, but with the right tools, it can be a little less miserable.

Eufy (Anker's home brand) makes a cordless 2-in-1 model that can switch between a stick vacuum and a hand vac at the push of a button, no power cord required. And because it's from Anker, the lithium-ion battery lasts for 24 minutes at full power, or an hour in eco mode, which should be long enough for even the largest houses. For a limited time, use promo code OISGH5TP to get the black model for $90.
When it comes to spills and other wet messes though, you'll want a Shop-Vac, and this 5-gallon model is also marked down to $49 today, an all-time low. You don't need one of these things until you really, really need one of these things.
---
Don't have enough space in your closet? These "magic" hangers let you hold six articles of clothing in the space of one.

---
It might not feel like it right now, but dry winter air is just around the corner, but you can fight back with this Eufy (Anker's new home division) humidifier.

The Humos Air 1.1 can run for over 24 hours with its 1.1 gallon tank, and includes a a sensor to measure your room's humidity level, three different modes, and even a slot to add a few drops of scented oils to freshen up your home. Today's $41 price tag is an all-time low, no code required.
---
A whole bunch of you have bought Anova's excellent sous-vide circulators over the past few years, but today, you can get Instant Pot's new take on the product category for $89, an all-time low.

Lifehacker has a great explainer on sous-vide cooking for you to check out, but the basic idea is that you seal the food in plastic bags, and then cook it in precisely heated water over a longish period of time, resulting in meat that is heated all the way through to a very precise temperature. It sounds weird, but trust me when I say that it works like magic.
The Instant Pot circulator doesn't actually require an Instant Pot to function, and won't integrate with one in any special way either; it simply clamps to the side of any pot just like the Anova. It also lacks the Anova's wireless connectivity, which is mostly useless on the Bluetooth model, but is somewhat helpful on the more expensive Wi-Fi version.
That said, if you've been meaning to buy one of these things, $89 is a great price for a gadget that will completely change the way you cook.
---
While they might not conform to the classic look of our favorite chef's knives, this Cuisinart Advantage knife set is anything but dull (get it?). You can own the whole collection today for just $16, within a dollar of an all-time low price.
Don't let the colors fool you, these knives are stainless steel, and extremely sharp. The set has a 4.6 star Amazon review average on over 2,800 reviews, and while the colors might not seem like your thing, they do help you keep track and avoid cross-contaminating food while you use them.
---
Waterproof mattress covers are a must for anyone with pets, kids, night sweats, incontinence, allergies...really, you should just get one, particularly if you have a foam mattress. This AmazonBasics model has never been cheaper, and you can choose from any size.
---
We've posted a lot of deals lately on these coccyx seat cushions, but $13 is one of the best prices we've seen to date. These will improve posture and ease back pain in any chair where you spend a lot of time, from the office to the car to a long flight.
Top Lifestyle Deals
It's that time again. Nordstrom Rack has brought back their Clear the Rack sale and it's full (and I mean FULL) of really incredible deals. Designer clothing, brands you've never heard of, everything an extra 25% off. Today's the last day of the sale, and a ton of great styles are still available. So what are you waiting for?
---
If you had both "Dress Better" and "Spend Less" on your resolutions list, this ASOS sale can knock those both off. The UK brand is giving you 20% off everything with the code PREZ20, from shoes to outerwear and everything in between. But if your resolution was "Don't Buy More Clothing or Shoes," I can't help you there.
---
Free People wants you to keep comfy with 2-for-$30 lace bras. Choose between two styles (racer back and halter) and a myriad of colors, from neutral to neon. This is really how you should be spending Presidents' Day: giving your boobs a little lace hug.
---
The Outnet may have better sales than this, but an extra 30% off to help you through the long weekend is one to jump on. There are tons of brands and styles to choose from, so if there was anything specific you were looking for style-wise, I'll bet it's marked down.
---
If your brows need a little pick-me-up, or you just need to restock your makeup bag, Urban Decay is marking down their Brow Box to just $9. Each set comes with a powder to fill and a wax to set, plus two mini brushes and tweezers. Choose between two shades (Honey Pot or Brown Sugar) and get the brows you've always dreamed of, for less than you though.
Top Gaming Deals
If Pokemon Go taught us anything, it's that you can slap some Nintendo IP onto an existing game, and turn it into a hit. Let's see if it works for UNO.
---
If you were waiting for a good discount to dive back into the world of XCOM, Amazon's offering the Deluxe Edition of XCOM 2 for an all-time low $34 today, complete with a reinforcement pack and digital soundtrack. Good luck, Commander.
---
While $40 is about $5 more than Black Friday, Overwatch is worth every penny if you don't already own a copy.
---
It doesn't come with any bundled extras (other than a copy of Minecraft), but $200 is the best cash price we've seen on an Xbox One S to date. I'm one of those dummies that paid $500 for a Day One Xbox One, so I'm gonna go sulk in the corner for a minute.
Tech
Storage
Power
Audio
Home Theater
Computers & Accessories
Mobile Devices
Photography
Home
Kitchen
Tools & Auto
Lifestyle
Camping & Outdoors

Media
Movies & TV
Books
Gaming
Peripherals
PC
PlayStation 4
Xbox One
Board Games