If we had our way, every man on the planet would have at least one denim jacket hanging in his closet. But recent conversations with some of our guy friends (even the really stylish ones!) have revealed that this is definitely not the case, in fact far from it. One friend relented that denim jackets are simply "too hard to wear" because guys want a jacket that "goes with everything." Got it. So basically, if it doesn't go with your jeans, you're over it? Pardon our eye roll but… Come on!

You can wear a denim jacket with jeans—they just have to be the right jeans. Canadian Tuxedo anxiety aside, it's time to reconsider the denim jacket. It's ridiculously versatile, for starters. Wear it with anything that isn't the exact same color as the jacket and you're good. In fact, you're great. That might not encompass "everything," but it's pretty damn close.
See also: Full on fall heartthrob status. Throw on your denim jacket and suddenly (and with very little effort) you'll look like a rom-com teen dream earth angel bad-boy-with-a-heart-of-gold. Yeah, we think this jacket is that powerful.
And on that note—allow us to sell you on the best, coolest and most timeless layering piece you will ever own. Hyperbolic? Maybe, but you're already on this journey with us now so just go with it.
Uniqlo is at the top of our list for affordable wardrobe "basics" — like this slim fit denim jacket. The Cone Mills fabric has 1% Spandex content so you get a bit of natural stretch, making it more comfortable right off the rack. Plus, it comes in a variety of washes—so you can easily cop one that doesn't "match" your jeans.

G/O Media may get a commission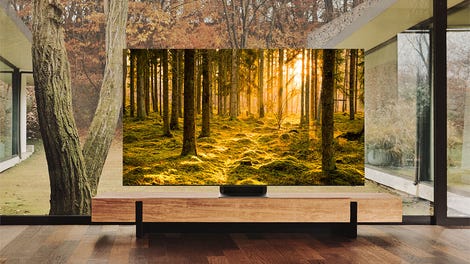 Up to 40% off
Samsung Smart TVs
How can you compete with the original? Levi's classic Trucker jacket is the one we most often recommend simply because it hits all the marks. The Trucker comes in 11 washes (a handful of which are on sale right now) with no bells and whistles and clocks in at the very affordable under $100 price point. It's a 100% non-stretch cotton, no-nonsense jacket. Reviewers note that it runs a bit smaller than other brands' sizing.

The standout quality of this slightly more expensive denim jacket is the saturated, perfect blue of the wash. No whiskers, no faked fading, just a straightforward, straight-up stylish piece of outerwear.

For those of you already on the blue jean jacket train (toot toot, welcome aboard!) why not expand your repertoire and flip the usual pairing—try a black topper with your tried-and-true jeans. The washed-out shade of this one from Frame will also look especially good over those fall flannels you've been waiting all summer to wear again.

And finally, for the hypebeasts in the crowd: a truly indulgent and perfectly distressed denim jacket from your boy Virgil Abloh at Off-White (and Louis Vuitton...and Nike...where isn't the guy these days might be the right question). He happens to love the Canadian Tuxedo look, but you'll still look good if you wear yours with chinos and a grey crewneck sweatshirt too.

---