Featured Product: Millennium Falcon Waffle Maker | $50 | Amazon
As far as made-up holidays go, Star Wars Day is pretty hard to beat. Celebrated annually on May the 4th in homage to the popular "May the Fourth be with you" pun (despite the fact that the anniversary of the original film is just over two weeks later, making it all the more mystifying that Lucasfilm established the holiday based around a pun, but whatever), it's become an all-consuming commemoration of everything we love about a galaxy far, far away.
While it's not quite so transparent a holiday centered around consumerism as, say, Alien Day (which was established by Reebok in 2016 to commemorate the launch of their annual Alien Stomper sneaker drops), it's impossible to celebrate Star Wars without talking about merchandise. Star Wars merch is sort of the epicenter of pop culture merchandise. It's the first film franchise to become so fully and inextricably attached to the action figures, props, and collector's items associated with it and to this day the products themselves are pretty beyond comparison in the grand scheme of pop culture merchandise.
If you're feeling the pull of the Force (or just have some money to burn), here are some of the best (and some of the weirdest) pieces of Star Wars merchandise with which you can celebrate May the Fourth.
Ever since their debut way back in 2008, Force FX lightsabers have been the cream of the crop when it comes to Star Wars merchandise. There are more high-end collectibles and more accessible toys out there, but they deliver in full on the most universal aspiration of Star Wars fans around the world: to know what it's like to hold a lightsaber. Crafted to screen-accuracy from die-cast metals, plexiglass, and complex lighting and wiring, they're a genuinely impressive collectible that any Star Wars fan should have in their collection. This Asajj Ventress lightsaber doesn't come from one of the headline heroes, but it's one of the more unique designs out there and it's on sale right now.

G/O Media may get a commission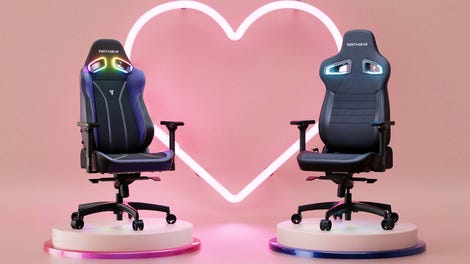 Up to $150 off
Vertagear Gaming Chairs
Like I said, so much of Star Wars collectibles center around giving fans the chance to feel like they own a piece of the Star Wars universe. And over the last year there's been no single piece of the Star Wars universe more universally beloved than Baby Yoda. Official merchandise, including a number of replicas of the character, has finally started to hit stores after his surprise reveal in The Mandalorian but none of them can touch Sideshow Collectibles' screen-accurate and true-to-size recreation of the character. If you, like Werner Herzog, would like to see the baby, this is how to make it happen.
Star Wars merchandise has been around for decades and old collectibles fetch crazy prices on the secondary market. While new merchandise is almost indisputably of higher quality that that which was produced by Kenner back in the '70s and '80s, there's definitely a draw in seeing what Star Wars merchandise looked like back in its infancy. If you don't have the money to blow on an original, check out this reproduction of one of the original Star Wars board games.
Adidas's Star Wars collaborations have ranged from classic (those Mace Windu Harden vol 4s remain hard as hell) to catastrophic misses. Consider this one of the former. A subtle colorway paying homage to the Death Star with a select few bits of iconography incorporated into the muted upper, it's among the best the brand's collaboration with Star Wars has to offer.
If you're on the hunt for a truly incredible and enormous (and expensive) LEGO Star Wars build that can keep you busy for some time, this new-for-2021 Mos Eisley Cantina set is truly mind-blowing. Packing 3,187 pieces, this set accurately recreates the "wretched hive of scum and villainy" and bundles along some 21 minifigures, a dewback, and two landspeeders. It's pricey as heck, but hey, go big or go home. Better yet, go big and stay home… and then build this amazing thing once it shows up.

Sure, you can spend the entire day telling everyone "May the 4th Be With You," but what about on May 5th? Or July 17th? Or any of the other days that aren't Star Wars Day? That's what the official Star Wars Day 2021 shirt is for. This limited-edition tee says "REBEL" in big letters along with the holiday branding, yet also has TIE Fighters and Stormtroopers in the mix. You won't be able to wear it today, sadly, but remember: this shirt is for all of the other days.

One of the strangest, most delightful Star Wars accessories in recent memory is new and improved with this just-announced version for the 4th-gen Echo Dot. Yes, now you can place your Alexa smart speaker into what looks like a hollowed-out Baby Yoda (err, Grogu) head, and since the latest Echo Dot model has a globe-like shape, it fills in the gap nicely. Otterbox's previous version was made for the older, disc-shaped Echo Dot and looked a bit awkward, but this one's spot-on. Order now and it'll ship in June.

Ever wish you could be in a galaxy far, far away making memory with all of the other Star Wars guys and gals (and creatures)? At least you can pretend you did thanks to this new Polaroid Now instant camera featuring The Mandalorian branding. You can use it with special Star Wars film (not included) that has familiar imagery and logos on the frame around your shot.

Unfortunately, our beloved Darth Vader helmet toaster that we covered in last year's article is no longer available. Luckily, here's something that's arguably just as delightful: a Millennium Falcon waffle maker. Not only does the maker itself look like the iconic ship, but so do the waffles themselves. And it shouldn't take 12 parsecs to make your breakfast, either, although we imagine it'll be worth just about any wait.

If you're keen on slightly more ambitious Star Wars-themed food projects beyond dumping batter into a machine, here's a source of inspiration. Just released today, actually, Star Wars Galactic Baking is an officially licensed book with all sorts of recipes for Star Wars-inspired baking projects, including Podrace Puffs, Cloud City Marshmallows, and Forest of Endor Log Cake. (Mmmm, Ewok logs.)

This story was originally published by Tres Dean on 05/04/2020 and updated by Andrew Hayward with new information on 05/04/2021. 
---