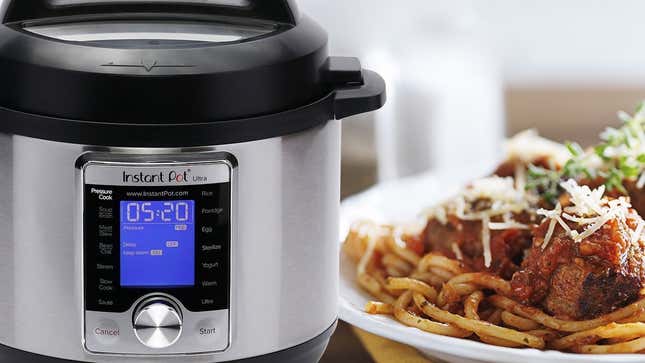 Instant Pot Ultra | $84 | Amazon
If you don't have an Instant Pot yet, or want a compact-sized companion to go with your full sized model, the newest Instant Pot Ultra Mini has a rare sale today on Amazon as part of the company's Gold Box deals. Meanwhile, the standard 6 qt. Instant Pot is still down to an all-time low $84, though that deal has been available for the last few weeks.

The Instant Pot Mini is ostensibly designed for apartment dwellers and people cooking for one or two, but now that I own a six quart Instant Pot, I've found myself wanting one to cook rice or other side dishes while my main pot is occupied with the main course. The Ultra model has a much better UI and controls than the standard version, plus a pressure valve that automatically closes itself when you close the pot, so you'll never forget to set it.

In addition to pressure cooking (which is a miracle), this is also our readers' favorite slow cooker, and one of their favorite rice cookers too. To put a fine point on it: It's one of the most versatile kitchen gadgets you can own. Today's $60 deal is literally half its normal price, and a match for an all-time low. If you have the space for it though, I'd get the standard sized version. Now if only the small one would fit inside it...

---