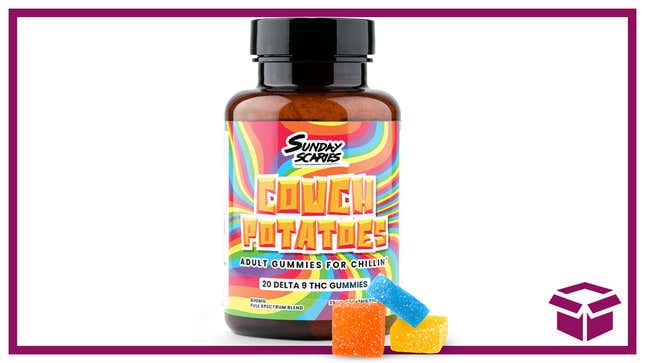 "Couch potato" is often used in a derogatory manner, but nobody can keep their foot on the gas all the time. Relaxation is healthy and necessary, and these brand-new Couch Potatoes THC gummies will get you there in a safe and yummy way. Now you can use the code KINJA15 to get 15% off your first order of Couch Potatoes.

Couch Potatoes THC gummies | 15% off | Sunday Scaries | Code: KINJA15  
We've enjoyed the recreational THC goods from Sunday Scaries for a while now — they're not scary at all; they're just referring to those pre-Monday stress-outs before going back to work. So when we heard they'd released a new product with a mid-level 5mg hit of D9 THC bolstered by 25mg of Sunday Scaries' proprietary CBD blend and 25mg of L-Theanine amino acid, we had to share the news. They come in four yummy sweet flavors: mango, pineapple, orange and blue raspberry. And yes, they're shaped like the couch cushions you'll be happily sinking into after you enjoy these brand-new recreational stress-busters. Head to Sunday Scaries now and use the code KINJA15 to get your Couch Potatoes for 15% off now.