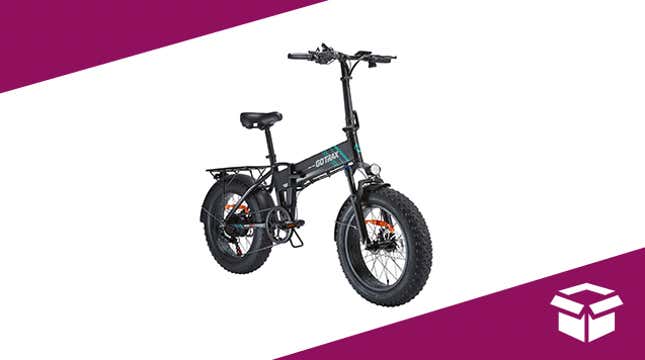 Even if you've bought into the e-bike revolution, you're probably just using it for on-road excursions. But the GoTrax Z4 Pro e-bike — on sale now at Best Buy for $100 off — has all of the perks of your pavement peddler, and it's a fat-tired trail beast. With 50 miles of electric range and top speeds of up to 20 mph, it's the jolt you didn't know your trail ride needed.
GoTrax Z4 Pro E-Bike | $1,000 | Best Buy
The GoTrax Z4 Pro has a front-wheel suspension system backing up that shock-absorbing fat tire, so you can hit all of the bumps and rocks on the trails and all the potholes and other urban obstacles when you're back in civilization. It folds up for convenient storage or so you can haul it along with you on long trips, and has a rear rack for extra storage. Run thru the whole 50-mile charge range and you can still pedal it along, and then plug it back in to be fully recharged in only 5 hours. It's $100 off at Best Buy now, and the trails are calling to you. 
Originally written by Make Fazioli on 8/3/23 and updated with new information by Miranda Martin on 9/19/23.