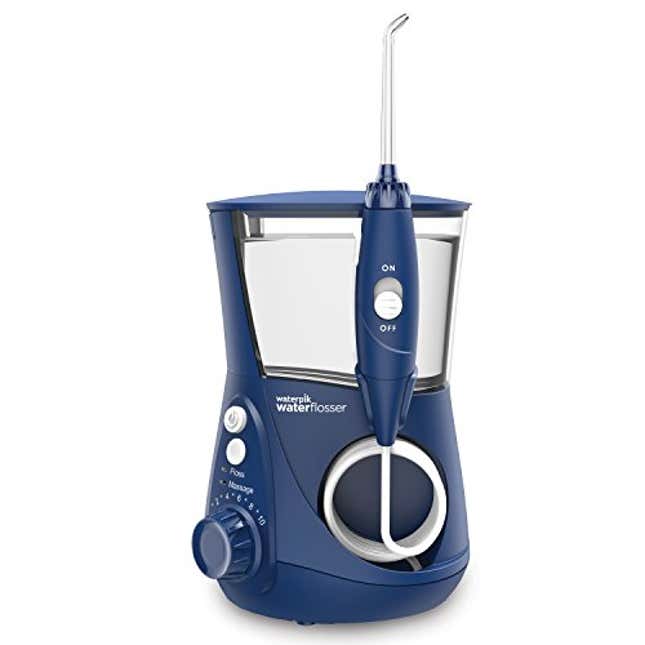 Advancements in dental hygiene aren't usually at the forefront of exciting tech deals, but today's Amazon offer on the Waterpik Aquarius Water Flosser Professional is a notable exception. This phenomenal gadget is discounted 31% and is a must-buy for anyone who values their oral health.
This isn't just an ordinary water flosser. The Waterpik Aquarius model offers enhanced pressure with ten custom settings and even includes a massage mode for gum stimulation - an impressive upgrade from your regular dental floss. Furthermore, it comes with a built-in timer and pacer that pauses briefly at 30 seconds and 1 minute intervals, keeping track of your flossing time and ensuring an optimal clean.
The Waterpik brand is a favorite among dental professionals, with 9 in 10 recommending their products. As the first water flosser brand to earn the American Dental Association (ADA) Seal of Acceptance, Waterpik products are clinically proven to be highly effective. The Aquarius model, in particular, helps remove up to 99.9 percent of plaque and is up to 50 percent more effective than dental floss in improving gum health.
Its high volume reservoir, holding 22 ounces for 90 seconds of use, means no interruptive refills are necessary. Its thin, maneuverable handle with on/off water switch ensures you can precisely navigate all areas of your oral cavity. What's more, this uber-useful tool is equipped with seven meticulously designed tips - convenient for multiple family members with varying flossing needs.
The Waterpik Aquarius Water Flosser is also incredibly user-friendly. All it requires is filling the reservoir with warm water, positioning the tip in your mouth, and letting the flosser do its job. Its removable reservoir can easily be cleaned in a dishwasher.
Backed by a three-year limited manufacturer's warranty and supported by Waterpik's resourceful Colorado-based team, this product offers reliability and peace of mind.
With such a stellar track record and an impressive list of features, this Amazon deal on the Waterpik Aquarius Water Flosser Professional is worth every penny. Upgrade your dental hygiene routine today with this groundbreaking device, and you'll be welcoming a healthier, fresher smile in no time.
This deal was originally published by Inventory Bot on 7/12/23 and updated with new information by Se Jeong Bae on 7/13/23.