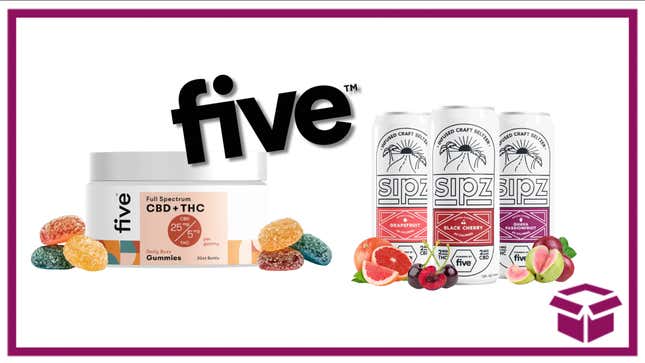 The seasons are changing. Fall is setting in. It's time to get cozy. But when things get complicated in your life, it can be difficult to find a good way to disconnect and let loose. With Five CBD products and their long-lasting high, you can achieve just that. The brand offers a wide variety of full spectrum CBD + THC oil capsules and gummies. Debuting in 2020, it's home to several options when it comes to sitting down and letting the stressors of life pass you by. Full spectrum refers to the fact that all of the cannabinoids present in the hemp plant are also used in the brand's final products, meaning you're getting high quality products.

Five CBD's edibles twork to serve up a reliable, long-lasting high thanks to what's known as the entourage effect. That's a synergistic relationship where natural cannabinoids work together to execute different functions to deliver a wide variety of therapeutic benefits. Among Five CBD's products you'll find a variety of liquid capsules packed with minor cannabinoids and terpines, CBD + THC tinctures with full spectrum ingredients, and even THC + CBD seltzers that give you a rapid, satisfying buzz in three delicious flavors.
So take a chill pill, literally. Buy CBD online. Shop all CBD + THC products, including premium quality gummies, chocolates, oil, capsules, and more hemp products. You deserve it — so keep reading to learn all about what Five CBD products can do for you.
Five CBD CBD + THC Oil Capsules and Gummies | Five CBD
CBD Seltzers
Need a buzz without the hangover? Five CBD's CBD Seltzers are the perfect solution. Each can of Sipz contains 2mg of THC, 2mg of CBD, and other cannabinoids to ensure you feel mellow and relaxed within just a short while after drinking it: under 15 minutes, to be exact. It comes in three flavors: Grapefruit, Black Cherry, and Guava Passionfruit, and best of all, each can is only 40 calories. Put down the booze and see what kind of mellow high you can achieve by drinking your CBD packed with natural flavors, few calories, and everything you need to watch that stress melt away.
CBD + THC Gummies
Need a quick pick-me-up? These CBD + THC Gummies are just what the doctor ordered. Gobble up your daily dose of chill with these edibles that pack a super punch. Get a full spectrum serving with minor cannabinoids and terpens in every dose. These vegan gummies have a 5:1 ratio of CBD to other hemp compounds and come in a mix of fruity flavors in a few different assortments: Buzz, Buzz Sour, Original, Sleep, and Sour. Each container comes with a different selection of fruit juicy flavors: Blue Razz, Sour Blue Razz, Redberry, Sour Redberry, Lemon, Sour Lemon, Orange, and Sour Orange. Just pop a few a day and see how great you feel!
CBD + THC Oil
Not in the mood for seltzer or gummies? Try the the power-packed CBD + THC Oil for the chillaxing you're looking for. Each tincture is packed with minor cannabinoids and terpenes for a full spectrum experience like no other. Each one is made by combining hemp extract with MCT oil, and comes in different, mouth-watering flavors so your daily dose is something your taste buds can look forward to. Try delicious citrus and chocolate mint varities and see how you can transform each day with these mixes.
If you're the type of person who likes to get their fill of CBD and THC in the form of convenient capsules, Five CBD's Liquid Capsules are perfect for you and your busy lifestyle. Each dose is packed with 50mg of CBD combined with Full Spectrum Extract. The CBD Gel Capsules are crafted with hemp extract and organic MCT oil, and each bottle comes with 60 CBD capsules. All you have to do is pop your dose with some water and you'll be good to go with a full spectrum high without the need for snacking or additional calories. Quick and easy!