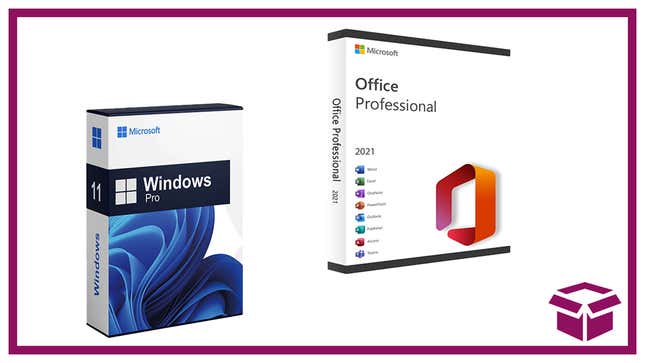 Buying Windows utilities and a copy of Windows used to be more expensive than buying a meal for two at McDonald's. You know the world is in a weird state when that's no longer the case. But it's good for you if you're looking to snap up some serious software! StackSocial's latest bundle deal for lifetime subscriptions to Microsoft Office Pro Plus 2021 and Windows 11 Pro for just $50 is your ticket to saving cash and making sure you've got everything you need to run a successful business, or just your computer to run smoothly. For just $50 — the lowest price ever for both products—they're both yours for lifetime access. And between us, you're going to want to grab them before they're gone, because they're going to sell out of keys fast at this price.
Windows 11 Pro / Office Pro Plus 2021 Bundle | $50 | StackSocial
Windows 11 is Microsoft's most recent operating system, and an upgrade from 11 Home to the more robust 11 Pro usually costs $100 on its own. And the Office Pro Plus 2021 suite of apps comes complete with everything you need to run your home office, including full versions of Word, Excel, Outlook, PowerPoint, Teams, OneNote, Access, and Publisher. Getting full lifetime access to both of these powerful software packages for just $50 is a phenomenal deal for PC pros and novices alike — head to StackSocial now before these lowest-ever prices disappear.
This story was originally published by Mike Fazioli on 06/02/2023, updated with new information by Erin O'Brien on 06/30/2023, Miranda Martin on 07/10/23, by Riley Blackwell on 07/07/2023 and 07/14/2023, and by Brittany Vincent on 7/17/23, 7/24/2023, 8/7/2023, and 9/27/2023.