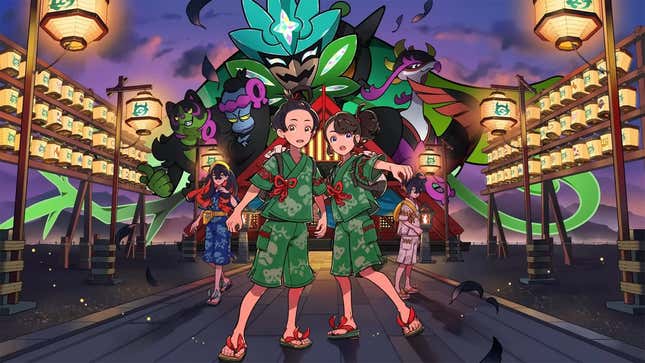 A lot of Pokémon news was announced yesterday showing off new content for the MOBA game Pokémon Unite, a new peripheral for Pokémon Go, and more. Perhaps the biggest piece of news to get excited about is the confirmation of a major story DLC for last year's mainline releases of Pokémon Scarlet & Violet.
Snacktaku Drinks Pepsi's Time-Jumping 1893 Cola Flavors
That's right, The Hidden Treasure of Area Zero marks the first paid DLC that will bring us new regions and Pokémon into the mix. The upcoming expansion will be split into two parts. Part 1, named The Teal Mask, introduces Legendary Pokémon Ogerpon along with new Pokémon Okidogi, Munkidori, and Fezandipiti. Part 2, named The Indigo Disc, introduces Legendary Pokémon Terapagos alongside old friends like Dewgong, Metagross, Alcremie, Espurr, Zebstrika, and Whimsiscot.
No set release dates just yet, though The Teal Mask is currently slated for Fall 2023 with the second part, The Indigo Disc, planned for Winter 2023. You can pre-order the expansion from the eShop today for $35. You'll immediately gain access to a new uniform set for your character plus you'll be able to find a special Hisuian Zoroark in your game which contains a unique move. You can play the base game now if you haven't for between $49 and $51 depending on the version you choose.
In addition to the Pokémon Scarlet & Violet DLC expansion, Pokémon will soon have a sleep-tracking app. Pokémon Sleep has you leave your phone near your pillow while you sleep to provide you with analytics. You'll wake up to find your in-game Snorelax surrounded by other Pokémon with matching sleep-styles to your own. The app is coming later in 2023.
This story was originally published by Joe Tilleli on 02/28/2023 and updated with new information on 03/01/2023.