The Pinhole Pro X 18-36mm is the first pinhole lens I've used that didn't feel like a toy, and it's also the first that could zoom. And that's pretty significant.

But perhaps more importantly, it forced me to work within its constraints, and really think about my photography. But I digress.
For those unaware, pinhole photography is one of the oldest methods of creating an image with a camera. As its name suggests, the lens uses a pin-sized hole to create images, and suffice it to say, these types of cameras don't let a lot of light in.
You'll need to adjust your controls to allow for a proper exposure, either by cranking up the ISO or by increasing your shutter speed to a full second or more.
To be perfectly honest, creating images with the Pinhole Pro was difficult and, at times, frustrating. It's definitely not something I'd recommend to a beginner, and I admit that I missed the huge f/1.2 aperture of my beloved 85mm lens.
G/O Media may get a commission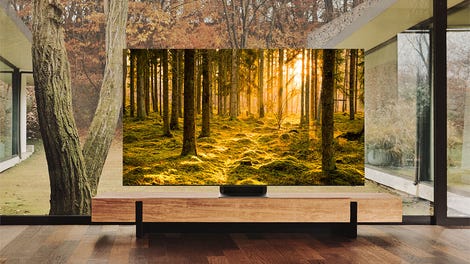 Up to 40% off
Samsung Smart TVs
But this lens forced me to really consider lighting in a way that I hadn't since I started learning with a film camera. And despite the near-torturous experience I had with this lens, I actually created more images with it than I would have otherwise. I felt so much more compelled to create.
It also made me confront deep-seated insecurities I had with my art and the pursuit of perfection with digital photography.
And just for those two reasons, I'm very happy to include this lens in my bag and would recommend it to anyone who is struggling to get creative.
And, did I mention they look pretty sweet? Most pinhole lenses are cheaply-made and felt out-of-place with my DSLR. The Pinhole Pro X 18-36mm felt right at home with my 5DS, with its study construction and cheeky red ring. While the zoom feature was nice to have, picking up the cheaper models, either the 26mm Pinhole Pro or the 11mm Pinhole Pro S, would be just fine as well. Most of the images I made with the pinhole lens needed to be premeditated, given the long exposure time. So, I just found myself repositioning with my feet instead of zooming in and out.
Prices start at $41 for the basic, non-zoom Pinhole Pro S and $69 for the Pinhole Pro X. These lenses are available in SLR/DSLR and mirrorless mounts.
The Kickstarter campaign ends in a few days, so you've only got a short amount of time to lock in early-bird pricing.
---