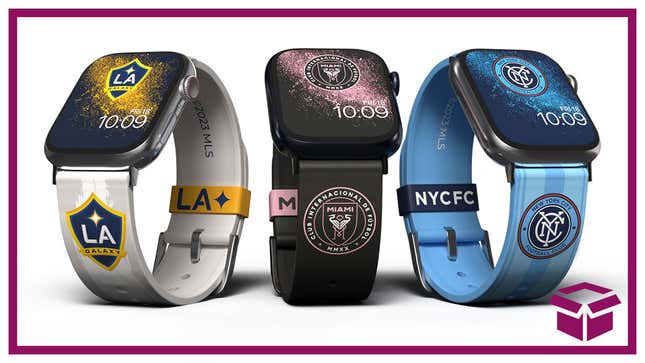 Looking for that elusive, perfect gift for the Dad that has everything (or at least has an Apple Watch?) MobyFox, a leading creator of tech accessories and digital content, just announced its official partnership with the MLS to create smartwatch bands for the top Major League Soccer teams. Each strap features the team's primary and alternate logos, plus an easter egg unique to each team that fans will love. This smartwatch band design is officially licensed by MLS; package includes 2 sets of connectors to fit both small and large sizes of Apple Watch and every Series 1, 2, 3, 4, 5, 6, 7, 8, Ultra & SE, as well as Samsung and other Android smartwatches with a 22mm pin. 
Official MLS Apple Watch Bands | Now Available | MobyFox
Made with sweat and UV-resistant silicone, this smartwatch band is tough while feeling smooth. And here's the kicker: You can download the MobyFace App and scan the in-package QR code to unlock exclusive matching Watch Faces included with your purchase.

Other MobyFox collaborations include Star Wars, Marvel, Harry Potter, Stranger Things, The Beatles, DC Comics, NASA, Game of Thrones, Disney, Hello Kitty, Rick & Morty, as well as Liverpool and Arsenal from the Premier League, and more.
Originally written by Ron Passaro on 5/17/23 and updated with new information by Miranda Martin on 6/7/23.