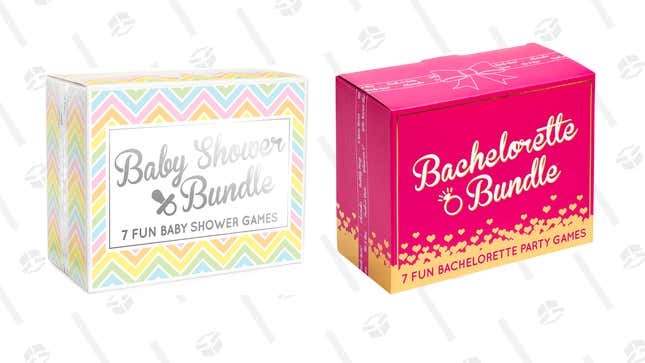 Baby Shower Party Game Bundle | $15 | Amazon
Bachelorette Party Game Bundle | $18 | Amazon
When's the last time you went to a baby shower or bachelorette party and actually had fun? Probably never, because no one ever knows what to do at those things besides pretend to care about someone else's baby or wedding. Maybe that's just me, but what if I told you there was a way to make these parties a little more fun? Next time you throw one, ditch the toilet paper dresses and diaper relays and bust out one of these baby shower or bachelorette party game bundles. Both come with seven different games you can get partygoers excited about, from icebreakers to emotional quizzes that everyone can participate in. And right now you can get either one for less than $20, so you won't be breaking the bank if they aren't to your liking. So don't just sit around doing nothing the next time you invite folks over. Try out one of these fun sets and act like you're actually at a party without doing all the annoying things people do at baby showers and bachelorette parties. It's totally possible.