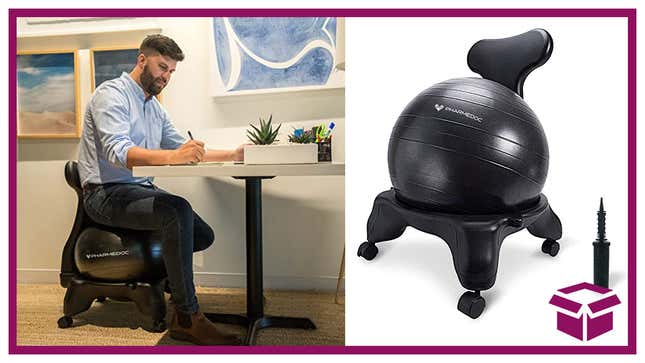 The Pharmedoc Exercise Ball Chair is a game-changer for both your home and office environments. This innovative chair combines the benefits of an exercise yoga balance ball with the comfort and support of a traditional chair. Designed to promote better posture and core strength, it helps you stay active while sitting, reducing the negative effects of prolonged sitting. The removable backrest provides additional lumbar support, ensuring optimal spinal alignment and preventing back pain. With lockable wheels, you can effortlessly move the chair around or keep it stable when desired. Whether you're working, studying, or simply relaxing, this chair is a versatile and effective solution for those looking to improve their overall well-being.
Pharmedoc Exercise Ball Chair with Back Support | 46% Off | Amazon 
Don't miss out on the incredible opportunity to enhance your work and health routine with the Pharmedoc Exercise Ball Chair, now available at a fantastic 46% off on Amazon. Investing in this chair means investing in your long-term health and productivity. By incorporating gentle exercise and promoting proper posture, this chair helps you maintain a healthy lifestyle even during busy workdays. Plus, its versatility allows you to seamlessly transition from work to workout by simply removing the backrest and engaging in balance ball exercises. Take advantage of this unbeatable offer and experience the transformative benefits of the Pharmedoc Exercise Ball Chair!